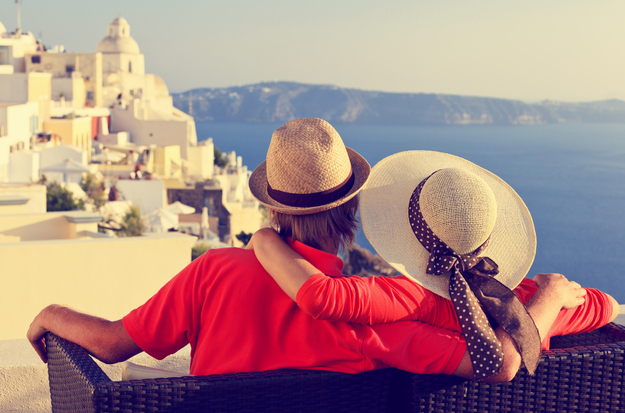 Europe has always been one of the most romantic places to visit for a honeymoon. The continent boasts Mediterranean coastlines, historic capital cities, and diverse cultures and traditions.
Whether walking cobblestoned streets under the twinkling lights of Paris' Eiffel Tower or island-hopping throughout Greece and beyond, it's easy to see why Europe is on top of so many honeymoon wish lists.
Follow along as we field through the top 10 destinations across the continent. Feeling inspired already? Craft your dream itinerary and start your honeymoon registry today.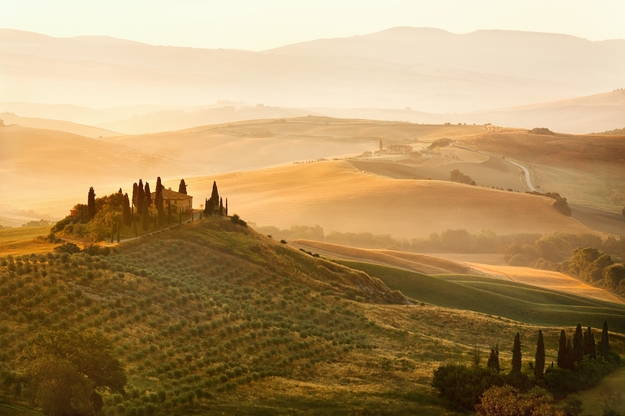 The rolling landscapes of Tuscany have inspired artists for centuries. A honeymoon in Italy will surely invigorate newlywed couples.
Tuscany, Italy
From beautiful Florence to medieval hill towns and a picture-perfect countryside, Tuscany is a dream destination.
Tuscany embodies so much of what makes Italy an idyllic honeymoon destination. Rich history, gorgeous landscapes, long-standing traditions, friendly locals, and utterly indulgent cuisine. Tuscany's capital city, Florence, is the birthplace of the Renaissance. The cobblestoned city feels like an open-air museum flooded with centuries-old art, and remains a timeless pleasure to explore on foot.
Tuscany truly comes into full form when its vivid countryside first creeps into view. Hop into a rental car and drive through the rolling hills and valleys of medieval villages and picture-perfect towns like Cortona and Volterra. Food and wine lovers should not miss a trip to Chianti. This region is world-renowned for wine, olives, and A-class service.
Cyclades Islands, Greece
Stunning beaches, magical sunsets, and a fun experience ferry-hopping from island to island.
Greece's most popular honeymoon region has long been a major tourist draw. Whitewashed villages perched atop a mystical caldera cliff have made Santorini one of the most photographed places on the planet. Neighboring islands within the Cyclades chain - like Mykonos, Paros, Naxos, and Crete - are just as wonderful to visit.
With daily ferry service between the islands, exploring the entire region and spotting the unique differences between small islands is a joy. No matter where you dock, fresh seafood, classically warm hospitality, and remarkably blue depths of the Mediterranean Sea will be waiting for you.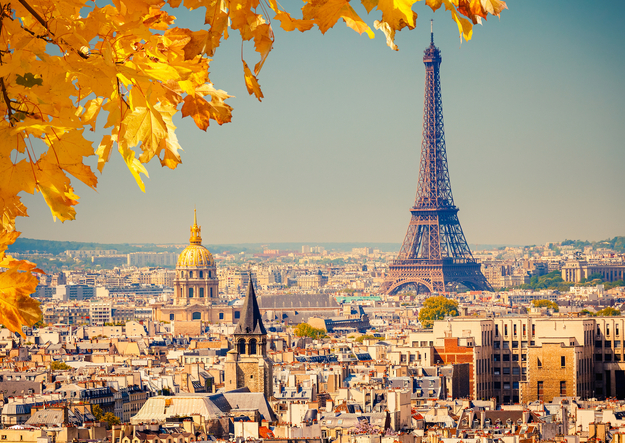 The Eiffel Tower stands tall over the City of Light as a symbol of strength and unity. Intricate Parisian rooftops can capture your attention for days on end.
Paris, France
The French capital city is practically tailor-made for newlywed couples.
The City of Light oozes romance. One stroll down its charming streets - filled with iconic landmarks, posh shops, lazy cafes, and phenomenal restaurants - and you'll understand why Paris is so synonymous with romance.
Spend your days hopping between famous museums (like the Louvre and the ) or simply meandering through scenic neighborhoods like the Marais, St-Germain-des-Pres, and Montmartre. Iconic landmarks - like the Eiffel Tower, Notre-Dame Cathedral, and the Palais Royal - give great reason to get out and about for the day. But Paris is at its best when taken slowly. Savor morning coffee while staring out of a cafe window. Walk hand in hand along the Seine. Linger in a public park with macarons and a freshly baked baguette. Oh Paris, how we love you.
Amalfi Coast, Italy
Italy's sun-kissed strip of coastal villages along the Mediterranean Sea has dazzled honeymooners for centuries.
Sandwiched between jagged mountains and majestic blue seas, the Amalfi Coast is endlessly enchanting. Just south of Naples, the region features pastel-colored villages which scale along steep, dramatic cliffs. Driving the coast is a white-knuckle experience - which will whizz you through gorges, bridges, cliffs, and scenic villages - but the resulting views are quite the reward. Many Amalfi Coast towns are connected via hiking trails (look for "the Path of the Gods") if you prefer to take things slower.
The Amalfi Coast is an exemplary display of Mediterranean landscape. Sorrento, Amalfi, Positano, and Ravello are a few of its can't-miss villages, where you'll sip limoncello, dine on southern Italian staple dishes, and swim in that sparkling sea.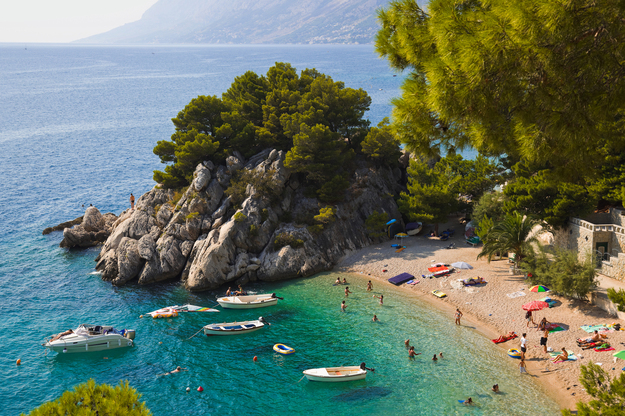 Croatia has become a paradise for honeymooners that love the beach. With over 1,200 islands, a secret stretch of sand always awaits.
Croatia
1,000-year-old cities, 1,000+ islands, and an enchanting countryside have thrust Croatia into the top tier of European honeymoon hotspots.
From the ancient charm of Dubrovnik - Croatia's walled capital city - to trendy yacht parties on Hvar Island, Croatia has been drawing an increasing amount of newlywed visitors throughout the last decade. Travelers are flocking to Croatia thanks to its prominent position along the Adriatic Sea (just across from Italy), and highlight the relative affordability compared to its Western European neighbors.
Stick along the coast and island-hop the Southern Dalmations for an epic, beach-centric honeymoon. Or head into Croatia's countryside to explore lakes, castles, vineyards, and overall comfortable living. We love Croatia all over.
Portugal
Medieval cities, a thriving wine valley, and golden sands along the Atlantic Ocean.
Pint-sized Portugal packs a mega punch for such a small country. Lisbon, its capital city, overflows with historical details and classic European charm, from outdoor markets to colorful buildings, cozy wine bars, and even vintage trams which chug through the city's winding alleys. Nearby beaches make day tripping nice and straightforward. Up north, Porto - Portugal's second city - offers laidback living along the banks of the Douro River.
Take a boat tour along the river and into the Douro Valley, one of the world's premier wine regions. A stay at a wine estate, like L'And Vineyards or Six Senses Douro Valley, will make your honeymoon completely memorable. Do it all in a week, and then get ready to head south for fun in the sun along Portugal's pride-and-joy Algarve region.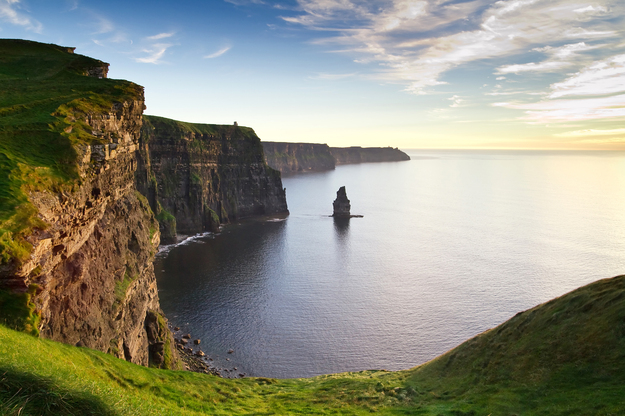 The Cliffs of Moher are awe-inspiring natural masterpieces. Hiking along the windswept trail is just one of the ways to experience the Wild Atlantic Way - the world's longest coastal route.
Ireland
Fairytale castles, the famous Cliffs of Moher, and cozying up with a fresh pint in a colorful pub.
One glance at Ireland's rugged shores, rolling valleys, and towering mountains, and it's easy to understand why the country is called "the Emerald Isle." This island nation is blessed with bountiful nature and endless beauty. Just look at the inconceivably dramatic Cliffs of Moher for some inspiration, or ignite your imaginations by observing the candy-colored rowhouses in quaint villages Cobh.
Partake in friendly pub culture - filled with tradition, impromptu music, and great drinks - all across Ireland. Big cities like Dublin are rich in history and attractions, while seaside gems like Kenmare and Dingle are packed with local charm. Out in the countryside, an array of scattered castles make for one-of-a-kind accommodations. Outdoor enthusiasts will love Killarney: its majestic mountains, serene lakes, and diverse wildlife, and uniquely Irish.
Vienna, Austria
Austria's capital city sets the scene for classic romance.
Architecturally gorgeous and profoundly elegant, the atmosphere in Vienna is perfectly fit for a European honeymoon. Dance the waltz in public squares, ride in a horse-drawn carriage, sample world-renowned Viennese chocolates in luxurious hotels, and dress up for a night at the opera.
The Central European city is one of the most well-preserved on the entire continent. It's easy to be overwhelmed with the historical character that abounds at every street corner. Hike out to Wilhelminenberg for a rewarding panoramic view of the city below to gain a bit of perspective.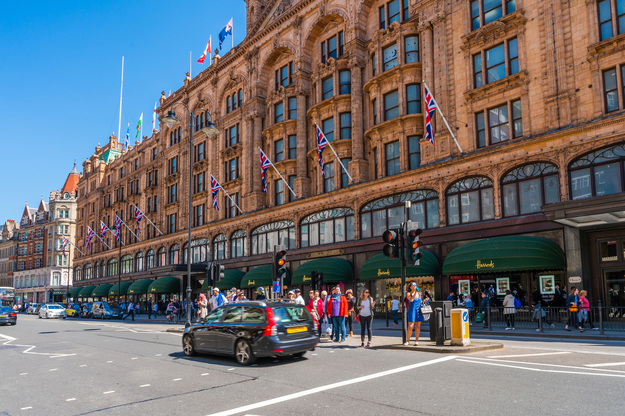 A honeymoon trip to London isn't complete without a stop inside Harrod's. The world-famous department store spans seven floors of luxury fashion, food, and homeware.
London, England
Visit London for a royally indulgent honeymoon.
The United Kingdom's capital city is rich with historical context, lively attractions, and luxurious hotels and restaurants. This is the place to pamper yourselves and live like royalty: sightseeing, shopping, and dining to your heart's content. Saddling onto bicycles or hopping into an iconic black taxi cab to tour around the city is a thrill in itself.
In a single day, you can visit world-famous sites (like the Big Ben clock tower, Westminster Abbey, and royal Buckingham Palace) before settling in for an afternoon tea, migrating onward for a crawl through classic pub culture, and hitting the West End for a live theater performance. What's the rush, though? London is one of the closest European destinations to visit from America and is an idyllic 7-day honeymoon choice.
Amsterdam, Netherlands
Scenic canals, quiet cobblestoned streets, and cozy coffee shops.
For a honeymoon bolstered by canal-side romance and a laid-back culture, consider Amsterdam. The Netherlands' capital city is known for its artistic heritage, friendly and hip locals, lively nightlife, and bicycles. Yes, indeed, cycling has extended beyond transportation and into Amsterdam's cultural fabric (there is quite literally a bicycle for every person, and cars are virtually nonexistent save for the occasional taxicab).
The resultantly hushed surroundings make Amsterdam a pleasure to leisurely explore. Pop into cafes, book shops, and museums (like the Van Gogh and Hermitage) in between exploring lush public parks. Open-air restaurants along storybook canals create the perfect scene for lunch and dinner, where modern traditions like high wine (like England's high tea, but with wine) are very welcome. Proximity, price, and sheer atmosphere have propelled Amsterdam into the rankings, and we adore it for mini-moons and honeymoons of shorter duration.

In case you missed it:
Top 7 Honeymoon Resorts in Provence and the French Riviera