Mediterranean Croatia - which simply oozes romance through its medieval architecture, miles of crystal clear coastline, and stunning inland countryside - has moved high on our honeymoon radar for good reason.
Along with the aforementioned geographical attractions, Croatian culture encompasses the many European flavors of its neighboring countries, while still remaining distinctly unique. Walk the elevated forts and towers of historic port cities, party on a yacht in a new bay every day, hike along scenic lakes and waterfalls or just lounge on a quiet beach while enjoying the easily accessible food and wine scene; Croatia can make the perfect destination for any kind of traveler.
Here's our favorite 7-day itinerary to see and do the best of it all.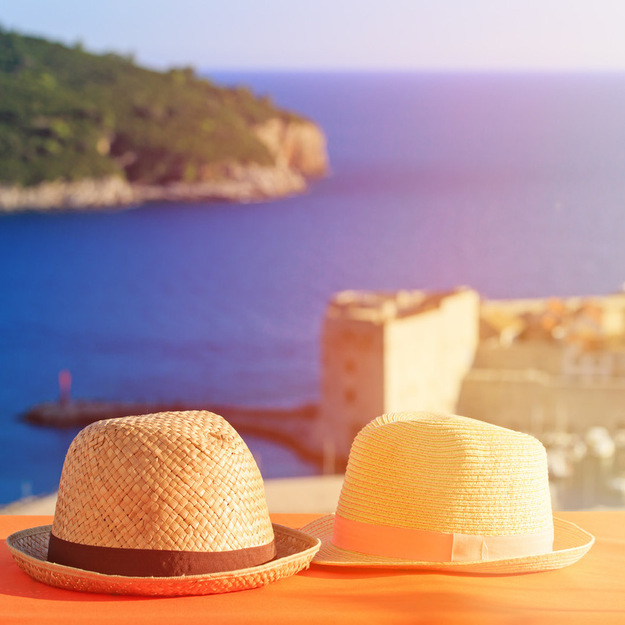 Know Before You Go
Croatia is the kind of destination that is filled with almost unfathomable natural beauty everywhere you look. The vibrant colors, mild climate and dramatic coastal setting make this entire country a honeymoon (and photographer's) paradise - seriously surreal. This can make choosing a specific spot or region difficult. You wouldn't go wrong basing in one town, plopping on a beach there and having a fantastic week fulfilling dream-like fantasies.
You might also enjoy opting to stay on the move, in an effort to see and do everything that Croatia has to offer. Our ideal 7 day itinerary is somewhere betwixt, with a healthy balance of relaxation and exploration, best experienced during the country's extended summer season of May-October.
The biggest piece of advice we can pass onto you is to arrive and depart from different airports. Croatia has several airports that service many international destinations, and so by not having to circle back to your arrival airport, you can move through and enjoy the country at a more leisurely pace.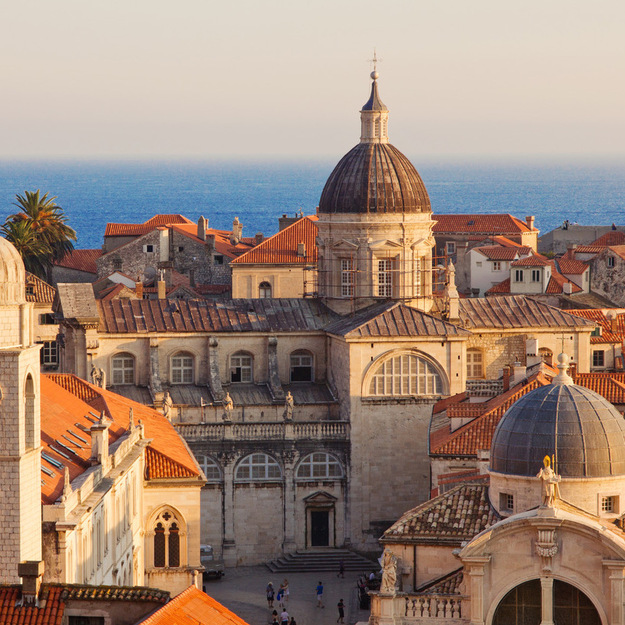 Day 1: Arrive into Dubrovnik - "Pearl of the Adriatic"
Dubrovnik is a gem of a destination along the Adriatic Sea, and the perfect place to introduce the pleasures of your Croatian holiday. After settling into your accommodation, head straight toward the Old Town to navigate the labyrinth of alleyways and limestone streets to soak in the sights and sounds of this historic city.
Take a walk along the mile-long white stone walls which surround the medieval old town for renowned views of the orange-roofed village (this is King's Landing, for any Game of Thrones fans) and distant islands that dot the horizon. Make your way to Restaurant 360 Dubrovnik for a Michelin-starred dinner in a warm rooftop environment with the perfect location to boot (deserving of its 360 name) - an excellent scene for your first evening.
Stay: Namesake items always grab out attention, and Villa Dubrovnik doesn't disappoint. 20 minutes from Dubrovnik Airport (with private pick-up available), this luxurious cliffside hotel is nestled beside the the Adriatic Sea, has its own private beach, and operates free and frequent boat transfers into the Old Town so you can still pamper yourself without skipping any of the sights.
Day 2: Around Dubrovnik and the Elaphiti Islands
The Old Town of Dubrovnik likely left a lasting impression on you from yesterday evening. Head back for an early morning ride up the cable car to the top of Mt. Srd for an unmatchable vantage point. Have a well-deserved snack or drink at Panorama Restaurant atop the mountain before heading (or hiking) back down to level surface.
Later on, switch into swimwear and meet your personal skipper for an afternoon private tour of the Elaphiti Islands. Just north of Dubrovnik, these 13 islands are largely untouched (with less than 1,000 total inhabitants between all of them), and practically made for hopping from one to the next. Eat, drink, laugh and live large aboard your boat as you zoom from beach to beach, celebrating fun in the sun all across this small island chain.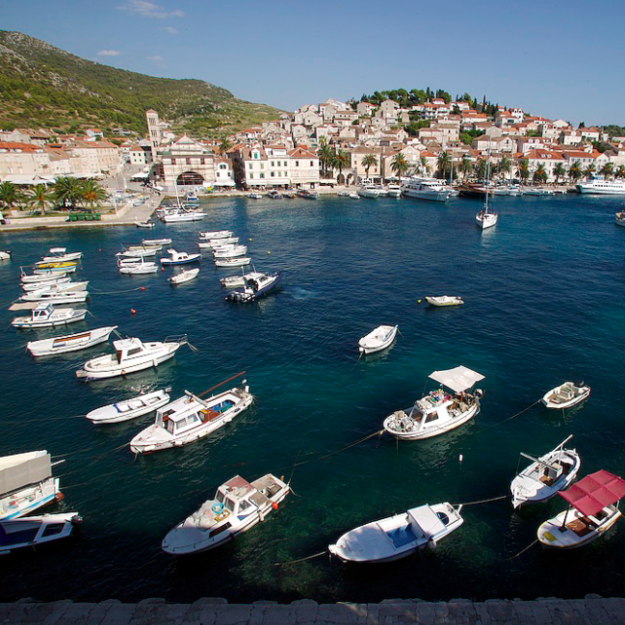 Courtesy of Suncani Hvar Hotels
Day 3: Ferry to Hvar Island

Hvar island is Croatia's crown jewel, and travelers from all corners of the globe flock to the country's literal sunniest spot. Dense nature, picture-perfect beaches, a bustling main town, local wines, fresh cuisine and general luxurious island living - what more could you ask for? The ferry from Dubrovnik to Hvar is 3 hours in length, and two separate companies run routes. Kapetan Luka services April-October, while Jadrolinija operates during peak season months of June-September. Check in to your hotel, have a swim and a shower before heading into Hvar Town to enjoy some of the Mediterranean's best nightlife offerings.
Stay: The Adriana Hvar Spa Hotel is close enough but also comfortably distanced just right from the main town - the perfect spot to base for your Hvar holiday. They'll meet you right at the ferry, and the superb concierge staff can maximize your adventures around the island - if you ever manage to pull yourself away from those panoramic views at the rooftop pool, bar and restaurant.
Day 4: Around Hvar: Olive Groves, Lavender Fields and Vineyards
The glamour of Hvar Town is otherworldly and well worth experiencing, but take this day to venture off into other corners of the island. Rent e-bikes and pedal past the endless lavender fields of Brusje before making your way into historically quaint Starigrad for a seaside lunch. Rent a car or scooter instead to continue onward to Jelsa for wine tasting at Vina Tomic (Hvar and the entire Dalmatian coast are famous for the dark and flavorful Plavac Mali grape). Switch directions to head south, breeze past the pine trees and dense olive groves to reach Zavala and enjoy its string of beautiful secluded beaches before making your way back by sunset.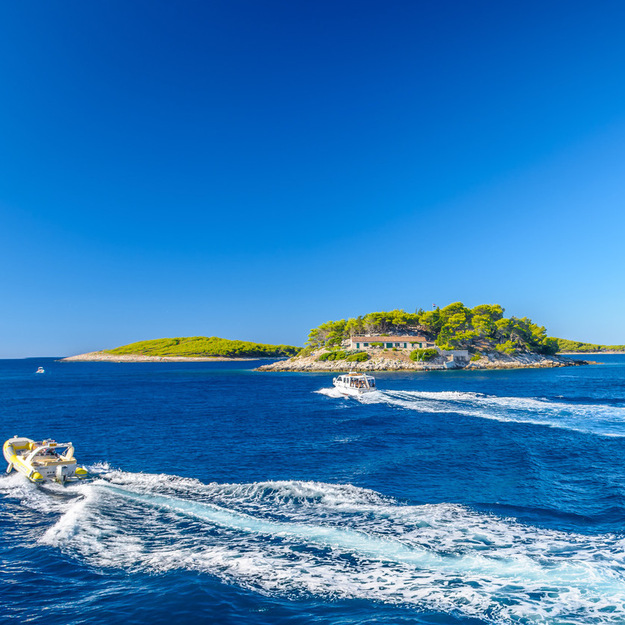 Day 5: The Pakleni Islands
You've likely noticed the seemingly untouched little islands all along Hvar's coast. These are the Pakleni Islands: 16 in total, all together barely spanning 6 miles, they are perfect to hop from one to the next. Some are geared toward the yacht-party club crowd (like Marinkovac), while others favor a more serene atmosphere (like Jerolim).
Grab a water taxi in Hvar Town to the largest island (Sveti Klement, referred to as big island), the closest (Galesnik), or book a tour to see several of them and more (like the famous Blue Cave). For an evening dinner and proper farewell for Hvar, look no further than Dalmatino, a self-proclaimed steak and fish house that doubles down on good times by introducing brandy tastings throughout your meal.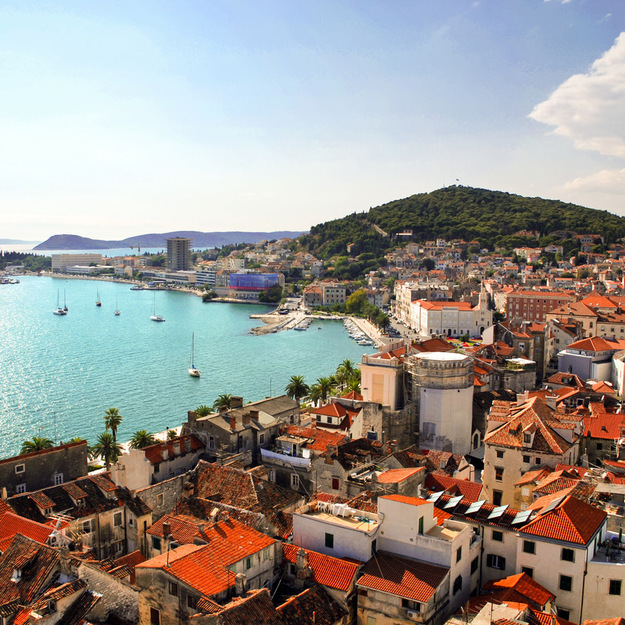 Day 6: Ferry to Split
The ferry from Hvar to Split is just shy of one hour with multiple departures daily via Kapetan Luka. Don't let the name fool you while exploring this new town - Split is very much geared for couples travel, and an afternoon walk along its palm-tree-lined riverfront promenade (prime for people-watching) will certainly prove as much. After checking in to your accommodation, explore the Gallery of Fine Arts for a tour through 700 years of Croatian art in an enormous 18th century building.
Move over into the maze of ancient alleyways that make up Diocletian's Palace - one of the greatest remaining Roman ruins, originally built in the year 305 A.D. Shop to your heart's content, or just admire the collision between old and new - it's rare to see everyday activities going on in a former ancient emperor's palace. Nearby Zinfandel pairs local wines with some of the city's best fresh seafood, and in a port city like Split that might be the wise move for dinner. Afterwards, stroll over to Lvxor Kavana Cafe for a nightcap with some live music right in the town square.
Stay: For old world charm and new age amenities, the Heritage Hotel Antique Split in the heart of historic Diocletian's Palace in Split's Old Town will give you all the right honeymoon feels. The staff are family, happy to take care of your every need, and always looking to exceed.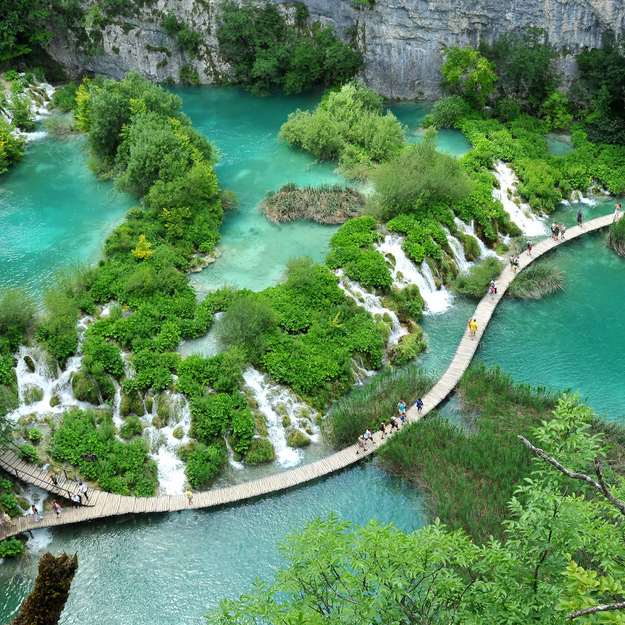 Day 7: Plitvice National Park Option / Depart from Split
Nature enthusiasts take note: if time allows, you will definitely want to visit Krka National Park, or continue a bit further from Split to Plitvice National Park, to experience gushing waterfalls, vast rivers and incredible scenery across the mountainous landscapes of central Croatia.
Plitvice is a UNESCO World Heritage site and rightfully sits atop Croatia's most popular tourist attractions. Its 16 lakes are interconnected by a series of waterfalls, all of which can be visited on foot via walking trails and wooden bridges, making for an amazing outdoor experience. Croatia's bus system can get you there cleanly and efficiently, but will take a bit longer than a guided tour.
While the lakes are magnificent, they might serve better as an excuse to return to Croatia if you don't make it to them on this go around. If you're not up for another day's worth of adventuring, staying in and around Split will not do you wrong.
Head for an urban swim with locals and tourists alike at Bacvice beach or its neighboring Ovcice Beach - both teeming with cafes, restaurants and appealing ocean begging to be swam in. Gape out into the distance at the dotted islands, some of which you've conquered, and let the Croatian sun kiss you goodbye as the day winds down.
Have a final dinner at Uje Oil Bar to experience Dalmation comfort food (all focused on olive oil infusions) at its finest. Purchase some of their olive oil to take a piece of your Croatian honeymoon back into your home kitchen.

In case you missed it:
The Most Underrated Honeymoon Destinations