Located just south of Naples, the Amalfi Coast is easily one of Italy's most enchanting destinations. Along this breathtaking strip of coastline, discover colorful towns backed by rugged mountains and fronted by bright blue seas, romantic vacation getaways tucked away in the hills, many historic sites, and countless natural attractions. While this destination has long been a hotspot for celebrities and the rich & famous, it's also quite popular with locals and foreigners alike. Soon after visiting, you'll see why folks from across the globe have been gravitating to this spot for centuries.
Located on a dramatic coastline that shoots out into the Mediterranean just south of Naples, the Amalfi Coast is simply stunning. Pastel-colored villages perch precariously on cliffs, while narrow, hair-raising roads provide beautiful sea views that seem to get more and more amazing the further you travel.
All the while, brightly colored boats lounge in the village harbors, terraced towns offer scenes of historic homes that seem to be stacked on top of each other while clinging to the rugged, near-vertical rock formations. In addition to lush canyons and sandy beaches, lemon groves, native flowers, and olive trees abound, setting off intoxicating aromas into the air during the warm-weather seasons.
For hundreds of years, this isolated region was a maritime hub and go-to vacation spot for Roman emperors, particularly from the 9th to 12th centuries. In recent centuries, the Amalfi Coast has developed into a prime vacation spot for Italians and world travelers alike, especially for its romantic possibilities and overall variety. With many boutique resorts & spas, alfresco restaurants, pretty harbors, and ample water sport activities, it's a honeymooner's dream.
Here's a quick geographic breakdown to help you get your bearings before your trip. The Amalfi Coast juts out into the northern part of the Gulf of Salerno and stretches out from the town of Salerno westward to Positano. From there, the Sorrento Peninsula takes shape, which includes Punta Campanella and its famous beaches called Baia di leranto. Just a few miles off the coast of Punta Campanella is the Isle of Capri with its undulating terrain, pretty villages, historic ruins, and amazing shopping & restaurant experiences.
If you start in Salerno with its charming old town and work your way west, the Amalfi Coast's most notable villages include Vietri sul Mare, Cetara, Maiori, Minori, Ravello, Atrani, Amalfi, Praiano, and Positano. Just beyond Positano lies Sorrento. Ravello, Amalfi, and Positano remain three of the coast's top vacation destinations for their unique locations, picturesque layouts (see Positano), and wide range of activities.
As far as the best times to visit, peak season is from May to September and offers the longest hours and most extensive slate of activities. However, this period is the busiest of the year for visitors to the region – especially weekends in July and August as day-trippers clog the streets and beaches. However, weekdays during the months of May, June, July, and September are quite ideal and offer fewer crowds, plenty of options, and perfect weather.
What to Do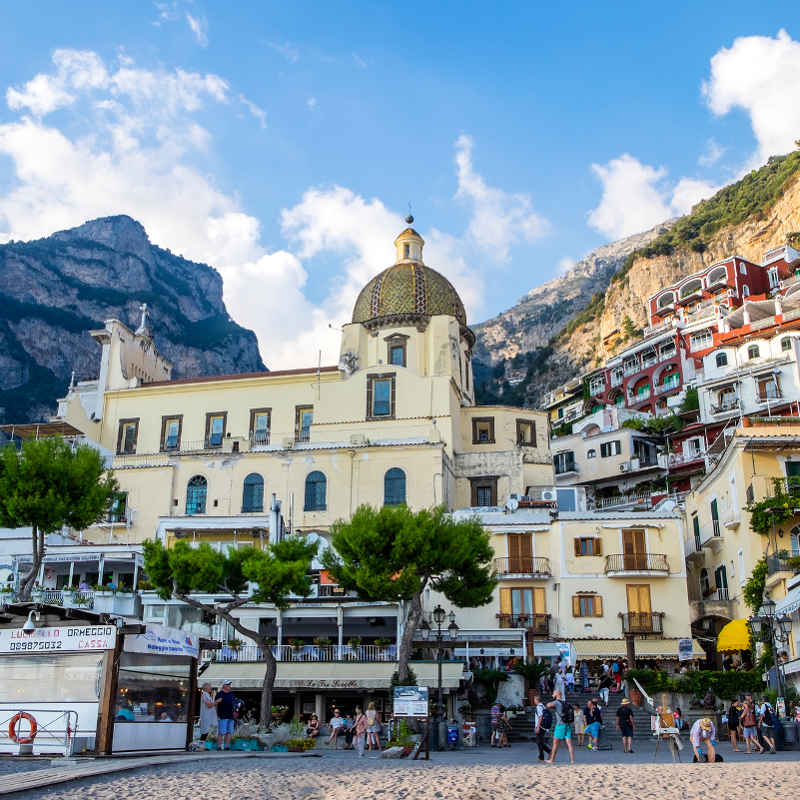 Hiking the Amalfi Coast — Many of the towns along the Amalfi Coast are connected by well-maintained trails. See the entire region by foot as you make your way from one village to the next and stopping at a number of wonderful detours. Hiking here is simple extraordinary, giving you the chance to hike past limestone cliffs, lemon groves, and olive trees, and getting a front row view of the shimmering sea below.

Look to hike "The Path of the Gods", which traverses mountainous terrain and boasts amazing panoramic vistas. Novice hikers shouldn't worry too much, either. The hike can accommodate all levels of experience. Allow yourself about six hours of hiking time and be sure to pack plenty of water and food supplies. The trail starts in Bomerano near Bomerano church and finishes in scenic Positano.

Beach and Boating Excursions — Just about every coastal village along the Amalfi Coast has a unique place to swim and take part in water sport activities. When it comes to top beaches, start with Baia di leranto, a gorgeous deserted beach along the coast just before its westernmost point at Punta Campanella. The beach here is only accessible by foot from the village of Nerano, so grab picnic supplies for your memorable trek.

Next, head to the tiny beach at Marina di Furore, backed by colorful houses, a restored village, and within close distance to Italy's only fjord. Also, the beach at Mairoi village is one of the longest on the coastline and an ideal stretch of sand for romantic walks. Finally, Positano features Spiaggia Grande, a dark strip of beach that's within a few steps of the town's great restaurants and shopping.

Meanwhile, a number of coastal towns provide kayak and snorkel rentals if you'd rather explore the coastline or discover its many underwater sights. Small motorboats, jet skis and canoes can also be rented in several of the towns as well.

One of the best ways to explore the coast is by boat. Whether it's a romantic sunset cruise or full-day tour, we highly recommend hiring or renting a boat during your trip. Head over to Le Sirenuse and take a memorable ride out on their old wooden vessel. You can also take to the seas via schooner or luxurious yacht through La Dolce Vita, an experienced outfitter based in Positano.

Amalfi Drive — Twisting and turning around the Lattari Mountains for 22 miles, the Amalfi Drive is easily one of the world's most scenic yet hair-raising drives. The route is quite memorable thanks to countless mountain and sea vistas, gorges, bridges, cliffs, and scenic villages, but also because of its narrow lanes, white-knuckle turns, and heavy traffic during the high season. Nevertheless, the drive is a must and sure to be an unforgettable experience on your honeymoon.

Starting in the east, the route begins in Salerno and passes through notable towns Vietri sui Mare, Cetara, Amalfi, Atrani, Marina di Furore, Positano, and Praiano. It ends with the nine-mile Nastro Azzurro as the road climbs and clings to the cliff-sides before descending into Sorrento on the other side of the peninsula. You can drive this scenic route in a day or take your time and hit up all of the amazing stops over the course of a few days or a week.

Must-See Amalfi Villages — While there are numerous towns and villages worth visiting along the coast, Ravello, Amalfi, and Positano are certainly three of the most intriguing. Start with Amalfi, the town that gives its name to the coastline. Situated midway between Sorrento and Salerno, Amalfi is a bustling, café-lined port town and a hydrofoil launch pad to nearby islands and towns. It's perhaps most famous for the Grotta dello Smeraldo, a famous cave with deep crystal clear waters. Be sure to linger in Piazza del Duomo and spend time visiting the beautiful Duomo di Sant' Andrea with its intricate bronze door. Don't forget to meander Amalfi's narrow pedestrian streets high above town for a great view and a unique glimpse at its amazing architecture.

About halfway between Sorrento and Amalfi lies Positano. This much-photographed town somehow manages to hug the near-vertical cliffs of the coast. It's arguably the region's best-known resort town thanks in part to its colorful homes that are seemingly stacked on top of each another. It also packs in just about everything a visitor could covet -- great food, shops, sites, drinks, and unforgettable views.

Finally, don't miss out on Ravello, a pleasant town located high above the active coastline. This unique spot features a lovely Duomo, ample gardens built for romantic walks like Villa Rufolo and Villa Cimbrone, an old town packed with historic sites, and amazing views of the Gulf of Salerno.
Where to Stay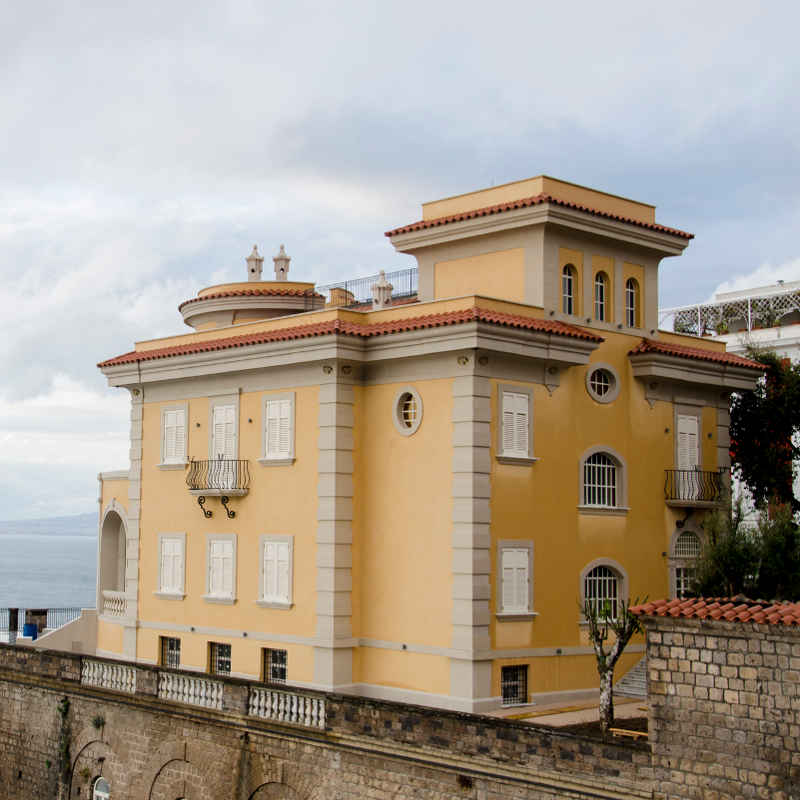 Where to Eat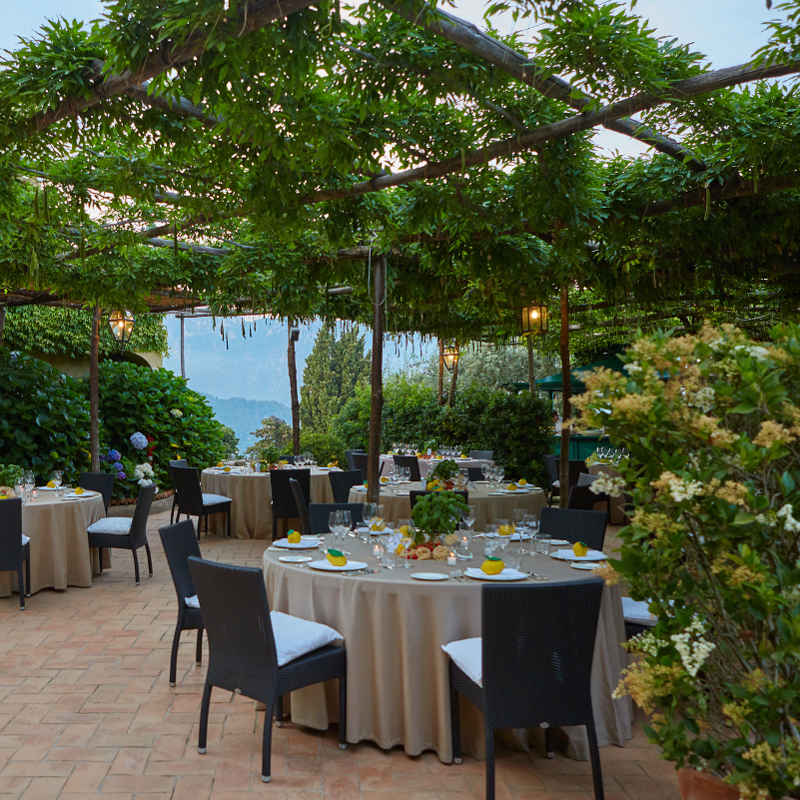 Getting There
Your best bets for arrival into Italy is Rome's Leonardo da Vinci-Fiumicino Airport (FCO). Fiumicino – the country's largest airport – is situated about 3.5 hours away from the Amalfi Coast Region via car. The airport features all major rental car companies, plus taxi services, shuttle buses, trains, and other public transportation options.
Keep in mind that driving in the Amalfi Region during the summer season can be quite frustrating due to congestion, aggressive drivers, and lack of parking. For your arrival, consider using ferry or hydrofoil service from Naples. Service is frequent and convenient and can get you from Naples to Positano in 75 minutes.
Also, you can easily reach Naples in 90 minutes from Rome via train by hopping on in Roma Termini and getting off at Naples' main train station Napoli Centrale.