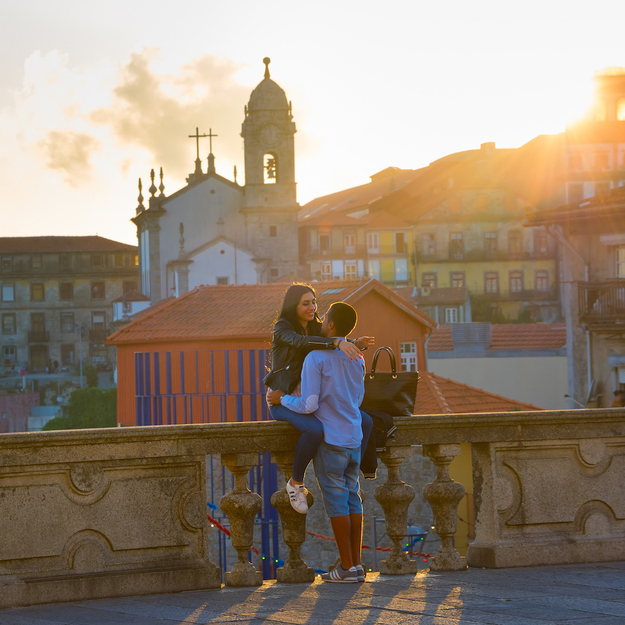 Pint-sized Portugal, the most westerly country in all of Europe, is getting the global recognition that it has long deserved.
Among Europe's smallest and most stable nations (its lone border with Spain has remained untouched since 1297 - a continental record), peaceful Portugal packs a variety of lively experiences into an approachable package destination just half the size of Kentucky.
Riverside streets line its historic capital city, medieval castles sit proudly throughout hilltop towns, world-renowned wines and pastries are celebrated countrywide, and all across its lengthy Atlantic Coast is the ever-present prospect of discovering a perfect, unexplored beach; Portugal is practically tailored for a dreamy honeymoon getaway.
Here is our favorite way to enjoy a honeymoon week in this corner of the Iberian Peninsula.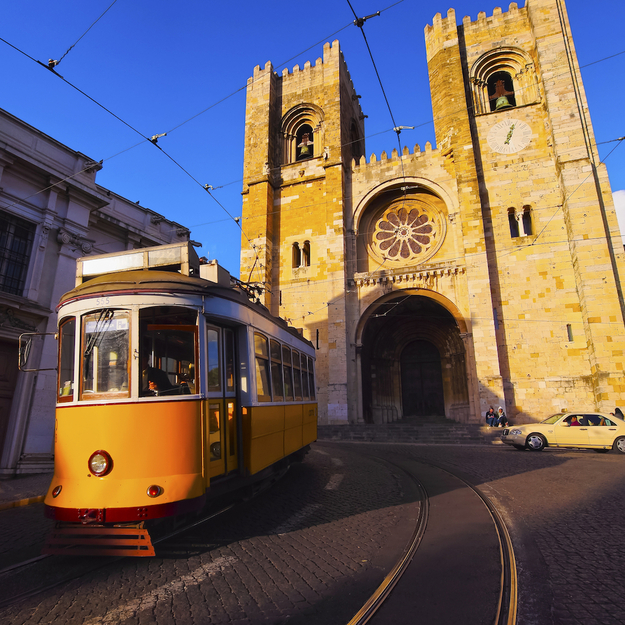 Day 1: Arrive into Lisbon - Europe's Sunniest Capital City
18th century architecture, patterned pavements, bustling cafes and broad public squares line the streets of Lisbon's downtown Baixa district, the city's beating heart. Begin your explorations here, with a soft destination of Martim Moniz square, where you'll find the starting point for the Tram No. 28. This famous, yellow wooden tram will rattle and chug across some of the best corners of Lisbon, and is among the most affordable and efficient ways to soak in the city's sights and sounds. Hop on board (or follow its tracks on foot) for a self-guided tour through charming, photogenic neighborhoods.
Depart or slow down in the Alfama district, Lisbon's old town, and navigate through the medieval maze of historic buildings and tiny plazas before slipping inside a steamy bar or restaurant for dinner and a show. Fado is like Lisbon's version of the blues, a soulful translation of the Portuguese spirit, both beautiful and melancholic, and its sounds resonate in dining establishments all throughout the district.
Stay: Pousada de Lisboa is one of the few Pousadas de Portugal (a luxury chain of hotels set in historic buildings all throughout the country) to be awarded the Small Luxury Hotel designation. Its golden exterior on a prime corner of Lisbon's Commerce Square is the perfect base for your city adventures, while its serene courtyard, rooftop pool and spa will ensure your relaxation after a long day of travel and exploration.

Day 2: Famed Hilltops, Historic Monuments and Vibrant Nightlife
Start this day like you wish every day would: with fresh custard treats and bold coffee. In a city with a massive sweet tooth, the egg-based, crispy and creamy pastel de nata is crowned king of the pastries. They can be enjoyed any time of day in pastelarias across the city, but are best appreciated alongside a strong espresso to commence the day.
Now properly fueled, turn a leisurely stroll into a short hike up any of Lisbon's seven hills to soak in the sweeping views (known as miradouros) of the city and river below. With new knowledge as to the lay of the land, board the Tram No. 15 along the Tagus River en route to the Belém district, where the Jerónimos Monastery and Belém Tower - Lisbon's top two attractions - await your discovery. Cap the day with a dinner in the bustling Barrio Alto district, before partaking in the neighborhood's welcoming, social nightlife scene. Here, the party takes place as much in its tightly packed streets as it does inside its bars and clubs.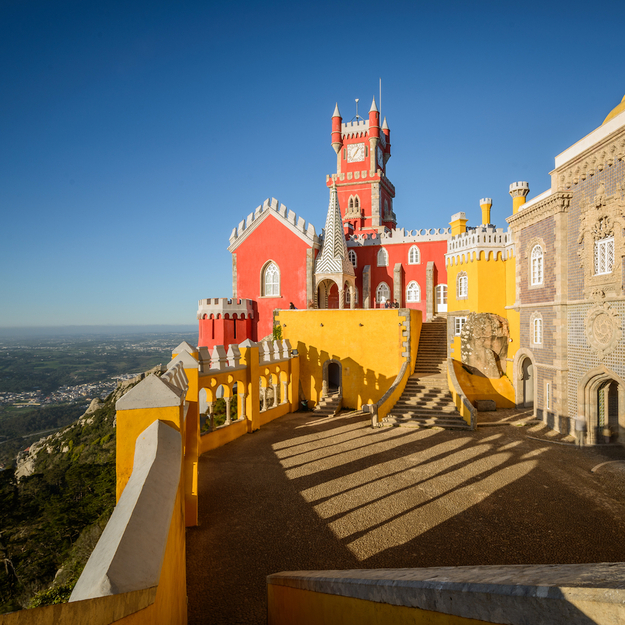 Day 3: Day Trip to Sintra - a Romantic Castle Town
Of the many possible day trips from Lisbon, Sintra is easily the most tempting and arguably the most worthy. Endless views and pastel-colored Portuguese villas span the town's pine-covered hills, while historic monuments like the Sintra National Palace, the Castle of the Moors, and the colorful Pena Palace will enlighten you to this resort town's royal past.
Get there in forty-five minutes with frequent, inexpensive train departures from the Rossio Station in the Baixa district. Sit for lunch in the center of the town's historic district (right next to the National Palace) before venturing on foot (or the 434 bus) up the hills to meander through the medieval landmarks. Afterwards, lounge in the exotic fields and hidden pathways of Pena Park which surround the palace before making your way back into the city for a final dinner.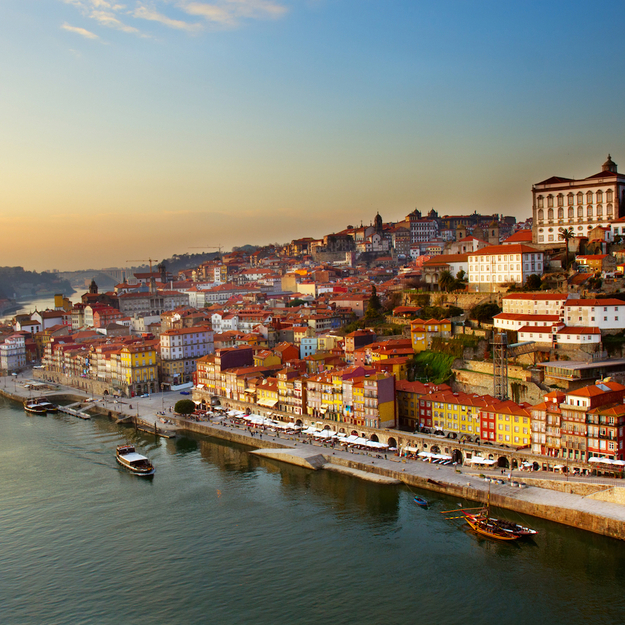 Day 4: Moving North to Porto - the Laidback, Second City
You could have rented a car to visit Sintra yesterday, but we understand and appreciate minimizing efforts on a honeymoon holiday. For a trip north along the coast to Porto, consider renting a vehicle if you want to make stops along the way in places like Cascais, Aveiro or Óbidos, otherwise a simple high speed train will take you straight there. Porto - made internationally famous for its sweet Port wine - has become increasingly popular over the past few years for its riverside location, charming Old Town, cozy cafe culture and plethora of independent boutiques.
Check in to your accommodation and check out the city's vibes which simply ooze in places like the Majestic Cafe and Livraria Lello - a fantastical bookshop where J.K. Rowling famously sourced some inspiration for the Harry Potter saga. Have an early evening drink along the Douro River, or visit a long-standing local wine cellar for an interactive tour before crossing the iconic Dom Luís I bridge back to your side of town.
Stay: It's rare to find such sprawling luxury in a city this tightly packed. While The Yeatman is only a fifteen minute walk from Porto's Old Town, its location opposite the Douro River (technically in the city of Gaia) allows for expansive grounds and unbeatable views. The hotel's decanter-shaped pool, grape-based spa, 24/7 lively bar and double Michelin-starred restaurant make it a total standout among local accommodation, and a luxurious haven for lovers (of wine, especially).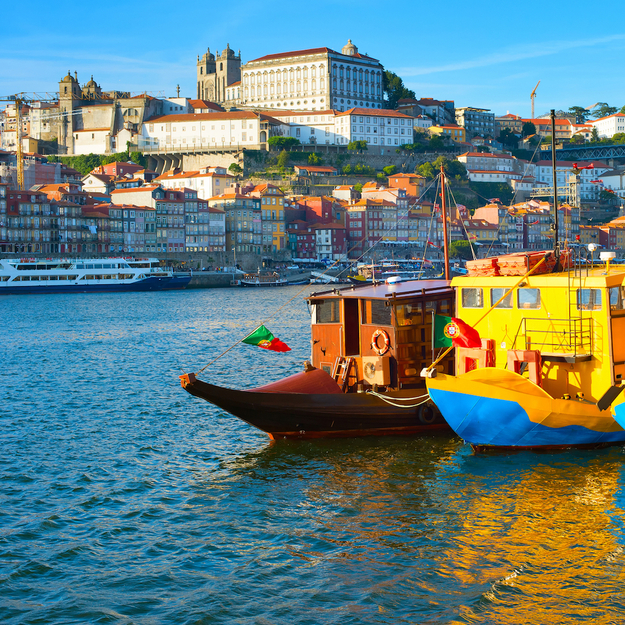 Day 5: Six Bridges, Local Beaches and Boat Tours
Porto has the most active bridges in any European city (6), and while walking them could be a welcome challenge for active honeymooners, lazing along the Douro River aboard a cruise while traversing between the two cities is our favorite way to take in the scene of suspended structures. A wide variety of boats - from large-scale group cruises to private all-inclusive sailboats - can tour you around the river and even bring you to different places like Pinhão. Should your journey take you this far upriver, consider departing for a lavish lunch at D.O.C. and taking a train back into town later on.
If you fancy the ocean over the river for today's aquatic break, take a fifteen-minute metro to the beach town Matosinhos where you can catch some waves in the Atlantic and sample some of the region's freshest seafood. A further thirty minutes north is the quieter oceanside town of Vila do Conde, which bundles some of Portugal's finest swimming with an historic town ripe with charm and still off of mass tourism's radar.

Day 6: Voyage to the Douro Valley - Wine and Unwind
The Douro Valley provides the perfect atmosphere to simply relax over your final few days. Rolling hills lined with vineyards, expansive views of the curvy Douro river and an array of sensual explorations await throughout this wine region, one of the world's oldest. Take the 90-minute scenic drive (if you're still holding onto a rental car), or arrange transportation with your hotel to arrive with ease (and avoid the winding valley roads).
If you've enjoyed utilizing Portugal's rail network, take the train from Porto into into Regua, which will put you within short distance to a number of 100-year-old wine estates, quintas, which have opened their doors to travelers as charming bed-and-breakfast accommodations.
Our top choice to sink into the natural pace of the land after a busy few days of city sightseeing is Six Senses Douro Valley - a completely renovated 19th-century manor house. Let the landscape sweep over you before indulging in a full spa treatment, complete with grapeseed oil exfoliations and wine soaks. Wholly rejuvenated, an exquisite 10-course dinner with wine pairings (as well as the option to cook along with the chefs) awaits - a true chef's table experience.
Stay: The Six Senses Douro Valley is a reason to visit the valley unto itself. The resort chain's first foray in Europe captures the region's relaxing essence - through everything from its infinity pool overlooking the Douro River to relaxation pods scattered about its vegetable fields - while comfortably facilitating a stay of health and wellness. The scenery is surreal, local food and wine are a rightful focus, and guided yoga sessions, cooking classes and hikes into the hills will keep you moderately active and engaged should you need a break from that blissful view.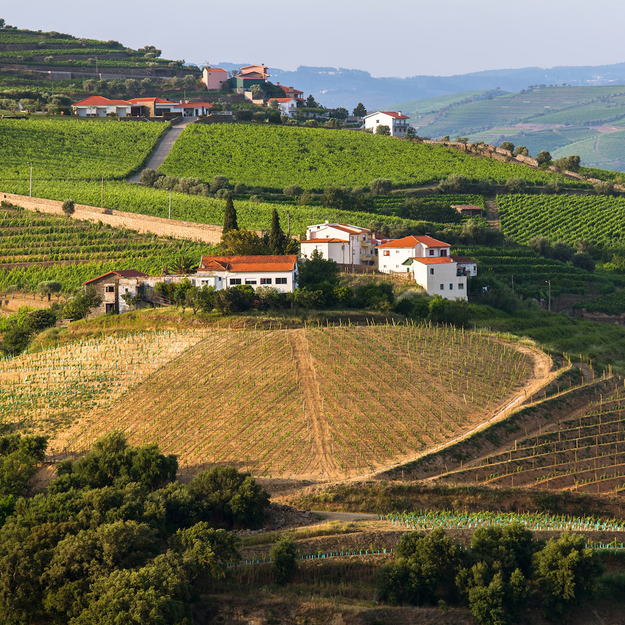 Day 7: The Journey Back
You've likely have had a healthy fix of local wines by now, but should your curiosities persist, consider visiting another quinta or two for a proper vineyard tour complete with tasting. (Quinta da Pacheca is one of the region's oldest estates, established in 1738, and less than ten minutes from Six Senses). Eventually you'll have to part ways with your Port wine and will bid this beautiful land farewell.
Make your way back to Porto and load up on any Portuguese foods and goods before heading home. Perhaps now is the best time to tackle the local specialty francesinha sandwich, which is stuffed with ham, linguiça and steak, and smothered in melted cheese and hot tomato beer sauce. If you're not up for the gut-busting, fork-and-knife affair, some take-home chocolates and truffles laced with Port wine from Chocolataria Equador might be a better idea.

Know Before You Go:
A journey into Portugal without acknowledging the Algarve is almost unheard of. This southern and sun-soaked region is the country's most touristic, and absolutely worth a visit for its long stretches of beaches, sandy island retreats, lively coastal towns, and breathtaking cliffs - if only time weren't a factor.
If this part of Portugal is peaking your interests, parlay a visit down to the Algarve after your entry into Lisbon by renting a car and driving into the heart of the country's authentic and oft-overlooked Alentejo region (where soulful gastronomy and a slower pace awaits in sleepy villages and a practically private western coastline) before continuing onward toward to the popular oceanside region.
Have a glance at our Portugal Destination Guide for a full breakdown of the country's regions and various destinations to consider visiting during your honeymoon.

In case you missed it:
The Most Underrated Honeymoon Destinations