This picturesque volcanic island remains one of Greece's most treasured locales. With authentic villages perched on cliff-sides high above black-sand beaches, plus some amazing natural sites, Santorini is an ideal location for first-time visitors to Greece. With the options for great dining, shopping and wine tasting, visiting peaceful villages, or just simply relaxing on the beach, the island is quite diverse, leaving no wonder why this gorgeous destination routinely mesmerizes visitors from all over the world.
Santorini (also called "Thira") is a volcanic island situated about 120 miles southeast from mainland Greece. The island is included in the Cyclades group of islands in the Aegean Sea and has a population just north of 13,000. Santorini is actually formed from the remnants of a massive volcanic eruption more than 3,500 years ago, thus giving way to its current geological caldera, central lagoon, and steep cliffs.
Santorini is one of the few locations in all of Europe that features a desert climate – so expect plenty of sunshine and agreeable conditions during your stay no matter the season. Temperatures in the summer months average in the low-80s during the day and mid-60s at night. Meanwhile, Santorini's busy season falls between June and early September. During this time, anticipate higher prices and larger crowds wherever you visit. Also, expect more crowds whenever cruise ships are in port. Take time to explore early in the morning or late in the day when conditions are most agreeable, too.
Santorini's top destinations include Fira, Oia, and ancient Thira. Fira sits high atop the cliffs overlooking the caldera and features superb views (especially at sunset!), cobblestone streets and plenty of restaurants, shops and even museums. Oia is located on the northern tip of the island and is a picturesque small village of white and blue-colored buildings. It also has easy access to the charming fishing village of Ammoudi. Meanwhile, ancient Thira is home to the remains of a historic village that was recolonized after the great volcanic eruption more than 3,000 years ago.
The island is also known for its small but excellent vineyards. September is a prime winemaking month, so strongly consider visiting one of the island's unique wineries like Santo Wines perched high above the Aegean. Finally, Santorini is considered one of the Greek Isles' top beach islands with its soft sand and options for red, black, and white-hued shores. Try Black Beach, Red Beach, or Agios Georgios on the southern end for a quieter swim.
What to Do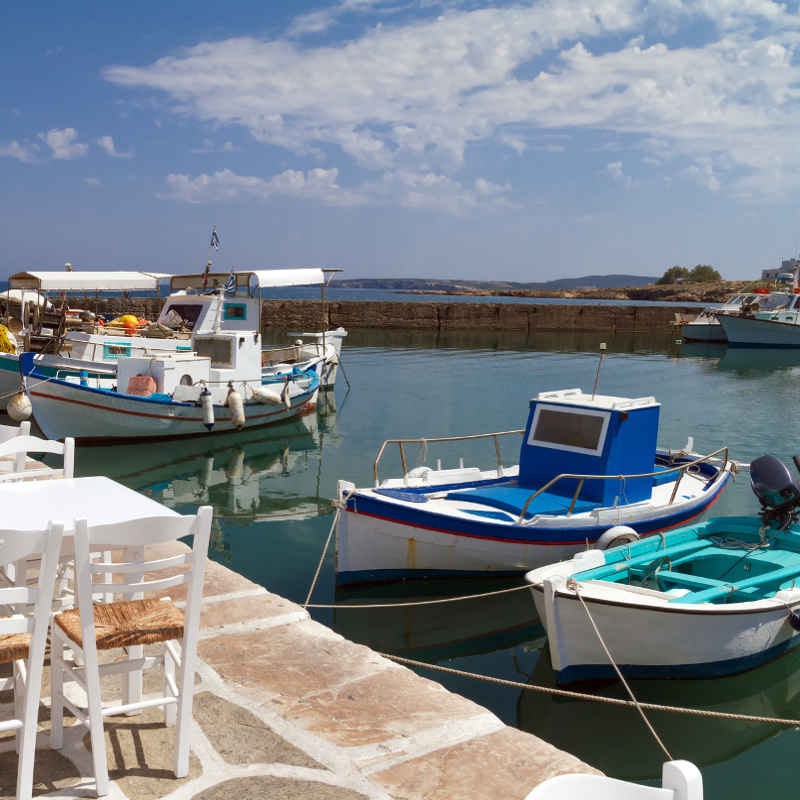 Exploring Fira and Oia - Both of these gorgeous and historic towns are truly distinct and offer a great number of activities, sights, and charming places to visit. Whether for a romantic dinner or charming walks along back alleyways, both Fira and Oia truly provide the opportunity for exploration. Fira is Santorini's capital and boasts some fascinating museums (check out the New Archeological Museum), tons of rooftop restaurants and well-preserved cathedrals. Oia is a very traditional Greek settlement and has been carefully rebuilt following an earthquake in 1956. Take one of the staircases down to the tiny fishing village of Ammoudi along the waterfront and watch fisherman load up their boats as you enjoy the view from one of the nearby fish taverns.

Volcanic Beaches - With its desert climate and red and black-sand beaches, Santorini makes for a fine beach destination. On the east coast, Kamari is home to perhaps the island's most stunning beach. While developed and often crowded, the beach here is wide, flat, and offers the backdrop of cliffs meeting the warm blue waters. Meanwhile, Baxedes is a small, but lovely beach near Oia. Popular with locals and tourists alike, Perissa is another worthwhile detour in the south. Most beaches also have cafes nearby and beach gear to rent as well.

Shopping - Couples will have plenty of shopping opportunities in destination towns like Oia and Fira. Browse charming stores in the main shopping districts for local art, glass, wool, silk scarves, purses and jewelry. Stop inside art galleries and wine shops before making your way to Atlantis Books on the north end of Oia's main shopping street.

Sailing - Arrange a charter and head out onto the open waters of the Aegean. Through Santorini Sailing, book a half-day cruise, sunset sail, full day cruise, or overnight cruise. You'll head out on a 40-foot catamaran and sail past red and black beaches, visit hot springs, swim and snorkel, and even get to cruise next to a volcano.

Hiking - Santorini offers a number of terrific hikes suitable for any level. First, walk along the trail from Fira to Oia. The six-mile trek follows the rim of the caldera and boasts outstanding views. If it's not too hot, see if you can plan your hike to end up in Oia around sunset. The trek will be remembered forever. A second option is to hike the trail from Kamari to ancient Thira. The route, while steep in places, passes a freshwater spring, cave, church, and many other beautiful sights on its way to the historic city.

Nightlife - Greece is well known for its nightlife and Santorini is no different. Fira is a nightlife hotspot. Try the Koo Club for a disco-type atmosphere. Also, Franco's Bar is popular and has nightly music. Housed in a restored mansion, Restaurant 1800 in Oia is renowned for its dynamic cuisine, wine selection, and stunning caldera views.

Wine Tasting at Sunset - The devastating volcanic explosion in 1650 BC covered Santorini in ash and distinct soil, creating the perfect conditions to produce wine. The island is known for its Assyrtiko grapes, which produces some very distinct but excellent dry white wines. Consider visiting Santo Wines high atop the caldera cliffs just south of Fira for a tour and wine tasting right as the sun sets behind the distant mountains.
Where to Stay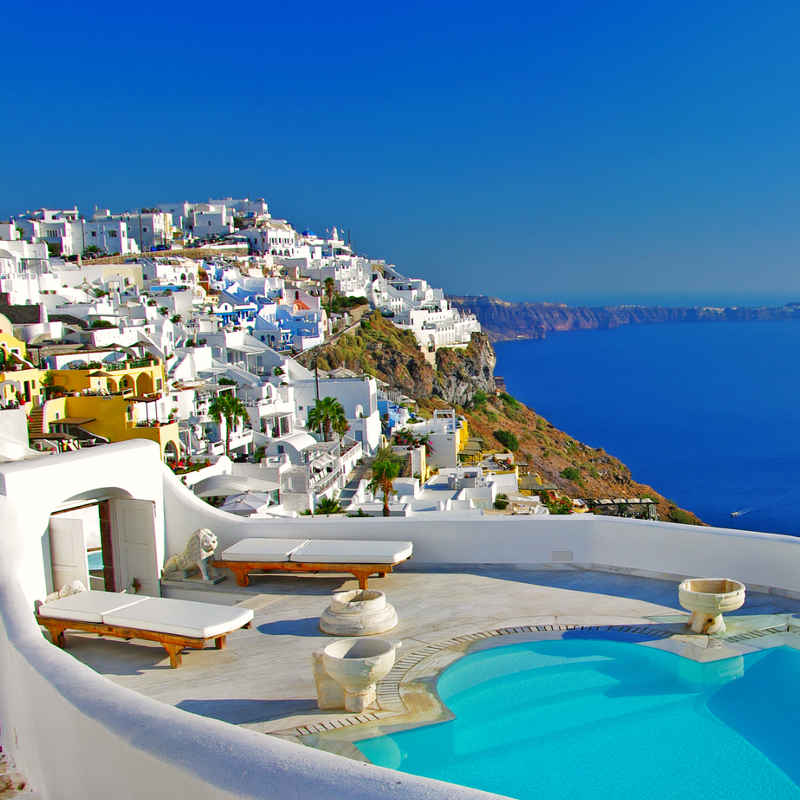 Where to Eat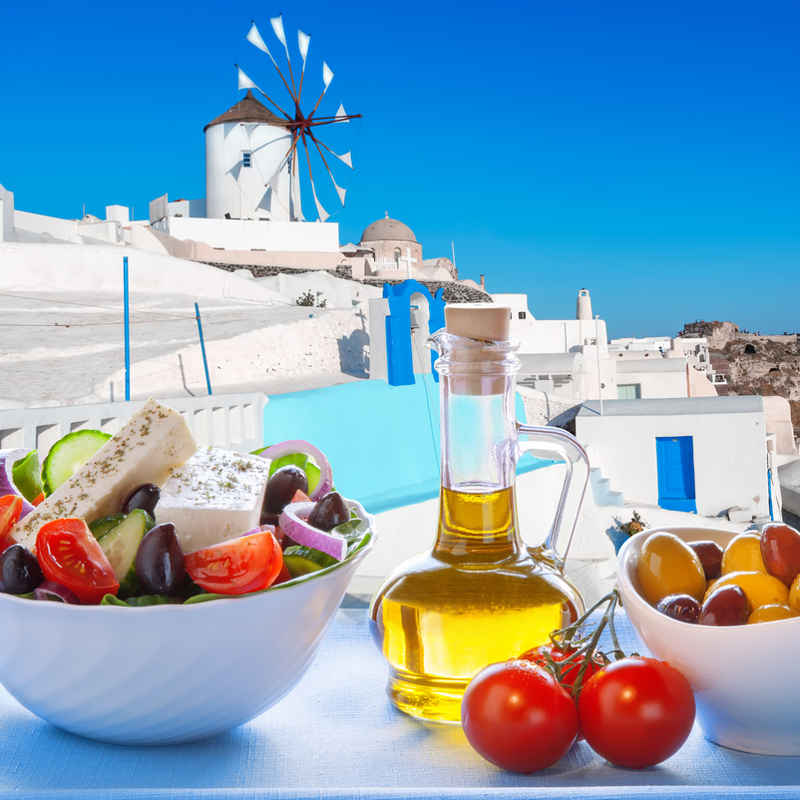 Getting There
Athens International Airport (ATH) is the hub airport of Athens (also called Eleftherios Venizelos) and your likely port of entry. The facility, about 12 miles east of the city center, has an excellent reputation when it comes to public transportation and includes a rail network, buses, taxis, and a number of rental car companies.
If you plan on visiting Santorini or another Greek Island on your honeymoon, we recommend hopping on a quick flight from the airport or using a ferry via the Port of Athens ("Piraeus"). Ferries can take between 5-7 hours (depending on whether you travel via catamaran or high-speed boats) and prices are quite reasonable.
Meanwhile, Aegean Air and Olympic Airways both offer several flights a day to Santorini.