Complete with white-sand beaches, ancient archaeological sites, charming seaside towns, beautiful resorts, and mountainous interior terrain, Crete is a perfect honeymoon destinations for couples seeking a little bit of everything. The island is truly unique.
To put it all into perspective, it's got more than 4,000 years of history and yet it often feels untouched by time. With deserted strips of sand, lush gorges, rugged peaks, and historic cities featuring cobbled alleyways and hilltop fortresses, it begs visitors to come explore for themselves, just as the great explorers once did many centuries ago.
Positioned in the southern section of the Aegean Sea, Crete is the largest and most populated Greek Island. It spans about 160 miles from the east to west and is about 37 miles at its widest point. This sun-soaked land – which lies about 100 miles south of mainland Greece – also features 650 miles of dramatic coastline.
Also the most southerly of the Greek islands, Crete is filled with unforgiving mountains, sparkling seas, and ancient history. In fact, Crete was the center of the Minoan civilization, which prevailed between 2700-1420 BC. The Minoans thrived as a maritime power and first created elaborate palaces that appeared during the Bronze Age. Today, ruins still exist from a number of palace complexes, including the Palace of Knossos just outside of Heraklion.
This large Greek isle is divided into four unique regions that offer very unique experiences, from jungle adventures to lounging on a palm-shaded beach. The soft sandy beaches are quite amazing and the weather is nearly perfect year-round. Add in some incredible spas, hotels, and delicious Cretan cuisine and you've got one of the world's finest honeymoon destinations.
The northern coast is complete with many resorts and historic towns like Chania and Rethymno. Famous for its many museums and historic sites, Heraklion (population 173,450) is also on the northern coast and serves as the island's capital and principal economic center. Meanwhile, the southern coast is rugged and far less developed, especially in the southwest. The island features four major mountain ranges that stretch from the east to the west and form the spine of the island. Boasting numerous gorges, coves, and beautiful scenery, the mountains make this island an outdoor enthusiast's dream.
The town of Chania is located in the northwest part of the island and set against an amazing backdrop of undulating mountains and turquoise waters. It's an ideal base for exploring western Crete. The city has had a turbulent history, being conquered and controlled by the Romans, Turks, and Egyptians, among others, and it's easy to see its diverse past. Most of the city's top sites can be found in the old Venetian quarter near the picturesque harbor. Ramble among the backstreets and alleyways and be sure to peruse the stalls at the covered market. The Splantzia Quarter is gorgeous with its narrow alleyways, wooden balconies, and cobbled backstreets. The waterfront site Fort Firkas has an appealing museum and hosts many theatre and events during the summer months. The shoreline stretching west from Chania also has many beautiful beaches.
Rethymno (often called "Rethymnon") also has a long history, though flourished under Venetian rule during the 16th century and developed into a literary and artistic center. The city has retained most of its charm and is still considered the intellectual capital of the island. The old quarter is gorgeous and features well-preserved Venetian and Ottoman architecture and the waterfront is simply stunning. The Fortezza dominates the town above the inner harbor area and was built to defend the town against pirate attacks in the 16th century. The waterfront is now filled with many taverns, bars, and shops. The town is also known for its many museums and 17th century mosque.
Heraklion (or "Irakleio") has been a significant settlement on the island for centuries and now contains amazing Venetian architecture, a boat-lined harbor, city walls, and a fortress. The city centers around Plateia Eleftheriou Venizelou, a pedestrian zone with terrific cafes, fountains, and shops. The city is also packed with historic sites, notable museums like the Irakleio Archaeological Museum, and many cathedrals. Just three miles south of town is where you'll find the Palace of Knossos, built around 1900 BC. Many ruins are still visible today, including the Royal Apartments, Throne Room, and the Priest-King Fresco.
Located on Mirabello Bay in the eastern part of the island, Agios Nikolaos is one of Crete's most picturesque towns. It's got an attractive inner harbor area plus several interesting museums. Further to the east you will find Sitia, another picturesque harbor town with cafes and shops clustered around its harbor area. The Kornaria Festival is held here from July to mid-August and features many music and dance events, theatre, and sports events.
What to Do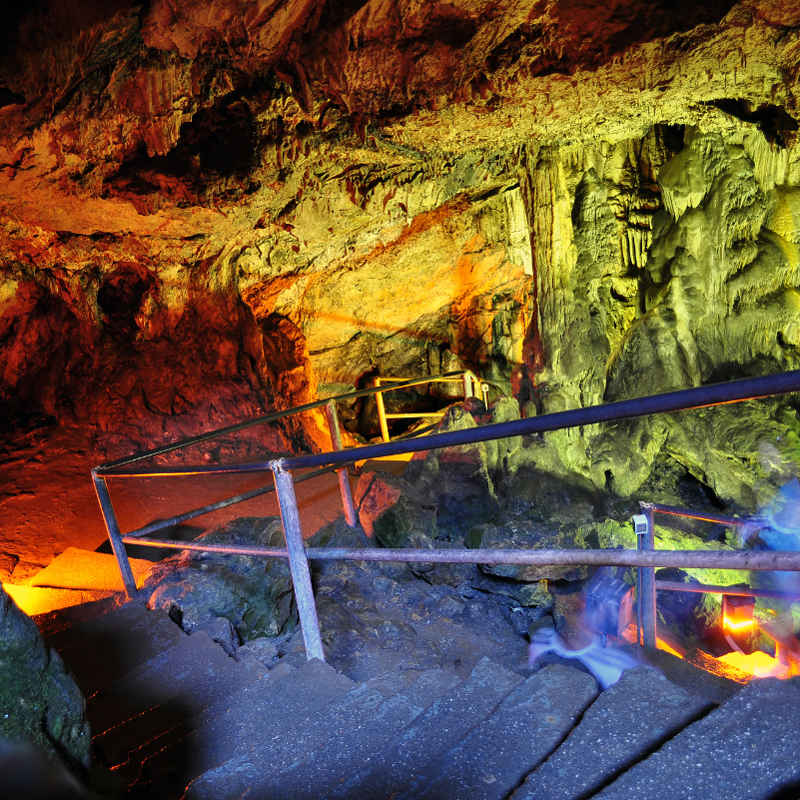 Hiking Samaria Gorge — No doubt some of the most incredible landscape in Crete can be found at Samaria Gorge, considered one of the longest ravines in Europe. It was established as a National Park in 1962 and now contains many hiking trails, narrow rock walls (known as the "Iron Gates"), historic chapels, and abandoned villages. The path begins from the Xyloskalo (AKA "Wooden Stairs", about 27 miles south of Chania) and leads down an 11-mile trail to the seaside village of Agia Roumeli. As your reward for reaching the end, sip some wine and enjoy delicious Cretan cuisine at a local taverna.

Beach Excursions — Be sure to sit back and relax at a few of Crete's finest beaches. The island offers hundreds of miles of scenic coastline and there's seemingly a never-ending supply of them. Many of the island's most secluded spots can be found on the south coast, while the northern beaches are closest to the big cities and often packed with vacationers.

In terms of our highest recommended beach detours, start with the group of gorgeous spots just west and southwest of Chania, including Elafonisi with its crystal-clear waters and the often-deserted beach at Falasarna. In the east, check out the palm-tree-shaded beach at Vai. This spot is home to one of the largest natural palm forests in Europe. In the south, about 45 miles from Heraklion, the beach at Matala is backed by remarkable cliffs and seaside caves.

Historic Sites and Museums — Crete has no shortage of can't-miss museums and prominent historic sites. Even if you're not huge history buffs, there are still several notable attractions on the island that we consider "must-see." Start with The Archaeological Museum in Heraklion, which features the world's finest collection of art and artifacts from the Minoan civilization. Next, head a few miles outside of town and visit The Palace of Knossos, certainly one of Europe's greatest archaeological sites. This major landmark contains the remains of two Minoan palaces constructed as far back as 2000 BC.

Finish your historical tour in Rethymno with a visit to the Venetian Fortezza, built under the Venetians in the 16th century. This giant fort can be seen from just about every corner of town and provides panoramic views of the city and the coast looking to the west.

Scenic Towns and Villages — While there are numerous towns and villages worth visiting on Crete, Rethymno, Chania, Agios Nikolaos, and Sitia are certainly four of the most intriguing.

Starting in the west, Chania is easily one of the most stunning towns in all of Greece. This elegant waterfront city features waterfront promenades, eucalyptus-lined streets, and cobblestone alleyways perfect for romantic strolls. Moving about 43 miles east, Rethymno is Crete's third-largest town and known as the country's version of Venice. The city features a charming old Venetian quarter, beautiful harborfront, shaded squares, fountains, and a gigantic castle known as the Fortezza.

Continue east to Agios Nikolaos, another beautiful city along Crete's sparkling north coast. This region features a number of top resorts/hotels, beaches, and watersports opportunities. The city centre is bustling in the summer season with its many coffeeshops, boutiques, active marina, and tavernas serving typical mesedes or local favorites.

Finally, head to lovely Sitia, a gateway town to Vai Beach and the home of the Kornaria Festival. This popular cultural event -- which runs from early July to mid-August -- includes numerous concerts, art exhibits, sports events, and theatre productions, and gives visitors a chance to get to know the customs and traditions of Sitia and the island of Crete.

Eating and Drinking Experiences — Crete is renowned for its family-operated tavernas, many of which offer local produce and traditional Cretan dishes. Typical food served in these establishments includes Cretan cheese (Graviera), fresh fish, grilled meat (often pork and lamb), dakos (twice-baked bread with olive oil, cheese, tomato and oregano) and trypopita (a pastry made with a cheese filling). Main dishes are typically shared from large dishes placed in the center of the table. Dinners are typically served late, even starting around 10:00 in the evening.

For a memorable Cretan food experience, dine at Kyria Maria in Rethymno and then Pelagos in Agios Nikolaos. As for drinks, the island produces delicious wine, so be sure to sample some local varieties, particularly Boutaris, Minos, and Douloufakis. Also, taste some raki (also known as tsikouthia), which is a strong distilled spirit made from fermented grape skins and a staple of Crete.
Where to Stay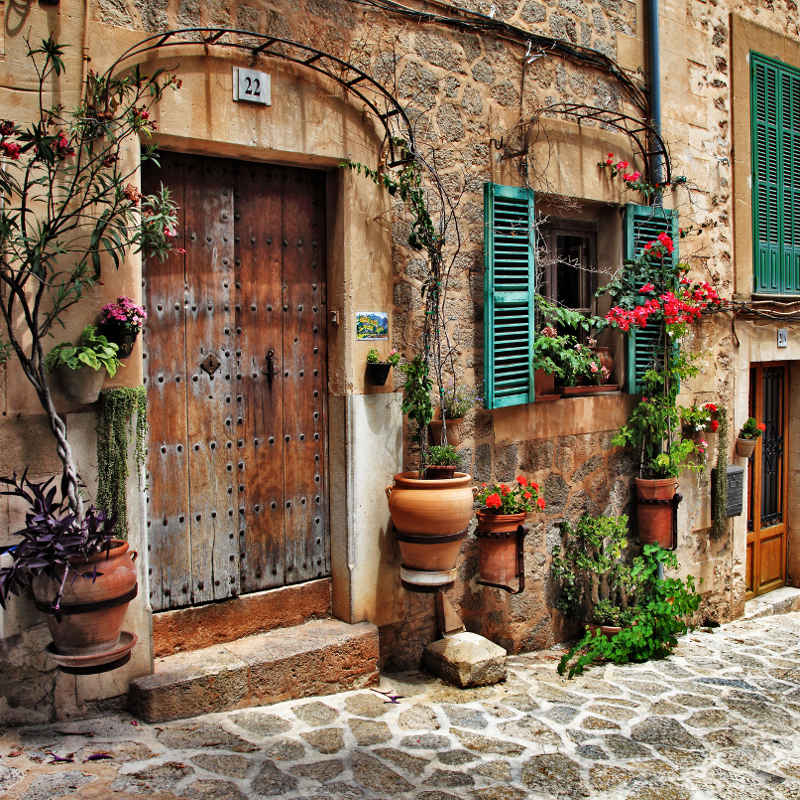 Where to Eat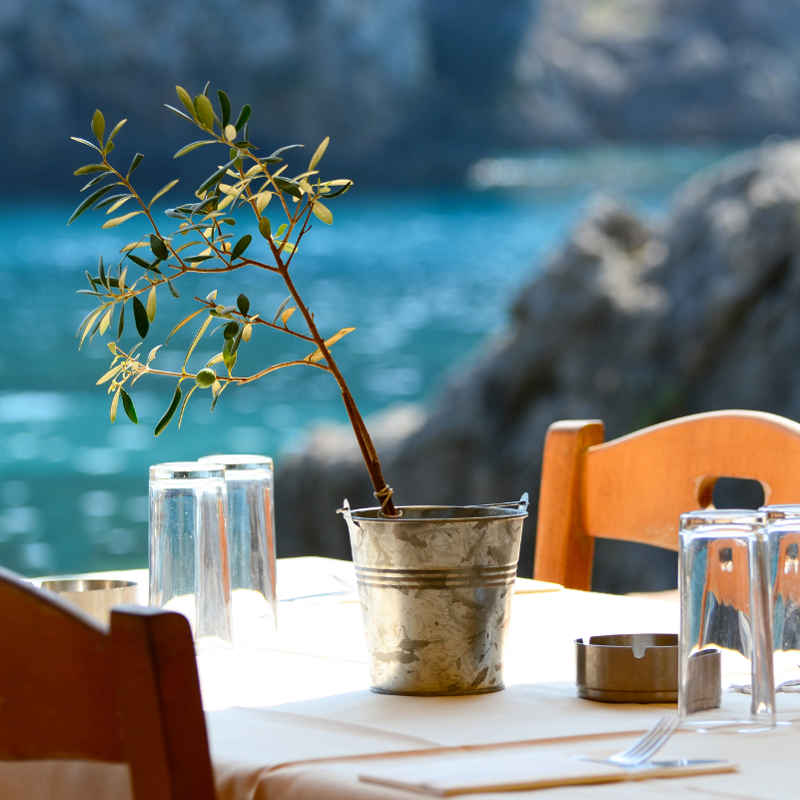 The Old Phoenix - Only reached via boat and on foot, this is a classic Cretan seaside taverna in the bay of Finix. The restaurant is located on a shaded terrace overlooking the sea and features mostly local ingredients, whether it be fresh fish, vegetables, or fruit. If you can't seem to leave (which is certainly understandable), the property doubles as an inn.

Kyria Maria - This family-owned and operated tavern in Rethymnon is situated in the heart of the old town and serves traditional Cretan food. Outdoor tables spill out into the narrow streets, making people-watching a favorite of diners.

Pelagos Restaurant - This old town standout in Chania specializes in fresh fish and seafood. The relaxing outdoor setting is also a draw, as diners can enjoy a delicious meal at elegant tables set alongside a picturesque harbor. 
Getting There
The main arrival point on the island is Heraklion Airport (HER), also known as Kazantzakis International Airport. The facility -- which has about 15 flights a day from Athens -- offers car rental companies, taxi services, shuttle buses, and other public transportation options. HER is only about 3.5 miles from downtown Heraklion.
Also, you can easily reach Crete in about four hours from Athens via high-speed ferry service via Piraeus. Simply head to the website for Hellenic Seaways for timetables, tickets, and the latest information.