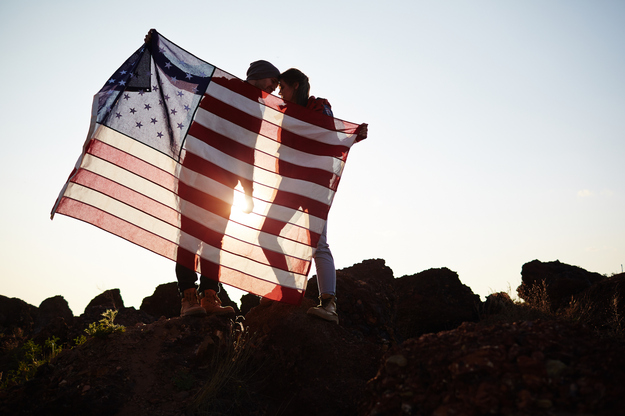 Your fantasy romantic honeymoon can be found right here in America. Leave your passport behind - our own backyard is blessed with diverse climates, culture-rich cities, coastal getaways, and lively thrills.
Picture navigating the sights and sounds of iconic New York City, breezing through the Hawaiian islands, or sipping your way across California's Wine Country. With so many different destinations, it's easy to understand why honeymooners are staying in the USA for their once-in-a-lifetime trip.
Follow along as we field through our top 10 honeymoon destinations throughout the country. Ready to pack your bags? Craft your dream itinerary and start your honeymoon registry today.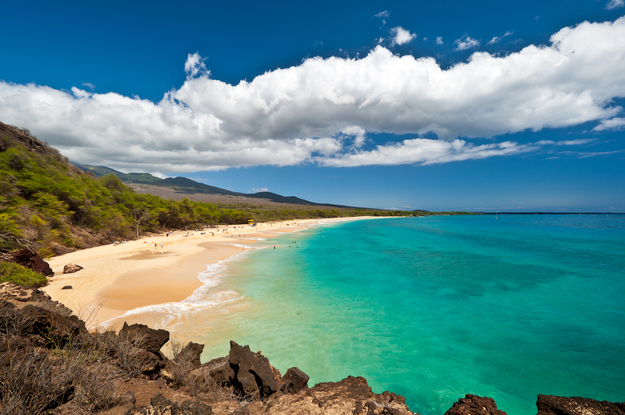 A Hawaiian beach is the perfect place to step into your honeymoon.
Hawaii

Sun, sand, and nature-based adventure await across the islands of this tropical paradise.
Hawaii has long been among America's top honeymoon destinations and remains one of the most desired places to visit on the planet. Serene, restful, exciting and exotic, Hawaii is practically tailor-built for honeymooners. In between blissful days of lounging at a world-class resort, sprinkle some island explorations into your itinerary - secret surf spots, picture-perfect waterfalls, and zip-line adventures await.
Even with 8 million annual visitors, the 8 islands that comprise Hawaii are as attractive and inviting as ever. Wondering where to start? We've got you covered with all the insight into the most popular Hawaiian islands: Oahu, Maui, Big Island, Kauai, and Molokai.
Walt Disney World, Florida

Unleash your youthful spirit in the most magical place on Earth.
Honeymooning in Disney World offers the chance to bring your fairy tale fantasies to life. Enchanting accommodations, thrill-packed theme parks, awe-inspiring wildlife, and unparalleled VIP-treatment are just some of the perks that a Disney World honeymoon provides. Romantic cruises, theatrical nightlife, and full-service spas round out some of the destinations more adult-oriented offerings.
From lively boardwalks to inspired transportation and endless grand spectacles, the magic of Disney World is truly infinite. Have dinner at Cinderella's castle or grab a front-row seat for a nightly fireworks show to see what we mean. The world's biggest recreation resort offers more than enough for a week-long honeymoon, and will likely leave you wanting more. Check out our destination guide to ignite your imagination.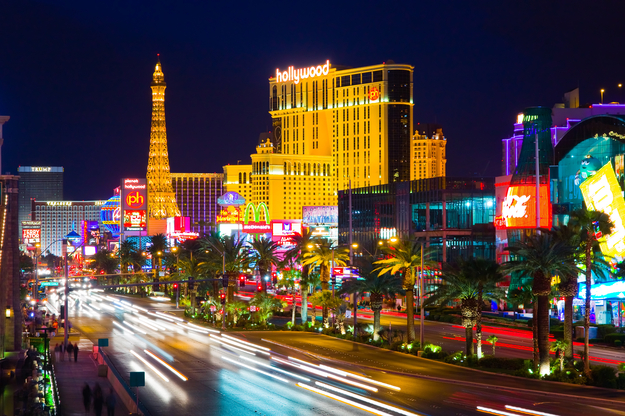 An electric honeymoon awaits in Las Vegas.
Las Vegas, Nevada

Sin City can be as romantic as it is lively.
Las Vegas isn't just for gamblers and bachelors. Nevada's manufactured playground is arguably the most over-the-top destination in the world, and the grandiose of it all might perfectly match your desire for a one-of-a-kind honeymoon experience. If you're looking for the ultimate in luxury spas, restaurants, hotels, and high-flying entertainment, Vegas can't be beat.
Robotic bartenders, celebrity performances, fountain shows, and more will fire your senses up and down the strip. A gondola ride through Venice, tour of the Eiffel Tower, and views of the Pyramid bring worldly culture to you. Helicopter rides over the Grand Canyon and day trips to national parks will bring you right back to reality in a flash.
U.S. Virgin Islands

Powder-soft sands, endless amenities, and island adventures in the Caribbean Sea.
The U.S. Virgin Islands are the easiest way to enjoy a relaxing Caribbean honeymoon. With no passport required for entry and the U.S. dollar as an official currency, the USVI is understandably climbing the lists of honeymooners' most desired places to visit. Three islands comprise much of the established U.S. Virgin Islands, and all together they offer something for everyone.
St. Croix is the island best suited for couples that are all about finding the best and most secluded beaches (those on Buck Island are hard to beat). St. John offers a healthy dose of natural adventures. Hiking trails, hidden beaches, and well-preserved sites can be found all across its Virgin Islands National Park (which encompasses most of the island). Choose St. Thomas for luxury resorts, world-class pampering, water sports, and shopping.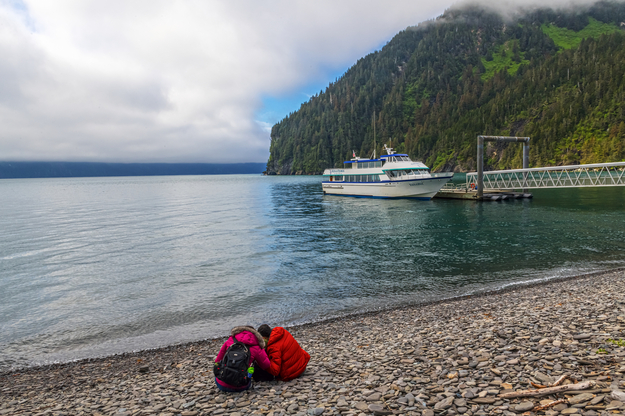 Explore Alaska's rugged wilderness by boat to access impossibly remote areas.
Alaska

Experience unspoiled beauty and boundless nature in America's Great Land.
An Alaskan honeymoon is as intimate as it is exhilarating. This outdoor frontier inspires visitors with its endless vistas, majestic wildlife, and abundance of adventures. Whether dog mushing across frozen glaciers, hiking the behemoth Denali National Park, horseback riding through thick forest, or just driving through the wilderness, Alaska offers a much-needed breath of fresh air after wedding season.
Touch base in Anchorage before venturing north to Denali - either by car or by train - to kickstart your itinerary. A plethora of accommodations - from familiar hotels to cozy cabins and yurts - along the state's routes make a summer road trip filled with outdoor pursuits attractive. If you're not up for a DIY Alaskan adventure, consider booking a cruise for minimal hassle and maximum comfort.
Jackson Hole, Wyoming

A rugged, mountain getaway and gateway to grand national parks.
At the base of Grand Teton National Park and Yellowstone National Park, Jackson Hole in Wyoming has become a mecca for outdoor enthusiasts. Whether world-class skiing and dog-mushing in the snowy winter season, or whitewater rafting and fly fishing on a hot summer day, Jackson Hole is sure to provide the thrills for an adventurous honeymoon.
After rugged days of mountain range trials and national park pursuits, stroll Jackson Hole's charming downtown district. Quaint boutiques, lively restaurants, and acclaimed museums offer the perfect complement to the ever-beckoning great outdoors.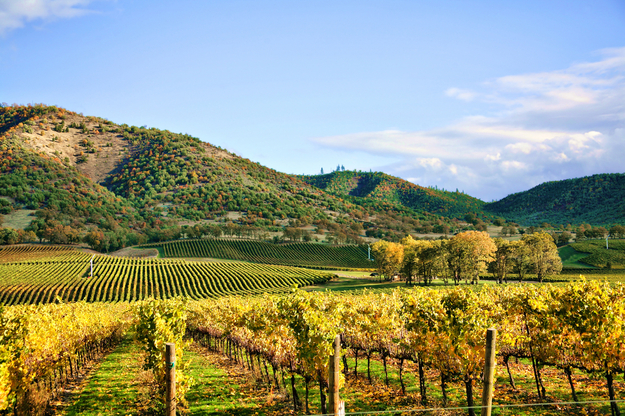 Northern California is one of the best wine-growing regions in the world.
Wine Country, California

Luxurious spas and hotels pair perfectly with world-class food and wine in verdant Northern California.
Drink it all in, newlyweds. Nothing is as rewarding as a glass of fine wine in a magnificent setting. California's Wine Country - primarily Napa Valley, Sonoma County, and Mendocino County - has earned its mark on the worldwide map as a place that celebrates the finer things in life. A great meal; a crisp and delicious wine; a rejuvenating spa experience; a fabulously chic hotel stay. This is the American honeymoon destination you deserve.
With over 400 wineries across the region, you're sure to enjoy a fair share of Cabernet Sauvignon, Chardonnay, Merlot, and more. Award-winning, gourmet meals are in similar abundance (like those from The French Laundry). There's also a more rugged side to Wine Country, whereby scenic hikes and winding cycling routes showcase the beauty of California's land.
New York City

Buzzing energy, arts, culture, and romance in the classic city that never sleeps.
Few places in the world can compare to the vibrant atmosphere of New York City. Manhattan - with its loud streets, historic skyscrapers, and unapologetic attitude - is globally iconic, and might make for a perfect honeymoon playground. Fill your days with museum visits (like MoMA and the American Museum of Natural History), Central Park strolls, boutique shopping, and gourmet meals at top-notch restaurants. Sprinkle a broadway show or two on top for good measure.
A cruise on the Hudson River will present the city's skyline from a different perspective. New York City's grid layout allows for simple navigation, by foot or by bicycle, and a massive subway system opens up the possibilities for visits to the surrounding boroughs. Brooklyn - with its hip coffeeshop culture, purposefully grungy bars, and live music venues - is always right within reach.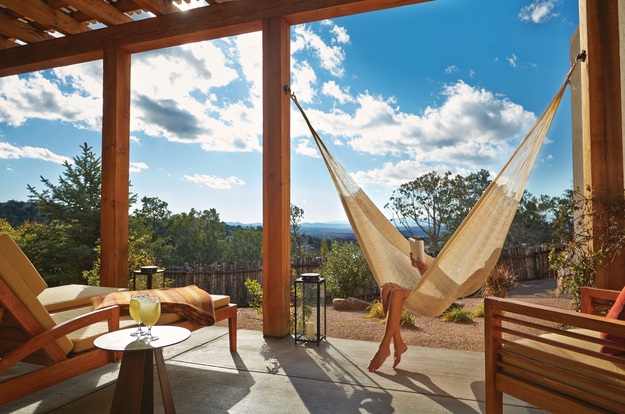 Invigorate your senses with a stay at one of New Mexico's holistic wellness resorts.
Santa Fe, New Mexico

Culture, landscape, and rejuvenating energies abound in the desert.
Hispanic, Anglo, and Native American cultures come together to form the legendary city of Santa Fe. New Mexico is actually the sunniest state in the USA - perfect for year-round hiking, biking, horseback riding, rafting and more. The city's diversity is evident everywhere from its standout architecture to its arts and cuisine.
Perfectly complimenting New Mexico's pristine nature, a recent crop of wellness resorts have scattered across the lands in and around Santa Fe. With rest and relaxation at the forefront, a honeymoon stay at one of these magnificent properties (such as the Four Seasons Resort Rancho Encantado) is sure to put your marriage on a path of balance and harmony.
The Berkshires, MA

Elegance and nature intertwine in America's Northeast.
While the Berkshires of Western Massachusetts is beautiful year-round, there's something particularly special about Autumn in America's Northeast. Visit the rural region around this time of the year to enjoy fall-foliage at its peak, along with farm-to-table restaurants, renowned festivals, and historic hotels.
Castles, mansions, and spectacular country house inns are just some of the fantastic accommodations which have helped define the region as a hospitality powerhouse. Rent a car and guide your own honeymoon to experience the best that the Berkshires have to offer (which often includes the mystery of not knowing where you're going). A medley of day hikes, canoe trips, antique shop visits, and relaxing spa indulgences is sure to constitute an excellent honeymoon itinerary.

In case you missed it:
The Top 10 European Honeymoon Destinations