Thinking about heading to the American West for your honeymoon? With beach towns, desert cities, towering mountain ranges, and secluded island escapes, the U.S. West can accommodate a dream honeymoon itinerary for just about any newlywed couple.
From coastal Californian towns to the mammoth Colorado Rockies and awe-inspiring deserts of Arizona, these are the 10 best honeymoon destinations in the U.S. West. (And while we love Hawaii, we decided to keep this list closer to the continent).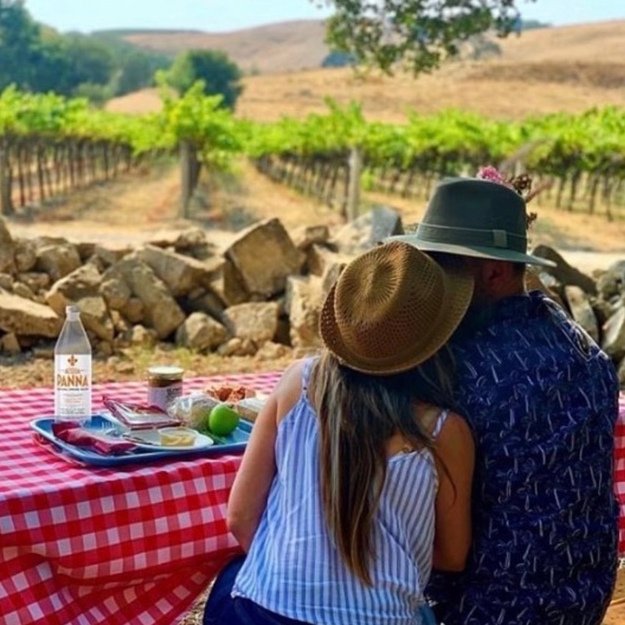 Courtesy of @lacesandlimos
Fill your Napa Valley honeymoon with peaceful afternoon picnics.
Honeymoon in Napa Valley, California




America's premier wine-growing region offers a honeymoon of sweet and simple pleasures.
With a slew of charming small towns and an array of outdoor activities built upon a world-famous wining and dining scene, Napa Valley is consistently one of the best honeymoon destinations in the U.S. West. Hiking, biking, and vineyard-hopping across this Northern California region are made even more pleasant thanks to its sunny, Mediterranean climate. Read our honeymoon destination guide on Napa Valley for more.
Book your Napa honeymoon stay at the Calistoga Motor Lodge and Spa. Inspired by the Great American Road Trip, this retro-inspired lodge is a boutique roadside inn revved up to the next level. Three pools, a luxurious spa, and a rotating calendar of events make the Motor Lodge both a destination unto itself and a serene retreat from long days throughout the Valley.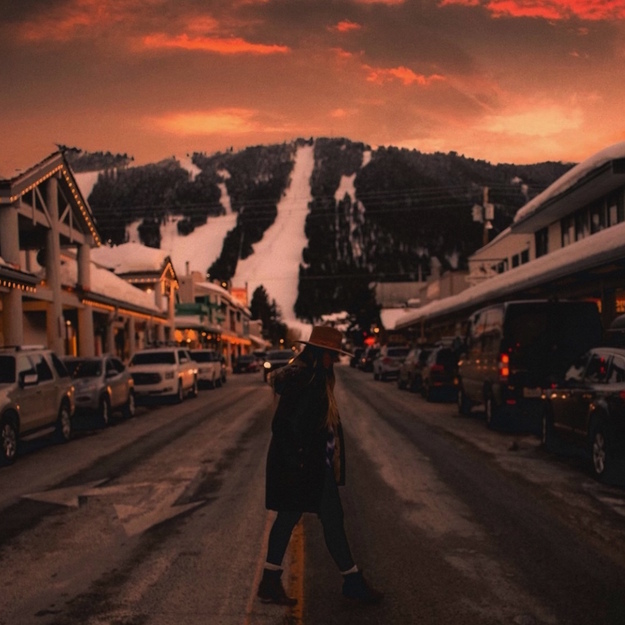 Courtesy of @bonfireheart.co
Jackson's downtown is perfectly framed by its behemoth mountains.
Honeymoon in Jackson Hole, Wyoming




Honeymoon in this rugged mountain town and gateway to grand national parks.
Sitting at the base of Grand Teton National Park and Yellowstone National Park, Jackson Hole offers unbeatable mountain vistas and endless outdoor adventures. From world-class skiing and relaxing hot tub sessions in its snowy winters to whitewater rafting and hiking the parks on a hot summer day, Jackson Hole has got the goods for a thrilling honeymoon in the American West.
Book your Jackson Hole honeymoon stay at the Anvil Hotel. Situated in downtown Jackson, the Anvil is perfectly positioned to explore the Tetons by day and get out on the town at night. Use this glam hotel as a base hub for your honeymoon's great explorations all across wonderful Wyoming.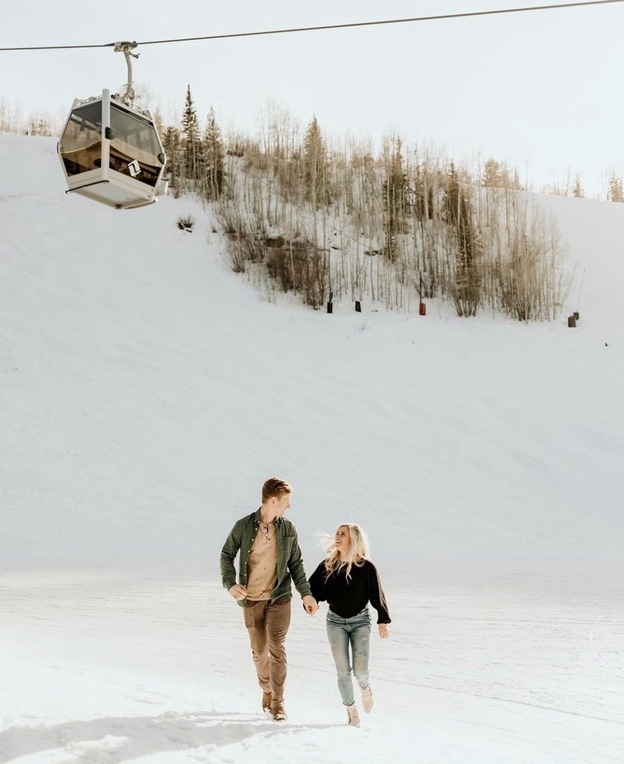 Courtesy of @bytheinyangs
Hit the Vail slopes on your luxurious honeymoon adventure.
Honeymoon in Vail, Colorado




This Swiss-inspired ski village is a winter honeymoon dream destination.
A European honeymoon can be had right in the heart of the Rocky Mountains with a visit to über-chic Vail, Colorado. As one of the largest ski resorts in the country, Vail is undoubtedly best enjoyed as a winter honeymoon destination. Still, non-skiing romantic couples will revel in Vail's natural beauty. Reminiscent of the Alpine villages of Switzerland, Austria, and Germany, Vail is adorned with picture-perfect A-framed chalets, cobblestoned streets, and hearty bistros and bars.
Book your Vail, Colorado honeymoon stay at the Grand Hyatt Vail. At the base of Vail Mountain, this ski-in/ski-out resort offers the best way to dive into Vail's skiing scene. The Grand Hyatt's creekside hot tubs, alpine spa, and on-site dining will keep you plenty satisfied after long days on the slopes.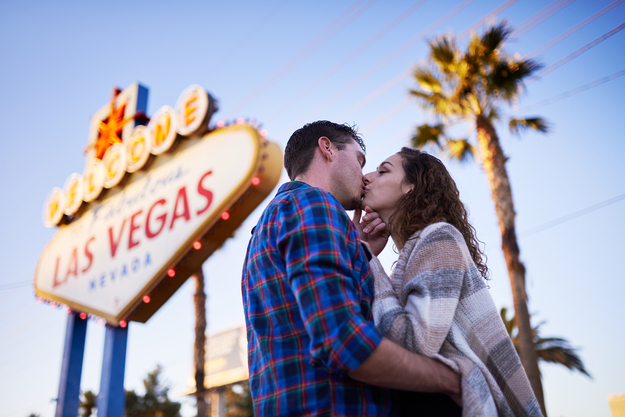 Let the spirit of Las Vegas guide your exciting honeymoon.
Honeymoon in Las Vegas, Nevada




Sin City can dazzle honeymooners with its 24-hour offerings.
The typical Las Vegas scene conjures images that might stand in stark contrast with a honeymoon, but Sin City boasts the right blend of amenities, entertainment, and activities for a lively honeymoon in the U.S. West. Look past the kitsch of Vegas' gondola rides and faux-Eiffel Tower, and you'll see a desert city that sets benchmarks in hotel accommodations, theatrical productions, fine dining and more. Read our Las Vegas destination guide for more honeymoon inspiration.
Book your Las Vegas, Nevada honeymoon at The Venetian. This all-suite resort will transport honeymooners to one of Italy's most enchanting cities. Situated right on the Strip, the Venetian puts honeymooners in the heart of Vegas' action, yet its separate casino floor and decadent Canyon Ranch spa can also whisk guests away from the bustling energy of the city.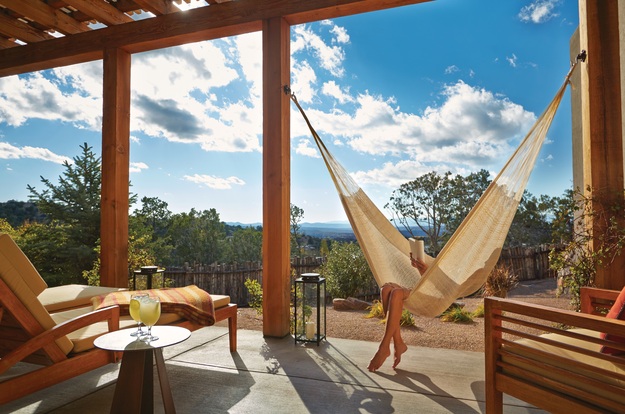 Courtesy of Four Seasons Resort Rancho Encantado
Lazy days go a long way with a relaxing honeymoon in Santa Fe.
Honeymoon in Santa Fe, New Mexico




Embrace Native American traditions and mystical landscapes with a honeymoon in Santa Fe.
Known as the Land of Enchantment, Santa Fe embodies everything that the American Southwest is famed for. With rich history, inspiring scenery, vast wilderness and wellness resorts, Santa Fe is sure to ignite your honeymoon passions.
Book your Santa Fe honeymoon stay at the Four Seasons Resort Rancho Encantado. This trailblazing wellness resort sits on historic grounds and embodies the culture, landscape, and energies that New Mexico is most known for. Ayurvedic rituals, yoga classes, and guided hikes will clue honeymooners in on New Mexico's healing properties.
Courtesy of Under Canvas
Experience breathtaking vistas with a honeymoon in Arizona.
Honeymoon in Grand Canyon, Arizona




This great world wonder will take your honeymoon to new heights.
The enormity of the Grand Canyon might be the only thing that can match the magnitude of your marriage, so why not combine the two? A Grand Canyon honeymoon is filled with surreal beauty, peaceful serenity, and thrilling adventure. Hiking, whitewater rafting, helicopter tours, horseback riding, and even hot air balloon rides will enhance your experience of this incredible national park and world wonder.
Book your Grand Canyon honeymoon stay at Under Canvas Grand Canyon. This safari-inspired accommodation in a secluded forest offers a rejuvenating stay less than half an hour from the South Rim entrance to the Grand Canyon National Park. Morning sunrises, nighttime stargazing, on-site dining, and upscale tent accommodations make this one of the top glamping resorts in the U.S.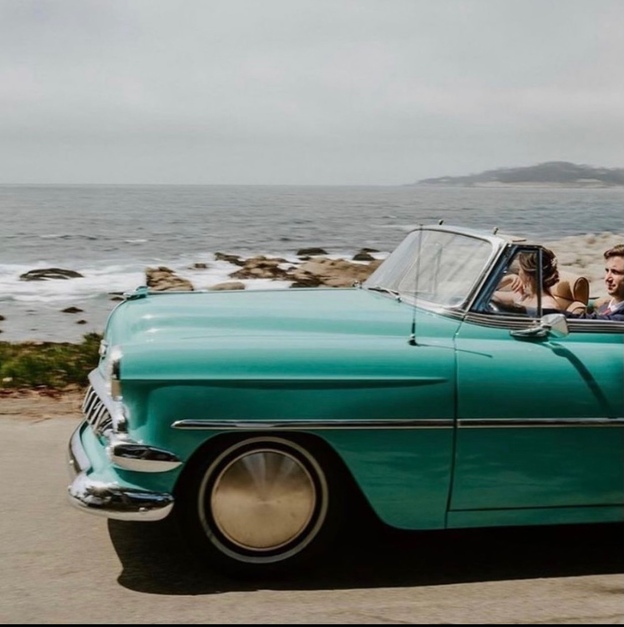 Courtesy of @montereytouringvehicles
Take in the beauty of California's coastline with a honeymoon in Carmel.
Honeymoon in Carmel-by-the-Sea, California




Eternal Spring shines on this honeymoon haven along California's coast.
Carmel-by-the-Sea is an eclectic and iconic California getaway that is perfect for a laid-back honeymoon. Gorgeous weather, picturesque beaches, and a proudly unique sense of place (where Clint Eastwood was formerly mayor and there are no street addresses to prevent the "citification" of beloved Carmel) make Carmel shine as a special honeymoon retreat. The spirited town's seaside wine walks, luxurious shops and galleries, and historic mission will keep you busy should you ever tire of lounging on Carmel's sands.
Book your Carmel honeymoon stay at Tradewinds Carmel. This award-winning, family-run boutique hotel radiates calm and comfort. Set against the backdrop of the Pacific Ocean and with an Asian-inspired airiness featuring a private meditation garden, Tradewinds is perfectly positioned for exploring Carmel's attractions by foot.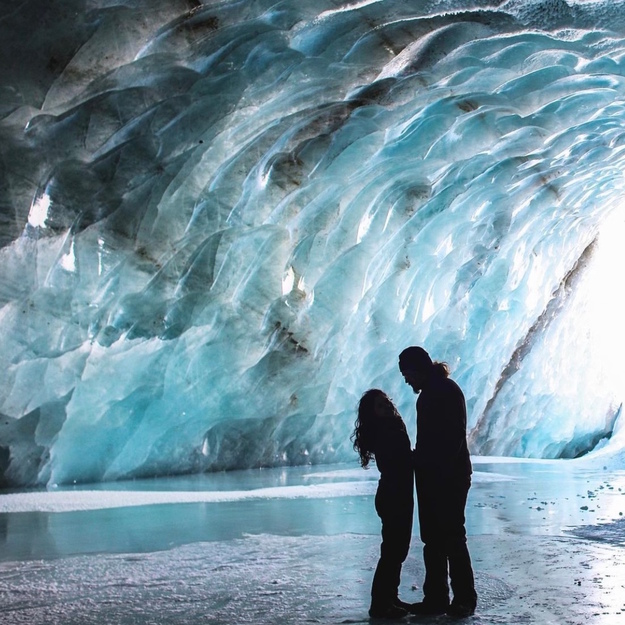 Courtesy of @coyote_nobody
Embrace the incredible geography of Alaska during your honeymoon.
Honeymoon in Denali National Park, Alaska




Base your Alaskan honeymoon adventure around the tallest peak on the continent.
A honeymoon in Alaska promises relentless nature, breathtaking scenery, and exhilarating adventure. Wild, rugged, and unspoiled, Alaska's beauty will delightfully guide your honeymoon into unforgettable territory. Denali National Park is an interior region of over six million acres of wild land. Where the Northern Lights light up the winter sky and the Midnight Sun casts light around the clock in summer, Denali presents raw Alaska at its grandest scope. Read our Alaska honeymoon destination guide for more information on the seaplanes, trains, road trips, and cruises that will help you traverse through the Alaskan landscape.
Book your Denali National Park honeymoon at the Sheldon Chalet. This mile-high accommodation sits on a seemingly impossible peak above a glacier and is almost entirely encompassed by mountains. The one-of-a-kind lodge truly is the only vacation-use villa in Denali. The Chalet's helicopter arrival, sheer wonder of landscape, and plethora of tailored, all-inclusive excursions are unrivaled anywhere in Alaska.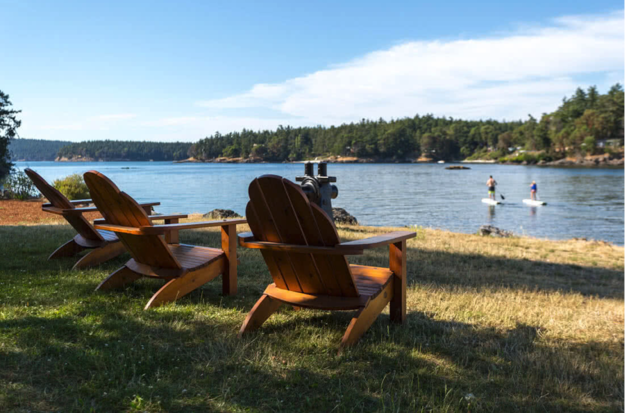 Courtesy of Snug Harbor Resort
Paddleboarding through the peaceful Pacific Northwest landscapes.
Honeymoon in San Juan Islands, Washington




These Pacific Northwest islands promise a honeymoon of nature-based relaxation and rejuvenation.
Hop on a short ferry just north from Seattle and bring your honeymoon to the peaceful San Juan Islands off of Washington's coast. This archipelago with four main islands offers prime insight into rural Pacific Northwest culture, where friendly locals, verdant landscapes, and massive wildlife co-exist harmoniously. Honeymooners can look forward to whale-watching, hiking, cycling, kayaking, and pondering life's simple pleasures over farm-to-table dinners with Washington wines and mesmerizing sunsets.
Book your honeymoon in the San Juan Islands at Snug Harbor Resort & Marina. This rustic waterfront accommodation has been relaying the spirit of the San Juan Islands to guests for five generations. Beachside BBQs and nightly bonfires, along with complimentary kayaks and bicycles, will keep guests delightfully busy in between exploratory trips around San Juan Island.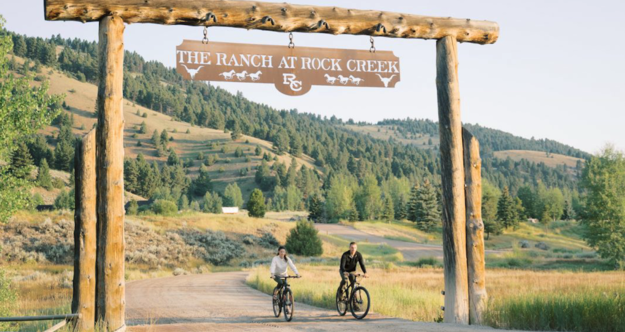 Courtesy of The Ranch at Rock Creek
An afternoon bicycle ride through rural Montana's vast countryside.





Honeymoon in Philipsburg, Montana




The sky is the limit for your honeymoon in "Big Sky Country."
The great American West lives on in the valleys of Montana. With Yellowstone and Glacier National parks, Montana opens up ranch life to honeymooners with a sense of adventure. Imposing mountains, cozy accommodations, outdoor adventures, and Old West hospitality will teach honeymooners why locals refer to Montana as the Last Best Place.
Book your Philipsburg, Montana honeymoon at The Ranch at Rock Creek. This all-inclusive resort combines wild Montana experiences with the ultimate in luxury accommodations to create an unbeatable honeymoon package. No wonder it earned its spot as one of the best all-inclusive resorts in the U.S.

In case you missed it:
The 10 Best Midwest Honeymoon Destinations in the U.S.
The 10 Best Honeymoon Destinations in the U.S. South