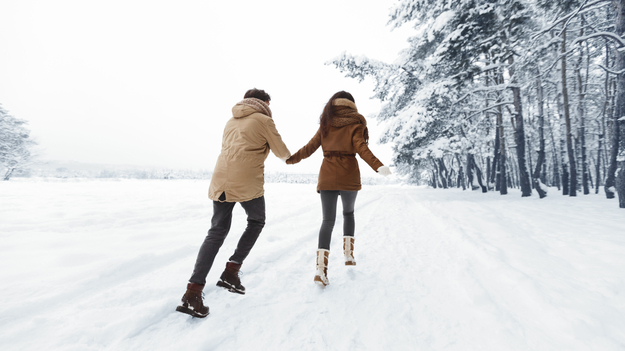 Does the thought of a winter honeymoon warm your heart and ignite your imagination? Ours too. With dreamy landscapes, cozy accommodations, seasonal adventures, and off-peak perks, the reasons to consider a cold-weather winter honeymoon keep piling up.
Skipping the beach in favor of a winter wonderland is easier than ever. We've narrowed our list of the most desirable honeymoon destinations ranked by month to focus on the seven best locations for an unforgettable winter getaway.
Ready to embrace the cold for an unbeatable honeymoon experience? Start by building your dream honeymoon registry today!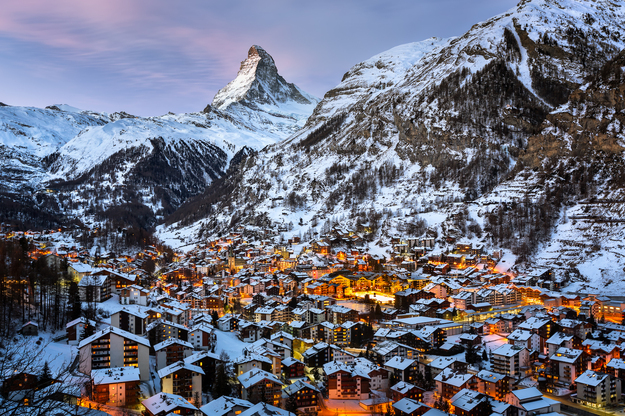 The village of Zermatt is a honeymoon winter wonderland with prime views of the towering Matterhorn mountain.
Zermatt, Switzerland




This Swiss Alps ski village is the stuff of honeymoon dreams.
Does it get any better than a car-free, valley village nestled in the Swiss Alps for a winter honeymoon destination? Nestled beneath the behemoth Matterhorn mountain, the fairy-tale setting of Zermatt understandably attracts snow bunnies from all over the globe. We could spend days just admiring this wintry landscape. Still, you might also want to hit the slopes, go snowshoeing through serene backcountry or even take a helicopter ride to capture this special moment.
Complete your Swiss Alps honeymoon package with a stay at The Omnia. The opulent mountain lodge is perfectly positioned on a cliff overhang above Zermatt village. Views of the Matterhorn are always in sight, whether lounging in your elegantly appointed room or relaxing at the massive, marble whirlpool in the spa. The Omnia is home to one of the world's best rooms with a view, and its A-class service starts from the moment you arrive. A stylish electric shuttle picks guests up from the central train station, and a striking all-glass elevator whisks up to the lobby from the streets of central Zermatt in mere seconds. Mountain trails for leisurely hikes intertwine just behind the property, as does a bus stop for skiing.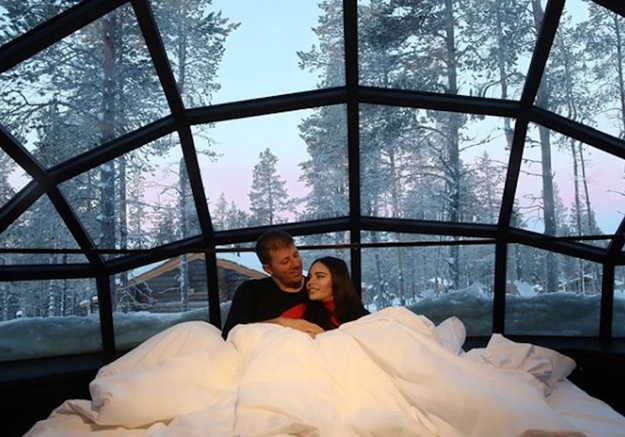 Image: @gizemzzor




The glass igloos of this remote resort in the Finnish Lapland offer honeymooners the chance to enjoy the Northern Lights all night long.
Finland




For an unforgettable honeymoon framed by the Aurora Borealis and filled with cold-weather adventures.
Finland captures all the right feels for a cozy, winter honeymoon. Crackling fires, warm drinks, reindeer-drawn explorations, starry night skies, and more. All of Finland transforms into a winter paradise come December, but the Lapland region is quite possibly the closest one can get to actually honeymooning in a winter wonderland. Lapland is for lovers. Its barren but beautiful natural landscape offers irresistible wintry charm, and its sky is also graced by the Northern Lights more for more than half of the year.
The glass-roofed igloos at Kakslauttanen Arctic Resort are one-of-a-kind accommodations that are worth visiting the Finnish Lapland just to experience. Finland is among the most fabulous destinations in the world to watch the Aurora Borealis, and these personal glass igloos will further amplify the visceral viewing experience. Romantic sleigh rides, husky safaris, and skiing will round out your adventures up north.
For winter excursions closer to Finland's capital city, Helsinki, consider Haikko Manor and Spa. The manor house exudes luxury and elegance, and its pampering spa is the perfect spot to unwind after long days of exploring the serene Finnish countryside.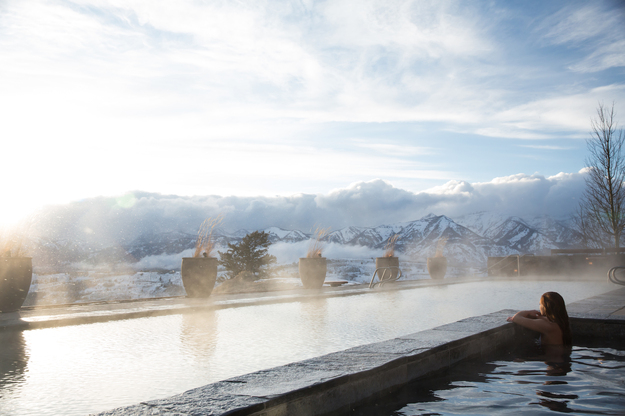 No winter honeymoon is complete without a therapeutic hot tub session - ideally with mountain vistas such as these from Amangani.
Jackson Hole, Wyoming




A wild west honeymoon destination with mountain thrills, unimaginable natural beauty, and upscale resorts.
Domestic honeymooners will be pleased to know that Jackson Hole is a honeymoon paradise all year-round. We've even claimed the mountain town among our top USA honeymoon destinations. The winter season blankets all of Jackson Hole with a thick coat of snow, but the city's rugged beauty shines right through. Two premier national parks and some of the country's best skiing offer endless opportunities for outdoor adventures.
For wide, sweeping views of the winter scene outside, book a stay at Amangani. All forty of this luxury resort's guest rooms are suites, and each comes with spoiling floor-to-ceiling windows. Nestled on the edges of Grand Teton National Park, Amangani boasts its own private ski lounge and shuttles guests to and from the mountain for hitting the slopes. Snowshoeing, dog-sledding, and horse-drawn sleigh rides through the National Elk Refuge are just some of the resort's outdoor activities.
If you prefer to stay in downtown Jackson, check out the Anvil Hotel. This renovated 1950s ski motel has become an affordable boutique hotel that was recently named to Condé Nast Traveler's Hot List. Their restaurant, Glorietta, is one of the top places to dine in Jackson.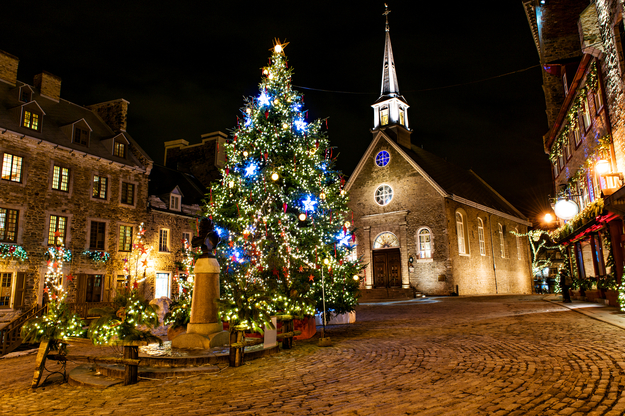 The festive streets of Quebec City's Old Town will fill your winter honeymoon with romance.
Quebec City, Canada




This historic North American city offers honeymooners a cozy slice of medieval Europe.
Some cities seem built for winter, and Quebec certainly comes to life during the depths of the cold season. There's something magical about meandering through this old, walled city's cobblestoned streets touring shops, galleries, cafes, and restaurants. Amidst your romantic wanderings, make note to pop into the Museum of Civilization for crash-courses in Canadian culture and wildly fun interactive exhibits. Plan your Quebec honeymoon to coincide with the Carnaval De Quebec to witness this snow capital's annual two-week celebration of all things winter.
The old-world charm of Auberge Saint-Antoine will capture the hearts of honeymooners. The historic 19th-century stone property - part of the exclusive Relais and Châteaux network - is the gold standard for luxury hotels in the area. 17th-century artifacts add authentic details to the impeccably comfortable guest rooms, many of which boast gas fireplaces, heated floors, and river views. The Auberge's Lower Town location is unbeatable - a short, romantic stroll away from Quebec City's best restaurants, bars, and sights. Round your days out with a trip to the hotel's Finnish sauna for total winter honeymoon bliss.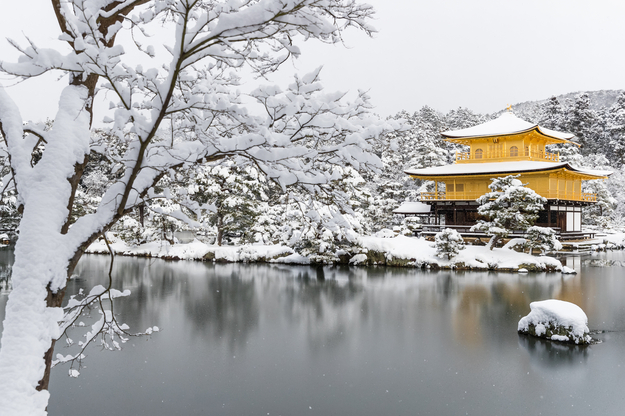 A visit to a zen temple in winter will introduce peace and tranquility into your Japanese honeymoon.
Japan




A winter honeymoon in the Land of the Rising Sun offers an endless array of epic experiences - with fewer crowds and at a fractional cost when compared to surrounding seasons.
Japan is always a good idea for a honeymoon destination. The country has enamored travelers for decades with its unique culture and dramatic scale of megacities and mountain towns. Winter is undoubtedly Japan's quietest season, which means reduced rates for honeymoon travelers and fewer crowds in popular places like Mount Fuji and Gion. Add snow festivals, natural hot spring baths, and world-class deep powder ski slopes into the mix, and you'll further appreciate Japan's appeal as a winter honeymoon destination.
The Ritz-Carlton Tokyo offers exactly the respite you'll need after touching ground in the world's largest city. The Ritz's 45th-floor lobby is mesmerizing, and the views only get better inside guest rooms. Tokyo is big, bold, beautiful, and hectic - your stay at the Ritz will keep you feeling refreshed and ready for more.
Every honeymoon in Japan should include one stay at a traditional Ryokan. These authentic guesthouses invented the concept of the modern hotel. They fuse clean aesthetics with warm hospitality for an unmistakably Japanese experience. Shibu Onsen Ryokan sits in a Japanese spa town that focuses on natural hot spring therapies. Take advantage of these soothing baths before exploring the cobblestoned lanes of Nagano. Don't miss the adorable bathing snow monkeys at Jigokudani Monkey Park.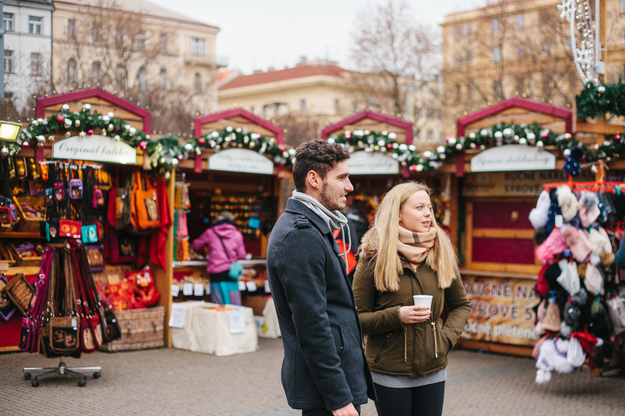 An authentic holiday market in Prague will fill your honeymoon with festive spirit.
Prague, Czech Republic




Old-world charm, holiday markets, and seasonal excitement entice honeymooners to this European capital city.
Prague offers the kind of European beauty that appeals to any type of traveler - honeymooners especially. The old city is filled with awe-inspiring architectural wonders, from ancient churches and brick bridges to castles and cobblestoned alleys. Frequent snowfall and holiday markets make winter visits to the Czech Republic's capital city incredibly romantic. With its fairytale-like city setting, it's no wonder Prague is referred to as the heart of Europe.
A stay at the musical-themed Aria Hotel will quickly get you in sync with the city. Some of Prague's most notable sights - such as the Charles Bridge, Prague Castle, and the Prague Astronomical Clock - are just short walks from the hotel lobby. Afternoon tea in the Aria's glass-ceilinged winter garden atrium with sweeping views provides just the right pause after a day's worth of city strolling.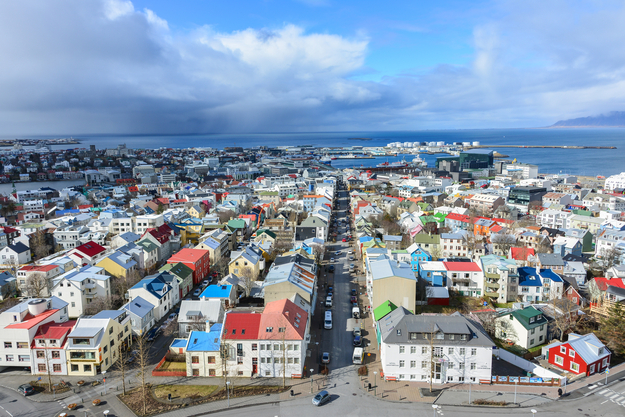 Colorful Reykjavik is the perfect place to start your Icelandic honeymoon adventure.
Iceland




A honeymoon on this Nordic island nation promises winter wonderland landscapes on one of the world's greatest road trips.
Iceland is one of the most dramatic places on the planet, and is perhaps best appreciated during winter. Even though 10% of the island nation is covered in glaciers, there is still an impressive amount of natural beauty to behold during your honeymoon visit to Iceland. From flowing waterfalls and active volcanoes to hidden caves and the Northern Lights, Iceland in winter is sure to impress. Best of all, you'll have most of the landscape to yourself, as the crowds of summer will be long gone. We've compiled an idyllic 7-day road trip itinerary around the famed Ring Road as the ultimate Icelandic adventure.
Begin your honeymoon in Iceland with a stay at The Retreat at Blue Lagoon. The award-winning sanctuary is undoubtedly the best place to stay while enjoying the all-natural geothermal spa of Iceland's famous blue lagoon. You'll find new levels of rejuvenation that will put you and your partner in exactly the right state for the Icelandic adventure that is still to come.
Hotel Ranga is an ideal next stop on your drive around Ring Road. With a retractable roof that gives way to the natural sky observatory, this hotel is one of Iceland's best for viewing the Aurora Borealis in winter. There's even an optional in-room alarm system that will trigger when the Aurora starts dancing in the sky.

In case you missed it:
Honeymoon Ideas for Every Couple
5 Reasons Why You Should Warm Up to the Idea of a Cold-Weather Winter Honeymoon