An all-inclusive honeymoon is one of the best ways to ensure that your honeymoon trip is total bliss. Less planning means more relaxing and a worry-free honeymoon experience where everything flows seamlessly.
From America's top honeymoon destinations to far-reaching corners of the country, the U.S.A. is home to some of the world's finest all-inclusive resorts. Discover if an all-inclusive honeymoon is right for you, then start your honeymoon registry and pack your bags for a domestic dream getaway.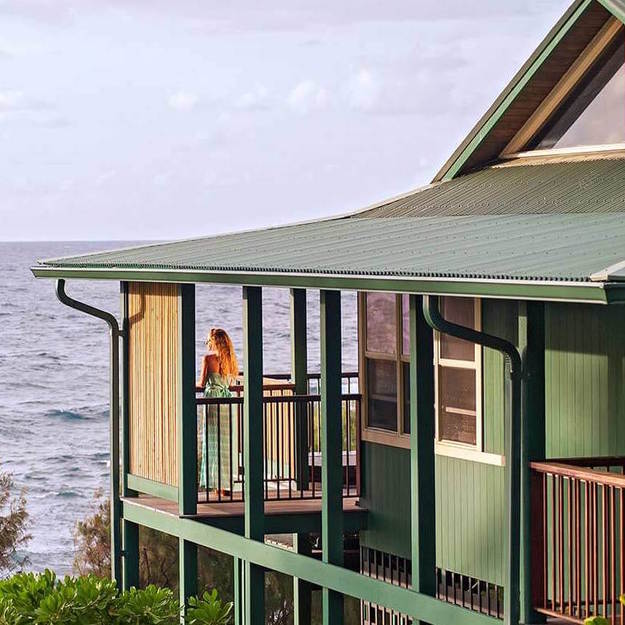 Watching the Hawaiian sunrise from your oceanfront suite is an unforgettable honeymoon moment.
Travaasa Hana




Maui, Hawaii
Plan your Hawaiian honeymoon at this resort to experience Maui's most remarkable retreat.
Long considered Hawaii's most remarkable resort, Travaasa Hana presents an all-inclusive Hawaiian experience to honeymooners in a stunningly secluded corner of Maui. An abundance of activities - from coconut husking to ukulele playing and stand up paddleboarding - are available for guests. Four different experiential pathways - adventure, culture, fitness, and spa and wellness - will satisfy any of your pursuits.
With a calm ocean breeze set amidst tropical surroundings, honeymooners are sure to be transported to Old Hawaii. The journey to Travaasa Hana is a joy unto itself, as the road to Hana climbs the ranks of the world's greatest road trips.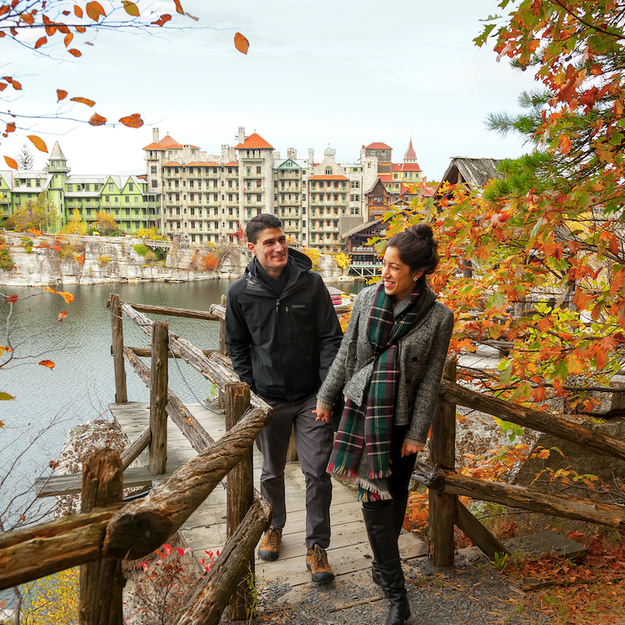 Fall foliage will be on full display during your fairytale honeymoon at Mohonk Mountain House.
Mohonk Mountain House




New Paltz, New York
A honeymoon at this historic American resort promises outdoor adventures, gourmet meals, and wellness activities amidst elegant accommodations.
Honeymoon in New York's desirable Hudson Valley at this iconic Victorian castle to fulfill your fairytale fantasies. Surrounded by 40,000 acres of pristine forest, Mohonk Mountain House feels impossibly beautiful. Its list of inclusive amenities is similarly stunning.
Three farm-to-table meals (plus appropriately elegant afternoon tea) fuel your days of hiking, kayaking, swimming, meditating, and even tomahawk throwing. Life on the mountaintop varies by season, but whether your honeymoon is centered around outdoor adventures or peaceful relaxation, the 150 activities at Mohonk are sure to entertain, indulge, and rejuvenate.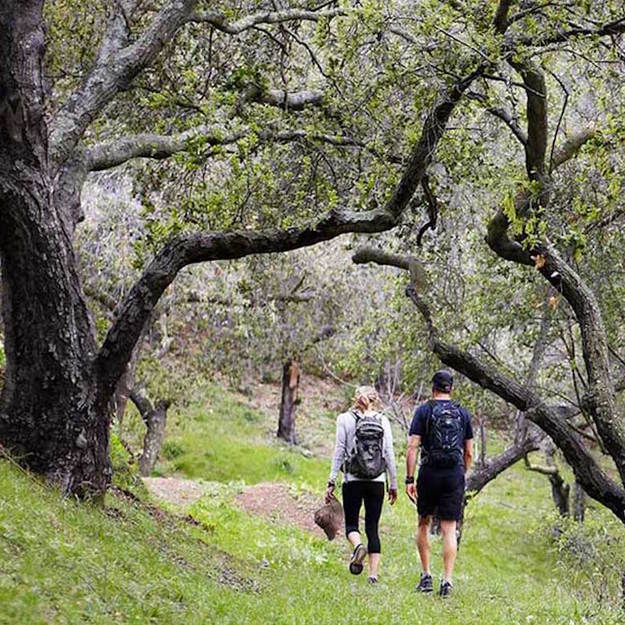 Start your honeymoon mornings with meditative hikes through Malibu's natural splendor.
The Ranch Malibu




Malibu, California
This immersive retreat in Southern California offers a transformative honeymoon stay for motivated couples.
The Ranch Malibu is not your typical all-inclusive honeymoon resort. Its verdant setting, world-renowned spa, and nutritiously delicious meals will jive with most honeymooners, but the Ranch's mission to immerse visitors into a journey of personal health and discovery might not appeal to everyone.
How to decide? Ask yourself if a gentle 5:30 wake-up with Tibetan chimes sounds like a drag or delight. If you're up for the challenge, the Ranch's daily mountain hikes, guided meditations, plant-based meals, plentiful massages, and time-slotted (but just as indulgent) afternoon naps are sure to please.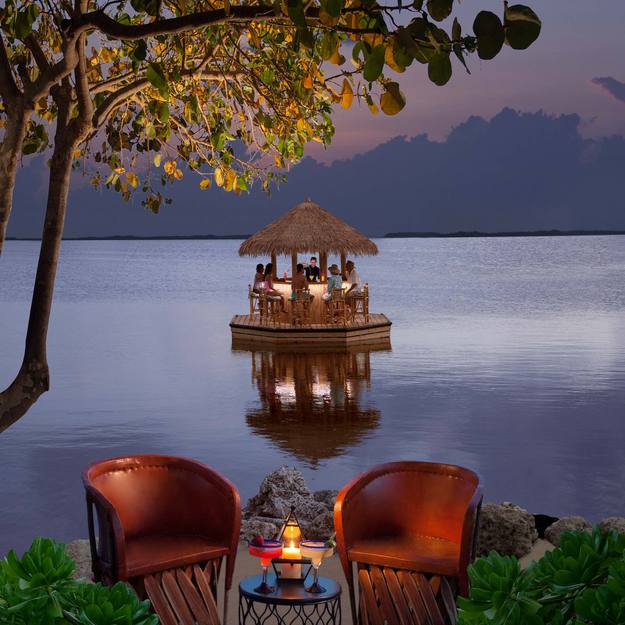 This floating Tiki Bar is sure to make the shortlist of magical honeymoon moments.
Bungalows




Key Largo, Florida
Luxury rooms and amenities combined with a vintage Florida Keys vibe make for a romantic escape at this adults-only resort.
A tranquil, tropical, all-inclusive honeymoon no longer requires a trip to the Caribbean or beyond. Bungalows brought the best of a beach paradise resort right to the shores of Florida's Key Largo. The adults-only resort is a wonderland where exceptional cuisine, lively entertainment, countless beach-based activities, and zen garden moments await. Bundle your Bungalows honeymoon with a road trip from Miami to experience the Florida Keys' varied beauties.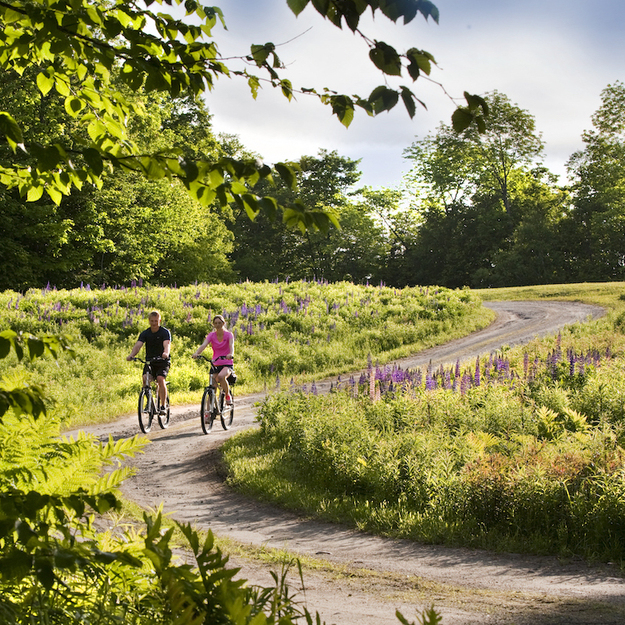 Explore the unspoiled Vermont countryside by bicycle during your honeymoon at Twin Farms.
Twin Farms




Barnard, Vermont
Delicious air, outdoor activities, gourmet meals, and endless seasonal splendors will invigorate your Vermont honeymoon.
Honeymoon at this idyllic, all-inclusive countryside escape to experience your dream home away home. As Vermont's only luxury resort, Twin Farms is well versed in superb dining, outdoor adventures, and serene moments. Blessed with a bucolic setting of rolling hills and orchards, Twin Farms ticks all the right boxes from its sumptuous meals to stellar service. For romantic, nature-based getaway filled with farmhouse charm in America's Northeast, this resort is tough to top.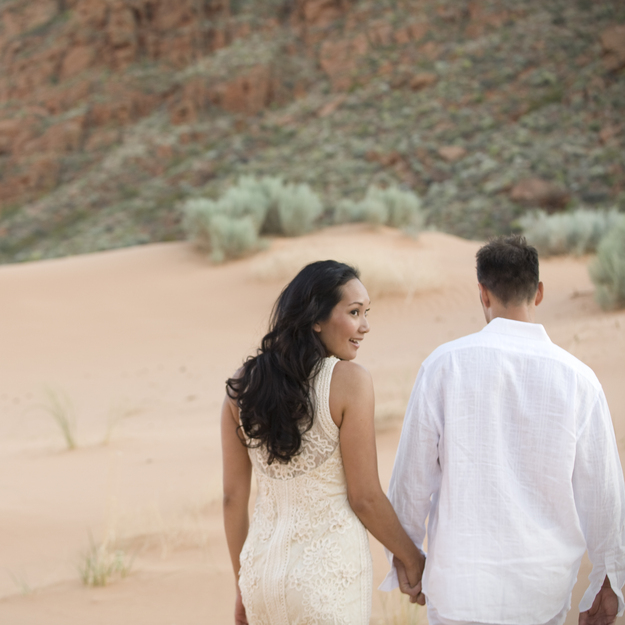 Take your honeymoon trip in the desert with this one-of-a-kind active retreat.
Red Mountain Resort




St. George, Utah
This adventure resort incorporates the cliffs and canyons of Utah's Red Mountains into a rejuvenating honeymoon experience.
For an all-inclusive honeymoon resort with a focus on fitness and the great outdoors, consider Red Mountain Resort. Carved in the cliffs of southern Utah, Red Mountain prides itself on an outdoor approach to wellness, health, and fitness. Guests will enjoy three healthy meals daily in between epic outdoor desert excursions. Just a short drive from both Zion National Park and Snow Canyon State Park, be sure to bring your hiking boots for a honeymoon's worth of natural explorations across the stunning vistas of Utah's Red Mountains.
Staying at a spa resort for your honeymoon is the restorative immersion you deserve.
Lake Austin Spa Resort




Austin, Texas
Hill Country's premier honeymoon hideaway resort focuses on wellness, water-based pleasures, and welcoming comforts.
This secluded, lakeside resort offers an all-inclusive honeymoon getaway where rest, renewal, and reinvention are all prioritized. With waterside luxury, a full schedule of fitness and wellness classes, garden-fresh meals, and an array of rejuvenating treatments, it's no wonder Lake Austin is considered America's premier destination spa resort.
Just 20 minutes south of Austin, Lake Austin's lush greenery and stunning setting might not be the Texas you've imagined, but it's most certainly the Texas your honeymoon deserves. Customize your all-inclusive experience to best suit your specific wants and needs. Don't miss the chance to start your honeymoon getaway in style by arriving via water taxi.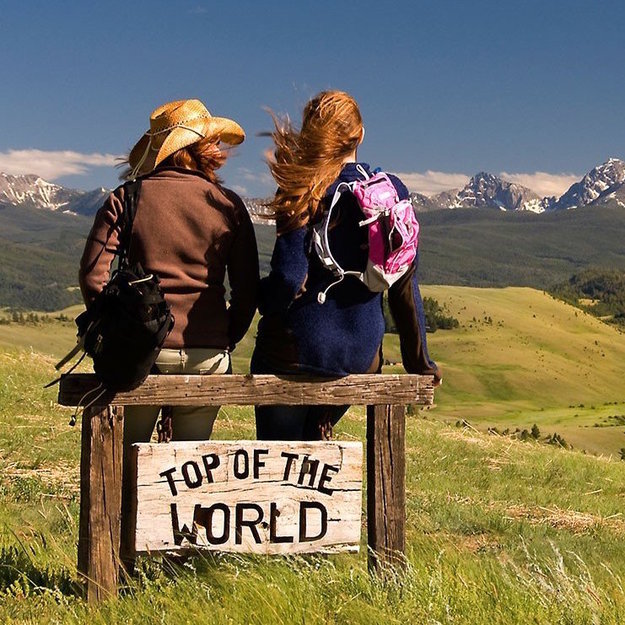 Enjoy the Big Sky wilderness on your honeymoon in between Yellowstone and Glacier National Parks.
The Ranch at Rock Creek




Philipsburg, Montana
A honeymoon on the Ranch in Montana is as exhilarating and relaxing as you can imagine.

Nestled in a picture-perfect valley in Montana, The Ranch at Rock Creek opens up ranch life to honeymooners with a sense of adventure. The spirit of the American West is alive and well in this authentic 19th-century homestead. Creekside picnics, horseback rides under Montana's Big Sky, wildlife spotting, and cedar hot tub soaks are sure to set your next chapter off on the right foot.
After exploratory days in Montana's vast countryside, enjoy the cozy comforts - from billiards and bowling to private screenings of classic films - of Silver Creek Saloon. Book your all-inclusive honeymoon in one the Ranch's four accommodations, each as indulgent and tempting as the next.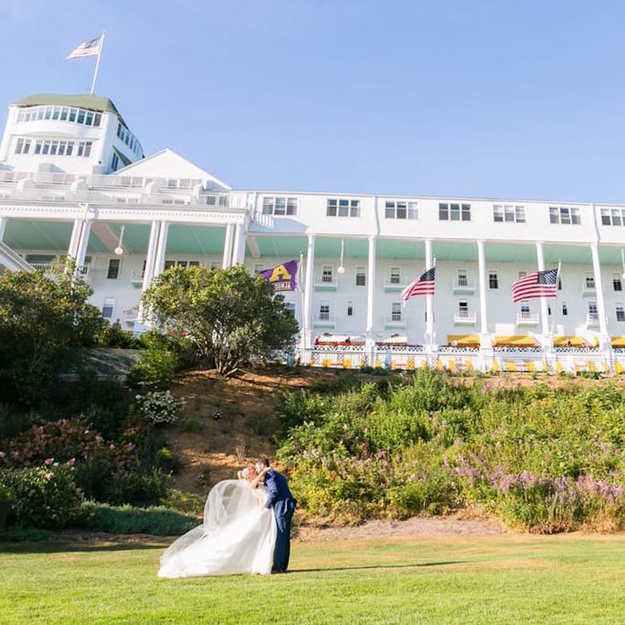 The regal setting of this timeless American treasure provides the perfect backdrop for a wedding or honeymoon.
Grand Hotel




Mackinac Island, Michigan
Transport to a bygone era of old-world hospitality and charm in this historic American honeymoon hotel.
Regal American architecture is on full display at this grand-scale all-inclusive hotel on Michigan's Mackinac Island. Touted as the world's largest summer hotel, Grand Hotel boasts nearly 400 unique rooms, each tastefully preserved from the late 1800s.
Classic Americana is on full display here, from horse-drawn carriages and afternoon tea to live music, ballroom dancing, and sunsets from the impressive front porch's rocking chair fleet. All reservations include breakfast and the full array of the resort's amenities (book the Full American Plan to cover three daily meals). Every included meal is an event, and every turn in the Grand Hotel is steeped in history.
If you manage to break free from the hotel's endless charm, explore the state parks of Mackinac Island. This car-free summer destination was once the country's most desired escape in a bygone era, and is still an utter beauty to behold.
Hear the call of Alaska's wild with a honeymoon in mythical Halibut Cove
Stillpoint Lodge




Halibut Cove, Alaska
In the heart of Alaska's wilderness, this unspoiled all-inclusive lodge is a honeymoon base for wild adventures.
You'll have to arrive by air or sea to this luxury, all-inclusive lodge set along the brinks of the Alaskan wilderness. Stillpoint Lodge packages the rugged spirit of Alaskan adventure into a perfectly enthralling honeymoon experience. Paddle your way next to whales, hike to epic mountaintops, take an expertly prepared picnic to a glacier for lunch, and helicopter back to the lodge over the best coastal brown bear viewing spot in the world. This is how the staff at Stillpoint lives, and their mission is to share their world with you.
Guest log cabins are rustic, refined, and remote. The main lodge is a communal sanctuary where unforgettable meals are served, spa services are arranged, and evening fires are celebrated. The wind, the waves, and the wildlife will soothe your ears as your eyes behold the magnificent Alaskan scene from your private balcony. Honeymoons were made for these moments.

In case you missed it:
8 Best Outdoor Honeymoon Destinations in the USA
Traveler's Joy Adds 10 New Domestic Honeymoon Destinations to Its Instant Registry Collection