Photo courtesy of CarmelCalifornia.com
With so many dreamy, postcard-perfect towns around the United States, there are ample opportunities for couples to embark on a once-in-a-lifetime honeymoon. Whether you're looking for a distinctive small town destination closer to home or a secluded spot that seems worlds away, the options are spectacular.
After previously highlighting six incredible small towns for a honeymoon, we couldn't pass up on spotlighting more truly unique destinations. From oceanside spots backed by misty mountains and waterfalls to historic hamlets bursting with character, these are eight of our favorite small towns for a memorable honeymoon in the U.S.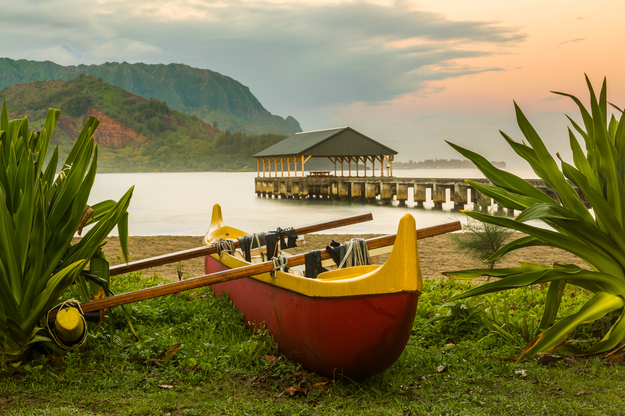 Hanalei's lush green mountains make for a magical setting.
Honeymoon in Hanalei, Hawaii
Soak in the beauty of Kauai's North Shore with a honeymoon in Hanalei.
Located on Kauai's verdant North Shore, tiny Hanalei (population 299) is surrounded by undulating green mountains and warm Pacific Ocean waters. After taking a day or two to visit the quaint shops, galleries, restaurants, and nearby botanical garden, honeymooners can look forward to plenty of outdoor pursuits like swimming in Hanalei Bay (pictured above), hiking, surfing, and sea kayaking.
Drop your bags at 1 Hotel Hanalei Bay, previously known as the Princeville Resort Kauai. The property, perched on a cliffside overlooking gorgeous Hanalei Bay, closed temporarily in 2020 in order to make its transformation and will reopen in early 2022 with 252 rooms, including 51 suites. Couples can expect a focus on luxurious amenities inspired by nature and top-notch sustainable practices.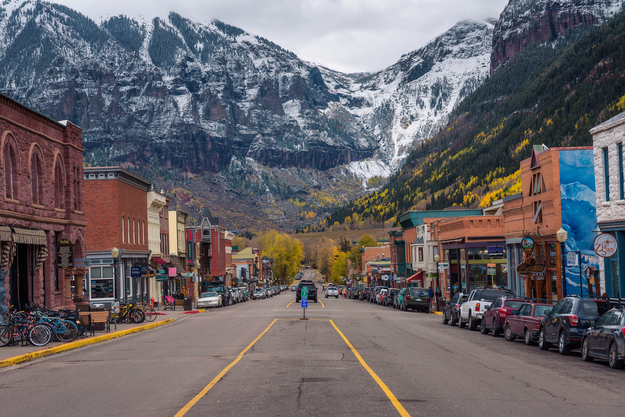 Downtown Telluride is a postcard-perfect destination for newlyweds.
Honeymoon in Telluride, Colorado
Experience breathtaking mountain scenery in Telluride.
It's no secret why Telluride draws honeymooners year after year. The former mining town is situated at the end of a beautiful canyon and surrounded by massive mountains. It also features one of the most picturesque Main Street's in America. Backed by massive peaks, the lively downtown district is home to a terrific collection of restaurants, bars, shops (don't miss HOOK, a Telluride favorite known for its unique home decor), and hotels.
No matter the season, this is a prime destination for mountain lovers. In the winter, the area is a snow lover's paradise and offers endless activities like skiing, snowboarding, snowshoeing, snowmobiling, and cross country skiing. During the warmer months, visitors can pursue plenty of outdoor adventures like mountain biking, hiking, fly fishing, and horseback riding.
The New Sheridan Hotel is a great choice for honeymooners looking to be within walking distance of Telluride's top downtown attractions. This historic boutique property promises luxurious accommodations on top of a gourmet restaurant, plus the oldest bar in town.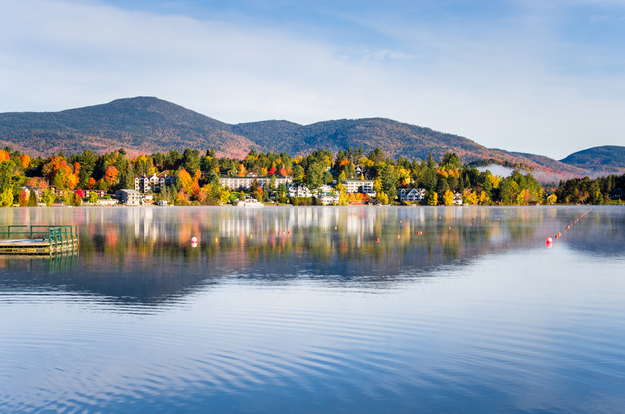 Embrace the incredible scenery of Lake Placid during your honeymoon.
Honeymoon in Lake Placid, New York
No matter the season, couples will find ample outdoor pursuits in Lake Placid.
Lake Placid is truly an idyllic mountain town in the Northeast U.S. Surrounded by high Adirondack peaks, refreshing lakes, and endless acres of serene forest, this stunning destination is perfect for newlyweds looking for fresh air and a plethora of outdoor activities. Start by exploring the town's charming Main Street, which winds its way around the west side of Mirror Lake. The downtown district is packed with unique small town shops and plenty of alpine ambiance.
If you're visiting during the warmer months, don't miss out on the region's amazing hiking, mountain biking, ziplining, gondola, and water sports pursuits. Through Adirondack Rafting Company, couples can navigate the wild Upper Hudson River Gorge, which features 15 miles of exhilarating rapids and scenic wilderness.
Consider a stay at the luxurious Lake Placid Lodge, a magnificent property nestled in the woods right alongside Lake Placid. Couples will be enthralled with the romantic accommodations. Each one of the 17 rustic guest cabins and 13 suites is completely unique, featuring hand-crafted furniture, stone fireplaces, and stunning views of the lake.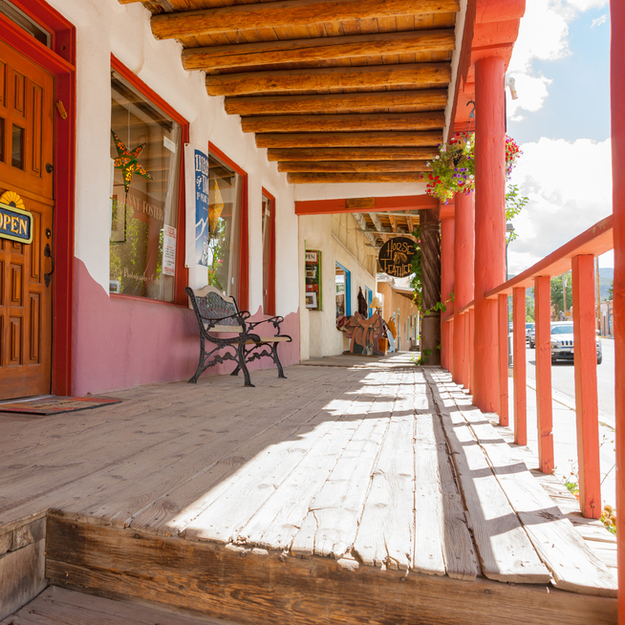 Exploring the charming streets of Taos is a honeymoon must.
Honeymoon in Taos, New Mexico
Filled with amazing architecture, shops, and dining options, downtown Taos is the perfect small town for a romantic honeymoon stroll.
Home to a world-class ski resort, colorful downtown district, World Heritage site, and gorgeous mountain surroundings, Taos, New Mexico, with a population of 5,967, stands out as a one-of-a-kind honeymoon destination. The downtown area of Taos is delightful, featuring a mix of Spanish Colonial Style buildings and Pueblo Revival style houses. With so many unique art galleries, boutiques, historic sites, and restaurants, couples can easily set aside several days to explore it all.
Book your stay at Palacio de Marquesa, an eight-room boutique property offering couples a peaceful mountain retreat. Highlights include wood burning kiva-style fireplaces, private backyard patios, and complimentary breakfast.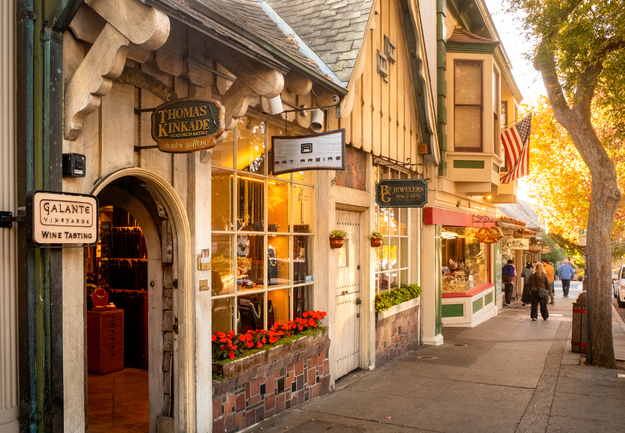 Newlyweds can browse a wide array of stores and galleries in beautiful Carmel.
Honeymoon in Carmel-by-the-Sea, California
An attractive downtown and scenic surroundings combine for one fantastic honeymoon destination.
Few towns in America can rival the quaintness of Carmel-by-the-Sea, home to a colorful mix of boutiques, art galleries, cozy accommodations, fine dining options, and unique architecture. This fairytale-like destination is nestled right along California's scenic coastline, which features everything from rocky shores with secluded coves to sandy beaches. Carmel Beach is a must-visit spot right on Monterey Bay and ideal for a romantic outing, especially at sunset.
Book your Carmel honeymoon stay at L'Auberge Carmel, situated right in the heart of the downtown district. The property exudes Old-World ambiance with its European-style architecture, French Windows and 18th century antiques. Couples will also enjoy four-poster, open canopied beds, heated floors in the bathroom, and complimentary breakfast.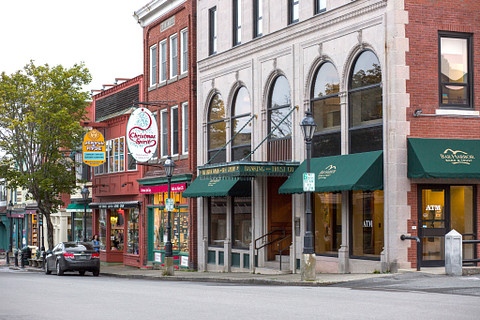 Courtesy of Visit Maine




Take in the peaceful setting and attractive downtown of Bar Harbor.
Honeymoon in Bar Harbor, Maine
Use picturesque Bar Harbor as your home base for exploring Acadia National Park.
Known as the gateway to Acadia National Park, Bar Harbor is a perfect home base for exploring the region. Start by exploring Acadia, famous for its oceanside cliffs, lighthouses, and dense forests. Next, spend time strolling downtown with its many locally-owned shops, renowned restaurants, and notable hotels and bed and breakfasts.
Book your Bar Harbor stay at Balance Rock Inn, easily one of Maine's top boutique hotels. The peaceful retreat -- just steps from the waters of Frenchman's Bay, yet still a short stroll away from Main Street -- is noted for its elegant rooms (some have sea views and whirlpools), oceanside pool, and overall romantic setting.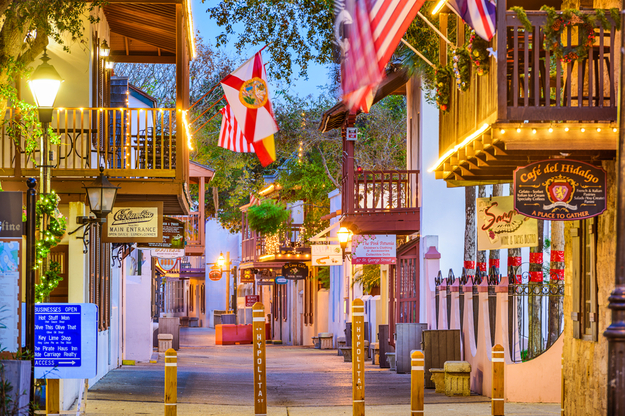 Don't miss a romantic stroll along St. Augustine's historic streets.
Honeymoon in St. Augustine, Florida
America's oldest city beckons couples with a mix of history and amazing beaches.
Looking for a little history on your honeymoon trip? Originally founded in September 1565, St. Augustine is considered America's oldest city and overall a wonderful destination to explore cobblestone streets (on foot or via horse-drawn carriage), centuries-old buildings, and many historical spots. On top of that, St. Augustine is filled with terrific restaurants, first-class shopping, and fabulous art galleries. After a few days exploring the sites, visit any of the region's soft-sand beaches for some much needed rest and relaxation.
Drop your bags at Casa Monica Resort & Spa, situated right in the heart of St. Augustine's historic district. Originally built in 1888, the property boasts luxurious bedroom amenities, a sparkling outdoor pool, spa, and on-site restaurant.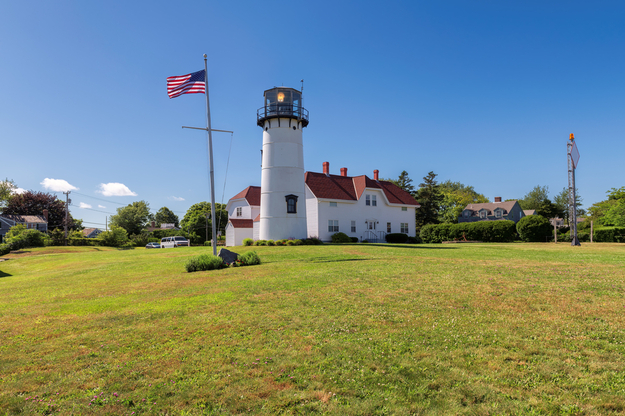 Chatham Lighthouse is one of 16 remaining lighthouses along the Cape Cod coast.
Honeymoon in Chatham, Massachusetts
This postcard perfect New England town is ideal for honeymooners looking to enjoy a relaxing beach vacation.
Newlyweds will find a picture postcard honeymoon destination in Chatham. Conveniently located at Cape Cod's bent elbow, Chatham features that perfect mixture of New England small town charm and upscale resort. After exploring the many miles of top-rated beaches, including Cape Cod National Seashore, couples will enjoy strolling along Chatham's tree-lined Main Street, home to dozens of boutique shops, galleries, restaurants, and old-fashioned ice cream shops.
Book your honeymoon stay at Chatham Bars Inn, one of Cape Cod's most luxurious and elegant accommodations. This romantic seaside hotel has 217 rooms and suites, exceptional dining options, and a terrific list of recreational activities. Be sure to hop aboard the inn's custom-designed "BarTender" boat to cruise around the scenic harbor and watch seals and other local wildlife in action.

In case you missed it:
6 More Top Small Towns in America for a Honeymoon