Are you dreaming of a laid-back honeymoon getaway in a luxurious glamping resort? We're with you. Glamping brings all the wonders of a nature-based honeymoon without any of the hassles of traditional tent camping.
If your post-nuptial fantasy consists of simple pleasures like bonfires under starry-night skies, comfy beds in canvas tents, and endless photo-ops across scenic landscapes, a glamping honeymoon will be tough to top. Pack your bags, lace your boots, and don't forget to bring a sense of adventure - here are the eight best honeymoon glamping spots in the U.S.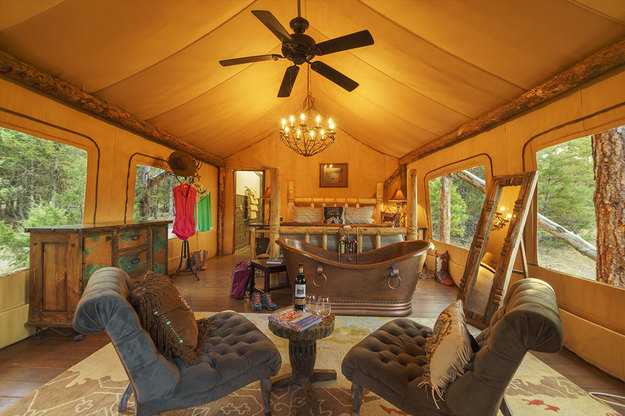 Courtesy of Paws Up
A honeymoon glamping tent at Montana's Paws Up Resort.
The Resort at Paws Up




Greenough, Montana
37,000 acres of Montana wilderness await your honeymoon at the world's first glamping resort.
The Resort at Paws Up is where glamping officially began. Set amidst 100 miles of private hiking trails on 10 miles of the Blackfront River, Paws Up feels like its very own national park.
Six different camps span the resort's expertly groomed grounds, which offer guests various accommodation personalities to choose from, including safari-style tents, wooded cabins, and remote treehouses. Each honeymoon stay comes with a range of guided wilderness excursions, chef-prepared rustic meals, and even a personal butler.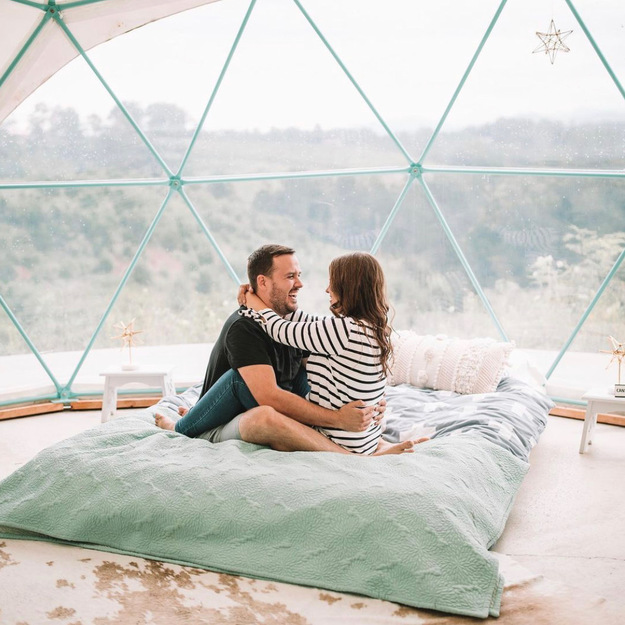 Courtesy of Asheville Glamping
A honeymooning couple inside one of Asheville Glamping's famous Dome glamping accommodations.
Asheville Glamping




Asheville, North Carolina
With domes, tents, trailers, and treehouses, Asheville Glamping offers unique honeymoon accommodations in a convenient location.
If hiking the Appalachian Trail in the afternoon and pub crawling a lively city through the night sounds like your ideal honeymoon day, head to Asheville Glamping for an unforgettable experience in Beer City, USA.
Set on a secluded forest property just 20 minutes from downtown Asheville, this glamping resort boasts a variety of accommodations from vintage Airstream trailers to the incredibly photogenic geodesic domes.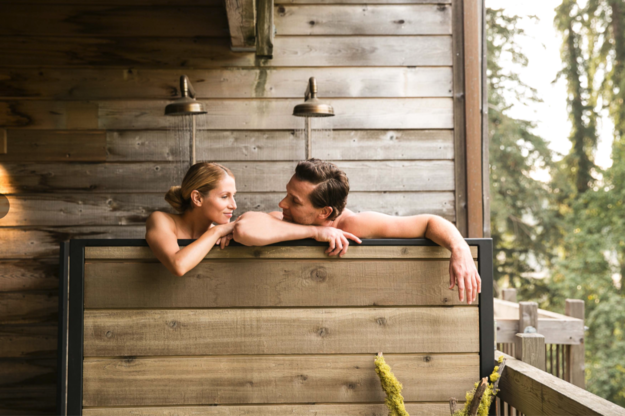 Courtesy of Ventana Big Sur
Share a glamorous outdoor shower for a magical honeymoon moment amidst Big Sur's redwood forests.
Ventana




Big Sur, California
A refined honeymoon at Ventana blends Big Sur's natural beauty with a luxury twist for a rejuvenating glamping experience.
Reconnect with the outdoors with a honeymoon glamping trip to the gorgeous coast of Big Sur, California. Ventana offers a range of different room categories, but the resort's fifteen glamping tents provide all that you need for a romantic honeymoon getaway.
Ventana elevates camping to a five-star luxury status: the beds are king-size, the blankets are heated, and private fire pits ignite via pre-cut wood or propane. Daily housekeeping makes returning from a day's worth of adventures across the 20-acre redwood canyon that much more rewarding.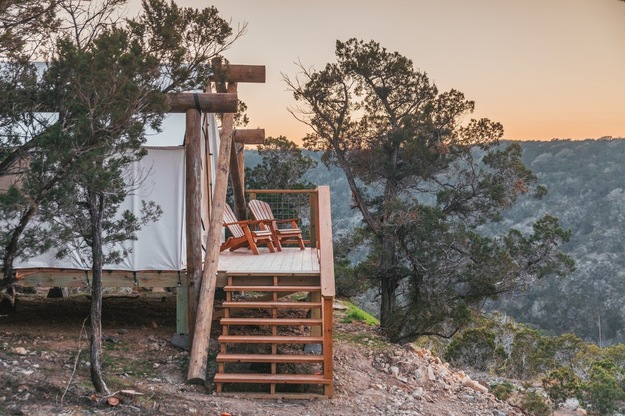 Courtesy of Collective Retreats
Bask in the sweeping views from the honeymoon suite of Texas Hill Country's most desirable glamping site.
Collective Hill Country




Wimberley, Texas
Set high on a ridge in the heart of Texas Hill Country, this Collective Retreat is a honeymoon glamping paradise.
Collective Retreats offers glamping accommodations in extraordinary destinations all across the country, from the center of New York City to Colorado, Montana, and beyond. This location in the Texas Hill Country shines exceptionally bright for a honeymoon glamping stay thanks to its breathtaking location perched on a ridge.
Each of the summit tents features en-suite bathrooms, wood-burning stoves, and private decks for soaking in the views. Farm-to-fork cuisine, artisanal S'mores roasts, and a range of outdoor activities from horseback riding to e-bike tours round out this elevated camping experience.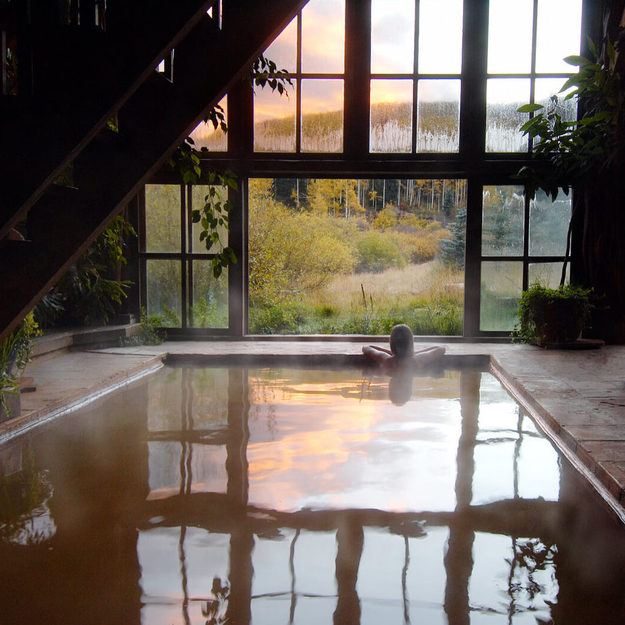 Courtesy of Dunton Destinations
Freshen up during your glamping honeymoon with a visit to Dunton's spa-like bathhouse.
Dunton River Camp




Dunton, Colorado
Nestled in the San Juan Mountains of the Colorado Rockies, this glamping resort offers a honeymoon filled with old-world charm and thrilling outdoor adventures.
Dunton, Colorado is a formerly deserted town that has been revived and transformed into a sprawling luxury resort by its current owners. The resulting Dunton Destinations offers a range of lodgings across the striking American Southwest location, where adventurous journeys, exceptional cuisine, and relentless outdoor beauty await.
Each of the eight glamping tents features gas stoves, king beds, ensuite bathrooms with soaking tubs, and mountain bikes for traversing these stunning lands.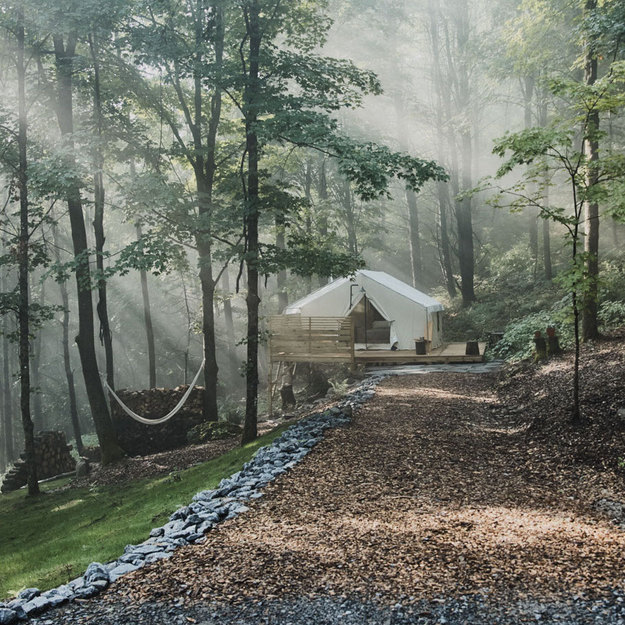 Photo by Nick Bean Courtesy of HereHere
Glamping at Camp HereHere combines summer camp nostalgia with rustic comforts and subtle sophistication.
Camp HereHere




West Fulton, New York
Honeymoon off the grid at this hidden glamping campus high in New York's Catskills mountains.
Rustic in all the right ways, with a sassy personality, and delightfully luxurious where you want it to be (those dreamy bed linens are unforgettable), HereHere is a perfect destination for a honeymoon glamping experience. The camp sits peacefully in a hidden forest home to waterfalls, swimming holes, eternal campfires, and yes - even bears. Gourmet meals are served family style, and the hosts will go to the greatest of lengths to ensure your good time.
The surrounding area of Upstate New York's Catskills region is rich with farm stands, hiking trails, and cute towns. High glam, low fuss, and under the radar, this is a honeymoon secret worth keeping to yourself.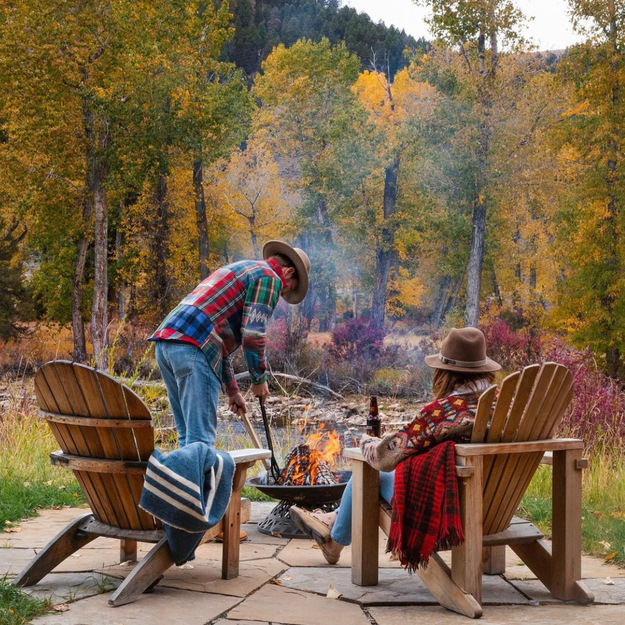 Courtesy of The Ranch at Rock Creek
Glamping doesn't get more picturesque than the canvas cabins and hidden valleys of Rock Creek.
The Ranch at Rock Creek




Philipsburg, Montana
Romantic honeymoon glamping in Montana's Big Sky wilderness beckons at this all-inclusive, experiential resort.
The glamping resort at the Ranch at Rock Creek offers a honeymoon invigorated by the spirit of the Old American West. Enjoy exploratory days across Montana's Big Sky countryside with included activities from fly fishing and horseback riding to forest bathing meditation sessions. Rock Creek is an indulgent resort entirely worthy of its spot on our top all-inclusive resorts in the United States.
Accommodations may stretch the term glamping to its extreme glamorous side, but your honeymoon does deserve the best after all. The resort's glamping tents include top-notch bedding, gas stoves, screened porches, soaking tubs, spacious living rooms, and private decks.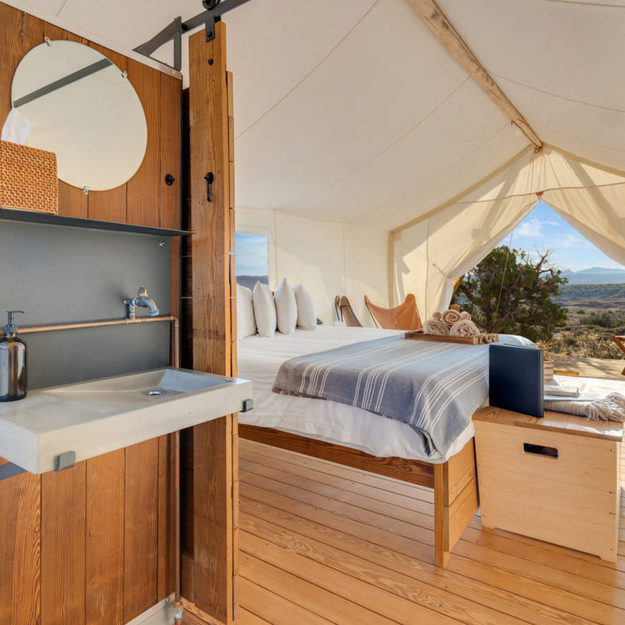 Courtesy of Under Canvas
The iconic American southwest landscape beckons just outside the front flap of your honeymoon tent.
Under Canvas Grand Canyon




Valle, Arizona
Explore one of the seven natural wonders of the world with a honeymoon trip to Arizona's most desirable glamping resort.
Under Canvas is a collection of glamping retreats spread throughout the country. With locations typically just outside of National Parks (with other sites such as Zion, Yellowstone, and Great Smoky Mountains), Under Canvas provides the perfect glamping home base for couples that want to inject world-class hiking and sightseeing into their honeymoon itinerary.
Under Canvas Grand Canyon makes the magic of one of the world's most beautiful destinations accessible to honeymooners with ease and simplicity. An on-site concierge will make booking activities (such as helicopter tours, guided hikes, and whitewater rafting) a total breeze. The resort's restaurant eases the burdens typically associated with dining near national parks (lengthy lines be gone!). And despite being just minutes from marvelous attractions on Route 66, you'll still remarkably feel a world away in your West Elm-curated luxury tent on a peaceful glampground.

In case you missed it:
10 Best All-Inclusive Honeymoon Resorts in the US