Say aloha to a Hawaiian honeymoon. With endless sun, powder-soft sands, ancient cultural experiences, and exhilarating natural adventures, Hawaii is truly a tropical paradise in the Pacific Ocean.
Serene, restful, exciting, and exotic, Hawaii consistently ranks among the most desired honeymoon destinations on the planet. The state's six major islands offer heavenly Hawaiian experiences, but each island beats to the tune of its own drum. Wondering which island might resonate best for your honeymoon? Check out our Hawaiian island breakdown and read along for our ultimate guide to honeymooning in the Aloha State.
Circle back once you've found your paradise island to start your honeymoon registry today.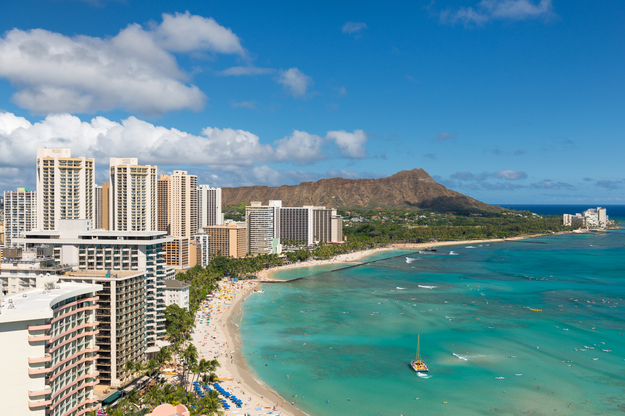 Waikiki Beach on Oahu is one of the most desired honeymoon spots in all of Hawaii.
Honeymoon on Oahu




Cosmopolitan living and historic attractions blend with beach culture in this thrilling honeymoon destination.
Oahu is the pulsing heart of Hawaii. Here, you'll find a mixture of big city living with beach-centric pleasures. Home to the state capital of Honolulu (and Hawaii's largest airport), Oahu is a great first introduction to the state. World-class resorts, renowned beaches, restaurants, shops, and hikes provide honeymooners with plenty of opportunities to discover all angles of the Hawaiian lifestyle. If you like the idea of flip-flopping between bustling city life and laid-back beach towns in pure luxury, Oahu is here to please.
What to do on your Oahu honeymoon:
Waikiki Beach is one of the world's most magnificent stretches of sand. Plop here for a long day of blissful relaxation in between swimming and snorkeling. Head over to Waikiki International Market Place afterward to scout your perfect Hawaiian souvenir. Bustling Downtown Honolulu - with its diverse mix of cultural landmarks, jazz clubs, farm stands, and more - is not to be missed. Head to the North Shore to see big wave surfing and explore local parks, small towns, and roadside food stands. Hikes in Waimea Valley are easy enough for leisurely strolls but still offer incredible views. Wrap it all up with a celebratory luau on the beach.
Read our Oahu honeymoon destination guide for more inspiration, including our favorite hotel and restaurant recommendations.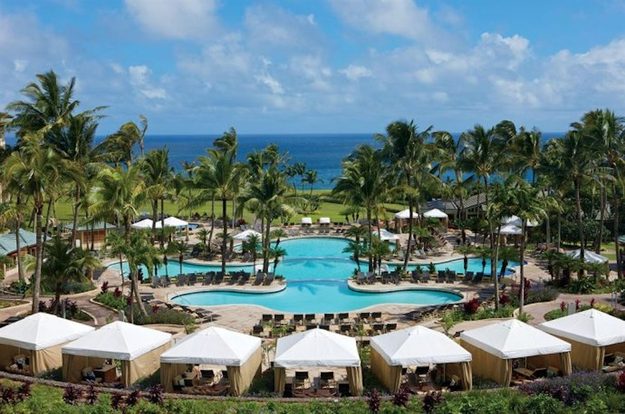 Photo: Ritz Carlton Kapalua
Honeymooners that seek the ultimate beach luxury should look no further than Maui.
Honeymoon on Maui




Untouched beaches and a broad range of worthy resorts help make Maui one of the most coveted honeymoon islands in the world.
Maui is loaded with luxury, romance, and beautiful beaches. Even among Hawaii's already-stellar international reputation, Maui stands out as an island paradise destination all by itself. Formed by two massive volcanoes, Maui boasts jungle valleys, long stretches of resort-lined beaches, hidden inland towns, and gorgeously scenic coastal drives. Altogether, this is the Hawaiian beach honeymoon that you've probably envisioned and definitely deserve.

What to do on your Maui honeymoon:
After days of sunbathing with your feet in the sand, rent a car to drive the Hana Highway. Replete with dramatic jungle cliffs, roadside food stands, bamboo forests, backcountry hikes, and secret swimming holes, this is one of the greatest honeymoon road trips in the world. Reminisce hilarious wedding moments with a beer and some snacks at the Maui Brewing Company - Hawaii's largest - or opt for a cocktail-pairing dinner (dubbed Bitters & Bites) at Andaz Maui at Wailea to cap the day.
It's no secret that we have a bit of a crush on Maui, so we compiled a list of the top 8 things to do on a Maui honeymoon. Coupled with our Maui honeymoon destination guide, you're sure to experience the best of this world-famous island.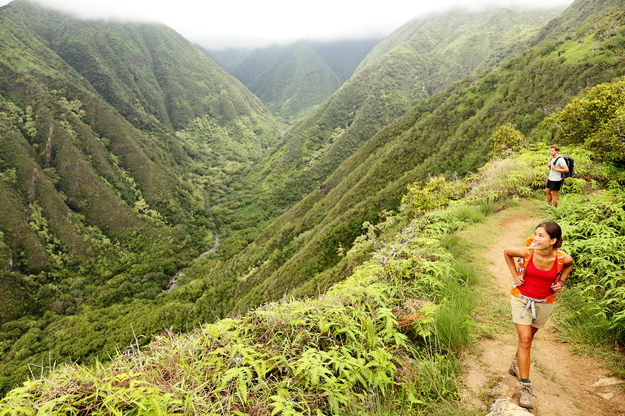 A scenic hike is one of the best ways to experience Kauai on your honeymoon.
Honeymoon on Kauai




The Garden Island is abundantly lush and endlessly serene - the perfect Hawaiian island for adventurous honeymooners.
Hawaii's greenest island is rich in natural wonders like parks, caves, and waterfalls. Kauai is the lushest and wettest Hawaiian island, where green velvet-like mountains soar, riverside jungles sing, and hidden valleys beg to be explored. This is absolutely the Hawaiian island for nature-buffs and honeymooners that prefer to add an "off-the-beaten-path" element to their itinerary. Don't let Kauai's serene seclusion fool you, however. The Garden Island is dotted with jaw-dropping exclusive resorts and farm-to-table restaurants.
What to do on your Kauai honeymoon:
All honeymooners on Kauai should insert at least one massive hike into their plans. Our favorites can be found in Waimea Canyon, dubbed the Grand Canyon of the Pacific thanks to its massive gorges and numerous lookout points. Brave a bumpy, dirt road to take advantage of a secluded 12-mile stretch of sands at Polihale State Park for a special day of beachfront lounging. For watersports like kayaking and stand-up-paddleboarding, head to Hanalei River. The river is bounded by lush vegetation and flows slowly enough for you to appreciate the serene surroundings at a romantic pace.
The beachfront pleasures and inland adventures of Kauai can seem endless. Let our Kauai honeymoon destination guide help carve out the itinerary you deserve.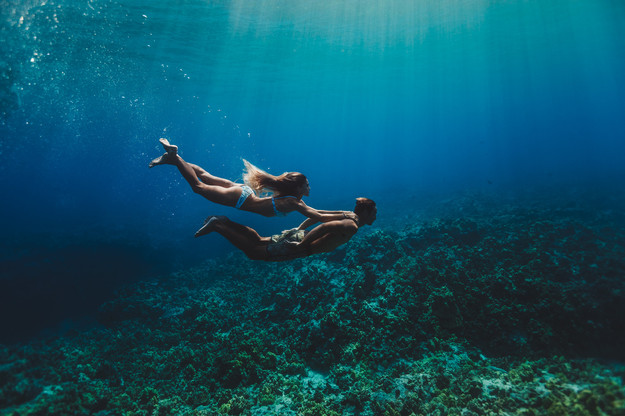 Photo: Four Seasons Resort Hualalai
A honeymoon in Hawaii is not complete without adventures under the sea.
Honeymoon on Hawaii (the Big Island)




From lava fields and rainforests to snowcapped mountains and scenic waterfalls, Big Island can satisfy all of your honeymoon desires.
Hawaii Island is referred to as Big Island so that visitors don't confuse the place with the state, but also because Big Island is bigger than all of Hawaii's other islands combined. With so much size, it's no wonder Big Island has so much to offer. From thriving rainforests and secluded beaches to historic villages, massive lava fields, and gushing waterfalls, Big Island is a land of extreme diversity. This is an ideal Hawaiian island to visit for honeymooners that want a little bit of everything without having to island-hop.
What to do on your Big Island honeymoon:
Take in Big Island's diverse beauty from a helicopter tour to really appreciate the scope of this land. The always-erupting volcano of Kilauea is surreal and is continuously changing the shape of Hawaii. Learn more about the volcanoes which formed Big Island by visiting the National Park of Hawaii. Afterward, a stroll through a romantic garden will invigorate your senses. Explore the jungle trails, waterfalls, and tropical pleasures of Waipio Valley on horseback or with a rewarding hike.
Looking for the top snorkel spots, waterfalls, and epic day trip recommendations on Hawaii? Our Big Island honeymoon destination guide is the last tool you'll need for a grand Hawaiian honeymoon.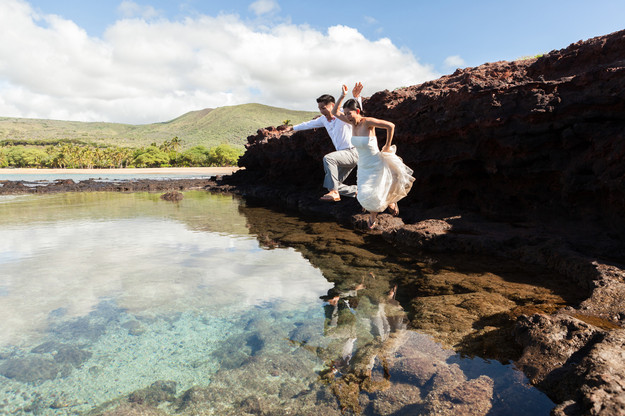 Photo: Four Seasons Resort Lanai
Take the plunge on Lanai - one of Hawaii's best-kept honeymoon secrets.
Honeymoon on Lanai




Hawaii's smallest inhabited island is a tropical honeymoon paradise of natural beauty, tranquility, and privacy.
Tiny Lanai sits just 9 miles off the coast of Maui, yet it feels worlds apart. This little island is enticing in its seclusion and serenity. The former pineapple plantation is now home to just three hotels and 3,000 locals. The result is an intimate Hawaiian island that is perfect for beach bum couples that are looking to enjoy their honeymoon days basking in supreme bliss. Rest, relax, and recharge - Lanai is an island paradise of rejuvenation.
What to do on your Lanai honeymoon:
Lanai is the sort of place where you need not feel guilty about spending day after day lounging on the beach. It's also the kind of island where stunning accommodations are as much a reason to visit as the natural land. Fortunately, your choices are simple: plantation-style history at Hotel Lanai, opulent luxury at Four Seasons Resort Lanai, or an all-inclusive wellness retreat at the rustically surreal Lanai at Koele, another Four Seasons hotel. Once you've made your pick, prepare for soothing days of sunbathing and swimming filled with dolphin sightings in the distance, gourmet meals, revitalizing spa treatments, and more.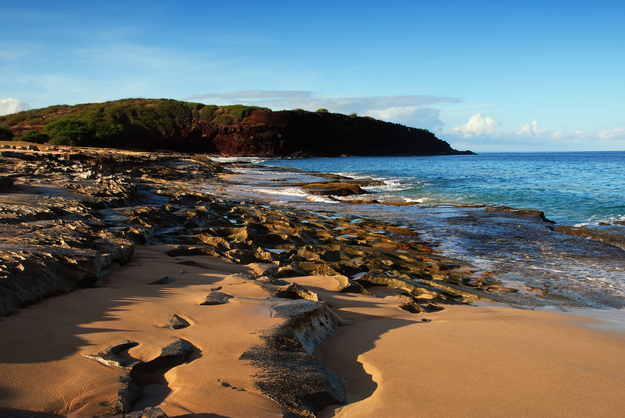 Honeymoon on Molokai to enjoy long stretches of ocean shores all to yourselves.
Honeymoon on Molokai



Spectacular beaches, dramatic sea cliffs, and untouched Hawaiian living can be experienced by honeymooning on this under-the-radar Hawaiian island.
Molokai is the least developed Hawaiian island. There are no buildings taller than a palm tree, no traffic lights to dictate the flow, and certainly no crowds of tourists. Locals pride themselves on this and seek to preserve the native Hawaiian lifestyle. Honeymooners should know that a trip to Molokai will be different from any of Hawaii's other inhabited islands. A visit here is a way to explore and engage with the roots of Hawaiian culture while enjoying Hawaii's stunning nature free from commercialism (and likely, any other honeymooning couples). Molokai is not for everybody, and might not be ideal for a first visit to Hawaii. But its authentic preservation of Hawaii's past along with a beautiful bounty of untouched landscapes makes it entirely worth considering for an unconventional Hawaii honeymoon.
What to do on your Molokai honeymoon:
Honeymooners can enjoy some of Molokai's massive beaches, like Papohaku Beach, all to themselves. Guided tours along the world's tallest sea cliffs at Kalaupapa National Historic Park or through the magnificently unique Kamakou Preserve are awe-inspiring. The drive to Halewa Valley is an adventure in itself. Hidden beaches and waterfall hikes make this journey well worth your time.
Feel like Molokai is calling? We can relate. Our Molokai honeymoon destination guide has all the best island information for an unforgettable visit.

In case you missed it:
5 Romantic Restaurants to Visit on your Maui Honeymoon
5 Honeymoon Road Trips That Prove That the Journey is the Destination