If you like the idea of a Hawaii honeymoon, but the thought of crowded beaches and tourist traps makes you think twice, then consider Molokai. There, you'll find dramatic waterfalls, the world's tallest sea cliffs, rainforests, fragrant plumeria trees, archeological sites, ranches, coral reefs, authentic native Hawaiian culture, and some of the most spectacular white beaches in Hawaii – but no stoplights, no crowds of tourists, and no building taller than a coconut tree. The island, which is 38 miles long by 10 miles wide, has only 7,000 permanent residents (most of them native Hawaiians) and 80,000 visitors per year. Honeymoon here, and the island is practically yours.
Despite its lack of commercial and tourist development, there is still plenty to see and do on Molokai (as the extensive list of activities and attractions below demonstrates). "Life on Moloka'i is so non-commercial that visitors at first might wonder, 'Where's the Hawaiian stuff?'" the Molokai Visitors Association says on its website. "The answer is – it's everywhere. Impromptu performances at Kaunakakai's Saturday street market. A group of men standing out on the reef hauling a net together. Young girls dancing during the dinner hour at one of the small hotels. The baggage handlers playing 'ukulele in the lull between planes. It's normal life."
Islanders like to say that Hawaiian culture is not so much preserved as it is lived on the island – it's frequently called the "most Hawaiian" of the Hawaiian islands. That's because native Hawaiians make up most of Molokai's population, and the Hawaiian Homestead Act of 1920 restored their control of ancestral lands (including much of the coast). Most of the island is rural, enabling many native Hawaiians to practice traditional livelihoods such as farming, fishing, and hunting. Hawaiian culture is also on display during the island's many festivals, which are celebrations of native culture by Hawaiians, for Hawaiians – on Molokai, they are not primarily tourist events, although visitors are more than welcome.
The island's terrain varies widely. On the north side are gigantic cliffs rising more than 3,000 feet above the sea, sliced by razor-thin canyons and the tallest waterfalls in Hawaii. The Kalaupapa Peninsula, which extends from the foot of the cliffs, contains a rainforest with plant and animal life found nowhere else in the world. The western coastline forms a bowl-shaped arc that is home to some of Hawaii's largest (and least crowded) beaches. Central Molokai is hilly, rough pastureland largely devoted to agriculture. The eastern part of the island is rainier and more forested, while the south shore is protected by the most extensive reef system in the United States.
Molokai offers a variety of different accommodations: bed-and-breakfasts in the central part of the island, three modest mini-resorts along the sheltered south shore, ranches on the east side of the island, and condominiums on the north. A number of guest houses are also available for rental. Cut-rate backpacker lodging, as well as camping, is a possibility for couples on a budget.
What to Do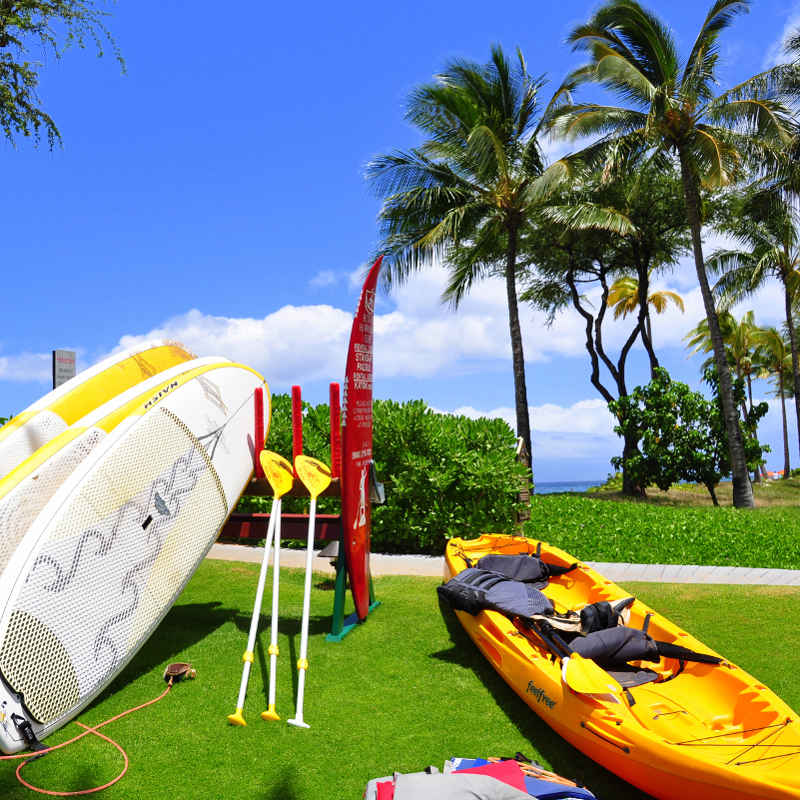 Hit the Beach - Molokai boasts 16 beaches (although only six are considered suitable for swimming), including one of Hawaii's largest white-sand beaches: Papohaku Beach, which is three miles long and 100 yards wide (long stroll at sunset, anyone?). Quite a few visitors report not encountering anyone else on the beach – not even another footprint!

Take a Cruise - Molokai Fish and Dive offers a variety of cruises, including a whale-watching cruise, a sunset cruise, and a snorkeling cruise. Other charter boats will take you deep-sea sport fishing or on wild rides along the island's stunning sea cliffs.

Play in the Water - The reef that lies about a mile off Molokai's south shore creates relatively calm, shallow, lake-like waters for all sorts of aquatic activities. Hop into a kayak and explore the shore's ancient fishponds and mangrove forests. Or go scuba diving with native guides who can show you the area's underwater caves, blue holes, and hammerhead sharks. Snorkeling is also an option, although online reviewers who have snorkeled on Molokai say it's not as good as on other Hawaiian islands.

Head into Town - Kaunakakai, Molokai's largest town, offers shopping and dining opportunities within its one-block-long "downtown" – the perfect place to pick up some wine, Molokai sweet bread, or maybe a homemade lunch sold off the back of an old pickup by a Hawaiian family. Kamakana Country Store is your go-to spot for local products and food specialties. The Molokai Visitors Association advises guests to stock up on provisions soon after arriving, as the town largely closes down after sunset and on Sundays. One exception to that rule is the Kanemitsu Bakery, where people start lining up at the back door around 10 p.m. in order to buy the bakery's famous bread hot out of the oven.

Take a Hike on Hawaii's Wild Side - Kamakou Preserve, maintained by the Nature Conservancy, contains more than 250 species of native plants, 90 percent of them found only on Hawaii. A boardwalk offers close-up views of a bog, as well as nice views of two valleys ornamented by long waterfalls. The Nature Conservancy also runs a shoreline preserve at Mo'omomi, where coastal dunes protect rare native plants and animals.

Swim Beneath a Waterfall - Hike through the forests of Halawa Valley to the 250-foot high Moa'ula Falls, and swim in the pools beneath the falls. (The valley and waterfall are on private property, so you will need permission and a guide.)

Ride into the Sunset, and the Sea - Pu'u O Hoku Ranch is a small-scale cattle ranch and organic farm that has a variety of trails on its 14,000 acres. These trails feature the beautiful Halawa Valley, waterfalls, secret swimming holes, views of the North Shore sea cliffs, and (in winter) a humpback whale nursery. Explore the trails by bicycle or horseback. The ranch offers a romantic sunset horseback ride, complete with champagne dinner in a wild setting, as well as a coastal ride that culminates with a plunge into the sea, horse and all. Molokai Ranch, a working cattle ranch and resort, also offers horseback riding – but not your typical nose-to-tail trail ride; you can even participate in a roundup.

Descend the Tallest Sea Cliffs in the World - You can descend the sea cliffs on the north side of the island along a four-mile trail to the Kalaupapa Peninsula; the wide, safe trail drops nearly two thousand feet by means of twenty-six switchbacks. You can hike the trail on foot, or on mule-back.
Where to Stay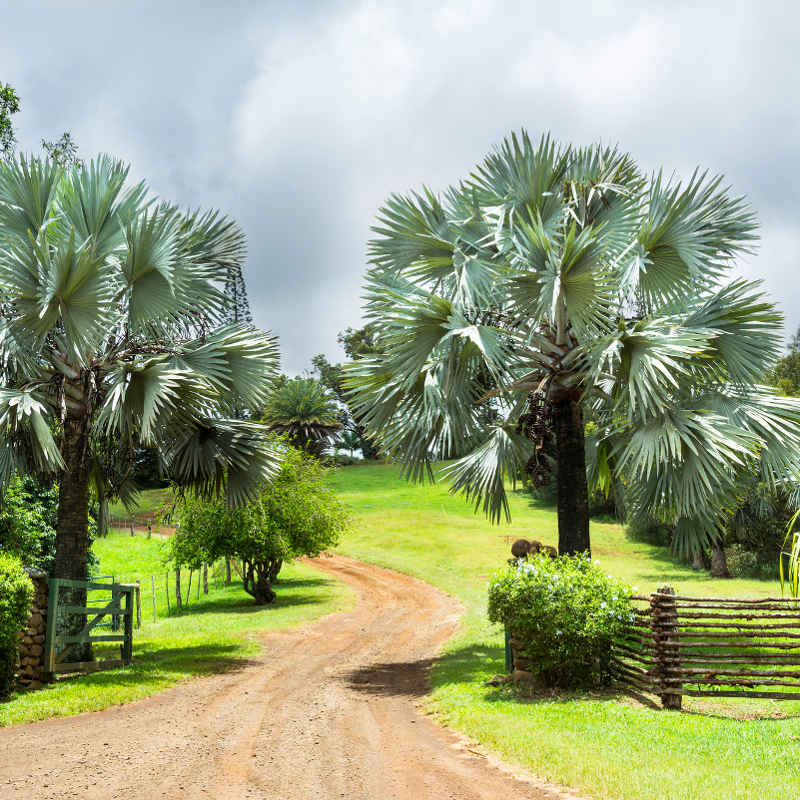 Hotel Molokai - This lovely resort boasts a Polynesian village of bungalows ideal for a genuine hideaway from the modern world. The experience includes daily breakfast, oceanfront pool, and popular bar offering live music. 

Hale Kai Beach Front Estate - Offers two gorgeous cottages set on secluded beachfront property on the island's east end. Both exude Hawaiian charm, are equipped with all modern amenities, and feature beautifully landscaped grounds. You can even swim, snorkel and kayak right out your front door.

Molokai Komohana - A lovely B&B near Maunaloa. The plantation-style property, also located close to the island's best white-sand beaches, features ocean views, daily breakfast, Wi-Fi, and afternoon tea and cookies.
Where to Eat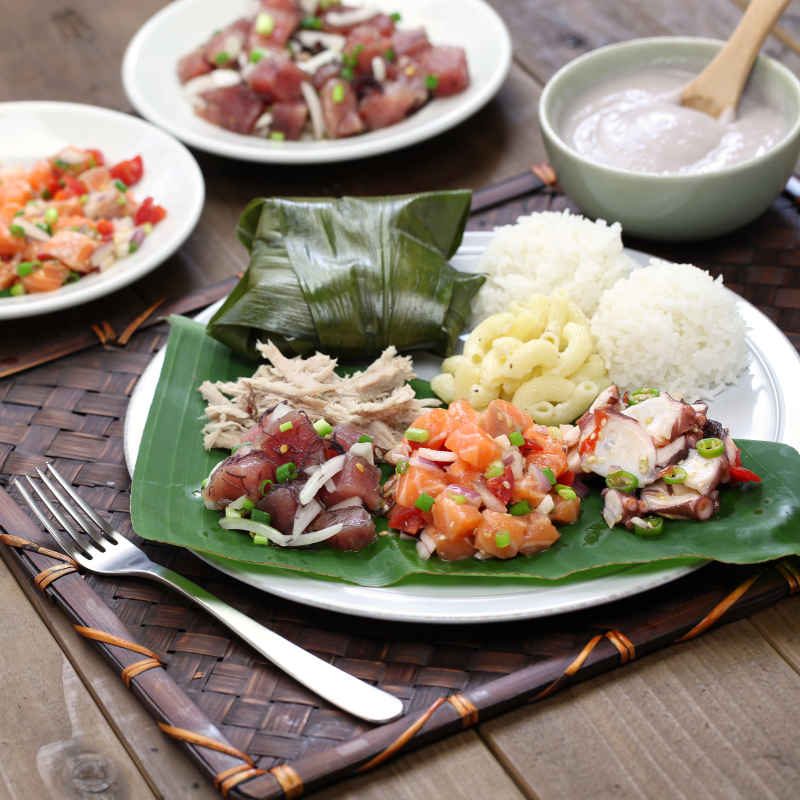 Kualapuu Cookhouse - If you follow the lead of the locals, you'll most certainly end up here, a terrific plate-lunch/diner-style establishment. Couples can look forward to traditional Hawaiian menu items such as mahi-mahi and lemon chicken with rice, plus burgers, omelets, and assorted sandwiches.

Kanemitsu's Bakery - Dating back 80 years, this bakery is famous for its hot bread, which is served fresh right out of its back door — at about 10 p.m. The hot breads feature delicious extras like jelly, cinnamon, butter, and cream cheese.

Molokai Pizza Cafe - This island staple serves Molokai's best pizza, plus an wide array of options like barbecue ribs, fresh fish, and much more.
Getting There
You can get to Molokai from Honolulu via plane or, if you visit Maui first, by the Maui-Molokai ferry. Molokai Airport (MKK) offers taxi and car rental services.