Maui truly is a tropical paradise. With its postcard-perfect beaches, comfortable year-round temperatures, world class resorts, scenic drives, rainforests, mountains, charming towns and endless activity list, Maui is the perfect getaway for those couples seeking a brief hiatus from life and a little relaxation or adventure.
At nearly 730 square miles, Maui is the second largest island in the Hawaiian archipelago and was formed by two volcanoes that gradually overlapped each other. The older volcano formed the West Maui Mountains while the newer volcano emerged as Mt. Haleakala, soaring 10,000 feet into the air and is nearly five miles in length from its summit to its base on the ocean floor.
The land between both mountain ranges has proved to be very fertile and has been a tremendous agricultural area for the state of Hawaii. The cultivation of sugar cane remains one of Maui's biggest exports in addition to pineapple, coffee, macadamia nuts and exotic flowers.
In addition to agriculture, tourism has emerged recently as the top economic industry on the island and has played a key role in Maui's growth. The island now boasts hundreds of hotels and resorts and is regarded by many publications as one of the top honeymoon destinations in the United States. In 1950, the island had a population of around 40,000 and has ballooned to nearly 120,000 today, which ranks Maui as the third most populous Hawaiian island behind Oahu and the Big Island.
Depending on your location, the climate and weather on the island can vary drastically. It's one of the few places in the world that has a great diversity in ecosystems and landscapes all within a relatively small area -- which makes for some pretty extraordinary day trips and adventures. The windward side (north and east) of the island typically experiences more rain, wind and changing weather patterns than the leeward side (south and west), which is generally hot and dry for the majority of the year. However, expect high temperatures year-round to be in the mid-to-upper 70s to the mid-80s in the lowlands and resort areas. Usually the winter season experiences high temperatures just a few degrees below the normal highs in the summer. If couples want to stay out of the rain while on Maui, your best bet is to find a home base in the Wailea area. However, if visitors plan on making the journey up Mt. Haleakala, prepare for cold temperatures and variable conditions.
April-May and September-October are generally the best times to visit Maui with consideration to climate, crowds, and prices. Mid-December to the end of March is considered the high season and rates are generally higher. But, visitors are likely to find the island busiest any time school is out of session (think holidays, Spring Break and Summer).
What to Do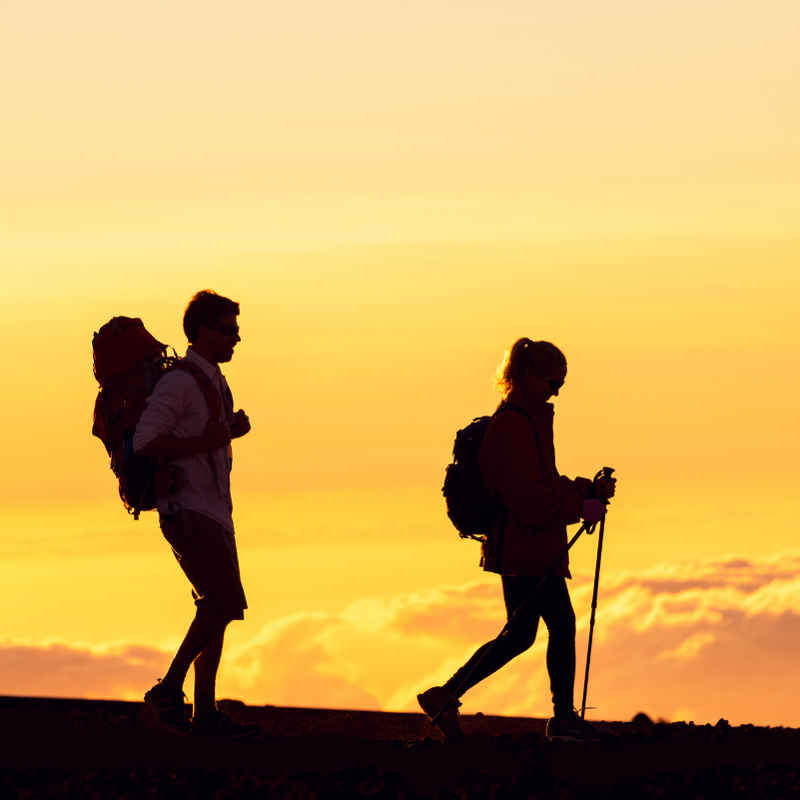 The Road to Hana - Some believe that if heaven had a highway, it would look exactly like the Road to Hana. Filled to the brim with jungles, waterfalls, canyons, rocky beaches, sea caves, blowholes, swimming holes and roadside stands, this long and winding drive is truly spectacular. Relaxing, adventurous and visually stunning all at once, few drives in the world offer the possibilities and sights that Hana Highway does.

Sunrise at Haleakala and Bike Trip - Called "House of the Sun," Mount Haleakala hosts some of the most stunning views of sunrise and sunset in the world. On your journey, head up the 10,000-foot mountain just before dawn and witness the dazzling array of colors that appear before you in a moment's notice. Then, feel the wind at your back as you navigate the switchbacks of the dormant volcano via bicycle. Bike it Maui has experienced, friendly and knowledgeable guides and offer sunrise tours that include a trip up to the summit, a guided tour down the mountain and then breakfast in Paia. For more adventurous couples, this trip will be unforgettable.

West Maui Drive - While Hana Highway and Eastern Maui receive the bulk of attention from visitors, Western Maui is a unique place all in itself and cannot be overlooked. Kahekili Highway will remind you of The Road to Hana with its switchbacks, vistas and narrow lanes. Kapalua has some of the best snorkeling opportunities on the island and crystal-clear blue water. Roadside stands and art galleries also dot this memorable drive.

Iao Valley State Park - This stunning park has great historical significance and natural wonder and is ideal for a couple hours of exploration. The park was once the site of a great battle in 1790 between Maui's forces and the troops of Kamehameha I in an attempt by the leader to unify the islands. The valley also features the Iao Needle, a 1,200 foot "phallic" mountain that rises into the sky, plus dense rainforests and annual precipitation that reaches nearly 400 inches per year.

Small Town Visits to Lahaina, Paia, and Makawao - These unique and charming towns provide ample amounts of shopping opportunities, art galleries, restaurants, entertainment options and much, much more. Lahaina is Maui's major tourist destination with dramatic mountain and seaside views. Paia is an artsy-western town with a surfer vibe and numerous galleries while Makawao is an upcountry village nestled in the hills near Mt. Haleakala and boasts great shops and a one-of-a-kind bakery.

Water Activities - From snorkeling to scuba diving to surfing, Maui's water sports scene is truly remarkable and world-renown. Take a snorkel cruise by Pride of Maui out to Molokini Crater (a small volcanic cone that just barely peaks out of the Pacific) and discover its underwater world and then enjoy a BBQ on your way back to port. Scuba options and surfing opportunities are also exceptional on the island. Maui Dive Shop is highly-regarded for scuba trips while the Kamaole Beaches in Kihei are perfect for beginner surfers.

Beachin' It - Great diversity can be found in Maui's beaches; some narrow, others wide and then some with black, red or white sand. Recommendations include D.T. Fleming Beach, Hamoa Beach and Kaanapali Beach. However, Makena Beach (Big Beach) in South Maui is as beautiful as they come. Backed by desert-like hills and Mt. Haleakala, Big Beach is grand and majestic and away from the tourist trail and sounds of the city. It's primitive and beautiful and likely a place you will never want to leave.

Luau Time - For someone visiting Hawaii for the first time, an authentic luau experience is a must, and several places on Maui do it right. Old Lahaina Luau is highly recommended and features some of the island's best performers in an evening of traditional Hawaiian cuisine, dancing, music and stories. The Marriott at Wailea also has a nice luau experience and is the only performance on the island featuring fire dancers.

Golf - What's vacation without a little golf? Maui boasts challenging and dynamic courses by some of the top designers in the game -- many offering ocean and mountain views. One of the crown jewels is Wailea Golf Club's Emerald, Blue and Gold Courses. For those on a budget, Waiehu Golf Course makes for a fantastic option and has ocean vistas too.

Must-Do Day-Trip Itinerary - Start your day with breakfast at Charley's in Paia, a favorite hangout for locals, tourists and celebrities alike, including Willie Nelson. The restaurant has a hippie-western saloon vibe to it and is the perfect place to fuel up for the day.

Then head east out of town and begin "The Road to Hana", a long and winding journey featuring lush rainforests, waterfalls, cliffs and stunning seascapes. The route -- often regarded as one of the world's most spectacular drives -- is 68 miles long, typically takes up to five hours (with stops included) and ends in the small town of Hana, a relaxing and simple village set among rolling green hills and spectacular ocean views. The journey is about enjoying nature and exploring, so be sure to take your time and make frequent stops, including visits to many of the roadside stands (often featuring fresh fruit juice concoctions, coconuts and banana bread).

Explore the countless waterfalls and hidden valleys and take a few detours down to the rocky coast for a different scene (expect rough surf, blowholes, black sand beaches and sea caves) at places like Wai'anapanapa State Park and Ke'anae.

Stop in Hana for lunch before taking the road back on the leeward side and completing the full circle of Eastern Maui. This final half of the journey goes through many different types of landscapes, features a gravel road for several miles plus other unexpected sights (watch for ranch animals!). Be sure to stop at Oheo Gulch and the Seven Sacred Pools for a dip in this natural wonder. Finish up the day by visiting Grandma's Coffee House and then having a relaxing dinner at Hali'imaile General Store.
Where to Stay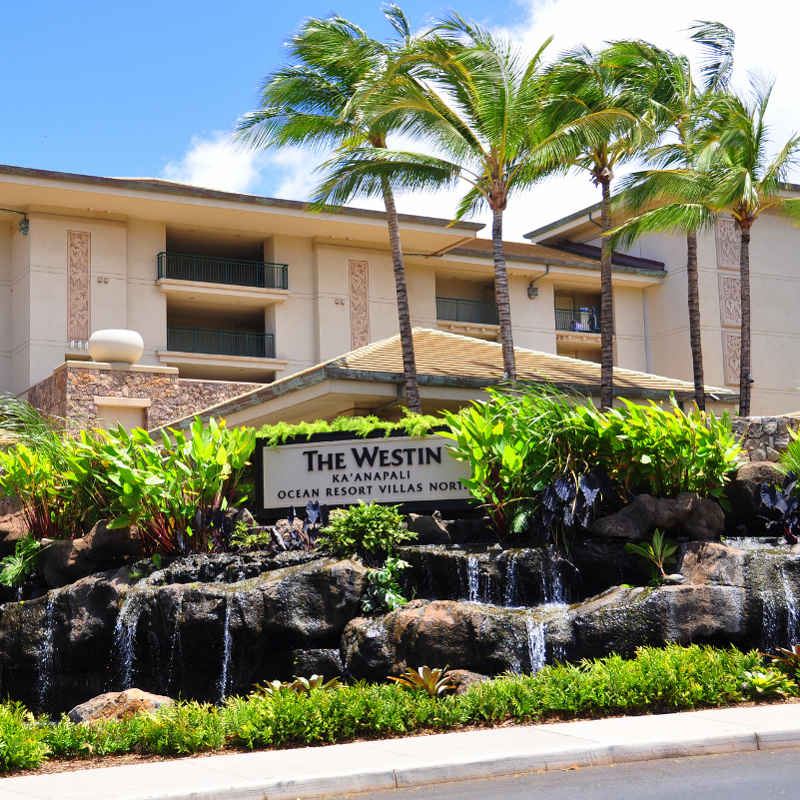 Ka'anapali Beach Hotel - Situated on the shores of Ka'anapali Beach in an ideal location close to just about everything. The hotel features 430 rooms, water equipment rentals, a spa, several dining options, a pool and access to excellent golfing.

Travaasa Hana - Definitely the choice if you want to truly get away from it all. Hana is a spiritual place located on the remote eastern edge of the island and is ideal for relaxation, reflection and immersion in nature. The ranch-style property features several dining options and a fabulous spa, plus many outdoor activities, including horseback riding, snorkeling, lei making, and hiking.

Four Seasons Resort Maui at Wailea - Consistently rated as one of the top hotels in the world, and for good reason. The setting, service and top-notch amenities all combine to make one of the most spectacular places to have your honeymoon. In addition to having Wailea Beach at its frontdoor and views of the West Maui Mountains and Lanai, the hotel also features three pools, three excellent restaurants, golfing, tennis, water activities, elite spa services, art galleries and a wide array of fitness classes.
Where to Eat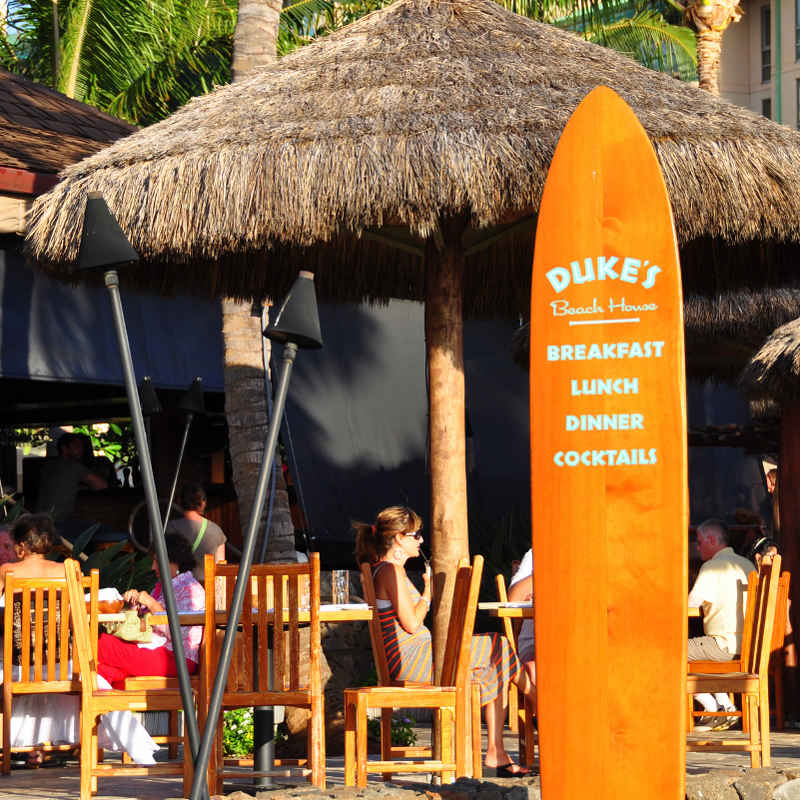 Lahaina Grill - There are no oceanfront views or mountain settings here, but the overall excellence of this downtown Lahaina gem will create plenty of memories. Expect delicious seafood and American-inspired cuisine merged with superior service in an elegant setting. The Maui Onion and Sesame Seed Crusted Ahi Tuna entree is exceptional and just one of several featured items likely to leave you thoroughly satisfied.

Flatbread Company - At this laid-back joint, enjoy some terrific pizza made from an impressive hand-built wood burning oven, plus the ingredients are all organic, the meats nitrate-free and the chicken free range. Simply, it's tasty healthy pizza set in a cool environment and funky town. What more could anyone want?

Hali'imaile General Store - Located in a plantation store that has been charmingly restored, chef Bev Gannon has created one of Maui's most memorable and delicious dining experiences. With its vibrant colors, high ceilings and open-aired feel in an "upcountry" location, the restaurant is relaxing and inviting. The cuisine is American-inspired with "hints of Asian overtones" and made from fresh island ingredients. The tropical cocktails are also excellent.
Getting There
Most major airlines fly through Kahului, Maui's biggest city. Direct flights to Maui are also common through several Western U.S. cities such as Phoenix, Los Angeles and San Francisco. However, flights from the east coast and elsewhere will require a plane change in Honolulu.
Once on the island, a rental car is highly recommended for maximum exploration. Kahului Airport features all of the major rental agencies. Tip: Hawaii offers some of the lowest car rental rates in the country, so if there is ever a time to rent a car, this is it.