Is there any accommodation more fitting for a romantic honeymoon than an overwater bungalow? With thatched roofs, wooden walkways, outdoor showers, and instant access to the sea, their iconic design is immediately appealing.
While overwater bungalows were once only found in the islands of French Polynesia, new accommodation options now span the globe. Here are the top destinations for a romantic and exotic honeymoon in an overwater bungalow.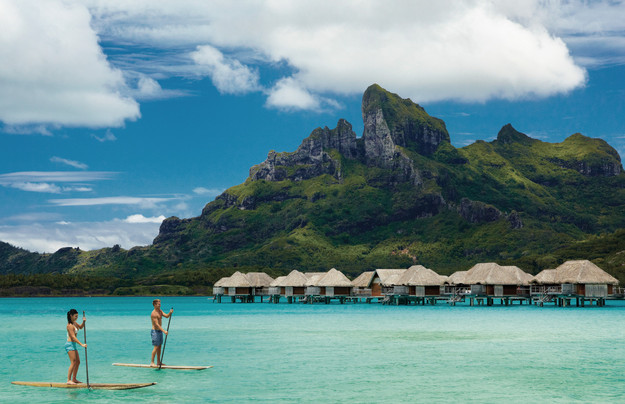 Courtesy of Four Seasons Resorts
Stand-up-paddle-boarders traverse the turquoise sea beside Bora Bora's legendary overwater bungalows.
Tahiti and Bora Bora
Honeymoon in these iconic French Polynesian islands, where the overwater bungalow concept first began.
Overwater bungalows originated as a concept in these dreamy South Pacific islands in the 1960s. French Polynesia's top honeymoon islands, Tahiti and Bora Bora, still reign as the world's premier destination for overwater bungalow luxury. Honeymoon here for authentic bungalow charm mixed with modern pleasures, from thatched roofs and glass floors to canoe-delivered meals and colorful snorkel excursions.
Stay: Set on on one of the world's most beautiful lagoons, the Four Seasons Bora Bora delivers the barefoot luxurious overwater bungalow experience you've always envisioned. For celebrity sightings and enormously spacious bungalows (starting at 1,550 square feet) consider the St. Regis Bora Bora just across the bay. On Tahiti, French Polynesia's largest island, the InterContinental is a perfect honeymoon base to pair ocean explorations with island adventures like off-road tours, jungle treks, and city shopping.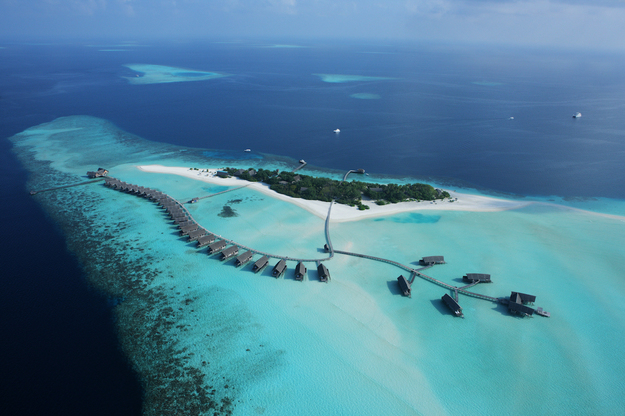 Courtesy of COMO Hotels and Resorts
Overwater bungalow bliss, as seen from above the Maldives.
Maldives
The Maldives host more than half of the world's overwater bungalows.
This island nation in the Indian Ocean has taken overwater accommodations to the next level. Private pools spill into turquoise seas, all-inclusive resorts with butler service cater to your every need, and glass walls allow you to enjoy ocean views from bed - the Maldives really are honeymoon bliss. Most of the overwater villas here are located on private islands, which facilitates a honeymoon of total tranquility.
Stay: COMO Cocoa Island is reached via a 40-minute speedboat ride, and the result is a resort that prioritizes romantic privacy. Villas are spaced far apart, and authentic South Indian cuisine can be delivered right to your doorstep, so you never have to leave. Engage with local marine life by snorkeling in the vibrant reef (don't be frightened by the harmless black-tip reef sharks) or head to the overwater spa with glass floors for an unforgettable couple's massage.
For affordable luxury, consider the Holiday Inn Resort Kandooma Maldives, where overwater honeymoon huts come equipped with private decks, outdoor showers and hot tubs, and remarkably comfortable overwater hammocks.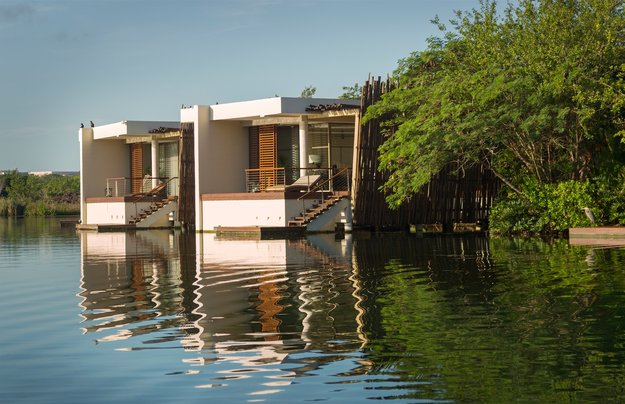 Courtesy of Rosewood Hotels
These Deluxe Lagoon Suites are an idyllic honeymoon base in Mexico's Riviera Maya
Mexico
Longtime honeymoon favorite Mexico brings a fresh take to the overwater bungalow scene.
Mexico may not spring to mind when thinking about the overwater honeymoon of your dreams, but a few fantastic resorts have set out to change that. All of the perks of honeymooning in Mexico (culture, proximity, and price, to name a few) are added to the thrill of staying in a stylish overwater casita to make for an unforgettable honeymoon trip.
Stay: El Dorado Maroma was the first overwater accommodation in Mexico and is still one of the country's finest choices for a honeymoon stay. The adults-only, all-inclusive resort is set on Maroma Beach, which has been heralded as one of Mexico's best-kept secrets. Its luxurious palafitos accommodations are each loaded with private infinity pools, glass-bottom floors, indoor jacuzzis, outdoor showers, oversized decks, and 24-hour butler service.
Rosewood Mayakoba is continuing the overwater trend in Mexico with its deluxe overwater lagoon suites that float graciously above emerald waters. The five-star resort on a prime stretch of white sand in Mexico's Riviera Maya has been a honeymoon favorite, and its overwater suites are a swoon-worthy choice for a romantic stay.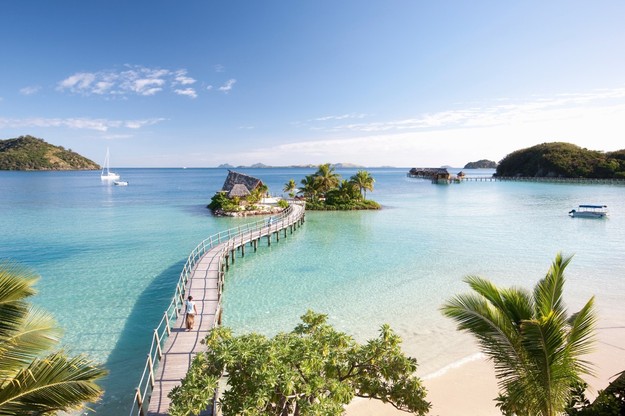 Courtesy of Likuliku Lagoon Resort/Hamilton Lund Photography
These overwater bungalows of Likuliku Lagoon Resort are the stuff of honeymoon dreams.
Fiji
A honeymoon in Fiji's premier overwater bungalows promises seductive seclusion and natural adventure.
The remote, tropical island nation of Fiji has been coveted by honeymooners for decades. Its 300+ islands are packed with gorgeous beaches, friendly people, rainforest adventures, and - more recently - overwater bungalows. While the offerings may be limited, Fiji's overwater accommodations are some of the best in the world.
Stay: Likuliku Lagoon Resort is a sanctuary of subtle luxury set in a natural ocean lagoon. Surrounded by wilderness and abundant with protected marine life, the adults-only resort on Malolo Island offers the ultimate in authentic and remote beach honeymoons.
Laucala Island Resort, one of the coveted Leading Hotels of the World, is set on its own private island. The exclusive resort is maintained by over 400 staff, which serves a maximum of just 80 guests. Breezing past coconut plantations, sandy beaches, turquoise lagoons, rich green mountains, and breathtaking natural beauty, it's easy to envision Laucala as the Garden of Eden.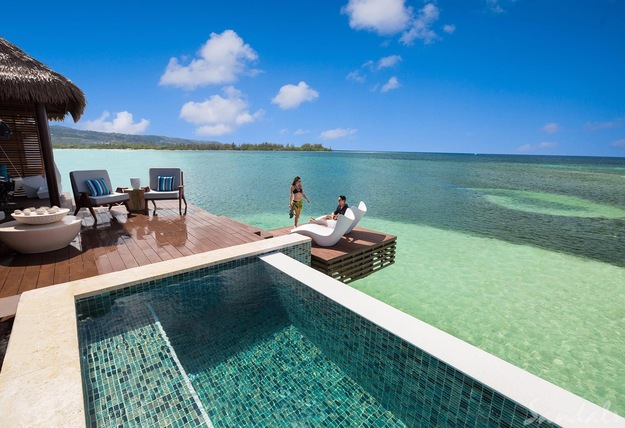 Courtesy of Sandals Royal Caribbean
The luxurious overwater bungalow suites in Jamaica come equipped with their own private plunge pools and sun decks.
The Caribbean
Overwater eco-resorts and ultra-luxurious honeymoon bungalows are sprouting all across the Caribbean
Caribbean destinations like Aruba and Jamaica, along with neighboring Bahamian islands consistently top honeymoon lists. With reliably warm weather, crystal-clear oceans, sandy beaches, and convenient flight access, the Caribbean is arguably North America's premier honeymoon collective destination. The addition of overwater bungalows in the region makes the Caribbean even more compelling.
Stay: The swanky Sandals Royal Caribbean in Jamaica's Montego Bar reset the bar for Caribbean accommodations when it introduced overwater bungalows. All Sandals properties are world-class all-inclusives, but the bonus amenities like outdoor soaking tubs, in-room dining, and all-day boat access that come standard with this property's overwater bungalows will elevate your honeymoon stay to the next level.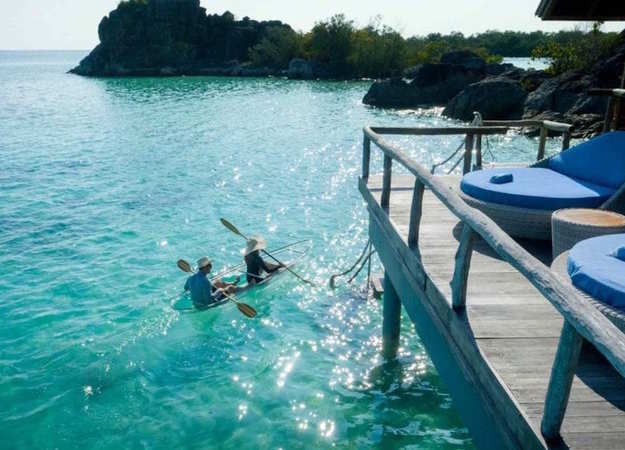 Courtesy of Bawah Reserve
Stay active on your honeymoon with a crystal-clear canoe excursion amidst the turquoise Indonesian waters of Bawah Reserve.
Southeast Asia
Some of the world's most exquisite overwater bungalows exist in far-flung, exotic honeymoon destinations.
Southeast Asian destinations have been drawing more honeymoon attention year after year. Countries like Vietnam and the Philippines o?er an other-worldly culture shock that so many couples crave. Lush nature, lively cities, and pristine beaches round out the honeymoon package. While the journey to reach Southeast Asia may be extreme, the reward is an unrivaled experience that pairs beautiful scenery with a sense of exhilarating adventure.
Stay: A long-haul flight, car ride, and boat transfer are required to reach the Six Senses Ninh Van Bay in Vietnam, but its far-o? location plays into the illusion of honeymooning on a fantasy island. Each of the overwater villas have private pools and stare out to the ocean's infinity. Activities like cooking classes, water sports, jungle treks in search of native monkeys, mud baths, and picnics on private beaches are o?ered.
If the remote Southeast Asian island paradise tickles your fancy, consider a stay at Indonesia's Bawah Reserve. Reachable only by seaplane, your arrival (on an airstrip beside the beach lagoon) will immediately put you into honeymoon mode. Banked by lush vegetation and facing perfectly turquoise waters, this is the getaway that you and your new life partner deserve.

In case you missed it:
Honeymoon Ideas for Every Couple