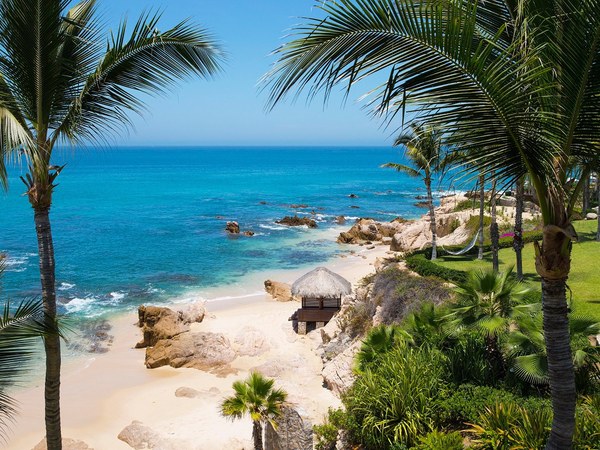 Image courtesy of One & Only Palmilla


Whether you're looking for a full-service resort or a boutique casita, Mexico has everything that couples dream of when they think "beach honeymoon."

But look beyond the azure waters and golden-sand beaches and you'll also find vibrant metropolitan capitals with ancient Mayan roots. Depending on the vibe you're looking for (and your budget), there are countless regions in which to focus your honeymoon itinerary.

Laid-back Tulum and Sayulita offer bespoke charms, while Los Cabos and Mexico City have name-brand resorts chockfull of amenities. Look further afield and you'll find less-traveled Xhu-Pa, Costa Careyes, Todos Santos, and Mérida.

No matter which destination you choose, a honeymoon in Mexico guarantees so much more than just sun and sand. Read on for a few of our favorite places.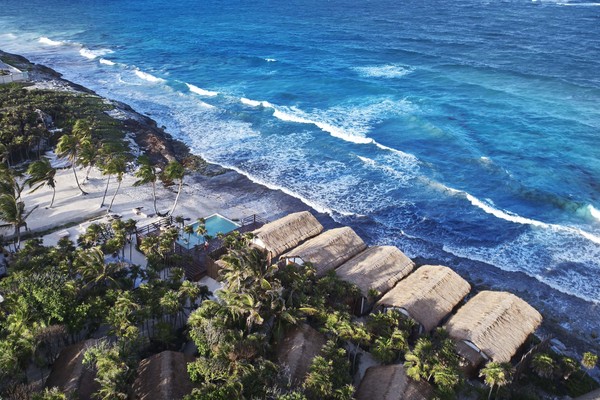 Image courtesy of Habitas Tulum
Tulum
This laid-back town on Mexico's Yucatán Peninsula has a reputation for hippie-chic pretension. But spend a few nights hanging in the lush jungle-and-ocean paradise and you'll understand the appeal.
There's no shortage of luxe accommodations, whether you choose to stay in a glamping-style room at Habitas Tulum or a luxurious suite at the arts-centric Casa Malca.
Same goes for quality eats: You can dine on fresh Italian pastas and breads at Posada Margherita, traditional Mexican dishes and regional wines at El Tábano, plus locally-caught grilled fish and ceviche at Heartwood. Just be sure to cap off the night with cocktails beneath the disco ball at Gitano.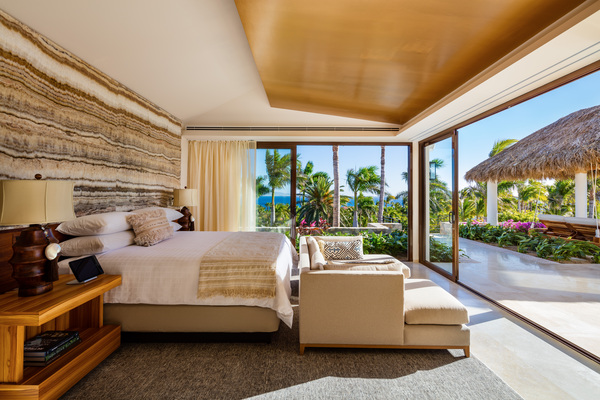 Image courtesy of One & Only Palmilla
Los Cabos
The tip of the Baja Peninsula has remained a resort-filled honeymoon haven for decades. After the region suffered severe damage in the wake of Hurricane Odile in 2014, it was quick to rebuild and resorts like the One & Only Palmilla bounced back better than ever.
2018 promises to top all that, with more luxury resorts coming online -- like the Montage Los Cabos, the Solaz Los Cabos, a Luxury Collection Resort, the Four Seasons Resort Los Cabos at Costa Palmas, and Zadún, a Ritz-Carlton Reserve -- that promise butler service, private suite accommodations, world-class golf resorts, full-service spas, and more.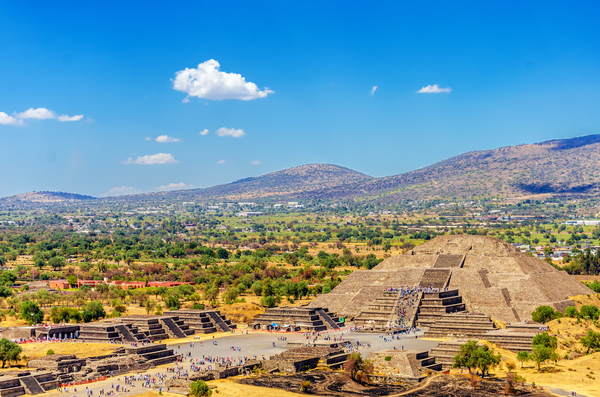 Mexico City
Don't let the bad PR fool you: The vibrant metropolis of Mexico City is one of the country's most romantic honeymoon destinations. Complement a few days on the beach with a city break that includes cultural visits to Museo Jumex and the Frida Khalo Museum, plus shopping in the open-air flea markets of quaint neighborhoods like Coyoacán.
But a stay in the Mexican capital wouldn't be complete with a day trip to Teotihuacan, a.k.a. the Pyramid of the Sun, an ancient Mesoamerican temple in the heart of the city. It's the third-largest pyramid in the world; pretty sure that qualifies as honeymoon bragging rights.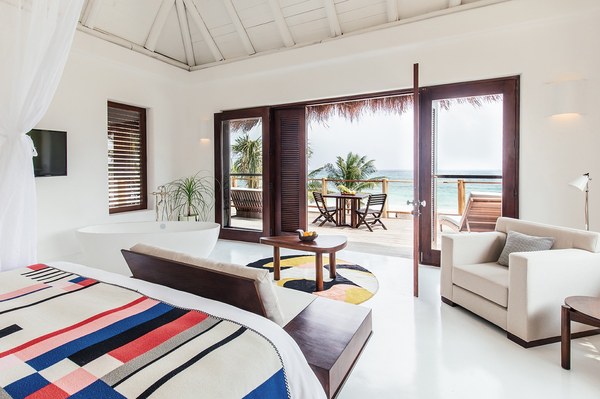 Image courtesy of Hotel Esencia
Xhu-Pa
Few people have heard of this secluded beach area, located halfway between Playa del Carmen and Tulum. Unless, of course, you're a celebrity who's checked into Hotel Esencia.
The area's premier resort (or the only show in town, depending on your perspective) frequently plays host to the who's who of the fashion and Hollywood sets. Everyone from Aerin Lauder to Lupita Nyong'o and Emily Ratajkowski has stayed in one of Esencia's 40 whitewashed rooms, dined at its poolside Mexican restaurant, down-dogged in the open-air yoga studio, or dipped in the Jacuzzi and cold tub hydrotherapy circuit at the organic spa.
Sayulita
The once-sleepy fishing village of Sayulita has attracted honeymooners in recent years, thanks to its charming small-town vibes and boho crowd (the kind you might to see in Trancoso, Brazil). White-sand beaches and serious swells stand in juxtaposition to the dramatic Sierra Madre Occidental mountains.
Lay your towels down on the sheltered Los Muertos Beach, sandwiched between protective rocks, or stay put at the Four Seasons Punta Mita and sip cocktails by the ocean as you wait for humpback whales to breach the surface.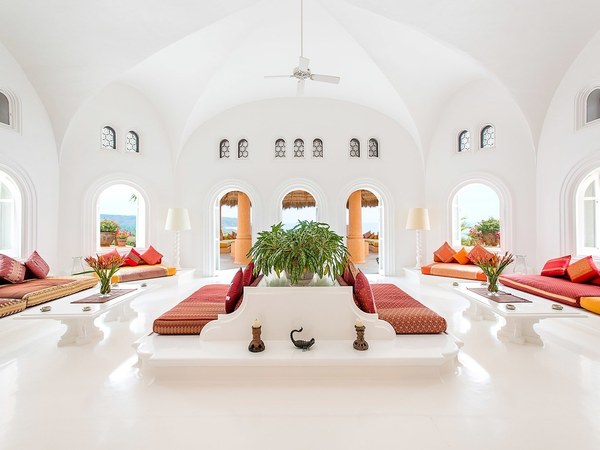 Image courtesy of Michael Gilbreath/Cuixmala
Costa Alegre
Pink thatched-roof bungalows and brightly colored hillside casitas pepper the wonderfully untouched Costa Alegre. This Pacific coast region is home to the vibrant Costa Carayes, a private resort community that boasts five restaurants, a secluded beach, oceanfront pools, and full-service spa.
Or, head slightly south to Cuixmala, the former home of a British billionaire that was transformed into a vibrant boutique hotel favored among celebs and models.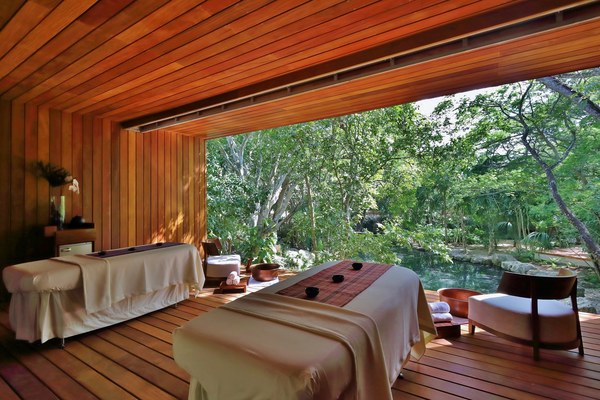 Image courtesy of Chablé
Mérida
True, there's no beach, but the lively capital of the Mexican state of Yucatán has culture in spades. The rich Mayan and colonial heritages are still felt today in and among the city's grand Plaza de la Independencia, fortresslike Mérida Cathedral, and classic limestone Iglesia de la Tercera Orden.
Post up just outside the city at a traditional estate like Hacienda Temozón or at a next-generation resort like Chablé, which melds hacienda architecture with mod-con amenities and even sets its spa inside a cenote (a natural sinkhole that's sacred in Mayan culture). Spend your days driving around the small surrounding towns or stay within Mérida to shop local markets and explore colonial-era churches with ancient Mayan roots.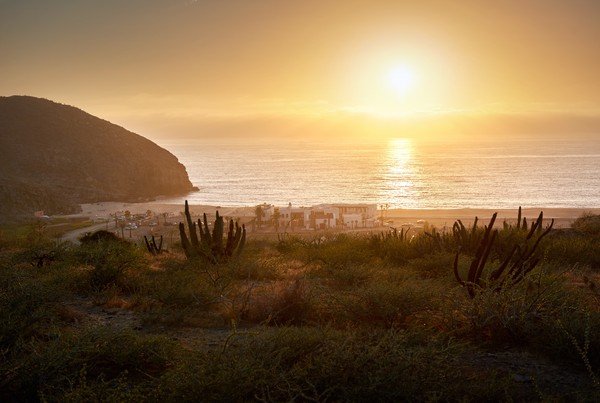 Image by Nick Simonite
Todos Santos
This Pacific Coast town -- backed by the Sierra de la Laguna mountain range on Mexico's Baja California Peninsula -- is popular among surfers and artists. It's remained relatively unknown -- that was, until the recent opening of Hotel San Cristóbal. Designed by Bunkhouse hotelier Liz Lambert (of El Cosmico, Marfa, fame), this laid-back haven is the kind of place you go to escape the digital world.
After a couple of days lounging on the beach (or surfing off the shores of San Pedrito, if you're skilled enough) and dining on fish tacos at La Copa Cocina or farm-fresh plates at Rancho Pescadero, led by a Pujol alum, you'll feel like you've found the world's last unknown honeymoon paradise.

In case you missed it:
TripAdvisor Travelers' Choice Awards Will Help You Find the Perfect Romantic Hotel