Vietnam's multi-cultural history make it a land of international influence and varied experiences. Leisurely travelers will enjoy the many idyllic resort islands, scenic rice fields, and the serenity of Ha Long Bay's jade waters, while more adventurous couples might prefer navigating the racing streets of 1,000 year old cities, exploring ancient temples, or canyoning down mountains and waterfalls. Whichever way you'll have it, Vietnam – packed with activities and attractions – is quickly becoming an increasingly popular destination for honeymooners.
The easternmost country of mainland Southeast Asia, Vietnam borders China to its north, Laos to its northwest, and Cambodia to its southwest. The Gulf of Thailand rests along parts of its west coast, while much of its east coast faces the South China Sea. Vietnamese culture is a complex medley deep-rooted in a history that reflects on its geographic neighbors. Northern temples harken back to Chinese influence, thriving cities draw semblance to the power of growing East Asian metropolises, and the capital city of Hanoi – with its tree-lined avenues of grand state buildings and bustling sidewalk society – serves as a reminder of its French colonial history. Combined with these cultural offerings is a land rich in geographic diversity – from spirited cities to lush forests and lengthy rivers – and a hospitable people that are happy to present it all to a growing tourism crowd.
Ha Long Bay is among the country's most popular honeymoon spots, and a major bucket list contender for good reason. The bay is beautifully calm, emerald green in color, and best traversed through a luxurious junk boat (don't let the name fool you). You'll tread through thousands of tiny islands, many named after their shape (like Tea Pot island and Stone Dog island), while swimming or scuba diving through their wind-swept grottoes. Kayaking into deep caves by day and dining like royalty aboard your extravagant junk boat by night, you'll immediately embrace this seemingly otherworldly experience that is utterly Vietnamese.
Con Dao is a 16-island archipelago located in the quiet waters of the South China Sea. Beautiful beaches, scenic bays, lush coral reefs, and vibrant tropical forest span this island chain which provides the perfect platform for a honeymoon escape. Inexpensive boat connections make moving from one island to another simple. Phu Quoc island, the largest in Vietnam, floats in the warm waters of the Gulf of Thailand. Its white sand beaches offer a romantic getaway experience, and boat and plane access from the mainland make visiting quite easy.
Travelers typically begin their Vietnamese journey by visiting either of its two largest cities, Ho Chi Minh City and Hanoi, depending on their entry (south or north, respectively). Formerly Saigon (and still Saigon in many labels, like its SGN airport code), Ho Chi Minh City is filled with museums, monuments, palaces and parks, and is a complete foodie paradise. Its 10,000,000 inhabitants will quickly thrust you into culture shock, which can be an utter delight to experience with your new beaux.
Capital city Hanoi, in Northern Vietnam, is a tale of two towns. High-rise hotels and grand opera houses can be found in its French Quarter, whereas quiet temples, merchant streets and public Tai Chi practices are spread throughout its Old Quarter. The two neighborhoods are 15 minutes apart and are best explored on foot. Fittingly, their nightlife offerings are completely different, which means more options for you as a traveler: jazz clubs and swanky lounges line the French Quarter, whereas the massive crowds and cheap drinks of the Bia Hoi Junction in the Old Quarter feels a bit more quintessentially local. This 1,000 year old city is a great place to get tossed into Vietnamese culture, whichever part of it you were prefer.
Hoi An is a comfortable mix of authentic culture with beautiful accommodations, perfect to mix into any honeymoon itinerary. This ancient riverside town was a thriving trade port for hundreds of years, and its multi-cultural roots make it a perfect place to experience the fusion of Vietnamese culinary flavors, from street barbecue meats to fresh vegetables, crispy pancakes, and even cau lao, a local noodle specialty from the 17th century. The scenic homes, Japanese-designed bridges, and meandering boats along the lazy river make leaving the quiet streets of Hoi An's colorful old town difficult, but historic temples and romantic beaches await just a short bicycle ride away.
Da Lat, among the highlands of Southern Vietnam, is the most exemplary village of Vietnam's French-era occupation, with this honeymoon-centric area even being nicknamed "Le Petit Paris." Misty mornings and pine trees make for a more brisk atmosphere here, a nice break from the heat and noise of nearby cities. Da Lat is centered around a lake, and is filled with golf courses, fantastic restaurants, and an abundance of outdoor activities like whitewater rafting, kayaking, and canyoning; all facilitated from the comfort of your hotel.
When it comes to weather, Vietnam is typically warm and humid with occasional bursts of rain, but weather can vary from region to region. Northern Vietnam is divided into two seasons: dry, relatively cool winters from October to April and wet, hot summers from April through September. Central Vietnam stays dry for most of the year, with a shorter wet season spanning only between October and December, but it's best to avoid the extremely hot and humid summer months of July and August around this area. Southern Vietnam is the easiest to plan around, with an equal split between dry (December-April) and wet seasons (between May-November), but year-round warm weather. Rainy days down south and off-shore islands come in the form of heavy, short downpours, typically mid-day, but are usually a welcome break from the afternoon heat.
What to Do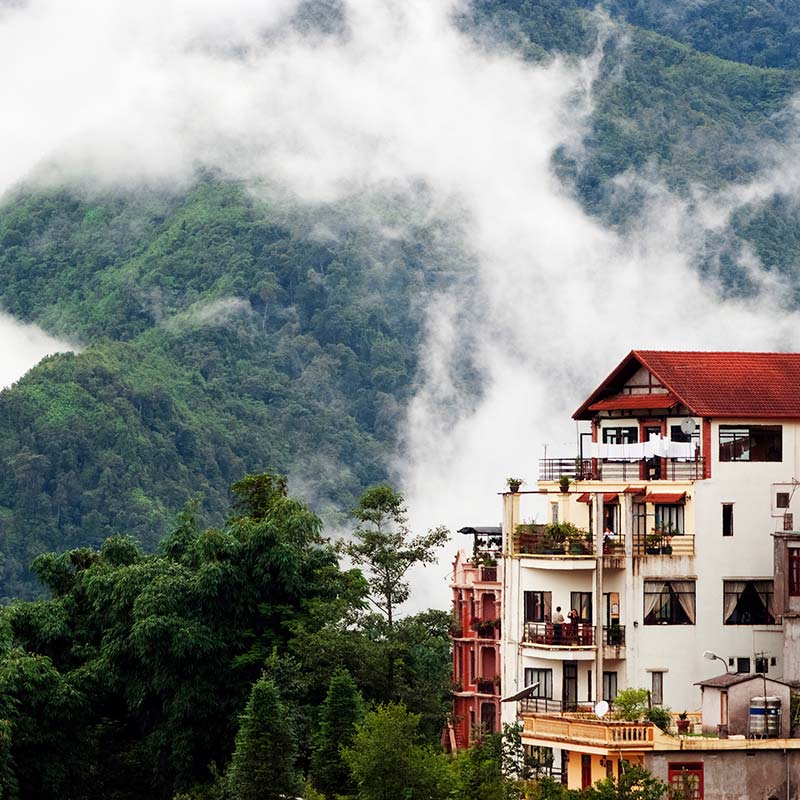 Hike through Sapa - Sapa is a mountainous region in Northern Vietnam, and is fast becoming among the best trekking routes in all of Southeast Asia. Home to the tallest mountains in the country, hiking through the peaks and valleys of these many trails gives you a glimpse into hill-tribe villages and a more traditional way of Vietnamese life. Breathtaking vistas, manicured rice fields and stunning mountain views are in no short supply. Tackle it by yourselves, or book a tour to get more local perspective along the route.

Shop in Hoi An - The old and romantic streets of Hoi An are a joy to walk all times of day, but at night the streets of this charming village are lit by lanterns and closed to car and motorbike traffic, making a perfect scene for a stroll. Vendors are very affordable, and happy to customize many of their well-made goods like clothing, shoes, and accessories. Grab a classic Vietnamese souvenir like porcelain bowls, bamboo sticks or a piece of local art to bring home, and munch on fried banana pancakes for the full experience.

Explore Hue - Hue is the former imperial capital city for Vietnam's last ruling family, the Nguyen Dynasty. Today, Hue is the perfect portal to get a glimpse of Vietnamese history. Visit the imperial citadel, where emperors formally lived and worked, and the imperial tombs, filled with elaborate royal burial grounds along the city's Perfume River. Have a little fun with the theme and head to a royal banquet dinner, where you can dress like old-age royalty, listen to traditional music and dine as if you were ruling the land.

Street Food Tour - Treat your tastebuds by indulging in Vietnamese street food. Sour and sweet, crunchy yet soft, soup and salad somehow at the same time, these cheap, quick eats are the best way to taste the culture's cuisine. Staple items include cho, a salty rice noodle soup; banh xeo, crispy crepes stuffed with fresh herbs and meats; goi cuon, light and colorful spring rolls; or the banh mi, which is a Vietnamese sandwich and can be as simple as meat and cheese and as intricate as fried egg over pickled vegetables and chili sauce. Look for open-air markets, hot steam clouds, and packed seating areas to find the best spots. Ho Chi Minh City offers a world renowned foodie tour where you'll try the country's best while being zipped around on the back of a female-driven scooter. Hoi An is also particularly packed with fantastic street food vendors, and easy to enough to navigate your own street food tour.

Phong Nha Ke Bang National Park - Squeezed between the Laos border and South China Sea, this UNESCO listed national park is teeming with unspoiled jungle, mysterious caves, and underground rivers. Getting there can be a bit difficult, with a lengthy sleeper bus from Hanoi being your best bet, but the kayaking, ziplining, wildlife watching and general trekking are well worth it for adventurous travelers. Oxalis is the best in organizing multi-day hikes and explorations, with sleeping accommodations included.

Float Along the Mekong Delta - The Mekong Delta is a vast and dense river network that flows through Southern Vietnam. Small islands and tourist towns can be found all across the Delta, as can children riding water buffalo, monks mindfully walking among the shadows, and locals rowing boats through the river's floating markets. Over a third of Vietnam is fed from food found around the Delta, and hopping aboard a canoe cruise to intersect with other boats going about their business is an incomparably authentic experience. Can Tho is the Delta's biggest settlement, with inland hotels and restaurants. Make base there, sign up for a tour, and get ready to move downstream.
Where to Stay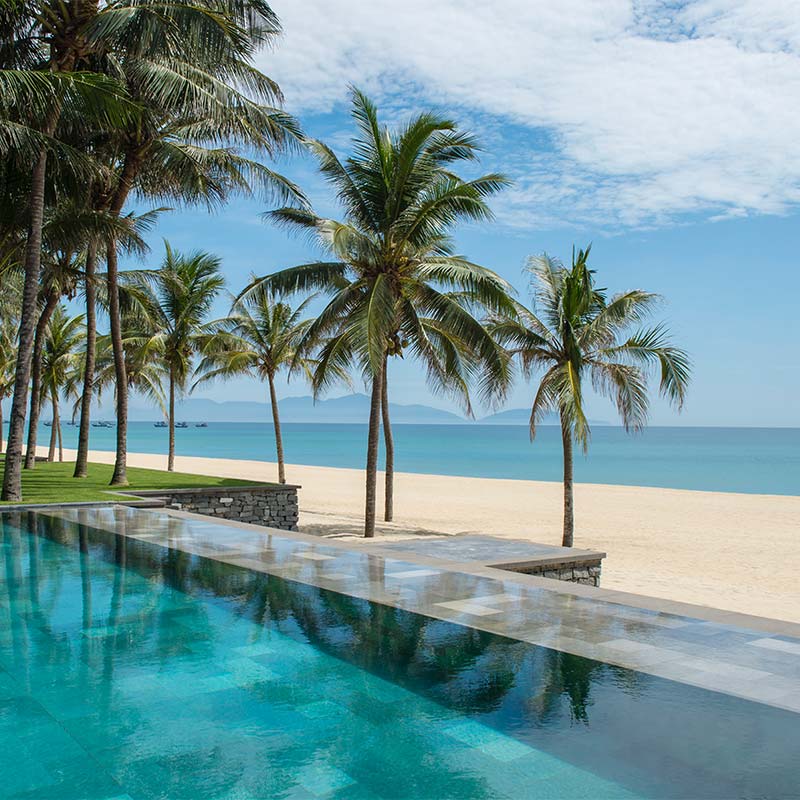 Where to Eat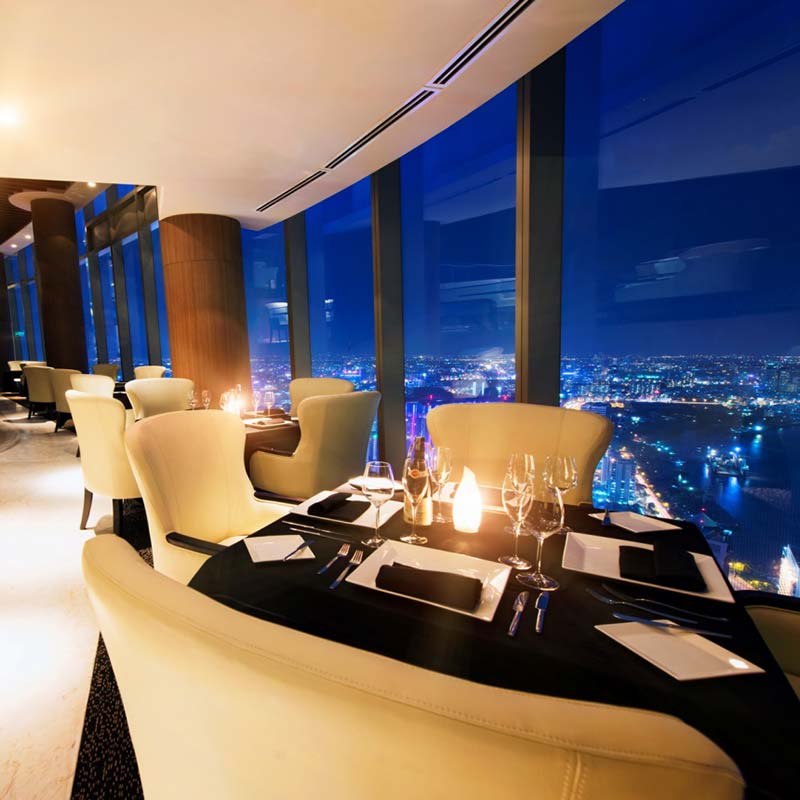 Getting There
Noi Bai airport (HAN) provides access into Hanoi, Vietnam's capital city, and is about 30 miles outside of the city center. Frequent airport-operated shuttle busses and local busses will bring you into Hanoi, with departures every 15 minutes.
Tan Son Nhat (SGN) is Vietnam's busiest airport, and a perfect entry point as it is just 4 miles outside of Ho Chi Minh City. Shuttle busses, trains and inexpensive taxis will bring you where you need to go in the city.
Once you're in Vietnam, domestic flights are aplenty and can bring you north, south, or to off-shore islands, while commuter trains and busses are more affordable options that can work well into your itinerary.