An archipelago comprised of more than 7,000 islands, the Philippines is located in Southeast Asia and bordered by the South China Sea to the west, the Philippine Sea to the east, and the Celebes Sea to the south. Volcanic in origin, most of the mountainous country is covered in tropical rain forest and situated on the western sections of the Pacific Ring of Fire. The country has an estimated population just under 100 million, making it the 12th most populated country in the world. With more than 120,000 square miles of total land area, the Philippines is also home to the fifth longest coastline in the world.
Your feature destination in the Philippines will likely be Boracay, easily one of the country's most popular vacation spots. In addition to its world famous beaches, this destination boasts an array of luxury beachfront hotels plus facilities for water sports activities like snorkeling, diving, sailing, and kiteboarding. This tiny island (at just under four square miles) is a little more than one mile off the northern coast of Panay Island in the Western Visayas region of the Philippines. The year-round population is about 12,000.
The island really only started receiving visitors in the 1970s, and since then more than 300 resorts and hotels have been built. According to locals, the outdoor pedestrian mall expands every year, taking over more real estate and welcoming more shops, bars, and restaurants. None of this though seems to affect the regular rhythm of a typical day, which centers on tropical cocktails, lazy days at the beach, and just about every water sport activity you can think of.
Overall, Boracay is an affordable destination, but June to mid-October offers lower than average hotel rates (and package deals can save you up to 30 percent off standard peak rates). The best time to visit is generally any period from October to May for mild temperatures, lower humidity, and much-welcomed breezes.
During the dry season (which is technically November through April), White Beach is calm and perfect for swimming and other activities. The opposite side of the island has stronger winds and large waves making it more ideal for surfing and sailing. During the rainy season, these conditions are reversed, as White Beach receives the large wave action.
What to Do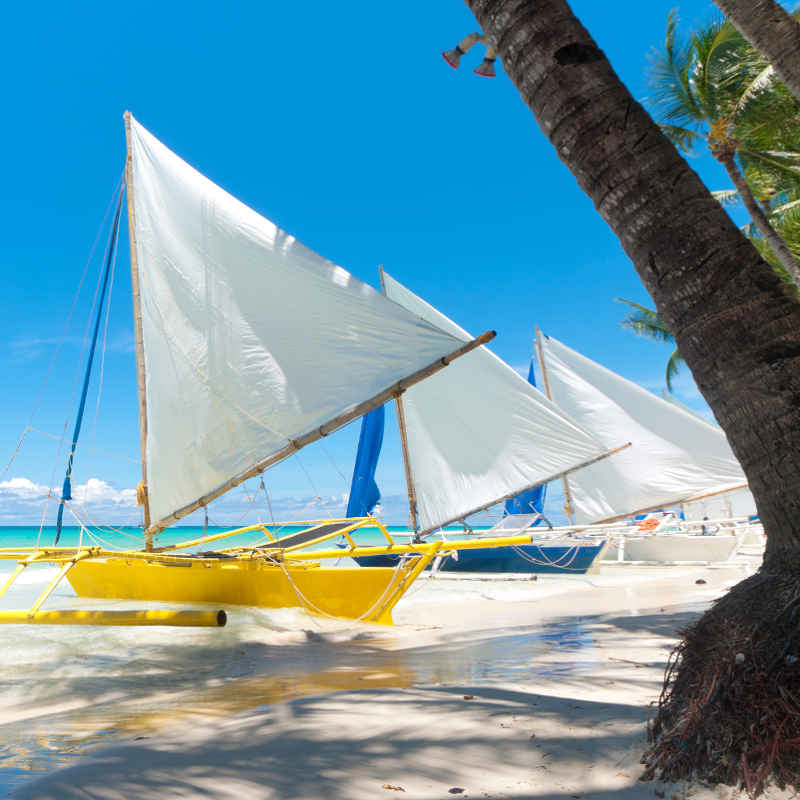 Beaches of Boracay — Boracay's beaches are easily some of the most stunning in the world, frequently landing on World's Best Beaches lists. In short, they are wide, shady, and feature powder-soft white sand. Start off at White Beach, a two-and-a-half mile-long stretch of white sand backed by restaurants, bars, and resorts – all separated into three "stations." Next, head over to the opposite side of the island to Bulabog Beach, popular with windsurfers and kiteboarders who test their mettle against the choppy surf. Next, head to other beach destinations on the northern and southern ends of the island. You'll find hidden coves and smaller beaches just begging you to explore.

Snorkeling and Diving — Tucked between the Sulu and Sibuyan Seas, Boracay is surrounded by crystal-clear waters just perfect for diving and snorkeling. Boracay's vibrant underwater world and its variety of dive sites -- think deserted islets and abandoned wrecks populated by sponges, sea fans, barracuda and reef -- have helped rank it among the world's top scuba sites.

The entire island of Boracay is surrounded by reef and there are 30-plus dive sites within a 20-minute boat ride. Yapak, off the northern tip, is a sheer soft-coral-covered wall running from 100 feet to 213 feet. Big-fish lovers adore this spot, though depth, currents and surface chop restrict it to advanced divers only. There are also drift dives, cave dives, and the protected (usually west) side of the island offers calm, shallow reefs for beginners. Head out with Calypso Diving on White Beach. Dives start at just $37 and include shallow reef dives to wreck explorations, plus night dives off the beach.

Boating Excursion — Hire a local fishing boat and explore undiscovered coves in this beautiful central Philippines location. Be sure to head out to sea with Red Pirates located at White Beach. These experienced sailors offer around-the-island tours on Philippines paraws and then grill up your catch of the day, prawns, and chicken skewers for a barbecue on the sand.

Ariel's Point — For a little adventure, head up to Ariel's Point, which features numerous cliff diving sites overlooking turquoise swimming holes, tropical marine life, lush mangrove forests, and volcanic rock formations. You can leap off a cliff, paddle in a native canoe, snorkel to a sandy beach, and enjoy local cuisine, among many others. Ariel's Point packages are available for $35 and include round-trip boat transfer, BBQ lunch, select drinks, and full use of Ariel's Point amenities.
Where to Stay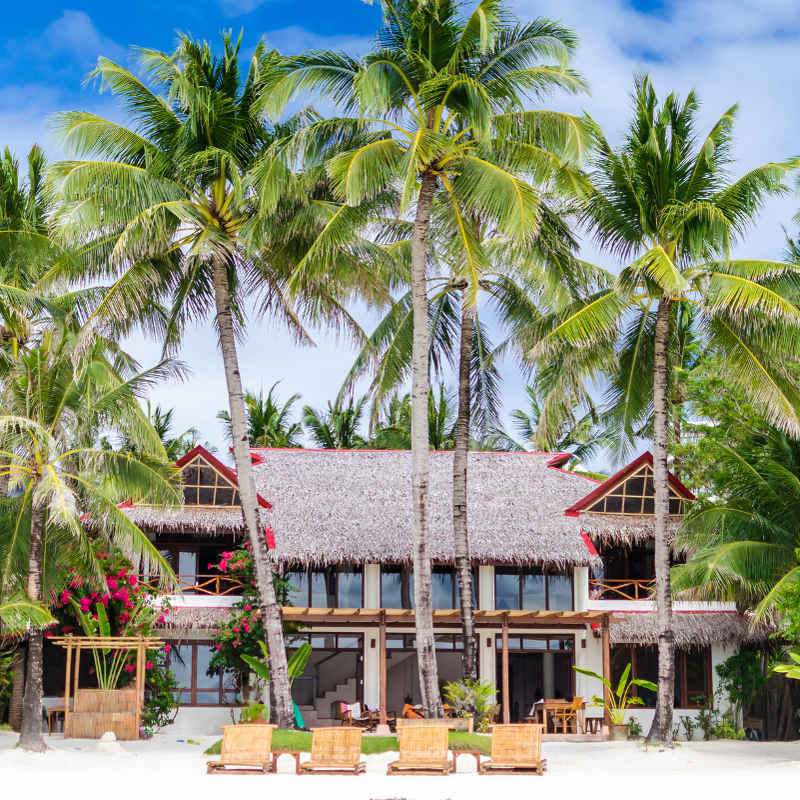 Where to Eat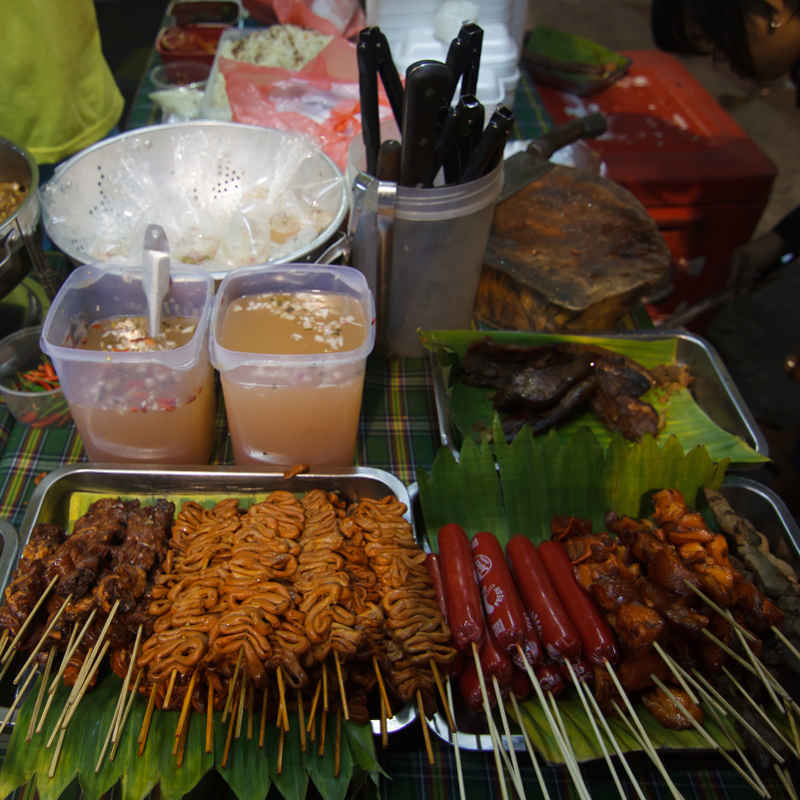 Cork Wine Bar - An impressive wine bar on the island of Boracay featuring top-notch vino from around the world. Couples will also find imported cheeses and signature snacks like tapenade and spicy bruschetta.

Alchemy - Asian and European flavors merge seamlessly at this modern dining establishment in Boracay, which emphasizes local and sustainable ingredients. 

Lemon Cafe - A lovely spot in Boracay for healthy gourmet dishes, from all-day breakfast platters to salads, sandwiches, and main courses like pumpkin risotto and fried rice. Be sure to save room for desert. With an on-site bakery, there's dozen of options to satisfy your sweet tooth.
Getting There
The port of entry for Boracay is the small town of Caticlan on the mainland. Outrigger boats known as bancas leave nearly every five minutes from Caticlan's port to Cagban, which is Boracay's jetty port. Once in Cagban, tricycles are available and can take you to your hotel.
Caticlan Airport (MPH) is the closest airport to Boracay but only allows small body aircrafts to land. Kalibo International Airport (KLO) allows larger aircrafts, however, the airport is about 90 minutes away.
The easiest way to Manila's Ninoy Aquino International Airport (MNL) is with Philippine Airlines' direct flights from Los Angeles and San Francisco. Once in Manila, there are hourly flights to Caticlan Airport (just a 45-minute ride) on local carriers like Air Philippines and Cebu Pacific.