The Caribbean is chockfull of honeymoon-worthy islands. But Jamaica is a slam-dunk if you're looking for a mix of white-sand beaches, crystal-clear seas, lush mountain landscapes, delicious multi-ethnic cuisine, and vibrant local culture.
The third-largest of the Caribbean islands, Jamaica is both geographically and culturally diverse. Although dominated by people of African descent, the island's identity has also been shaped by Indian, Spanish, Middle Eastern, Chinese, and British influences. This unique cultural melting pot is present as much in the people as it is in the dialect: Jamaicans speak English, as well as Patois, or Jamaican Creole, a local language that blends a variety of dialects.
Flying into Jamaica, you'll spot most of the major cities and resort destinations along the coasts, whereas the island's interior is dominated by steep mountains and the uninhabited Cockpit Country, Jamaica's largest remaining contiguous rainforest, filled with collapsed caves and sink holes.
Adventure-seekers can go on caving expeditions to explore these remote areas, while hikers can climb to the top of Blue Mountain Peak. For a more leisurely journey, there's the option to lazily float down Rio Grande on a bamboo-raft trip (someone else will even push you along and navigate). Aquatic types, meanwhile, can head off-shore for a deep-sea exploration of thriving reefs, be it scuba diving or snorkeling.
Every honeymoon couple, however, should explore areas such as Kingston, Ocho Rios, Negril, Port Antonio, and Montego Bay (called "MoBay," by locals). In each, Jamaica's cultural rhythms will lure you in. Music and dancing is practically everywhere you turn -- both the reggae, calypso, and ska that tourists have come to expect, as well as also newer Jamaican twists on more contemporary sounds.
Read on for our picks of the top hotels in Jamaica, plus restaurants and activities, so you can plan the perfect Jamaican honeymoon.
When to Go
Like most places in the Caribbean, high season runs from December through March, when the days are warm and there's little precipitation. If possible, avoid travel during low season (June through November), when the island can be extremely hot and prone to heavy storms, including hurricanes. Shoulder season (April and May) are more ideal for milder weather than low season and fewer crowds than high season.
Getting There and Around
Honeymooners have the option of flying into either Sangster International Airport (MBJ), in Montego Bay, or Norman Manley International Airport (KIN), in Kingston. Since most resorts are situated along the island's north/northwestern coasts, chances are you'll arrive via Montego Bay. From there, arrange transportation with the hotel or rent a car for maximum island exploration. Note that there is a third airport, Ian Fleming International Airport (OCJ) in Ocho Rios, which is currently available to private and chartered flights.
What to Do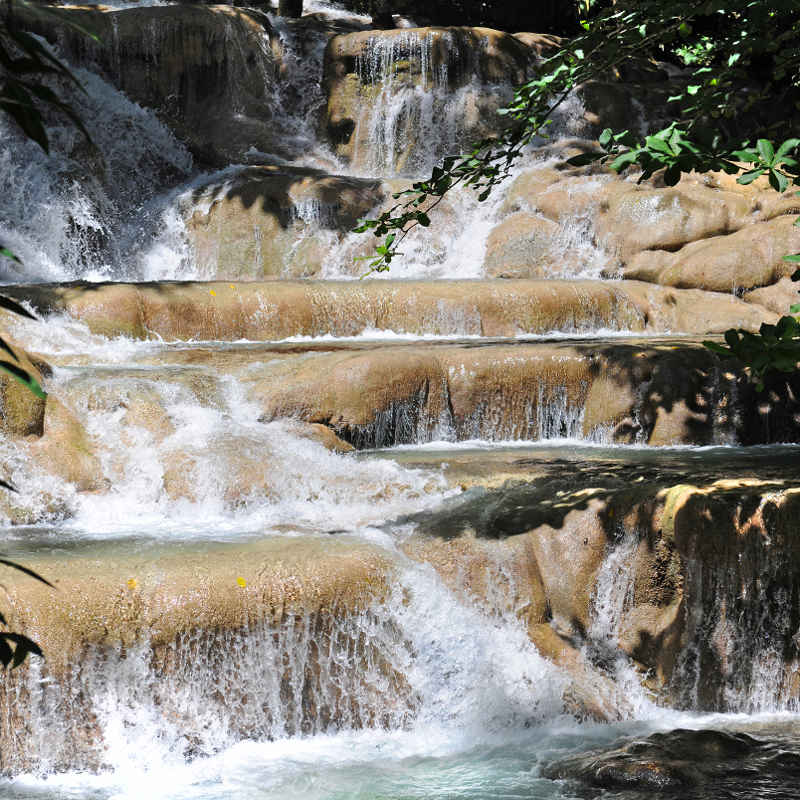 Lounge on a Beach - Jamaica's beaches are one of the country's biggest attractions. The island is home to many long stretches of white sand fronting crystal clear waters. A few of our favorites include Cornwall Beach (at Montego Bay), Negril's Seven Mile Beach, Frenchman's Cove, near Port Antonio, and Treasure Beach, along Jamaica's South Coast. 

Hit the Water - If you're staying at a beachfront resort, expect prime access to snorkeling, kayaking, diving, and more just off the shore. Whether you're scuba certified or looking to get your PADI credentials while on your honeymoon, it's worth booking a dive excursion on Jamaica. There are tons of vibrant coral reefs surrounding the island, but a standout is Negril Marine Park's Throne Room, an underwater cave that's accessed by a crevice in the coral reef (not for the claustrophobic).

Go River Rafting - In Port Antonio, you can take a bamboo raft ride down the Rio Grande, one of Jamaica's largest rivers, which runs from the Blue Mountains to the Caribbean Sea. The two-hour-plus trip, bookable with an operator such as Rio Grande Tours, leisurely passes through lush terrain and banana groves. Be sure to pack plenty of Red Stripes to really enjoy the ride.

Chase Waterfalls - Jamaica is home to a number of scenic waterfalls, many of which are accessible to visitors. Dunn's River Falls is arguably the island's most famous (and crowded). Mayfield Falls offers a staggering 21 natural pools and a wide array of exotic tropical flowers to take in. Another must-visit is Somerset Falls, located between Port Antonio and Hope Bay; but skip past the main waterfall and duck instead into Hidden Falls -- as the name implies, it's hidden away in a cave-like grotto.

Visit the Cranbrook Flower Forest - If you tire of lounging on the beach, head inland to Cranbrook Flower Forest, a privately owned ecotourism attraction near Mamme Bay and Ocho Rios. Be sure to pack a camera so you can snap pics of all those exotic tropical gardens, rolling lawns, and natural pools.

Explore Port Antonio - In Portland Parish, on the island's rainy, less-traveled northeast coast, Port Antonio offers a relatively quiet, genteel ambience nestled in the Blue Mountains. In the early 20th century, luminaries such as J.P. Morgan, William Randolph Hearst, and Errol Flynn would escape to Port Antonio; you can even book a stay at Flynn's retreat on the 60-acre Navy Island.
Where to Stay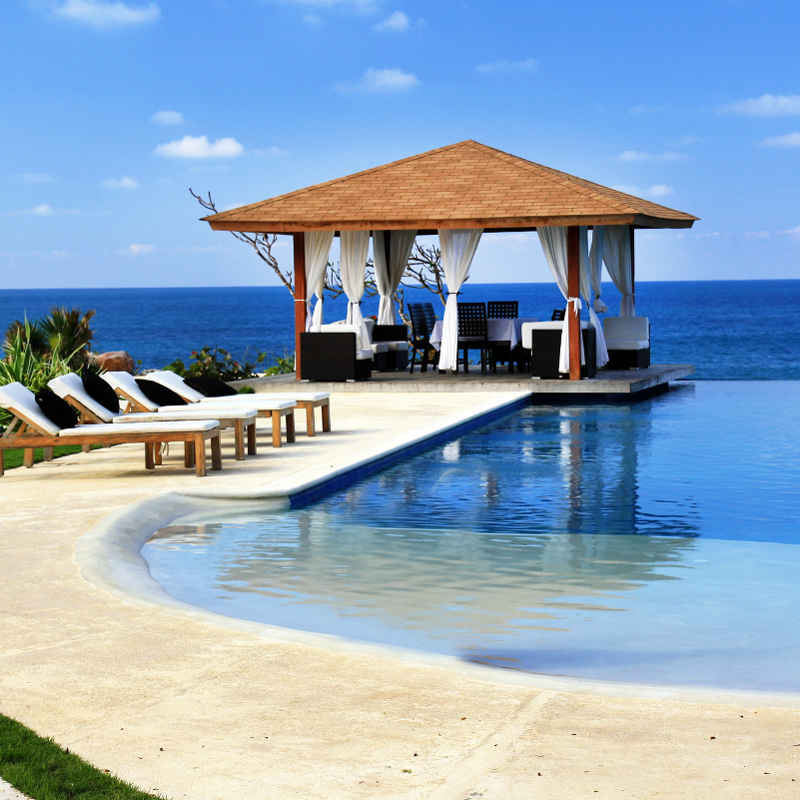 Where to Eat