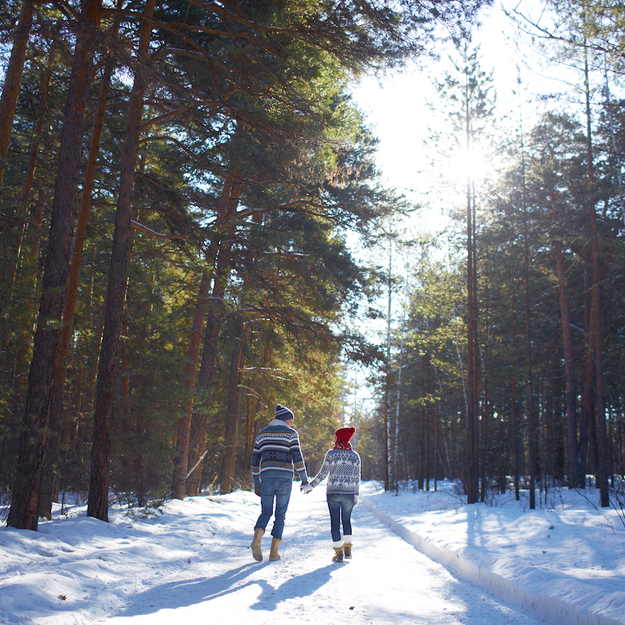 Winter honeymoons don't have to be centered around a tropical escape. With magical settings, holiday cheer, and endless reasons to cozy up close with your partner, the appeal of honeymooning in a winter wonderland is undeniable.
So before you book a trip to the beach, consider embracing the cold and unleashing your inner snow bunny for an ultimate first holiday as newlyweds.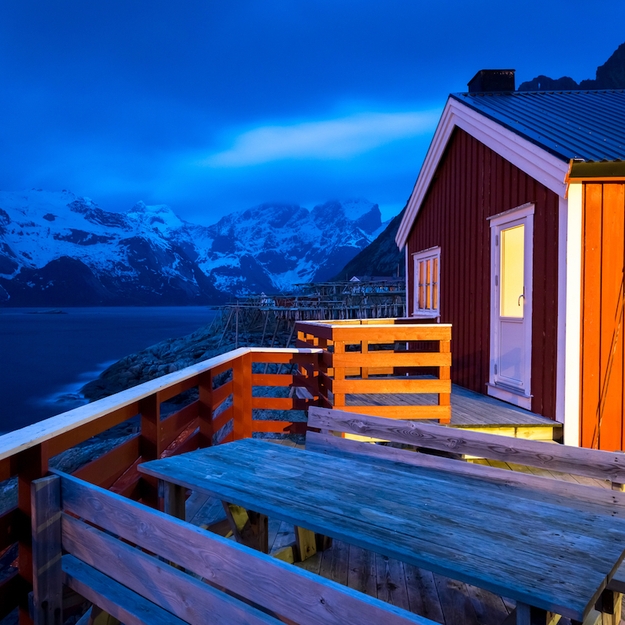 Dreamy Landscapes
We're not going to deny the beauty of a sunny beach on a sandy island, but snow-covered mountains, sparkling windswept hills, and frozen streams just tickle our senses in all the right ways. The essence of winter carries with it a hush that calms and quiets the world, and beholding this natural setting in full swing with your new life partner is a sure-fire way to romantic intimacy.
Our Pick: Lofoten, Norway
The Lofoten Islands in Norway are sure to take your breath away at every turn. While the whole country is blessed with stunning landscapes, Lofoten enjoys a perfect balance of excitement and relaxation during winter. Spend your days skiing, snowshoeing, and hiking dramatic cliffs, before cozying up for a front row viewing of the Northern Lights from your lakeside cabin. Norwegians are proud pioneers of the Slow Travel movement, which highlights authentic environmental experiences so you can count on plenty of picture-perfect landscapes in enveloping atmospheric surroundings.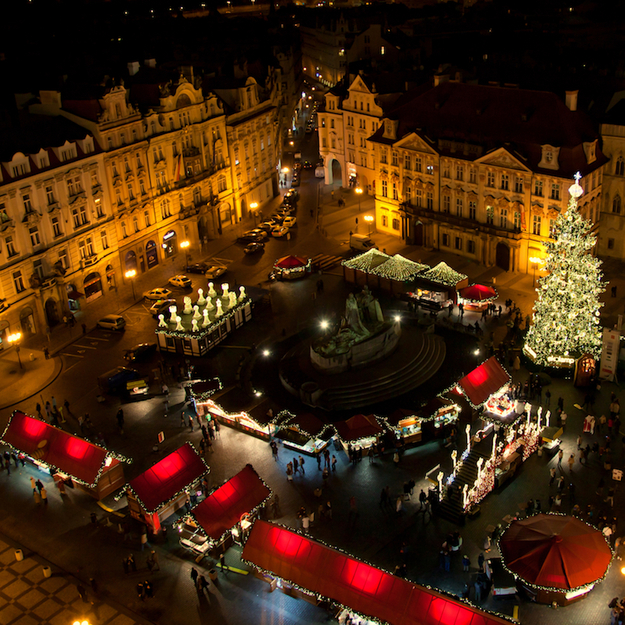 Festive Excitement
Holiday markets, seasonal cheer, and colorful decorations are on full display during winter months, which brings just the right amount of excitement into any cold-weather honeymoon destination. Stroll the romantic streets lit by gas lamps with a cup of cocoa in hand in especially festive European capital cities like Vienna, Prague, and Amsterdam. Wandering through the holiday markets and scouting the perfect gift is a classic and authentically local way to celebrate the seasonal spirit of giving while soaking in the vibrant scene.
Our Pick: Madrid, Spain
While not as cold as other European capitals, Madrid still kicks into cold-weather gear with cultural festivities that span through the entire winter season. Kicking off with Christmas markets and endless strings of lights that sparkle across the city from November, the joyful spirit continues on through January and February with celebratory events like the Three Kings Parade, Gastrofestival, and Madrid Carnival.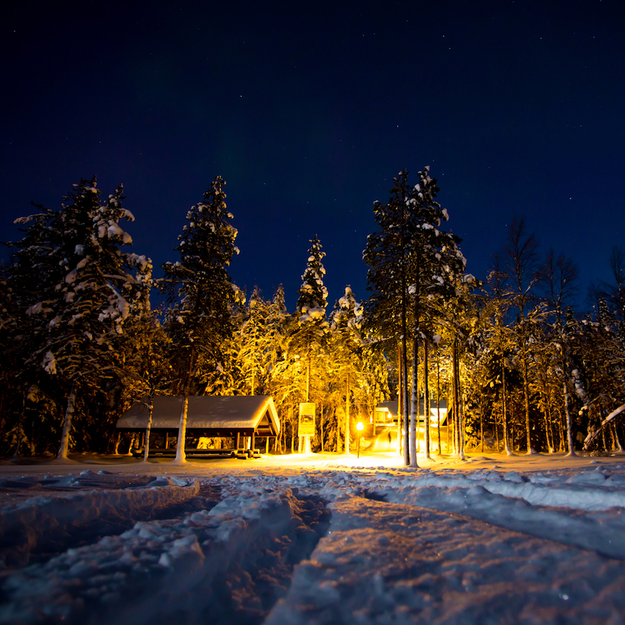 Cozy Accommodations
Whether shacking up in a snug lodge in the mountains or unwinding in a cozy cabin deep in a dense forest, spending the day in luxurious quarters can be the highlight experience of any cold-weather destination visit. The world outside can wait, and nobody will blame you for indulging in a day or two simply soaking in the view from a perfect winter accommodation. Crackling fires, warm drinks, fuzzy blankets, and frosted windows set the mood for romance, even if you don't consider yourself a snow bunny.
Our Pick: Saariselkä, Finland
The northernmost ski resort town in Finland also happens to be the country's coziest winter retreat. Outdoor excursions like cross-country skiing, dog mushing, and reindeer farm visits highlight the region's bountiful nature, but this Lapland destination is known for the one-of-a-kind accommodations at Kakslauttanen Arctic Resort. This family-operated Finnish hotel is comprised of personal lodgings in everything from all-glass igloos to log chalets and even snow igloos. Luxuriate in one of their kelo-igloos to enjoy your own fireplace and indoor sauna along with panoramic views from an all-glass bedroom, perfect for watching the northern lights dance across the sky.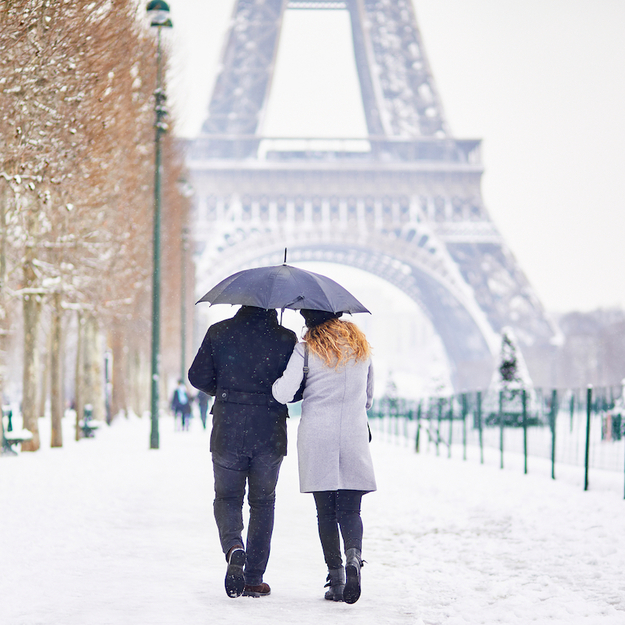 Lower Rates (and Fewer Crowds)
Perhaps the most significant reason to consider a cold-weather winter honeymoon is the fact that visiting popular tourist destinations will typically offer big savings during winter. This isn't a universal rule (some destinations are centered around winter-tourism), but year-round destinations and big cities will generally slash prices off of major travel expenses like hotel stays and even airfare to attract off-season visitors. On top of the savings, you're likely to reap the benefits of encountering fewer tourist crowds along the way, which means everything from museum visits to restaurant crawls are all the more pleasant.
Our Pick: Paris, France
The city of light illuminates to a whole new level during the winter thanks to holiday decorations and refracting sunlight as it bounces across the snow-covered streets. Whether people-watching from a cozy cafe and sipping on a chocolat chaud, ducking inside the Louvre for a day of culture, or taste-testing your way through abundant food and wine offerings, France's capital city is a go-to honeymoon destination any time of year. Come in the colder winter months, and you'll discover Paris at a reduced rate and will enjoy the company of locals rather than tourists, who are easily deterred by bad weather, which is really moody ambiance anyway. Paris - with its cafe culture and bread-based society - was practically built to be enjoyed in the rain and snow.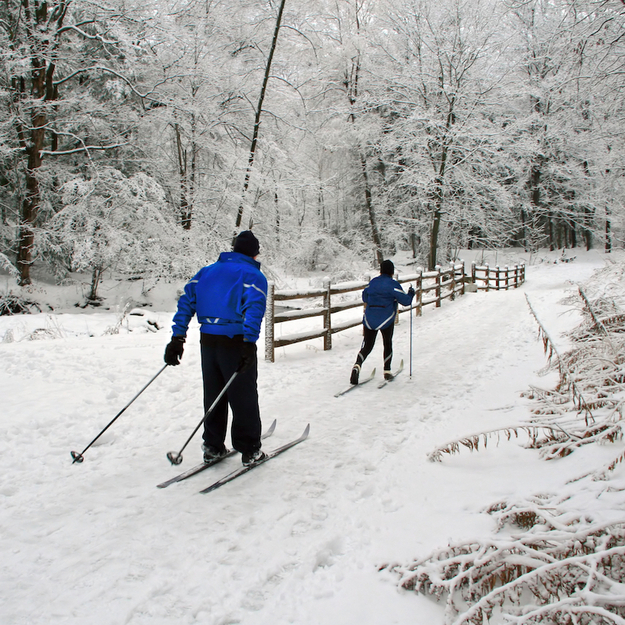 Seasonal Adventures
We would be remiss to neglect to mention the bounties of adventurous sports and activities that coincide with winter. Whether you're a champion skier or amateur snow-tuber, curious about dog mushing, or just enjoy a hand-in-hand walk in the woods, winter brings about the perfect setting to sprinkle some exhilaration into your honeymoon itinerary.
Our Pick: Jackson Hole, Wyoming
This northwest region of Wyoming is naturally blessed with unbeatable mountain vistas and an endless array of winter activities to make the most of its vast surroundings. Jackson Hole is known as the gateway to Grand Teton National Park and Yellowstone National Park, and visiting in winter offers the unique opportunity to explore these behemoth parks by way of snowshoe, cross-cross skis, or even snowmobile. Skiers and snowboarders will be delighted with the ideal riding conditions on Jackson Hole Mountain Resort, one of the best mountains on the continent. Go above and beyond by paragliding over Teton village, or race through the mountains on a dog sled tour toward Granite Hot Springs to take a soothing natural bath. Finally, tone down the intensity with a horse-drawn sleigh ride through the National Elk Refuge, where you'll be brought within feet of herds of massive elk in their natural habitat - a visceral wildlife experience.

In case you missed it:
SWEEPSTAKES: Win a FREE Honeymoon to Aruba Marriott Resort & Stellaris Casino