The Nordic island nation of Iceland provides one of the most stunning destinations for adventurous honeymooners.
Imagine a country-wide road trip through remote landscapes, filled with adventurous days exploring awe-inspiring natural wonders, and romantic nights lit by the Northern Lights in quaint countryside accommodations.
This is Iceland at its best, and we've compiled the perfect 7 day trip for thrill-seeking newlyweds to see and do it all.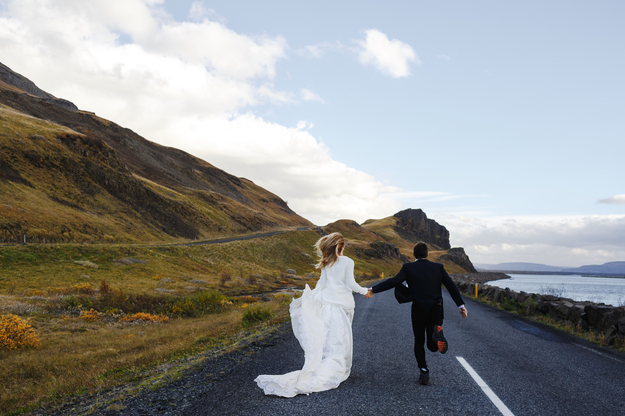 Know Before You Go

Ring Road drives around the entire perimeter of Iceland. Along the road (formally known as Route 1) are fantastic restaurants, rushing waterfalls, lava formations, hot springs, ice glaciers, cozy cabins, seemingly out-of-this-world photo opportunities, and plenty more natural wonders. Iceland is short on public transport, so we recommend driving Ring Road to explore the entire country.
Rent a car in advance, equip it with GPS, and add on a 4G mobile hotspot to stay connected if necessary. You'll enjoy the varying Icelandic landscape and many scenic main towns and villages along the way any time of year, but a special bonus if you travel between September-April to catch the rolling Aurora Borealis light show. Pack up, strap in, and prepare to tour through the land of fire and ice.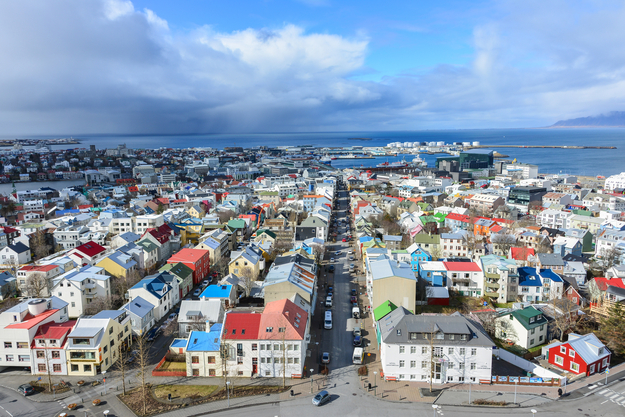 Day 1: Reykjavik
The capital of Iceland in every sense, Reykjavik is only a short drive from the airport and makes for a great starting point. Take some time to decompress from your flight and check in to your accommodation before exploring this colorful and walkable capital city.
Afterward, head toward Hallgrimskirkja Church (the tallest building in the city and largest church in the country) to snap a few photos of the beautiful city from the church's observation area. Note any particular streets you want to explore, and then get back in the grid. Gear up on some Icelandic clothing in any of the outdoor shops along Skólavödustígur and Laugavegur streets, then visit the beautiful Harpa Concert Hall for a tour (or maybe an impromptu performance) before preparing for a restful evening.

Eat

• Bæjarins Beztu Pylsur: Grab a hot dog from this world-famous stand - made famous after a visit from Bill Clinton - for snacking while you sight-see. Hot dogs are practically an Icelandic national dish.

• Lækjarbrekka: This classic Icelandic restaurant serves fine Scandinavian cuisine like lobster, fresh catch of the day, mountain lamb and more in an iconic and historic building built in 1834.

Stay

• Canopy by Hilton: A great boutique option right in central Reykjavik, the Canopy is filled with design references that highlight the Icelandic landscape and community like volcanic rock and oceanic colors throughout, music boxes that play folksongs, and locally commissioned art along the walls. Guests are greeted with traditional treats, bicycles are available to speed up your street explorations, and a great breakfast will get you going the next day.

Day 2: The Golden Circle (en route to Vík)

Pack up early and hit the road for Southern Iceland's "Golden Circle," the nation's biggest natural attraction of geysers, parks, waterfalls and surreal vistas. Make Þingvellir National Park -- steeped in the historical importance and now a UNESCO World Heritage Site -- your first stop, before continuing on to the Haukadalur geothermal area, home to the great Strokkur Geyser which erupts every 8 minutes. The famous Gullfoss waterfall awaits ahead, as do the graceful Seljalandsfoss falls, which you can walk right behind for a unique (but wet!) view. The Golden Circle is meant for meandering between natural wonders, and as such, it's only appropriate that Icelandic horses sporadically cheer you on along the route.

Eat

• Friðheimar: Paradise for tomato lovers - this family affair combines horses and horticulture to feed the mind and body. Their hydroponically grown tomatoes adorn the entire space, and between exhibits, horse shows, and that lovely tomato soup, we definitely recommend a stop in for lunch.

• Sudur Vik: Quickly becoming the locals' favorite spot, this charming house on a hill serves local food as well as Thai fare with mountain and sea views outside. Conveniently located in the quaint town of Vík.

Stay

• Volcano Hotel: Half ultra-modern B&B and half honeymoon-worthy roadside hotel, this family operated accommodation will give you just what you need after a busy day: a comfy bed, personal attention, and a luxurious bathroom. Bonus floor-to-ceiling windows with ocean views can be found in their Superior room -- 100% worth the splurge.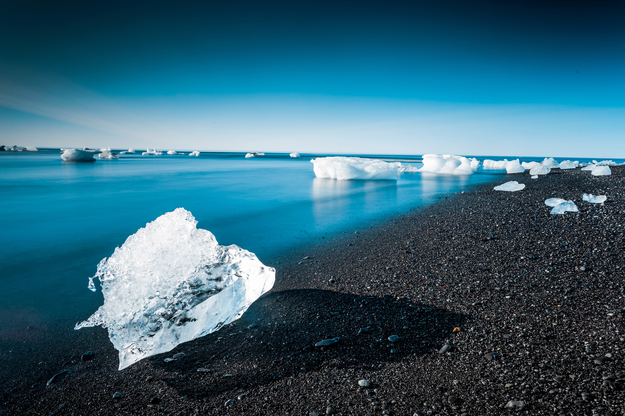 Day 3: Black Sand Beaches, Glaciers, & Icebergs (en route to Höfn)

A 5-hour drive separates you from the next stop. Thankfully, beautiful black sand beaches, miles of moss-lined lava fields, and the varied and gargantuan Skaftatell National Park (Iceland's largest) are scattered betwixt. Join a glacier tour, or utilize the Visitor Center for some information on self-guided hikes to move through this vast natural wonder. Later on, be sure to stop at the Jökulsárlón glacier lagoon, famous for its scene of floating icebergs. Photograph at will, or hire a boat to wind through this one-of-a-kind ice maze.
Eat

• Pakkhús: Overlooking the Höfn harbour, this two-story warehouse is named after the very boat that brings in its daily catches. The menu is all first class and features star local dishes like langoustine (Icelandic lobster), lamb, and duck. For dessert, the Skyr volcano is a testament to both Iceland's volcanic origins and the kitchen's creativity - not to be missed.

Stay

• Fosshotel Vatnajökull: Fosshotel is a small Icelandic hotel brand, and their Höfn location -named after the magnificent glacier - provides all of the amenities you need for a great night's stopover. Of particular note are the property's panoramic views to the world outside, and its secluded location, perfect for a cozy night after long explorations.

Day 4: East Fjords & Fishing Villages (en route to Lake Mývatn)

Traveling Northeast through the mountains, today's view from your windshield will be filled with with extinct volcanoes, spectacular fjords, colorful fishing villages, and lunar-like pseudo-craters. You'll pass through small towns like Djupivogur and Egilsstaðir, perfect pit stops before ascending the scary roads up towards Dimmuborgir -- a stone labyrinth believed in Icelandic folklore to bridge earth and hell. Ironically, it is quite beautiful - albeit in a dark way. Boiling mud pools await at the colorful Námaskarð pass, and flocks of puffins and other birdlife will likely greet you upon entering euphoric Lake Mývatn. Keep your eyes peeled on the night sky, this is one of the best spots for stargazing and Northern Lights viewing in the entire country.

Eat

• Kaffi Borgir: Situated atop a ridge and overlooking the Dimmuborgir lava field, this cafe and souvenir shop combo serves fresh local catches like trout and salmon, along with hearty sandwiches and vegan dishes in an indoor/outdoor terrace with sweeping views of Lake Mývatn. We particularly love their afternoon soup and bread buffet.

• Vogafjós: Farm-to-table food served in an actual old cowshed, this restaurant brings its diners one step closer to the "you are what you eat" mentality, allowing guests into its cowshed where they can pat the calves and try fresh milk. Famous for their Geysir rye bread - which is baked in their geothermal grounds - plates like raw smoked lamb, arctic char and housemade mozzarella should please palates of all kinds.

Stay

• Dimmuborgir Guesthouse: Cosy cottages, friendly service of a family rooted in hospitality, and a front row view for one of nature's greatest performances await at this bed and breakfast. The Mývatn region is touted as the Northern Lights capital of Iceland, but the land's fragile ecosystem typically limits visitors' lake privileges. Dimmuborgir Guesthouse, however, is situated right on a prime spot of land with direct lake access, making for unparalleled photo opportunities.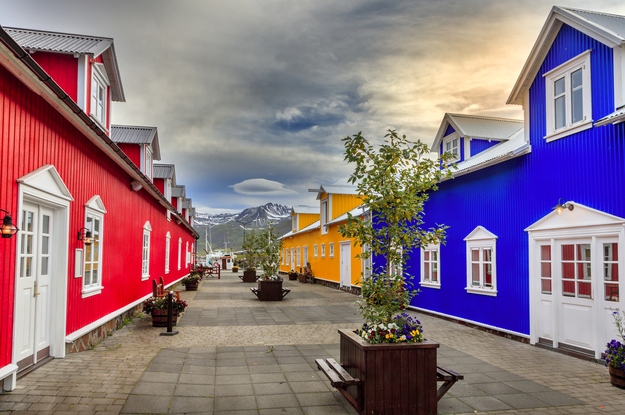 Day 5: Akureyri, "The Capital of the North"
After a few days of road travels and nature photography, it will be a pleasant welcome back into a big city (by Icelandic standards, of course). Akureyri is the largest city outside of Reykjavik, and brims with historical significance and colorful shops. Visit any of the city's number of museums and art galleries to brush up on Icelandic culture. Adrenaline junkies can hit the slopes of Iceland's ski capital, Hlíðarfjall, hike or mountain bike through the 1 million+ trees in Kjarnaskógur, go horseback riding, whitewater rafting, or even whale watching.

Eat

• Brynja: All that adventure in Akureyri will build up quite an appetite. Satisfy your sweet tooth and replenish those burnt calories in this traditional ice cream parlor. A local town treasure, Brynja is considered to be the best in all of Iceland, and the trick is that the homemade ice cream is made with milk, not cream.

• Rub 23: Don't let its bright red exterior fool you - the dining room and menu to match of this downtown restaurant are incredibly swanky, and worthy of your visit. Focusing on fresh fish and meats, this is one of your best chances to combine Icelandic food with Asian preparation. Pick from a variety of seasoning rubs for each entree, and take advantage of their tasting menu.

Stay

• Icelandair Akureyri: Big city service and style meets charming, countryside accommodation in this centrally-located hotel. Guest rooms are bright, airy, and filled with fjord and mountain views. Outside, the cozy hotel garden and fireplace grounds make for a great spot to kick back and relax, and the town's public geothermal pools are just across the street.

Day 6: Farm Animals, Seals, & West Fjords (en route to Stykkisholmur)

Keep the action rolling if you didn't get enough of yesterday's activities, but when you're back on the road, be sure to stop into some of the local farms of Skagafjörður. Learn about and play with the goats, horses and sheep that roam the land, engage in wool-making workshops, pick up some authentic Icelandic souvenirs made from natural materials found across the farms, and grab some grub for a picnic. An hour ahead are the Kolugljúfur canyon and waterfall - a worthy backdrop for an afternoon lunch and stretch of the legs. Afterwards, check out the beaches of Hvammstangi, typically flooded with seals, and continue westward, passing through mountains and the the stunning west fjords, toward Stykkisholmur. This charming seaside village will be home for the night.

Eat

• Narfeyrarstofa: Located in the oldest part of this historic town, right along a beautiful bay, this fine dining restaurant has been serving up local dishes like baby lamb and mussels with an unrivaled artistic flare. The charming interior is steeped in history - be sure to ask about the paintings on the walls to learn some of it.

Stay

• Hotel Egilsen: It takes a lot of work and dedication for a hotel to match the cozy feeling that the coastal town of Stykkisholmur manages to evoke. Happily, Hotel Egilsen pulls it off. This stark red house by the harbor was originally built in the 1800s. Today, its 10 guest rooms and welcoming lounge, library and bar embrace the town's classic heritage.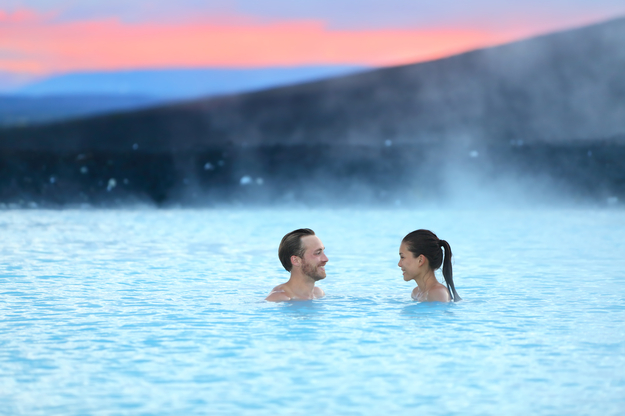 Day 7: The Blue Lagoon (en route to Reykjavik)
Head west to Kirkjufell mountain (make it for a stunning sunrise if you can) for some fantastic photo opportunities, before driving the final leg back to Reykjavik. After a ring around the country filled with extraordinary sights, sounds, and tastes, your body has earned a nice break. Make a reservation at the Blue Lagoon - Iceland's famous geothermal spa - for late afternoon into early evening so you can watch the crowd quiet down, and enjoy a nice period of relaxation and reflection on your amazing honeymoon trip.

Eat

• Lava: After your time unwinding in the soothing Blue Lagoon, you may not want to leave. Stick around for dinner at the location's on-site restaurant, Lava. Let the views of the tranquil blue and the natural lava formations relax you, and the contemporary menu built on fresh Icelandic flavors satisfy you.

• Grillmarkadurinn: Clean wood and natural rock line the interior of the Grillmarket's dining room in central Reykjavik. A carnivore's paradise, come here for heaping portions of local land and sea meats like reindeer, whale, puffin. Have them all in a trio of sliders, or have a hearty vegan meal via their veggie peanut steak. Plate portions anticipate you to be hungry, so don't do them wrong.

Stay

• Room With a View: The last day of every trip, we tend to fall in love with our destinations and ponder what life would be like if we never had to leave. This hotel, featuring 44 fully furnished apartment-of-your-dreams styled rooms is the perfect place to do just that. Opt for a King Suite and enjoy a private jacuzzi. You may never want to leave, but at least will conjure all the more reason to return. And yes, all rooms do have views.

In case you missed it:
4 Favorite Hotels for an Iceland Honeymoon
TripAdvisor Travelers' Choice Awards Will Help You Find the Perfect Romantic Hotel