However your honeymoon itinerary pans out, sharing a day between the sheets while soaking in stunning views is always a good idea.
From snow-capped mountains in icy cold climates to the endless Mediterranean blue where sea and sky melt together, these 8 exotic hotel rooms with views will surely keep you and your partner satisfied as day turns to night.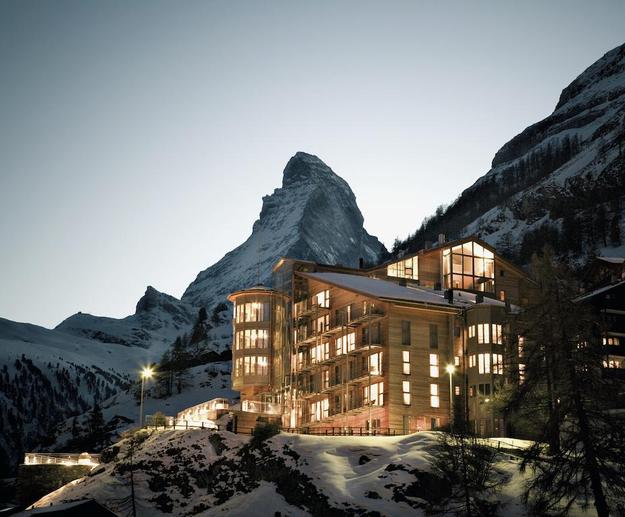 Image courtesy of P'INC. Omnia Hotel
The Omnia (Zermatt, Switzerland)
Room: Tower Suite
View: The Matterhorn Mountain
This dramatic Swiss lodge sits nestled above the stylish car-free village of Zermatt, and its rooms feature commanding views of the mighty Matterhorn mountain, which is famed for its sharp, pyramid-shaped peak over 14,000 feet high. Classical music, daily fresh truffles, panoramic viewing windows and an in-room telescope complete your dreamy, Swiss viewing experience.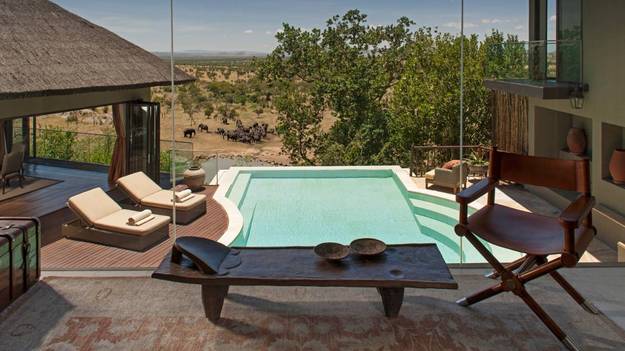 Image courtesy of Four Seasons Hotels Limited
Four Seasons Safari Lodge (Serengeti, Tanzania)
Room: Horizon Room Water Hole View
View: Vast savanna / wildlife
Smack dab in the heart of Serengeti National Park, this luxurious safari lodge brings you up close and personal with wildlife, as it's situated beside a massive watering hole which gathers indigenous animals like elephant, zebra, and gazelle. Fit for animal lovers, the natural scene is completely inspiring and exhilarating. The indoor/outdoor layout keep things intimate from your bed, while the elevated view from the Horizon Room ensure you're never too close to the action down below.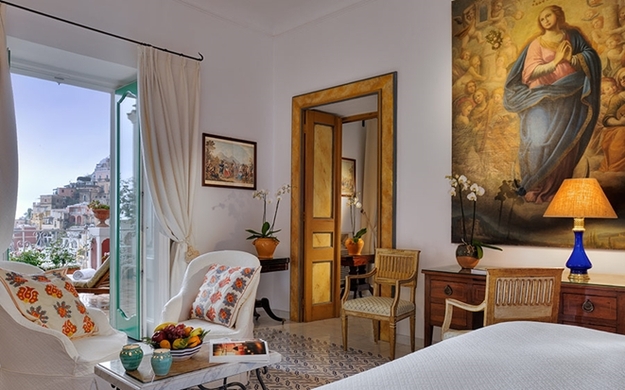 Image courtesy of Le Sirenuse S.p.A.
Le Sirenuse (Positano, Italy)
Room: Junior Suite
View: Amalfi Coast and the town of Positano
This elegant hotel sits perched above the resort town of Positano, along Italy's scenic Amalfi Coast. By day, the blue shades of the Bay of Positano offer a mesmerizing scene of Mediterranean fantasy. Come evening, the village's villas and cliffside residences light up and offer enchanting hillside views from your bed or private terrace.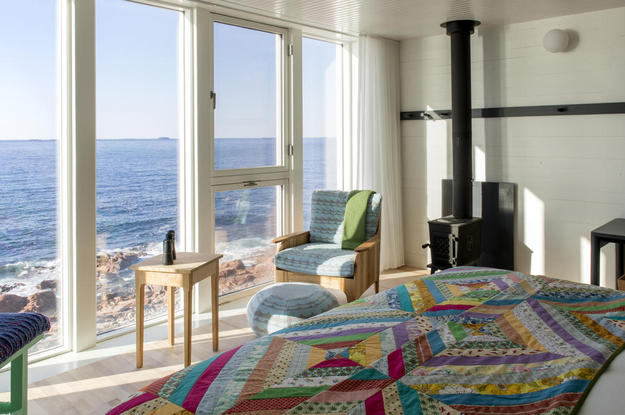 Image courtesy of Fogo Island Inn
Fogo Island Inn (Fogo Island, Newfoundland, Canada)
Room: Newfoundland Suite
View: North Atlantic rushing coastline
The crashing waves of the rocky Atlantic Ocean below this stilted, luxurious boutique hotel will put you in an otherworldly trance and comfortably keep you there. Sometimes referred as the hotel at the end of the world, Fogo Island Inn's secluded position makes for a perfect romantic escape, while floor-to-ceiling windows enable perfect viewing of the ocean outside, known to fill with passing whales and picture-perfect blue icebergs.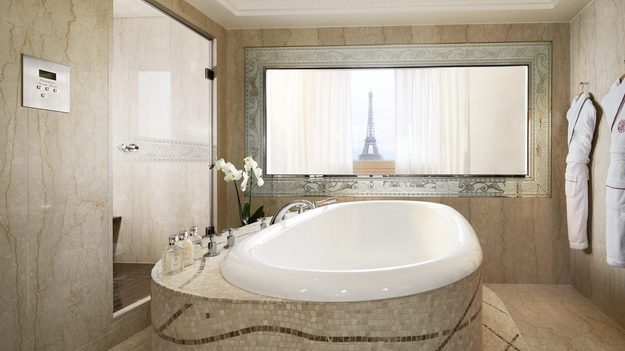 Image courtesy of Dorchester Services
Plaza Athénée (Paris, France)
Room: Signature Eiffel Suite
View: Eiffel Tower and city skyline
This five-star property is famed for its lavish 19th century decor, prime location, and almost unimaginably perfect Eiffel Tower views. Whether from your plush king bed, living room sofa, or bathroom soaking tub, the views from this swanky hotel suite make for the most exclusive way to enjoy the Parisian skyline and iconic landmark.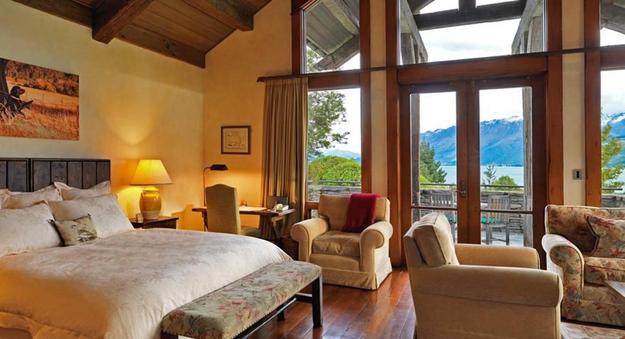 Image courtesy of Blanket Bay Luxury Lodge
Blanket Bay Villas (Glenorchy, Otago, New Zealand)
Room: Lodge Suite
View: Lake Wakatipu and Southern Alps
Consistently ranked among the world's finest luxury lodges, Blanket Bay Villas is perfectly positioned for outdoor activities like heli-skiing, hiking, horse riding, kayaking and more. But the panoramic mountain and lake views from a super king-size bed will likely keep you inside for a well deserved day of R&R. A stone fireplace, private balcony and steam shower complete the package.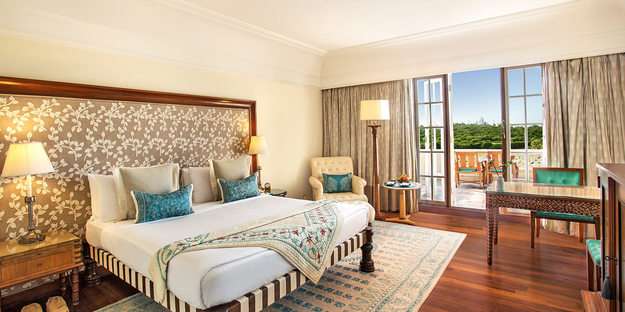 Image courtesy of Oberoi Hotels & Resorts
Oberoi Amarvilas (Agra, India)
Room: Premier Suite with Balcony
View: Taj Mahal
The Taj Mahal is one of those worldly landmarks so immediately associated with its location, and despite how many films or photos you've seen incorporate the historical structure, nothing compares with beholding it in person. This suite at one of India's best hotels offers the best viewing spot to do so. It's the closest in proximity to the celebrated attraction, filled with local design crafts to keep you comfortable (like intricate silk cushions and hand-knotted rugs) and offers straight-shot uninterrupted views from your bed or balcony to enjoy the architectural marvel.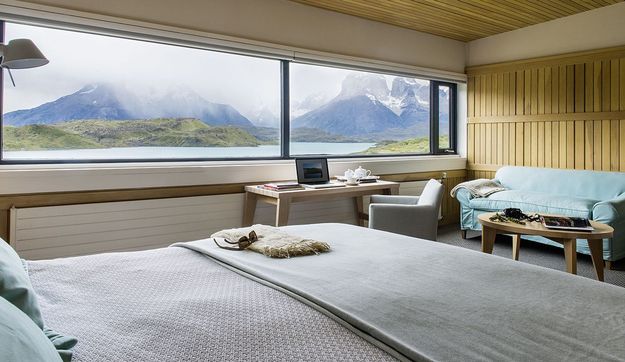 Image courtesy of Explora Hotels
Explora Patagonia Hotel Salto Chico (Torres National Park, Chile)
Room: Exploradores Suite
View: Untouched Patagonia landscape
Patagonia is sometimes referred to as the end of the world, and the Explora Patagonia hotel is situated right in the thick of things, as the only hotel inside Chile's Torres del Paine national park, the southernmost tip of South America. Glaciers, lakes, rivers and forests are framed by mountains and enormous granite pillars, while exotic species of bird, puma and deer roam the land.
TV-free rooms keep the focus on the natural landscape outside, and the wide windows bring an almost IMAX-like feeling into your bedroom. The hotel happens to host over 50 adventurous outdoor expeditions, but we won't fault you for taking a day (or few) off to soak in this scene from the comforts of your bedroom.

In case you missed it:
The Most Romantic Cities in Italy