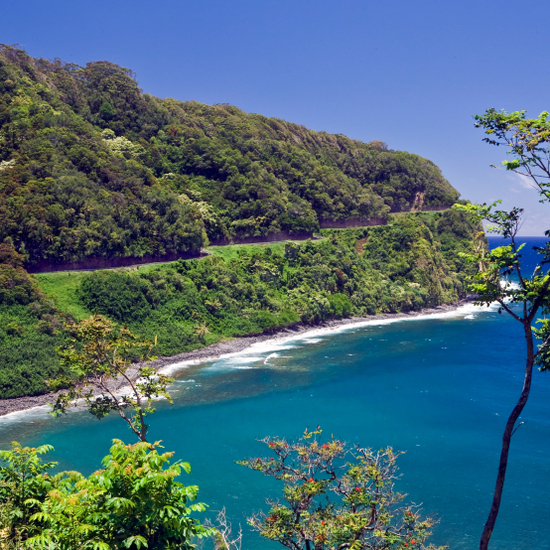 Complete with soaring mountains, golden-sand beaches, active volcanoes, and garden-green forests, Hawaii is one of the most geographically diverse and visually stunning destinations in America. A Hawaiian honeymoon guarantees not only all the makings of a tropical paradise (sun, sand, cocktails) but also totally unique experiences (ancient cultures, thrilling water sports, quaint local towns).
With five main Hawaiian islands to choose from, each with its own personality and attractions, it's important that newlyweds narrow down the one (or two) Hawaiian islands that resonate most with their honeymoon goals. Oahu, for example, offers a unique blend of city-meets-beach, while Kauai is a veritable natural wonder. Maui is the ultimate spot for amenity junkies, whereas Hawaii (a.k.a. The Big Island) has a diverse mix of landscapes and few other tourists. And then there's tiny Lanai, a single-resort paradise that provides the ultimate honeymoon luxury: privacy.
To determine your perfect Hawaiian honeymoon itinerary, including where to stay and what to do, read on for our comprehensive Hawaiian island guide.
Oahu
If you're looking for a mixture of big city atmosphere and an impressive array of historical and natural attractions, then Oahu is likely for you. Honolulu, Hawaii's largest city, is packed with every kind of cultural activity, plus top-notch restaurants, shopping, museums, theaters, and more. With its wide crescent beach, backdropped by high-rises and the iconic Diamond Head crater, Waikiki remains a hub for surfers, locals, and tourists alike. Further afield, you'll find two beautiful mountain ranges, amazing North Shore surf breaks, plus other must-see historic and cultural sites, including Pearl Harbor, the USS Arizona, and numerous botanical gardens.
To post up in the heart of Waikiki Beach, consider booking a room at 'Alohilani Resort or the hip downtown hideout, Surfjack Hotel & Swim Club. For those who prefer more remote setting, there's Four Seasons Resort Oahu at Ko'Olina, on the island's sunny western coast, or the North Shore Turtle Bay Resort, where the movie Forgetting Sarah Marshall was filmed.
Maui
Honeymooners who prefer for a more beachy, less big-city vibe should put Maui at the top of their list. The island was formed by two volcanoes, most notably the 10,000-foot Mt. Haleakala, which still inspires visitors with its amazing sunset views and abundant adventure activities. There are plenty of areas worthy of a Maui honeymoon: Wailea Beach is the most popular, with plenty of resorts built along its golden shores. Kapalua Bay, to the northeast, offers a more reserved island home, while inland towns such as Paia provide a first-hand look at Hawaii's exigent cowboy culture. Make the "Road to Hana," an unbelievably scenic coastal drive, to spend a night or two in the perfectly stuck-in-time town of Hana.
Depending on your desired level of remoteness, top Maui resorts include: the Four Seasons Resort Maui at Wailea (with picturesque ocean views), Montage Kapalua Bay (home to large, apartment-style accommodations), and Travaasa Hana (a secluded bungalow-style retreat).
Kauai
Kauai is known as the Garden Isle for good reason. It's the wettest, greenest, and lushest of all the Hawaiian islands. While a Kauai honeymoon often includes a posh resort (there are a number on the island) and popular attractions (like the 10-mile-long Waimea Canyon), the island still manages to feel like a remote tropical paradise. Activities include kayaking along the scenic Na Pali Coast, hiking the scenic Kalalu Trail, or walking hand-in-hand along Hanalei Bay, one of Kauai's most stunning golden beaches.
Perch yourselves right on the North Shore beaches at Princeville Resort or at Kauai Beach Resort, an oceanfront property near Lihue. For a more out-of-the-box stay, consider booking one of the 61 traditional bungalows at Waimea Plantation Cottages, which fronts a black-sand beach along Kauai's Western Shore.
Hawaii (The Big Island)
Hawaii is the only island where couples can get up-close to an active volcano (Kilauea has been continuously erupting since 1983) or climb the snow-capped summit of a dormant one (Mauna Kea, the tallest mountain in the world when height is measured from the sea floor). The arid western coast of the island is home to a wide variety of luxury resorts, while the rainier eastern shore is filled with colorful botanical gardens, waterfalls, and the laid-back seaside town of Hilo.
Drop your bags at the newly renovated Fairmont Orchid, Hawaii, set on 32 oceanfront acres along the Kohala Coast. Couples are guaranteed prime access to water sports, plenty of first-rate restaurants, a championship 36-hole golf course, and more.
Lanai
Just off the western shore of Maui lies Lanai, a former pineapple plantation turned tropical paradise. Ideal for those newlyweds seeking complete solitude, Lanai has a tiny local population and just one resort, the Four Seasons Resort Lanai (though a second Four Seasons-branded lodge is on the way).
There's no need to rent a car and you never have to fret over traffic--there isn't a single traffic light on the island. Instead, it's all about relaxing by the pools (one is adults-only), horseback riding through forested trails, thrill-seeking souped-up ATV rides, challenging rounds on the Jack Nicklaus-designed golf course, and toasting your new life together on a relaxing sunset catamaran cruise.

In case you missed it:
The 9 Most Romantic Honeymoon Activities in Hawaii