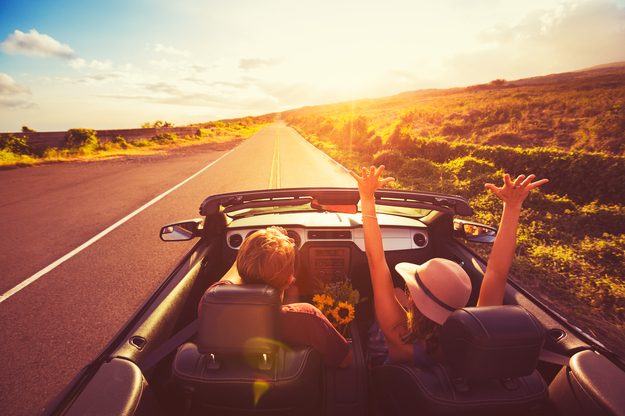 The open road is endlessly romantic. Whisking through small towns between rolling landscapes, with limitless wonders of different restaurants, accommodations, and sights to see all the while.
Unexpected highlights aplenty, a honeymoon road trip offer pure exhilaration around every bend - a flavorful adventure that keeps the conversation flowing and is sure to rev your romance engine.
Load the trunk, pack some snacks, let your hair down and throw your hands in the air -- here are five of our favorite road trips in the U.S. and beyond.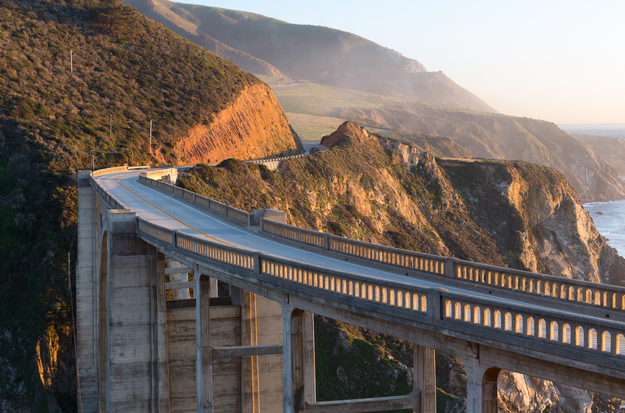 State Route 1: California, USA
Start: San Diego, California
End: San Francisco, California
Ideal Duration: 5-10 Days
Where else can you experience surf culture on the beach, craft breweries and award-winning wine country across open fields, rolling fog through redwood forests, and mountaintop castles all in a span between two sprawling cities? California's State Route 1 combines all of this and more into a package that easily makes it one of the world's most famous road journeys.
The often cliff-hugging road at the edge of the continent encompasses the popular Pacific Coast Highway (PCH) in a dazzling stretch along its route between San Diego and San Francisco, but also passes through quiet neighborhoods, lively cities, and Hollywood attractions - not to mention infinite natural scenery.
Starting off in San Diego will allow you to drive north, which keeps the sun behind you and the cliff at least a lane away (which will come in handy on a few otherwise white-knuckle hairpin turns). The visual intensity really cranks up as you continue north, and San Francisco - a wholly honeymoon-worthy destination to itself - is an excellent place to wrap up your road trip.
Trip Tips: Splurge for the convertible. A top-down drive along the PCH may be cliché but is completely warranted. Allow some time to linger along the surreal 90-mile coast of Big Sur, where dense forest drops into dramatic coastline. Don't miss McWay Falls inside Julie Pfeiffer Burns State Park. Dive into the woods for an overnight camping experience, or give glamping a go at a more luxurious accommodation like Ventana Big Sur.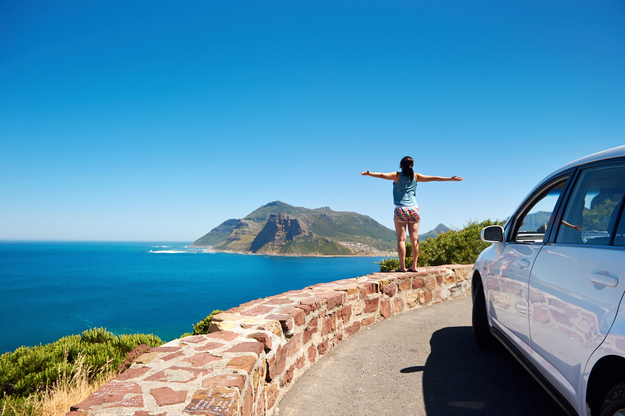 The Garden Route: South Africa
Start: Cape Town, South Africa
End: Port Elizabeth, South Africa
Ideal Duration: 5-10 Days
This sunny stretch of coast across South Africa's southern Cape is often referred to as the most beautiful region in the entire country. With a wide array of beaches, forests, lakes, lagoons, and mountains, the lush Garden Route is as much a feast for your eyes as it is an adventure to dive into. Its brief 8-hour duration is easily staggered over several days thanks to a seemingly endless list of picture-perfect beaches, forest hikes, lighthouse climbs, adventure sports, and sea cave explorations.
Wind down over long lunches in quaint seaside towns like Mossel Bay, Knysna, and Plettenberg Bay, and be sure to keep your eyes peeled when back on the road - the warm Indian Ocean waters are known to attract scores of dolphins and whales.
Trip Tips: Visit during South Africa's late summer season (February - March) to take advantage of warm weather while dodging the massive Christmas crowds that flock to the Garden Route on holiday. Stop off in Plettenberg Bay Game Reserve for a safari excursion, where frequent sightings of the Big 5 (lion, leopard, rhinoceros, elephant, and Cape buffalo) can be had.
Or, head to sea in Gansbaai to spot the marine Big 5 (whales, sharks, seals, dolphins, and penguins) in their natural habitat. If that doesn't get your adrenaline jumping, there are plenty of options including skydiving, paragliding, canyoning, and shark cage diving which ought to do the trick.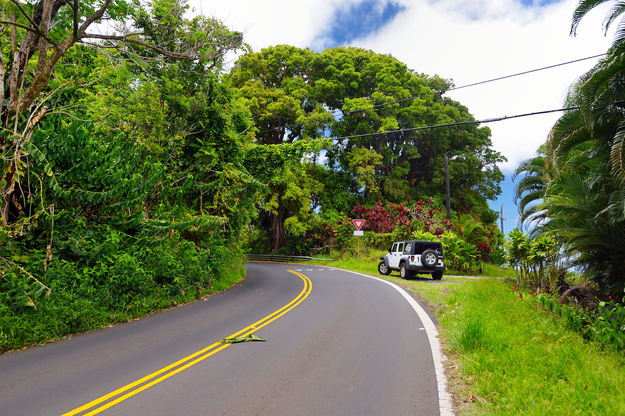 The Hana Highway: Maui, Hawaii
Start: Paia, Hawaii
End: Haleakala National Park, Hawaii
Ideal Duration: 1-2 Days
Hawaii's verdant beauty and laidback island culture have placed the distant state atop many a honeymoon list. But while beachfront wellness resorts, water sports, and backcountry hikes get all the attention, this road trip along the north shore of Maui is actually one of the greatest adventures to be had across any of Hawaii's islands.
Dug across high jungle cliffs and beside the vast Pacific Ocean, the Hana Highway is as exciting as the spots that it leads to. Roadside food stands, tropical flowers, bamboo forests and that deep azure ocean adorn the route which gives way to sacred waterfalls, secret swimming holes, and lush state parks.
Its length of just over 50 miles may seem like an ocean breeze to conquer, but 50 single-lane bridges and 600+ hairpin turns are sure to humble your pace. Fortunately, frequent breaks to catch your breath reveal tempting fruit trees, unpaved trails, and fresh perspectives of the Hawaiian scene.
Trip Tips: Aim to hit the road early (sunrise is ideal, before 09:00 is a must) to dodge rubberneckers along the route and retain a semblance of isolation all the way. Remember that the journey here is the destination - don't focus on getting to Hana, but rather making the most of every experience on the road there.
Be sure to brake for banana bread - a fresh loaf from Aunty Sandy's Keanae Landing Fruit Stand near the midway point will inspire you for the rest of the day. Arrive at Hana by sunset, spend the night, and continue onward the following morning to Haleakala National Park.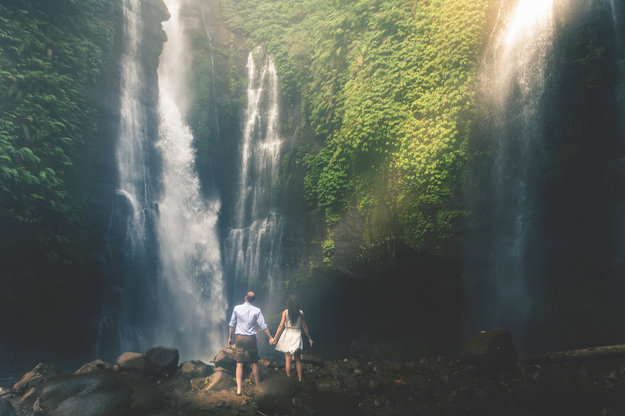 Ring Road: Iceland
Start/End: Reykjavik, Iceland
Ideal Duration: 1-2 Weeks
With reliably paved roads, a wide range of accommodations, and no shortage of mind-blowingly beautiful sights along the way, Iceland's Ring Road - which wraps around the entire island nation - was practically made for a road trip. Geysers, glaciers, lagoons, volcanoes, and geothermal baths are just some of the natural attractions which will welcomingly distract your eyes from the road (be prepared to frequently pull over and capture the photogenic terrain).
Fantastic restaurants and amazingly cozy cabins await in colorful fishing villages scattered along the route, and of course, the famous Blue Lagoon is a perfect place to bask in your honeymoon accomplishments once you've gone full circle.
Trip Tips: Rent a car in advance, opt for built-in GPS, and consider a 4G mobile hotspot to stay connected throughout the route. Iceland is a year-round destination, but travelers that visit between September and April are in for a special treat as this is Northern Lights season up in the sky.
Jot down rest stops in advance if gourmet meals are a top priority, else be prepared for a fair share of gas station meals which can include everything from ready-made hot dogs (the surprisingly decent unofficial national cuisine) to table-serviced burgers and pasta. Amidst the stunning natural scenery, gas station culture cannot go unnoticed during your Icelandic road trip.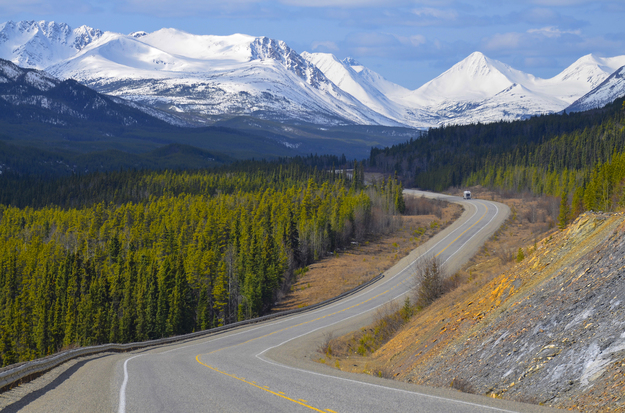 The Alaska Highway: USA/Canada
Start: Dawson Creek, British Columbia
End: Delta Junction, Alaska
Ideal Duration: 2+ weeks
No frills, all wonder. A legendary road of the north, the Alaska Highway (or the Alcan, for Alaska-Canada) is undoubtedly the greatest way to reach Alaska, a state proudly referred to as the last frontier. The two-lane, 1500-mile-long highway was built in a hurry during WWII, and its road conditions and route amenities may sometimes leave a bit to be desired.
But for the traveler who would rather trade traditional highway offerings in favor of the rugged wilderness of British Columbia and the Yukon - complete with bears, bison, eagles, moose, glaciers, fjords, and increasingly dramatic mountains - the Alaska Highway is a true marvel. Quaint towns, quirky pit stops, and incredibly friendly locals help amp up the offering, but this is unapologetically a trip where nature is the star of the show.
Trip Tips: Pick up a copy of the annually-revised Milepost, an essential Alaskan trip planner that includes mile-by-mile logs of highways, attractions, restaurants, lodges, and more along the route. Once the Alaska Highway is complete, continue onward to the North Pole and Fairbanks, each less than 100 miles from the official endpoint. The great, untamed state of Alaska is a beauty to behold, and car travel is absolutely the way to do it.
Make the most of your time here by visiting the behemoth Denali National Park a bit further south. Check out our guide to Alaska to spark some additional inspiration, and definitely aim to visit in summer when daylight extends up to 19 hours a day.

In case you missed it:
Winners Announced for 2019 Traveler's Joy Honeymoon Story Contest