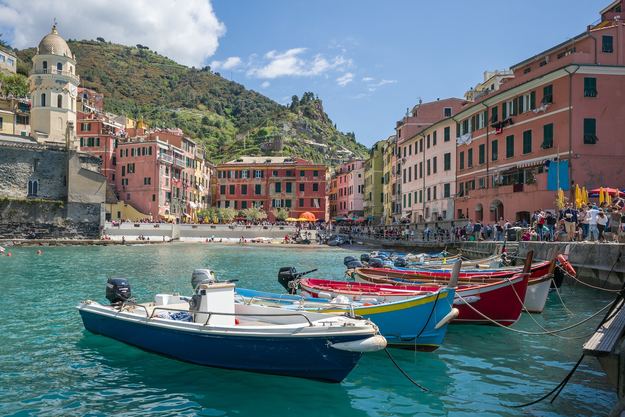 Photo by Sean Sweeney
After previously highlighting eight amazing small towns for a honeymoon in the United States, we couldn't pass up on featuring more incredible small town destinations around the world.
This time we're putting the spotlight on Europe, home to popular honeymoon destinations like Greece, Italy, and France.
From mountainous seaside towns backed by vineyards and olive groves to colorful fairy tale-like villages featuring cobblestone streets and charming pedestrian-only squares, these are 10 of our favorite small towns in Europe for a memorable honeymoon getaway.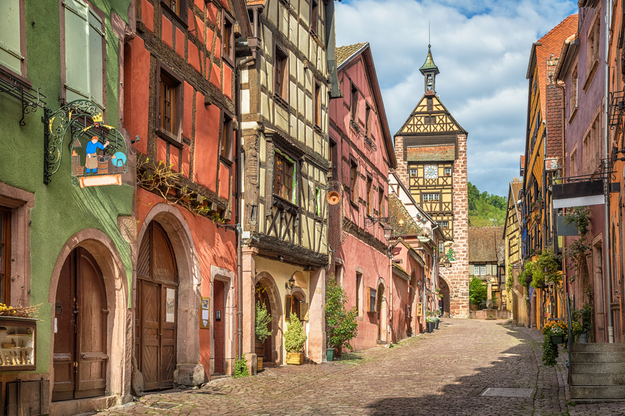 Riquewihr, France
Set in the heart of Alsace, this historic village is seemingly straight out of a fairy tale. In fact, the village featured in the Disney classic Beauty and the Beast was inspired by Riquewihr.
With colorful, half-timbered houses, cobblestone streets, and even ruins of 13th century ramparts that encircle the town, Riquewihr is absolutely enchanting and a can't-miss destination for France honeymooners.
The town is also surrounded by vineyards, so be sure to set aside plenty of time to visit the local wineries and tasting rooms like Hugel & Fils and Domaine Laurence & Philippe Greiner.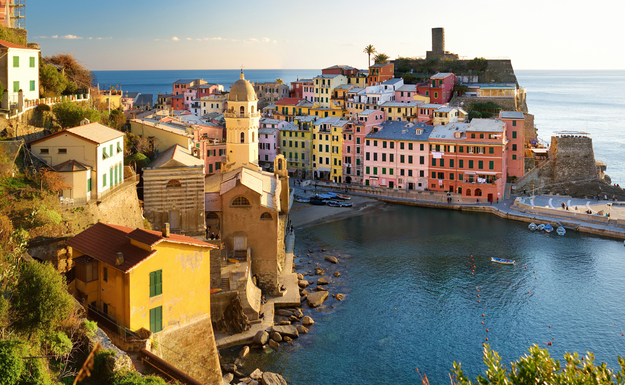 Vernazza, Italy
The Cinque Terre region of Italy is a collection of five remote villages that cling to the rugged hillsides along the Italian Riviera coastline. While all five towns are truly remarkable, the standout village is Vernazza, with its tiny marina lined with fishing boats, colorful buildings, and terraced hillsides featuring lovely vineyards and olive trees.
All five towns in Cinque Terre are connected by well-maintained trails, so couples can take their time and savor the sights, smells, and sounds of the region.
Hoping to spend a few days exploring the region? Drop your bags at MADA Charm Apartments, a lovely upscale property with wonderful views of the water, a balcony, and Jacuzzi.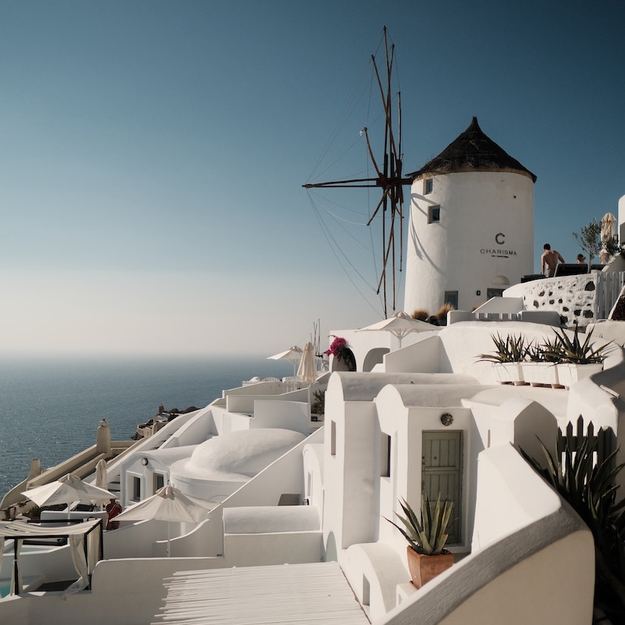 Photo by Kaspars Upmanis
Oia, Greece
Located on the northern tip of the island of Santorini, the historic and picturesque village of Oia features distinctive white and blue-colored buildings, many of which have been built directly into the island's cliffs.
Santorini honeymooners will find a wide range of luxury hotels, top-notch restaurants, and shopping experiences among its lovely cobblestone streets. The village is also one of the premier honeymoon destinations in Europe for a dazzling sunset experience.
Book your Santorini honeymoon at Chelidonia, home to 16 cave-style villas with private balconies, kitchenettes, and unspoiled views of the sea.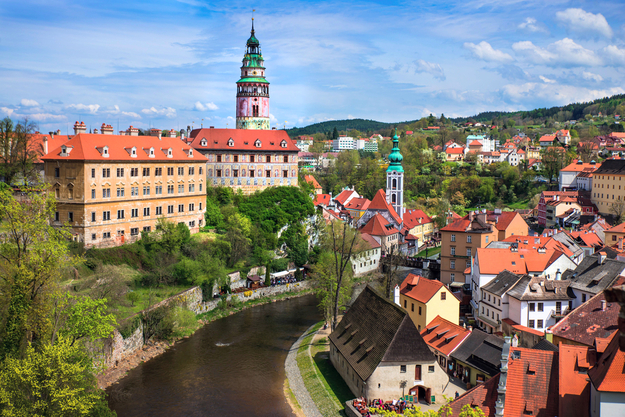 Ceský Krumlov, Czech Republic
Situated along the scenic Vltava River in the South Bohemian region of the Czech Republic, the postcard-perfect town of Ceský Krumlov is home to a well-preserved town center featuring colorful medieval buildings, a historic castle, plus numerous galleries, museums, and restaurants.
After strolling the grounds of the Cesky Krumlov Castle, hop on a wooden raft river cruise for a unique perspective of the town, also a UNESCO World Heritage Site.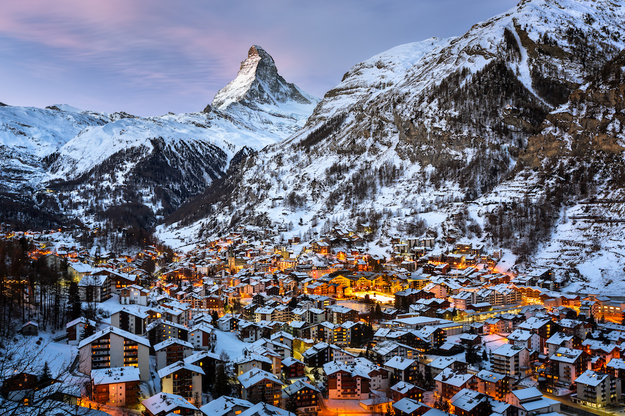 Zermatt, Switzerland
Nestled beneath the behemoth Matterhorn mountain, the fairy tale village of Zermatt is a dream honeymoon destination no matter the season. In the colder months, the region is a winter wonderland. Come summer, this idyllic car-free town is the perfect base for amazing warm weather activities, such as hiking, biking, and paragliding.
Save plenty of time to stroll the lovely town, filled with classic Swiss chalets and winding, mountain-backed streets. Book your honeymoon hotel at The Omnia, a contemporary mountain lodge featuring a spa, indoor/outdoor swimming pool, restaurant, and bar.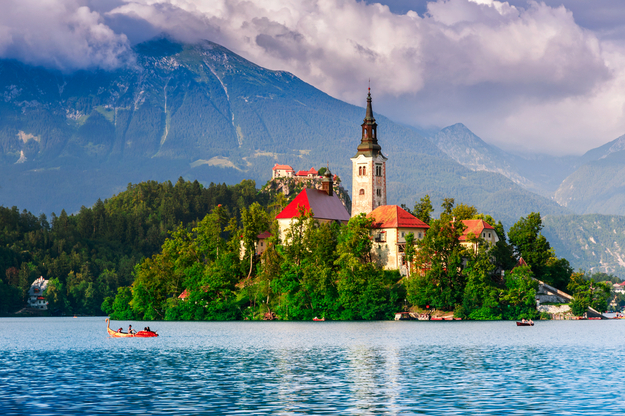 Bled, Slovenia
Located in Slovenia's picturesque Julian Alps, the resort town of Bled stands out with panoramic mountain views, a gorgeous blue-green lake, a cliff-side castle, beautiful gorges, and even a historic church situated on an island in the middle of Lake Bled.
Book your stay at Grand Hotel Toplice, which sits along the shore of Lake Bled. The luxury property boasts a private beach, elegant accommodations (many rooms feature balconies with great views of the lake), a top-notch spa using waters from a thermal spring, and an excellent restaurant with stunning views.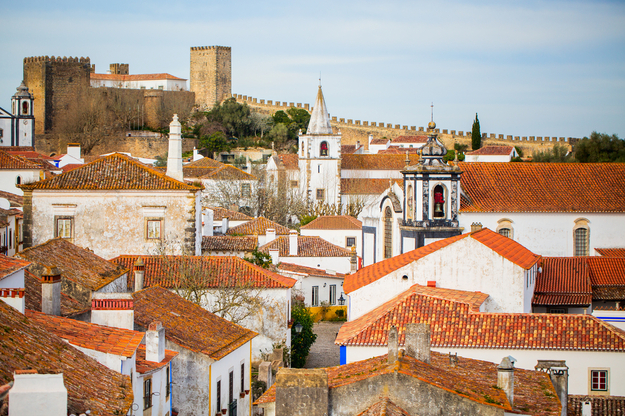 Obidos, Portugal
The small, vibrant town of Obidos is easily one of the most picturesque destinations in all of Portugal. Not only is the medieval town built on top of a hill, but it also features a well-preserved town center with an abundance of whitewashed buildings, winding cobblestone streets, and plenty of restaurants and galleries.
Just over an hour north of Lisbon, Obidos is a great option for honeymoon couples seeking a romantic weekend trip away from the big city. Book your stay at Pousada Vila Óbidos, an impressive boutique property that dates back to the 18th century.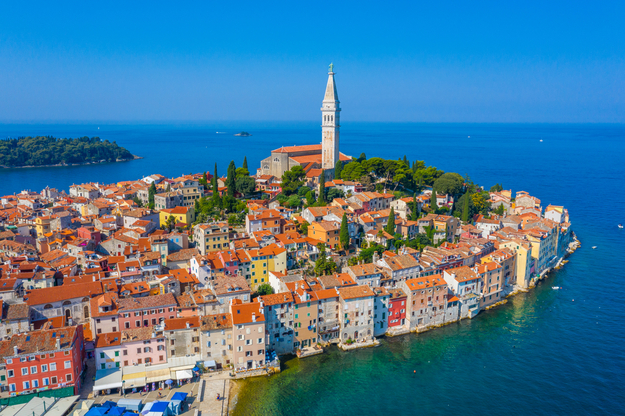 Rovinj, Croatia
This seaside town in Istria is easily one of Croatia's most beautiful destinations. With its waterfront location, colorful buildings, winding streets, and bustling harbor, Rovinj is a most-welcomed detour on your tour of the Croatian coastline.
The Rovinj Pier is the perfect place in town for watching the setting sun. Arrive early and find your perfect perch so you can take in the view with both Katarina Island and Rovinj's Old Town in the same frame.
Drop your bags at Grand Park Hotel Rovinj. The hotel is perfectly situated on Rovinj's east shore, where couples can soak in incredible views of the Old Town.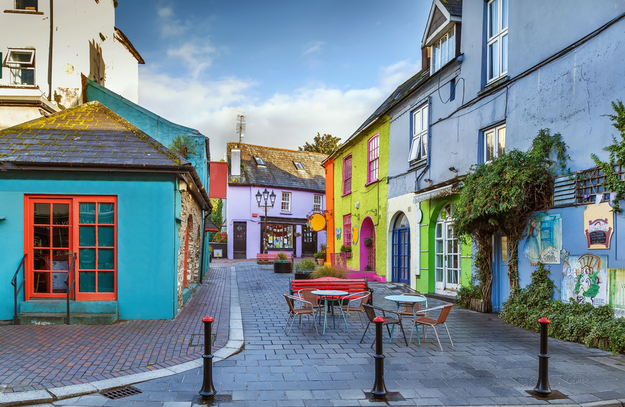 Kinsale, Ireland
This colorful town along the southern coast of Ireland is a terrific detour for honeymoon couples visiting the Emerald Isle. On top of the brightly colored streetscapes, Kinsale has an exceptional mix of notable historical sites, a quaint harbor area, plus many shops, restaurants, pubs, and accommodation options.
After exploring Charles Fort, meander around town before enjoying a romantic dinner at Bastion, known for its creative Irish cuisine.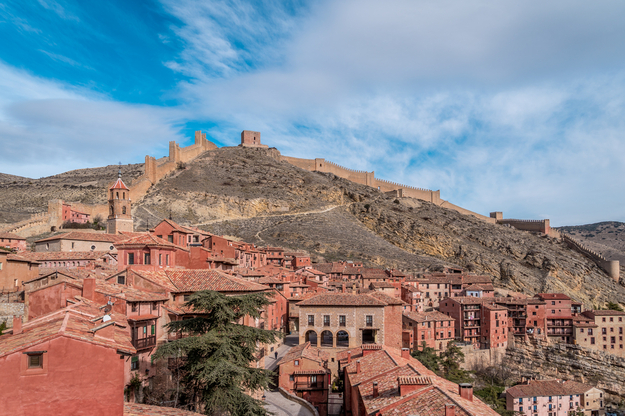 Albarracín, Spain
Voted Spain's most beautiful village, the medieval town of Albarracin is a jaw-dropping destination built on the rocky hills surrounding Río Guadalaviar.
With imposing castle walls surrounding the town, plus steep, narrow streets, and picturesque pink-hued houses, a trip to Albarracin is like traveling back in time to a different era.
Albarracin is about 30 minutes via car from Teruel in the mountainous Aragon region of eastern Spain.

In case you missed it:
The Top Small Towns in the U.S. for a Honeymoon