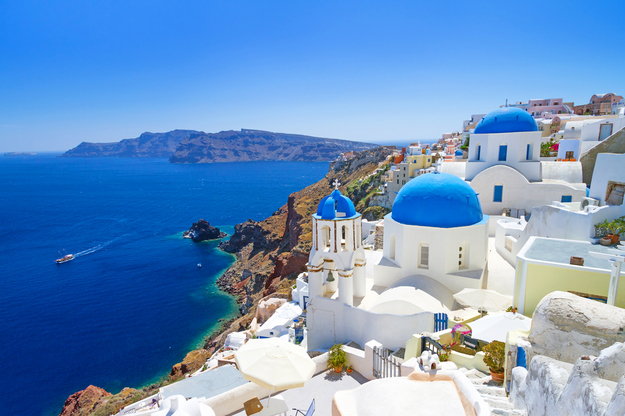 Home to whitewashed villages perched high atop cliffs, numerous soft sand beaches, and some of the world's most mesmerizing sunsets, the picturesque island of Santorini in Greece ranks as one of our all-time favorite honeymoon destinations.
Read on to discover our top 10 reasons why this extraordinary volcanic island should be your ultimate honeymoon destination.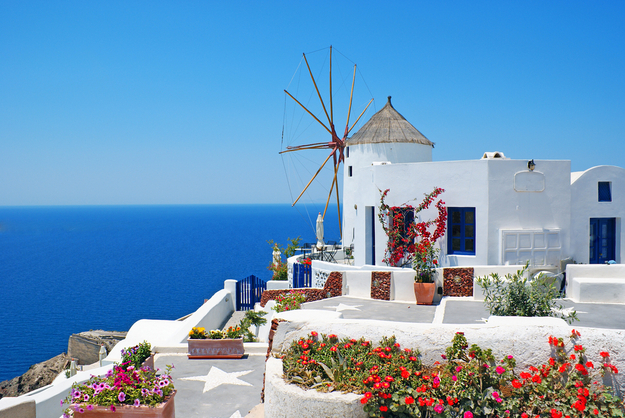 Stunning Scenery
Situated in the Aegean Sea about 120 miles southeast of mainland Greece, this picturesque locale features a caldera, central lagoon, steep cliffs, sandy beaches, and historic cliff-side villages home to whitewashed buildings and refurbished windmills. The views from land and sea are extraordinary and overall a huge reason why Santorini remains a bucket-list destination for couples.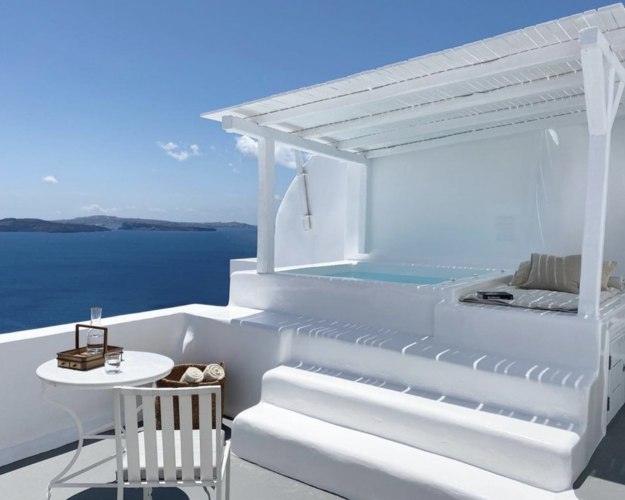 Courtesy of @canavesoia
Swoon-Worthy Hotels
From cave-style inns built into the cliffs to stunning hotels perched high above the caldera, the island boasts some of the world's most unique and luxurious accommodation options for honeymooners.
For instance, Canaves Hotel in Oia features honeymoon suites with outdoor river-like Jacuzzis, while boutique hotel Pezoules stands out with an outdoor infinity pool, cave-style accommodations, and sweeping views of the sea. It doesn't get much dreamier than this.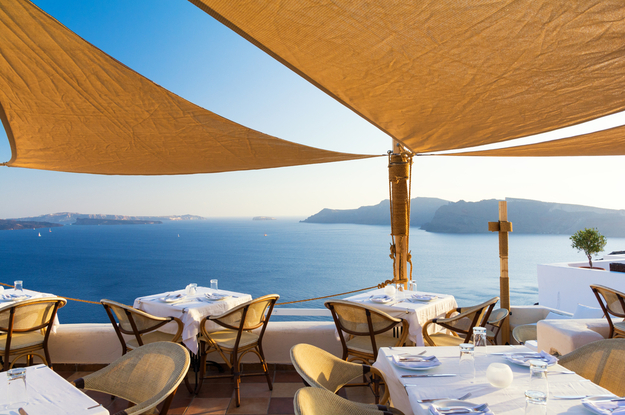 Delicious Food
Honeymoon couples will find everything from popular Greek foods to fresh seafood items to super creative dishes sourced from local purveyors.
But arguably the best part is enjoying these dishes in beautiful settings (think outdoor cliff-side restaurants with caldera views and waterfront dining just steps from the water's edge). A few of our favorites include award-winning Selene, Anogi in Imerovigli, and Argo in Fira.
Couples can also cook, learn about, and eat Greek cuisine through a cooking class. Petra's Kouzina's 4-hour class features cooking and preparation of traditional Greek dishes before enjoying a meal out on their beautiful terrace.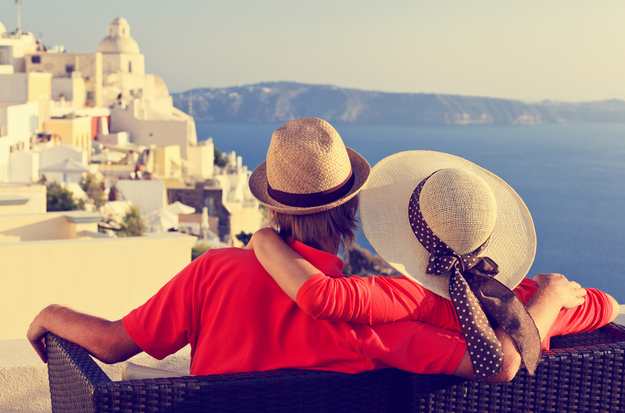 Terrific Weather
Santorini is also an attractive honeymoon destination thanks to its lovely Mediterranean climate. While the island experiences cool (but not cold) temperatures between December and March (with typical highs in the 50s and 60s), the spring and fall months are quite comfortable with temperatures in the high 60s and 70s. The summer months between June and September are hot and sunny and often see daytime temperatures reaching the 80s.
Overall, the shoulder seasons are the best time to visit to take advantage of great weather, fewer crowds, and cheaper prices. While the weather is warm and dry in July and August, couples should consider avoiding these months due to a surge in visitors and rates.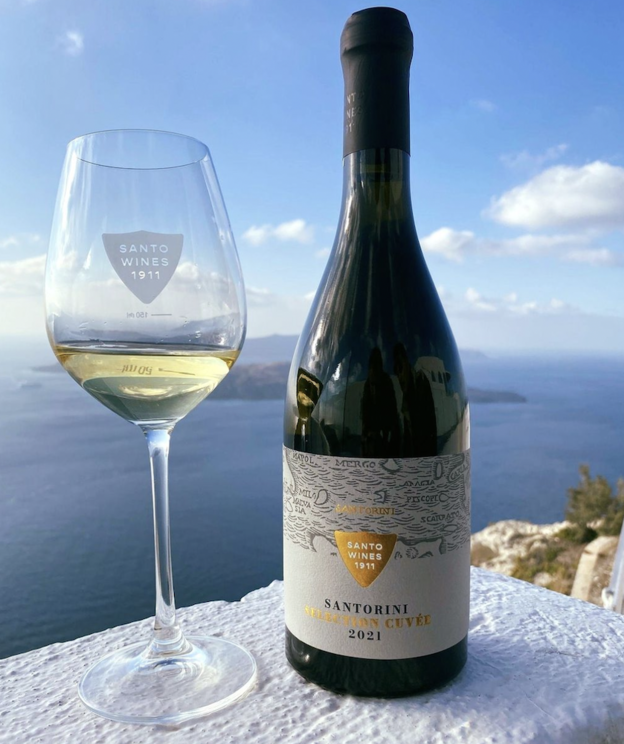 Image courtesy of @santo_wines
Wonderful Wine
The island's volcanic soil has long created the perfect soil conditions for grape growing (the region's predominant grape is called Assyrtiko), and Santorini produces excellent dry and dessert wines.
Hoping to visit a few Santorini wineries on your honeymoon? Start with Santo Wines, situated high atop the caldera cliffs just south of Fira. Stop in for an afternoon vineyard tour before soaking in another brilliant Santorini sunset, glass in-hand, of course.
Also, Venetsanos Winery, in the charming village of Megalochori, features stunning views plus tastings with light lunch and food pairings.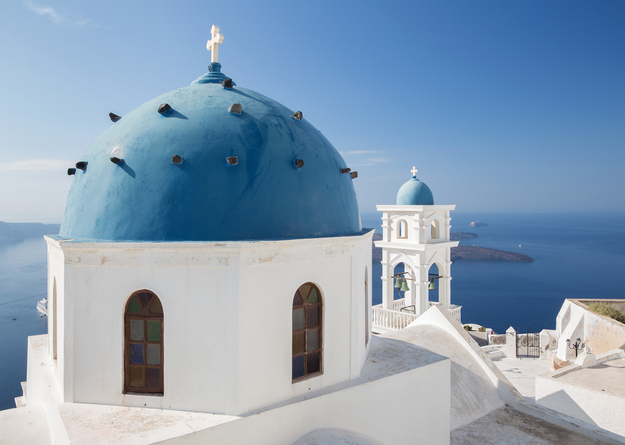 Beautiful Towns
Fira, Oia, and Imerovigli are three gorgeous and historic towns that are truly distinct and offer a great number of activities, sights, and charming places to visit. Whether for a romantic dinner or charming walks along back alleyways, these spots truly provide the opportunity for exploration and unique discoveries.
Fira, Santorini's capital, boasts some fascinating museums, tons of rooftop restaurants, blue-domed buildings, and well-preserved cathedrals. Imerovigli boasts a clifftop vantage point, narrow alleyways, and plenty of jaw-dropping Cycladic architecture.
Oia is a very traditional Greek settlement and has been carefully rebuilt following an earthquake in 1956. Take one of the staircases down to the tiny fishing village of Ammoudi along the waterfront and watch local fisherman load up their boats as you enjoy the view from one of the nearby fish taverns.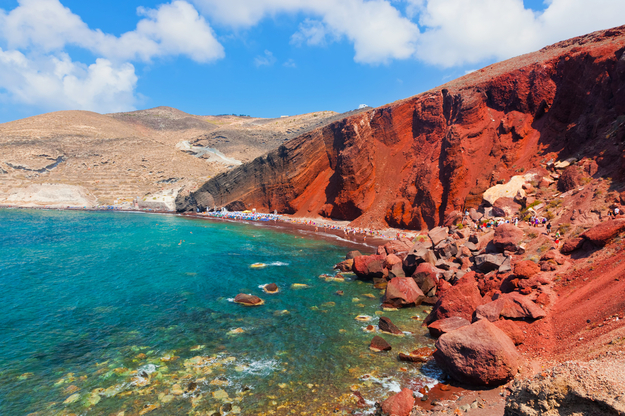 Amazing Activities
From beach excursions to catamaran tours to hiking, the island is home to an incredible amount of once-in-a-lifetime activities. For a truly unique experience, climb aboard a giant catamaran with Santorini Star cruises for an unforgettable excursion that includes snorkeling, beach trips, hot springs, and sunset sailing on the Aegean.
Then be sure to hit the beach at one of Santorini's black or red-sand beaches. On the east coast, Kamari is home to perhaps the island's most stunning beach. Baxedes is a small, but lovely beach near Oia. Also, popular with locals and tourists alike, Perissa is another worthwhile detour in the south.
Cap things off with a guided walking tour and experience Santorini the local way. You'll be treated to amazing scenery and get to explore secret spots well off the tourist trail.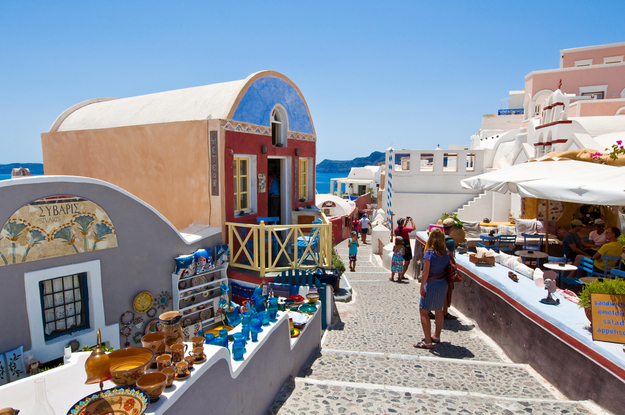 Fabulous Shopping, Art, and Galleries
Couples will have plenty of shopping opportunities in destination towns like Oia and Fira. Browse charming stores in the main shopping districts for local art, glass, wool, silk scarves, purses and jewelry. Don't forget to stop inside art galleries and wine shops before making your way to Atlantis Books on the north end of Oia's main shopping street.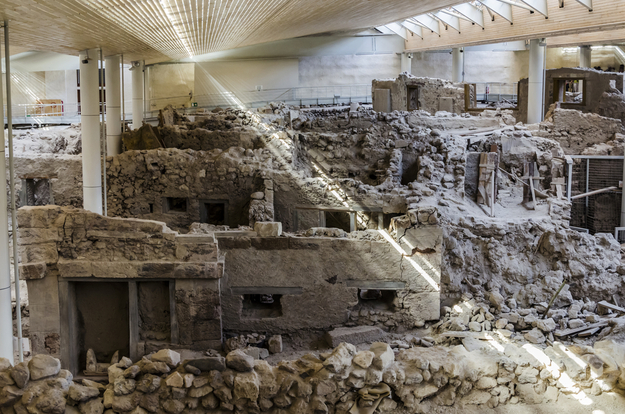 Incredible History
Archaeologists estimate that Santorini has had human presence going back to around 3600 BC. With so much history on the island, including wars, volcanic eruptions, and earthquakes, it's no surprise to find there's ample historical sites and attractions worth seeking out on your trip.
Couples should start with Akrotiri archaeological site (also known as the "Pompeii of the Aegean" after it was buried in volcanic ash in the 16th century BC). Follow that up with a visit to the Museum of Prehistoric Thira for its impressive exhibits featuring ancient artifacts collected from various excavations on the island.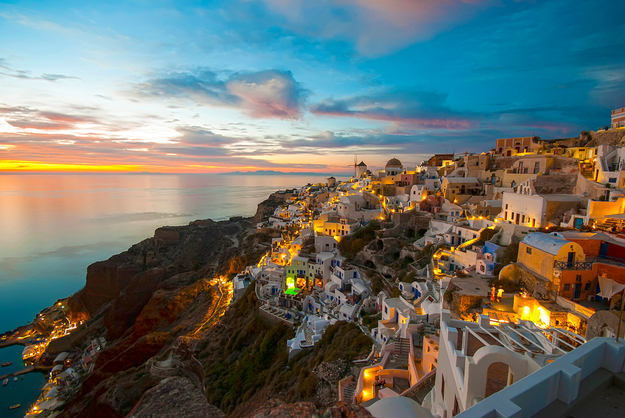 Spectacular Sunsets
There's no other way to put it; Santorini's sunsets are simply magical. No matter if experienced via luxury catamaran, while visiting one of Santorini's historic towns, or from the cozy confines of your hotel, this is one spectacle you won't want to miss (and will likely be cherished for many years to come).

In case you missed it:
Top 20 Best Travel Items to Add to Your Honeymoon Registry
The Best Islands for a Honeymoon in Greece