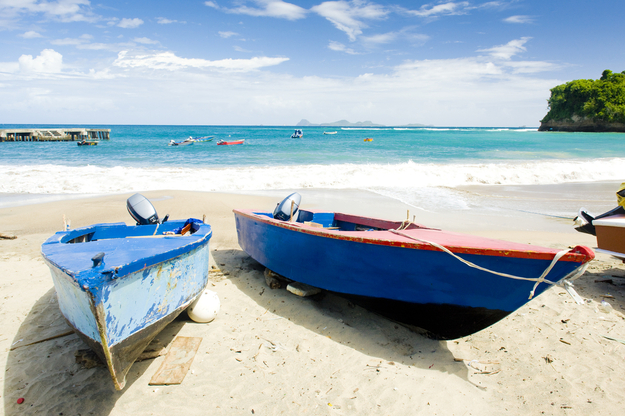 It's no secret that the Caribbean is one of the top honeymoon regions in the world. Home to unique islands, often featuring white-sand beaches, soaring mountains, swaying palm trees, and world-class resorts, this region is a magnet for newlyweds.
While the Caribbean is home to honeymoon hotspots like Jamaica, the Dominican Republic, and the Bahamas, it's also home to many under-the-radar destinations that are far less traveled, but still spectacular.
Read on to discover our top six Caribbean islands that promise a crowd-free honeymoon trip of a lifetime.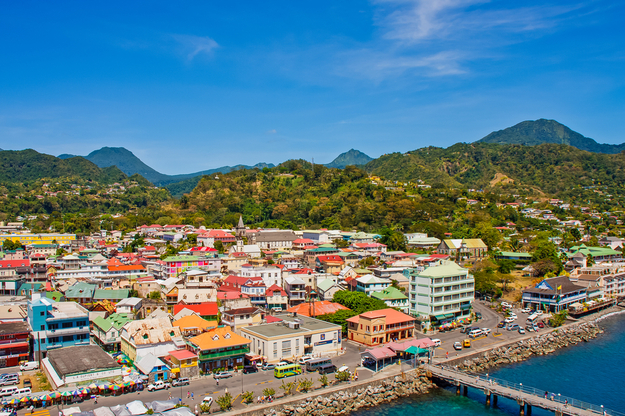 Dominica
Known as the "Nature Island", Dominica stands out with its lush rainforest terrain, breathtaking waterfalls, soaring mountains, black sand beaches, and three impressive national parks. It's the perfect Caribbean honeymoon destination for couples looking to embrace the great outdoors.
Also, with a population just north of 72,000 and a lack of mega-resorts and mass tourism, newlyweds won't have to worry about long lines, crowded beaches, or exorbitant prices.
Where to Stay in Dominica: Book your honeymoon at Jungle Bay Dominica. This lovely eco-resort boasts luxury villa accommodations set in a tropical rainforest overlooking beautiful Soufriere Bay. With its cozy king bed, ample ocean views, spacious balcony, and lovely island-inspired decor, the Villa Suite is an excellent choice for honeymooners.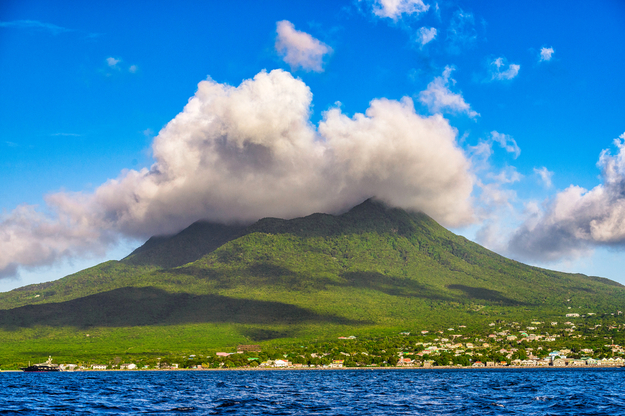 Nevis
Separated by just two miles from its sister island Saint Kitts, Nevis offers a more rustic and laid-back experience than most other Caribbean islands. Couples can still expect plenty of turquoise waters, mountainous terrain, incredible soft sand (and empty) beaches, and an ideal mix of small resorts, inns, and guest houses.
In between relaxing days on the beach or poolside, newlyweds can dive into lots of unique activities such as horseback riding on the beach, hikes on scenic mountains, ATV tours, scuba diving, and luxury catamaran excursions.
Where to Stay in Nevis: Drop your bags at Montpelier Plantation & Beach, a boutique hotel set in the tropical foothills of Nevis Peak. The property, built around one of the island's original sugar plantations, boasts 60 acres of lush grounds, a private beach, alfresco dining, two bars, a 60-foot outdoor pool, and 18 contemporary rooms featuring top-notch amenities.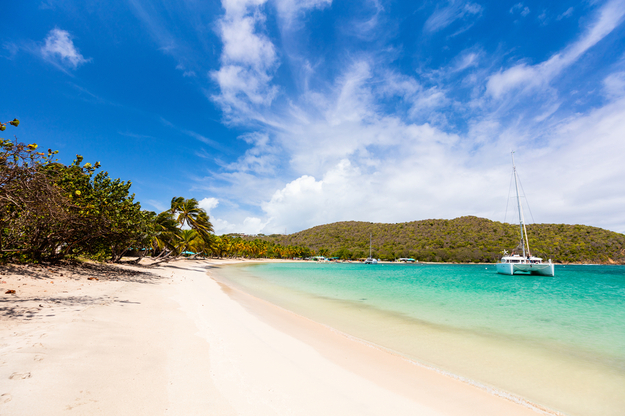 St. Vincent and the Grenadines
Seeking an authentic, secluded Caribbean honeymoon experience? Look no further than SVG. This dazzling archipelago of 32 islands manages to perfectly blend luxury with adventure - and perhaps best of all, relaxation with total privacy.
With so many islands to explore and a spectacular underwater world of exotic marine life, this destination is a great pick for couples looking to embark on sailing trips, snorkeling excursions, watersports, and diving. Head out on the Friendship Rose Caribbean Schooner for an unforgettable day sailing, snorkeling, exploring deserted islands, and swimming with turtles.
Where to Stay in SVG: Book your honeymoon at Bequia Beach Hotel, a luxury boutique property set right on gorgeous Friendship Bay Beach.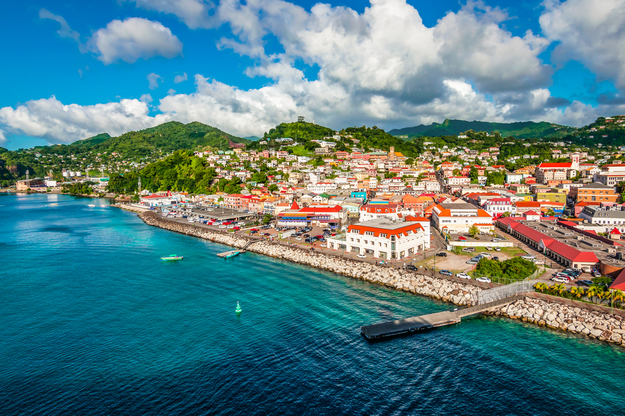 Grenada
Despite being packed with lush forests, mountains, powdery white-sand beaches, colorful towns, and excellent water sports opportunities, the island of Grenada still manages to keep a relaxed vibe and has largely prevented mass tourism from changing its remarkable landscape.
Known as "The Spice Island" due to its production of nutmeg, cinnamon, cloves, and ginger, the country is considered one of the world's biggest spice exporters. Couples can explore this unique side of Grenada by visiting sites like River Antoine Rum Distillery (which is noted as one of the oldest rum distilleries in the world) and De la Grenade Industries (home to lush gardens, public tours, and acres of tropical fruit).
Where to Stay in Grenada: Make a reservation at Mount Cinnamon Resort, a boutique property tucked away in the hillside over Grand Anse Beach, considered one of the most beautiful beaches in the Caribbean.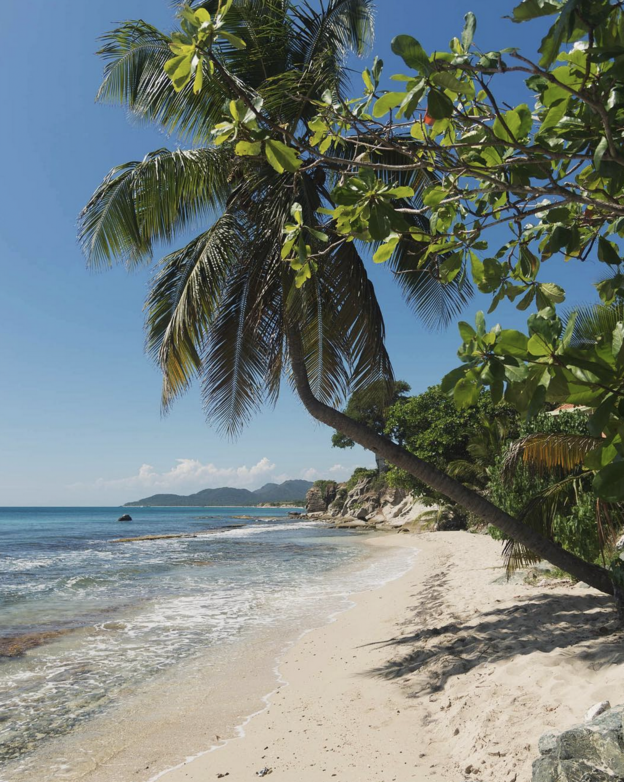 Image courtesy of @maleconhouse
Vieques, Puerto Rico
This small island, just six miles off the southeast coast of Puerto Rico, offers a laid-back island experience for couples - with lots of room to explore. In fact, more than half of the island is covered by the Vieques National Wildlife Refuge, home to unspoiled beaches, wetlands, forests, and coastal lagoons.
Meanwhile, if amazing beaches are high on your list, Vieques has you covered. Playa Negra features crystal-clear waters and black sand (thanks to nearby volcanic rocks), while Playa La Chiva offers soft white sand, blue waters, and a beautiful beachfront backed by palm trees.
Where to Stay in Vieques: Book your honeymoon accommodation at Malecon House, located in the charming village of Esperanza. The inn features 13 cozy guest rooms, many with ocean views, lovely tropical gardens, and incredible views of the surrounding beaches and Esperanza Bay.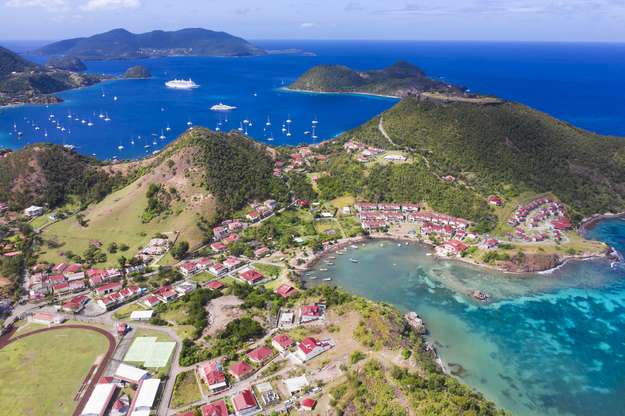 Guadeloupe
Considered an archipelago featuring five main islands, this hidden Caribbean gem boasts numerous sandy beaches with tranquil waters, ample tropical forests with undulating mountains, hot springs, and waterfalls, plus excellent Creole cuisine.
Thanks to the close proximity of the islands and an excellent ferry system, it's easy for couples to go island hopping in Guadeloupe and explore this highly underrated French Caribbean destination.
Where to Stay in Guadeloupe: Drop your bags at La Toubana Hotel & Spa, a lovely boutique property with private bungalow accommodations, outdoor pool, restaurant, poolside bar, and private beach access.

In case you missed it:
The Top 10 Reasons to Register for Your Honeymoon
The Top 20 Best Travel Items to Add to Your Honeymoon Registry