As an island full of Latin flare, an endless array of activities, and a wide range of excellent hotel accommodations, Puerto Rico makes for the perfect romantic getaway destination.
The island offers travelers a tropical setting with diverse beaches stemming from every corner of the island, plus a fabulous city in San Juan that boasts a UNESCO World Heritage district, colorful Art Deco buildings, battlements, religious sites, plus ample nightlife options, shopping and restaurants. 
Puerto Rico is 100 miles long by 35 miles wide — but don't let these measurements fool you. Close to four million people live on the "Island of Enchantment," with more than a million in the greater San Juan metropolitan area alone. It is a vibrant, modern, bilingual, multicultural society, one that has been molded by Spanish, African, Indian and U.S. influences. Residents of Puerto Rico have much in common with their fellow Americans in the continental United States, yet they retain a decidedly Hispanic heritage. 
Both Spanish and English are the official languages, the local currency is the U.S. dollar, and no visas or passports are required to enter from the United States.
The climate is as close to perfect as it can get, averaging 83°F in the winter and 85°F in the summer. In other words, it's always summer. The trade winds cool the coastal towns and the temperature decreases as you go up into the higher mountains. 
What to Do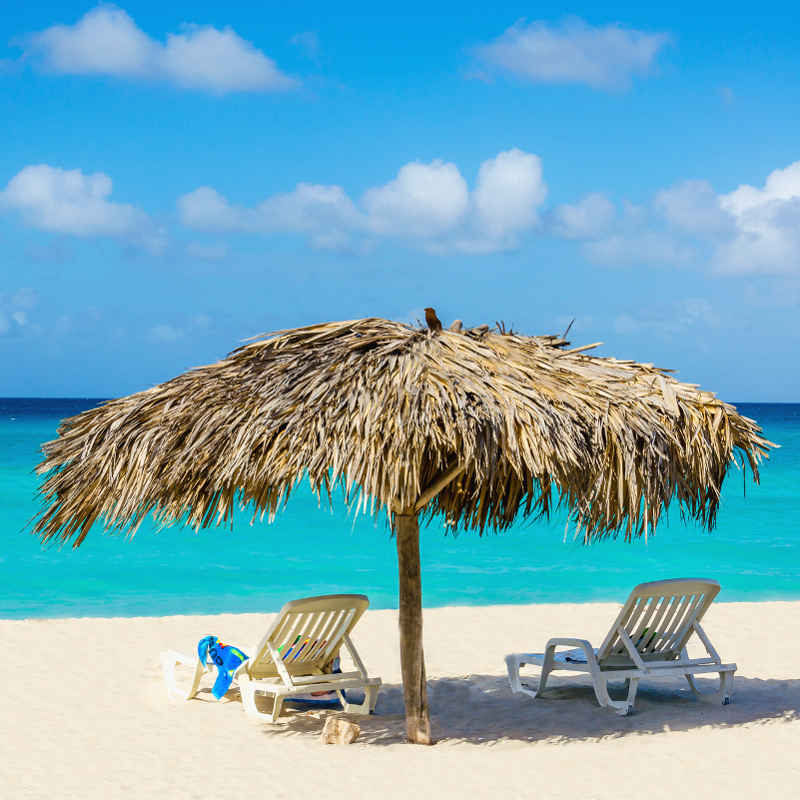 Exploring Old San Juan - Visitors coming to Puerto Rico should not leave the island without exploring Old San Juan. Start by visiting El Morro, the Spanish fortress that once protected the city from invaders. Then do a little shopping and spend the day walking the narrow streets filled with shades of blues, greens and yellows. With colorful buildings, enough restaurants to satiate your every taste and quaint parks all around, there are plenty of reasons why this gem of a city is a favorite place for romance.

Hit the Beach - Puerto Rico is home to some of the most beautiful beaches in the world, and its hundreds of miles of coastline harbor an almost endless selection for the beach connoisseur. Beaches come in every size, color, and form, from the pure white dunes of Isabela to the black volcanic sands near Punta Santiago. You can find a beach for any level of seaside activity, from a stroll in the shimmering shallow waters at Luquillo to a thrilling ride in the boisterous surf of Rincón. More favorites include: Balneario de Carolina in San Juan, Playa Flamenco in Culebra, and Sun Bay in Vieques.

Learn How to Salsa - Salsa remains super popular in Puerto Rico and is one of the most iconic music styles of the Caribbean. Arguably one of the sexiest dances known to man, Salsa is one of Puerto Rico's national dances and continues to engulf couples in its moves. So why not learn some of the basic steps in Salsa's home? Couples who love to dance or want to do something memorable on their honeymoon should take a salsa dance class at the Nuyorican Café, located in Old San Juan.

Detour to Culebra - If you've ever dreamed of walking on long stretches of white sand and looking out at crystal clear blue water, Culebra is the place for you. Having been voted as one of the top ten beaches in the world for many years, Flamenco Beach should be your first stop (among many, many others). Situated about 17 miles east of mainland Puerto Rico, couples can choose to fly in from San Juan on Air Flamenco or Vieques Air Link, but the ferry from Fajardo is much cheaper.

El Yunque National Rainforest - One of Puerto Rico's greatest gems is El Yunque National Rainforest located in the northeastern mountains of the island. Considered the only tropical rainforest in North America, it is here where you'll hike the trails of the rainforest, marvel at its beauty and surrounding flora, and swim in its waterfalls. The jungle-like ambiance you'll notice at El Yunque is due in large part to the high precipitation that falls here, and its waterfalls are no exception. Couples should hike Mt. Britton to the tower, but do not miss La Mina Trail, for it leads to the ever-popular La Mina Falls, where you can swim in the dipping pool and marvel at the waterfall. If renting a car isn't a viable option, consider Acampa Tours or Adventours of Puerto Rico.

Rincon - Located on the western end of the island, the sleepy surfing town of Rincon is one of Puerto Rico's most visited and celebrated spots. About 90 miles from San Juan, Rincon will tug at your heart with its beautiful sunsets, private beaches, and quaint hotels. Because it's a few hours from San Juan, Rincon is secluded, less touristy (aside from the many Americans who moved to open up shops and restaurants after they fell in love with the area), and romantic.
Where to Stay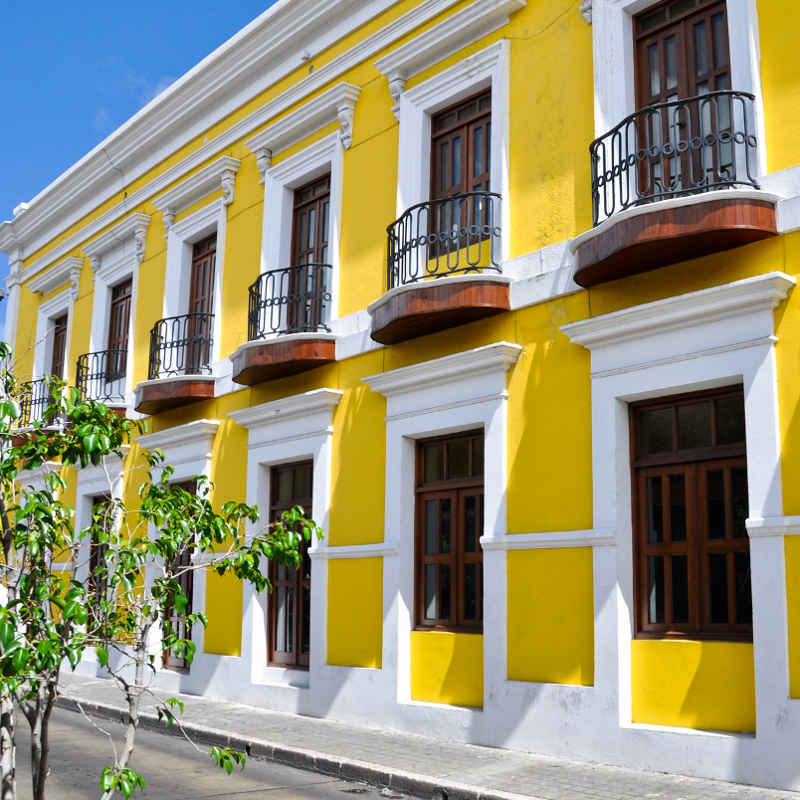 Where to Eat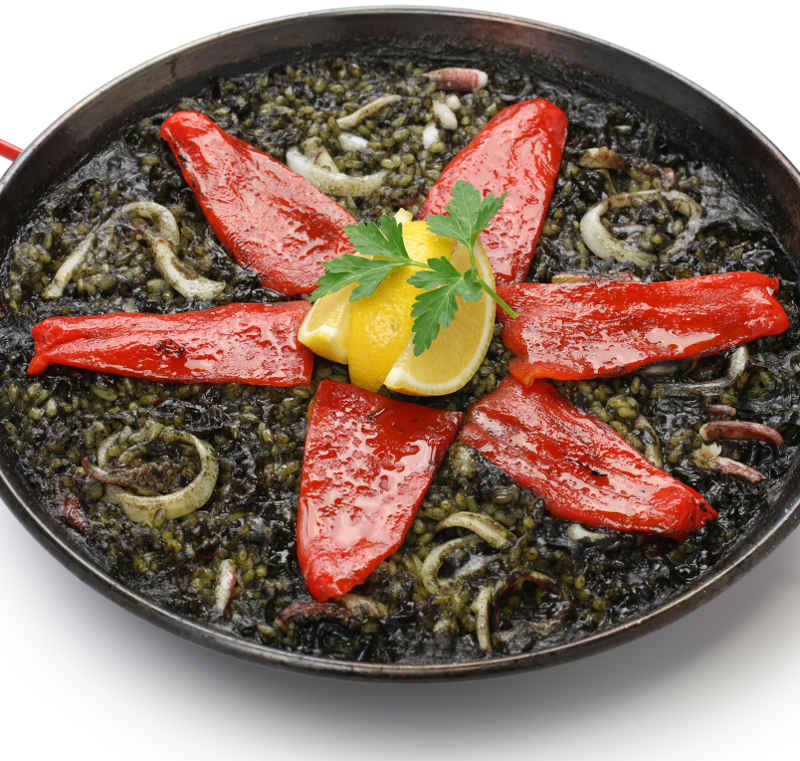 Fern - Helmed by world-renowned Chef Jean-Georges Vongerichten, the top restaurant at the St. Regis Bahia Beach Resort offers a variety of the chef's greatest hits, but with traditional Puerto Rican ingredients (think fresh seafood, exotic tropical fruits, and Caribbean spices). For a truly memorable experience, opt for the six-course tasting menu, served on the terrace (complete with Atlantic Ocean views).

Cafe Berlin Located across from Plaza Colon, Café Berlin is an upscale restaurant offering international cuisine with many vegetarian selections. Notable dishes include strawberry banana soy "steak," coconut tomato tofu, and eggplant milanese.

José Enrique - A honeymoon on Puerto Rico isn't complete without a meal at the namesake restaurant from Puerto Rico's most famous chef—that is, if you can get in. The simply designed interiors belie the trendy address (in the San Juan neighborhood of Santurce) and the modern Puerto Rican fare (don't miss the signature fish dish, paired with sweet potato mash and papaya avocado salad).

Gallo Negro - Up-and-coming chef Maria Grubbe blends Turkish, Japanese, Catalan, and Korean influences at this industrial-chic spot in Santurce.

Lote 23 - If eating a little bit of everything is your ideal kind of meal, beeline to this outdoor quasi-food hall. It's filled with stalls from different vendors from across the island, plus two Airstream trailers serving everything from tacos to doughnuts.

La Factoria - There's no better place to end a night on the town than at the salsa bar where the popular "Despacito" music video was filmed. Hopefully your dance moves are as smooth as the Lavender Mule and the Spiced Old Fashioned.

Caficultura - Don't miss breakfast at this fabulous coffee house off Plaza Colon in Old San Juan. Snag a table with a view and take in the charming ambiance while indulging in menu standouts like coconut French toast. 
Getting There and Around
San Juan's Luis Muñoz Marín International Airport (LMM) is just a four-hour flight from the East Coast (five from the Midwest and Texas). Most domestic and international airlines offer direct flights, and no passport or customs clearance is required. Once you land, it's a short ride by taxi, shuttle, or rental car to popular areas, such as Isla Verde and Condado.