Whether you're seeking unique adventure activities or relaxing days lounging under a swaying palm tree, the Dominican Republic offers a little bit of everything for honeymooners. With white-sand beaches, inexpensive but luxurious resorts, and impressive natural attractions, the options are practically endless. Go for the unparalleled shopping, water sports, historical sites, or impressive resort offerings. But no matter what you plan, newlyweds will likely find this one-of-a-kind destination to be the perfect place to spend their first days together as a married couple.
The Dominican Republic is part of the West Indies island group and located in the Caribbean Sea. Also known as the island of Hispaniola, the land was first discovered by Christopher Columbus on his first voyage to the New World. Today, two countries share the entire island and both have distinct languages and cultures. The western third is French-speaking Haiti and the eastern two-thirds is Spanish-speaking Dominican Republic.
Meanwhile, the Dominican Republic is home to the two highest peaks in the Caribbean, the twin peaks of Pico Duarte and La Pelona in the Cordillera Central Mountain Range. Vegetation includes dry tropical forest in the west and humid subtropical forest in the central mountains. The country is also known for its palm trees and fruit trees, plus huge plantations of citrus and orchards in the lowlands.
Tourism is the main engine of growth for the economy and mega resorts are now well accepted across the country, especially along the coastal areas. The Dominican Republic is also a great spot for outdoor enthusiasts, as rafting, hiking, and mountain biking are widely enjoyed in the interior sections.
More than 4 million people live in the historic capital city of Santo Domingo. It usually takes 4-5 hours by car to get to any of the resort areas from here. Highways and roads are generally good in and around the city, but vary elsewhere around the country.
Peak tourist season is between June and August and Mid-December and Mid-April. At this time, you'll typically find the most visitors and the highest prices at resorts and restaurants. Low season is April to June and August to December. The weather year-round is nearly perfect, tropical and hot with temperatures averaging between 70 and 88 degrees. Along the coast, gentle sea breezes typically keep things quite comfortable.
In terms of highly recommended destinations in the D.R., the top vacation spots include Puerto Plata, Punta Cana, and the Samana Peninsula. Puerto Plata is a historic and scenic shipping town located on the north coast. Just 15 minutes from the Puerto Plata airport is Playa Dorada, home to 15 all-inclusive resorts, 4,000 rooms, plus a shopping center, and golf course. This tourist zone has plenty of lounge chairs, breezy palm trees, water sport activities, and merengue music filling the air. Tip: It tends to rain a bit more during the winter in Puerto Plata, so if you want fun in the sun, your best bet might be Punta Cana.
Situated along the far eastern shores of the country, Punta Cana offers some of the world's greatest strips of beachfront. It's also well known for its all-inclusive resorts, perhaps the largest concentration in the entire Caribbean. The beaches here are wide with white sand and are generally safe for swimming year-round with its calm, smooth, shallow waters. This area also receives some of the least rainfall in the entire country.
Located in the northeast section of the country, Samana features one of the country's most beautiful landscapes. The area is not very developed, so expect remote beaches, waterfalls, tropical forest, plus a handful of top resorts. The area is also home to the falls at El Limon and unparalleled whale watching during the winter season.
What to Do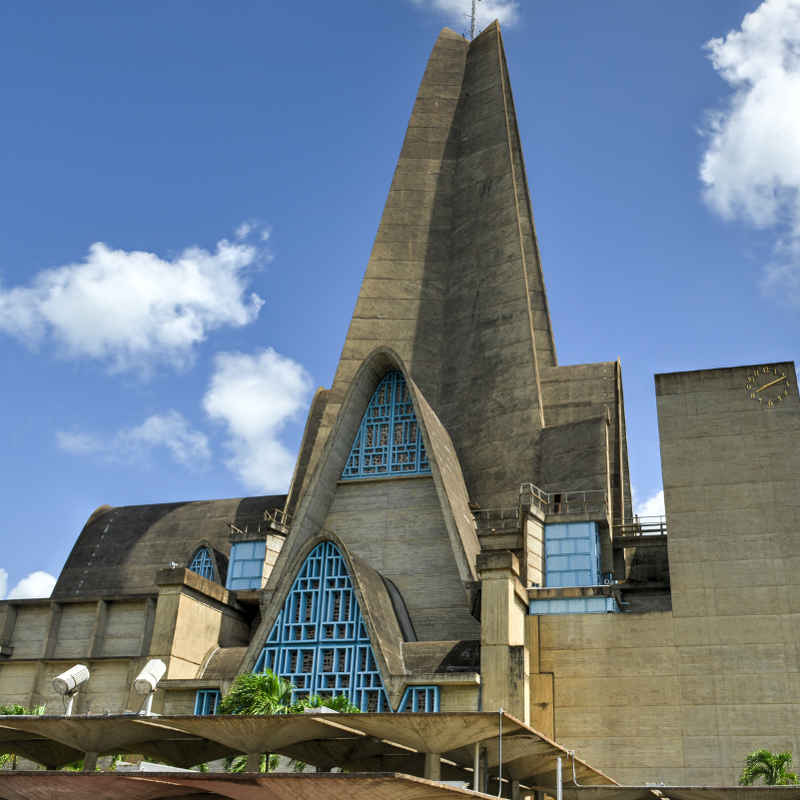 Caribbean Water Sports Activities — Punta Cana is ideal for a plethora of water sport activities like kayaking, catamaran sailing, windsurfing, snorkeling, scuba diving, and deep-sea fishing. Big game fishing is excellent, so look forward to catching some marlin, yellowfin tuna, and barracuda. First Class Fishing – well regarded by locals and tourists alike – is actually the first deep-sea fishing operation established in Punta Cana.

Meanwhile, the coastal areas are abundant in healthy reef action and home to colorful fish, underwater sea caves, and mountains. Couples interested in snorkeling and kayaking excursions should look toward Marinarium Excursions or the Punta Cana Explorer.

In addition to our recommendations above, check with your hotel to see which water sport activities are offered nearby and how you can take part.

Beaches of the Dominican Republic — The Dominican Republic draws millions of visitors each year thanks in part to its spectacular beaches. The Punta Cana/Bavaro Beaches stretch for more than 20 miles, and are soft, wide, and perfect for swimming. On the Samana Peninsula, Playa Rincon is one of the world's finest strips of sand. With giant cliffs as the backdrop, smooth turquoise waters prevailing, and a sense of remoteness and timelessness, it's truly one of the country's most unique and unforgettable places.

World Class Golf — It's easy to see why golf is one of the Dominican Republic's top attractions. With excellent year-round weather, varied terrain that includes hills and coastline, and a number of first-class courses, it's a can't-miss Dominican Republic experience. With eight holes directly on the ocean, Punta Espada golf course in Punta Cana remains a gem of the Caribbean. Meanwhile, Bavaro Golf Course (Punta Cana), Playa Dorada Golf Course in Puerto Plata, and Teeth of the Dog at the Casa de Campo are all internationally renowned and conveniently located.

Horseback Riding — Horseback riding has been a longtime favorite activity of visitors to the Dominican Republic. Depending on where you're located while on your honeymoon, there are a number of itineraries to choose from, each offering something a little bit different than the next.

For instance, choose from interior trails that go beside waterfalls, up and down mountains, and through farms and forests. Or instead, go for a ride in the coastal areas, whether on the beach or under a starry sky. First, see if your resort offers any horseback riding. If not, look to set up an excursion through El Rancho, El Pat Ranch, or Rancho RN-23 in Punta Cana.

Whale Watching — The Dominican Republic is considered one of the world's best places for whale watching. Each year, thousands of humpback whales migrate to the waters of the Dominican Republic to mate and give birth. The Silver Bank reef system, about 75 miles NE of Puerto Plata, is a popular whale watching location.

Also, Samana Bay is a terrific spot to see these great mammals up close. The region has long been a rendezvous spot for humpbacks and a number of local companies offer excursions for visitors. For an unforgettable experience, be sure to book with Victoria Marine.

Exploring Samana — The Samana Peninsula consists of a finger of land that juts out to the east of the country. This peninsula features a forested, hilly ridge that runs down the middle, while the shorelines offer picturesque bays and coves. This area is quite ideal for whale watching in the winter and more active pursuits, like hiking on a deserted beach along the northern coast.

Don't miss out on a trek to El Salto del Limon (The Waterfalls at El Limon) or a chance to explore Parc National Los Haitises with its caves and sub-tropical forest. The beaches here are excellent, especially Playa Rincon, which is often hailed as one of the world's best. Finish your trip with a visit to the pleasant seaside town of Samana.
Where to Stay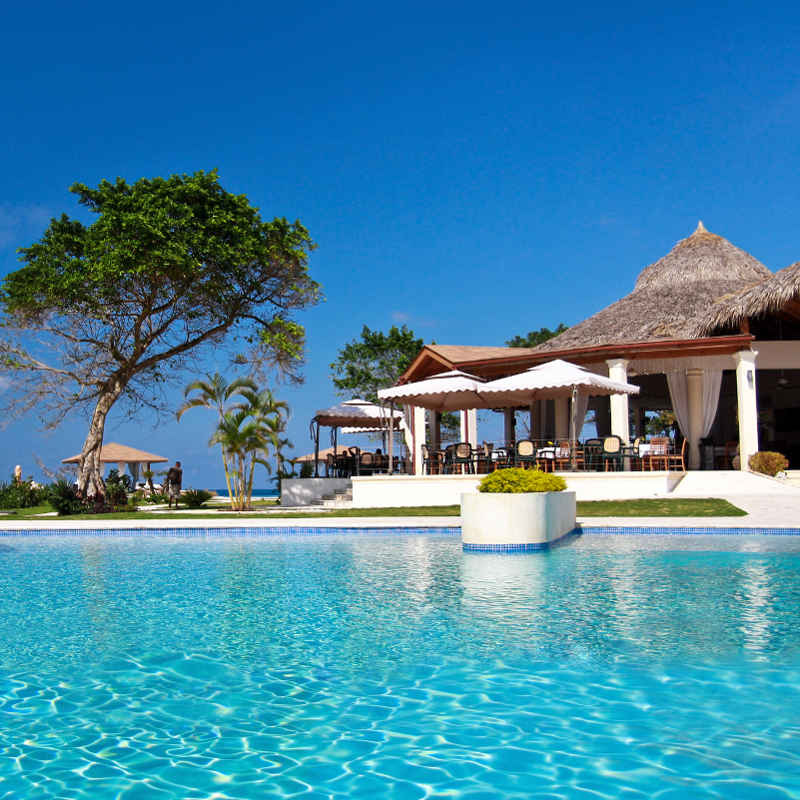 Where to Eat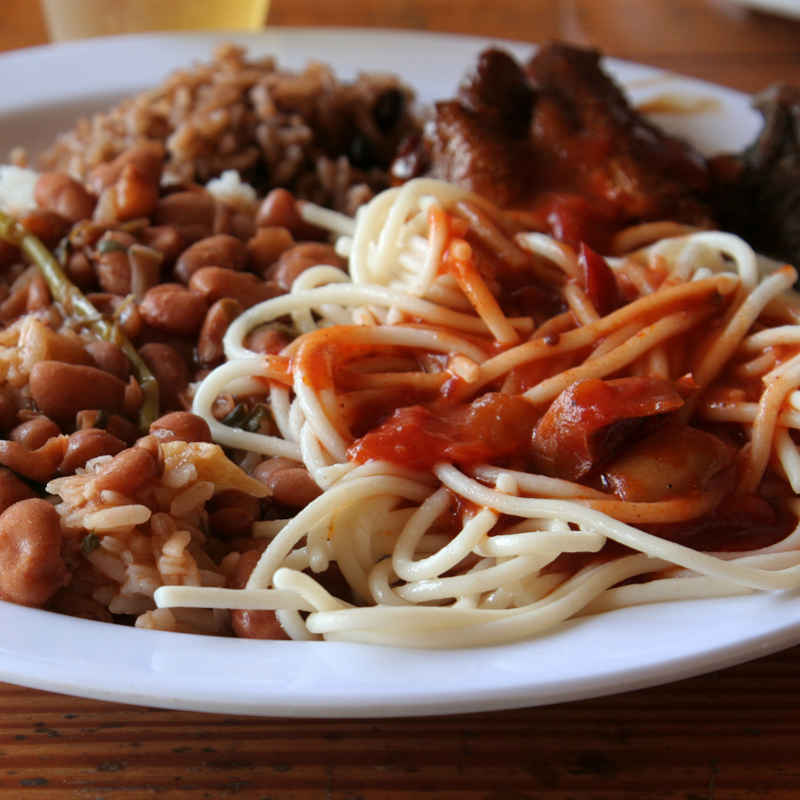 Jellyfish Restaurant - A can't-miss destination noted for its fresh fish and shellfish dishes. Meanwhile, with its gorgeous decor (featuring stone and palm-thatched roofs) and terrific lighting at night, newlyweds will be absolutely enthralled with the setting.

El Conde - A lovely, casual cafe serving traditional Dominican cuisine in the heart of the Colonial Zone in downtown Santo Domingo. The ambiance is terrific, especially if you can snag a table outside at the restaurant's tree-shaded patio. 

La Yola - This Punta Cana favorite merges Mediterranean and Caribbean flavors in an incredible seaside setting. Modeled after a fishing boat, the restaurant is situated right along the water in a thatched-roof building. Also, don't miss the glass floor window for a glimpse at the sea life below.
Getting There
Your best bet for arrival/departure will be Punta Cana International Airport (PUJ). All non-stop routes to/from Punta Cana include New York, Atlanta, Miami, Boston, Charlotte, Chicago, Philadelphia, Pittsburgh, and St. Louis.