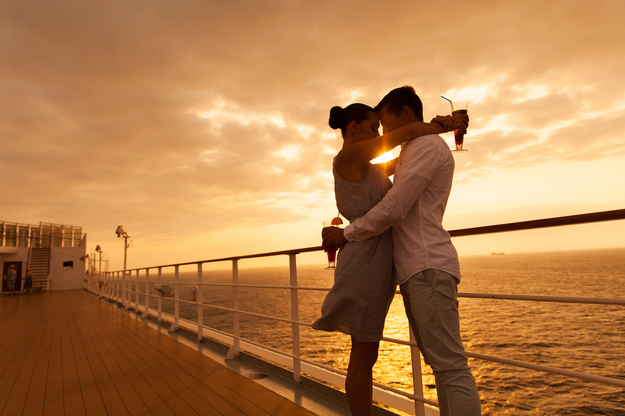 Europe is a timeless choice for a honeymoon. It offers diverse destinations that are rich in history and culture, filled with breathtaking landscapes, incredible beaches, and beyond. A European cruise combines hassle-free access to these spectacular destinations with the luxurious amenities and comforts of a modern cruise ship. Below, we detail seven of our absolute favorite European cruise lines.
Already in love with Europe but haven't given a cruise much thought? We can help you decide if a honeymoon cruise is for you. If you're ready to set for the seas on a dream ship, then pack your bags, lay out your plans, and start your honeymoon registry today.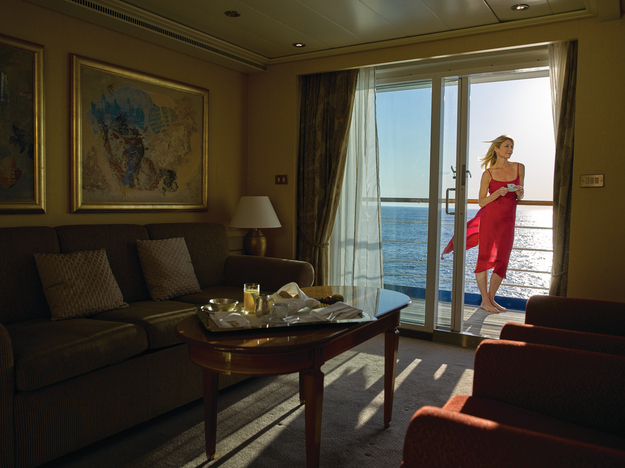 Spacious, private balconies are just one of the perks of choosing Silversea for your honeymoon.
One of the best luxury, all-inclusive cruise lines for a European honeymoon.
This luxury cruise liner prides itself on personalized service. Small ships (typically less than 600 passengers) keep the overall vibe very intimate and laid-back. Gourmet dining, dance classes, live theater and movie screenings, a cozy library, and grand casino are just some of the onboard offerings throughout its line of ships.
Generously sized, ocean-view suites - each with personal butler service - are well worth the splurge. Unlike some cruise lines, all-inclusive with Silversea means absolutely no up-charges. Enjoy everything to your heart's content.
Silversea's Mediterranean cruises visit the region's must-see destinations, from Lisbon and Barcelona to the Greek Islands and beyond. For some medieval flavor with visits through the continent's scenic countrysides, choose one of Silversea's Northern Europe and British Isles cruises. With destinations like Dublin, London, Amsterdam, and Stockholm, you'll get to experience many of the continent's most scenic capital cities in effortless luxury.
All-suite, all-balcony, all-inclusive; this cruise line is a honeymoon must.
Regent is a zero-compromise favorite cruise line for honeymooners. Its impressive fleet of luxury ships sails throughout northern Europe and the Mediterranean. Itineraries highlight Europe's most magical destinations, from the fjords of Norway to the countryside of Tuscany.
Best of all, Regent includes off-shore excursions, so you can count on a packed itinerary filled with local knowledge and one-of-a-kind thrills. After days of adventure in and around lively ports, returning to your suite's private balcony and watching the sea move is sublime. Gourmet restaurants, a top-notch fitness center and spa, award-winning theater, and a massive swimming pool are just some of its ships' onboard attractions.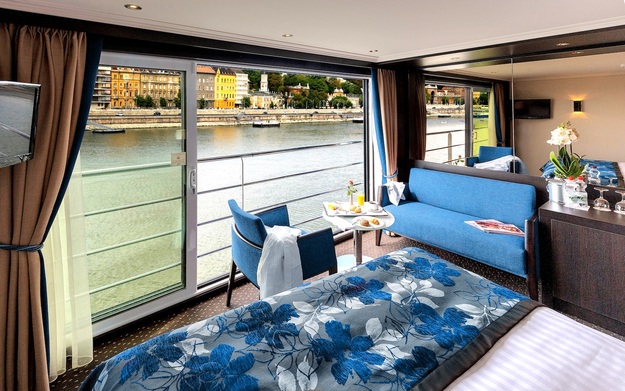 Check out Europe's most famous city sights from the comforts of a honeymoon room with a view.
Explore the great rivers of Europe on your honeymoon.
Rivers have historically been anchors for civilization. Get acquainted with Europe's most famous rivers for a unique perspective on the countries that they flow through. Avalon Waterways runs cruises across the Danube, Rhine, and Rhône rivers through incredible destinations like Croatia, Austria, France, Germany, Switzerland, and more. And remember - days "at sea" are actually days on the river. City skylines, historic castles, and sweeping vineyards will float in and out of view at a leisurely pace.
Avalon is a go-to choice to experience European cities a bit more intimately. Plus, honeymooners love how laid-back the onboard staff is. The crew is professional, but are proud to wear smiles as opposed to white gloves. We love the panoramic room windows which open up and turn your entire suite into a balcony. Everybody should get to see Europe like this at least once in their life.
Smaller ships lead to bigger honeymoon adventures with Azamara.
Azamara's three ships are each goldilocks-sized for a romantic honeymoon. Not too large where you might get lost or feel overwhelmed by other passengers. Not too small where you might feel underwhelmed with amenities. They're just right. Mid-sized ships allow for personal service from the crew and welcome interactions with fellow voyagers.
Most importantly, the modest size of Azamara's ships allows them to dock even closer to marquee destinations. You can sail into the city center of Bordeaux, the heart of Seville, and all through the Amalfi Coast.
Extended stays at exotic destinations combined with an array of on-shore expeditions really set Azamara apart from the pack. You'll never feel rushed, and your overall interaction with each destination is enriched through immersive cultural tours and adventurous excursions. Back on board, the Nights in Private Places package is perfect for honeymooners that fancy a truly special evening under the stars.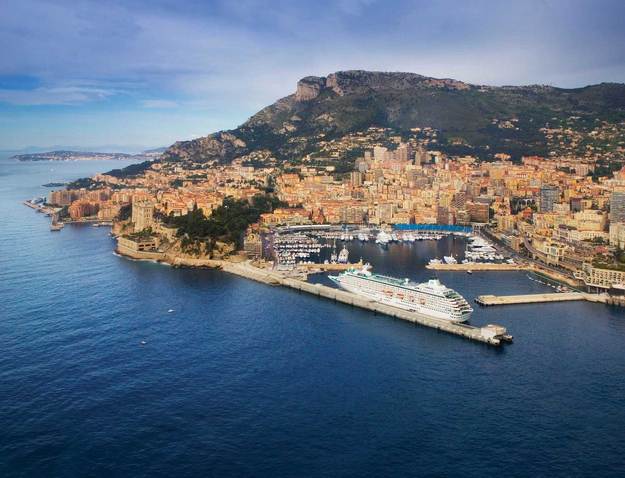 Monte Carlo is an exotic Mediterranean destination to visit on your honeymoon.
Tailored honeymoon luxury across European seas and rivers, plus an ultra-exclusive mega-yacht.
Six-star service, spacious and elegant interiors, and Michelin-level dining; Crystal Cruises is considered by many to be the premier honeymoon cruise liner. Two ships - the Crystal Serenity and Crystal Symphony - host itineraries which visit over 20 European nations. Round-the-clock room service, a renowned spa and fitness center, and endless entertainment options await onboard. Once ashore, Crystal offers a slew of adventures ranging from overnight cultural experiences to voluntourism opportunities.
Looking to immerse even deeper with your European destinations? Crystal's river cruises float through major European cities, and come with included curated destination experiences. 24-hour butler service onboard is always a welcome touch, ensuring that you'll have anything you could possibly want throughout your trip.
For the ultimate honeymoon splurge, consider a trip aboard Crystal's Esprit yacht. With just 31 suites onboard and more than 2 staff members to each onboard passenger, the yacht offers sophisticated excursions throughout the Mediterranean and Adriatic. Yacht life might suit your honeymoon more than you may have thought.
All-around honeymoon pleasure from one of the biggest names in cruising.
Norwegian combines great accommodations with world-class entertainment and deliciously gourmet cuisine, all at an affordable cost. A "freestyle" approach lets honeymooners eat whenever and wherever, while romance packages are particularly enticing for newlyweds that appreciate being pampered (we do indeed prefer our breakfast in bed).
Voted Europe's best cruise line for nearly a decade running, Norwegian knows how to host happy honeymooners. Ships sail all throughout Europe, and a multitude of Transatlantic routes are available if you'd like to cruise across the pond (and extend your overall experience to 12+ days). Keep an eye for regular promotions which range from free airfare to your European destination to unlimited specialty shore excursions or straight-up price discounts.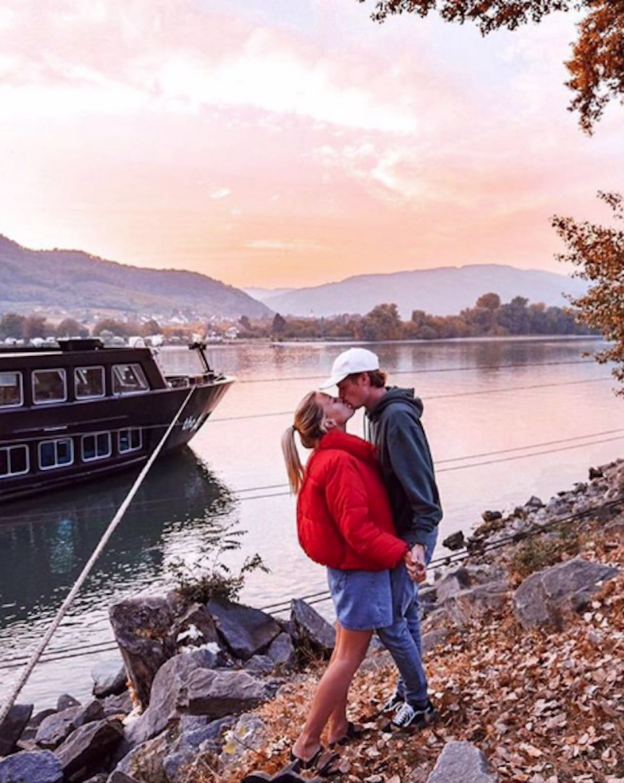 Photo: @wanderersandwarriors



What could be more romantic than floating down European rivers for your honeymoon?
A sleek, river cruise line that is designed for honeymoon delights and inspired by you.
U is a river cruise line that is directly aimed at millennial travelers. From the style of its matte-black ships to the onboard activities like silent disco, rooftop yoga, mixology classes and more, U is fresh and fun, and might just be the honeymoon cruise you never knew you needed.
Their two ships are lavish - part boutique hotel, part yacht, part local hotspot - and exclusively travel through Europe. Traversing across 3 rivers through 7 countries, couples can explore places like Germany, Slovakia, Austria, and Hungary. The food is inspired, the accommodations are luxurious, and fellow passengers - which err towards millennial - will likely become your friends.

In case you missed it:
The Top 10 European Honeymoon Destinations
The Top 7 Honeymoon Resorts in Provence and the French Riviera