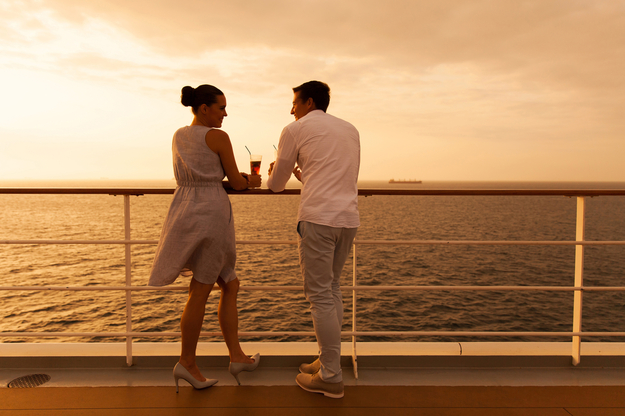 To cruise or not to cruise?
The thought of sailing away from the stresses of a wedding ceremony is certainly appealing, but is hopping aboard a luxury cruise ship the right move for you?
Allow us to detail some of the most important attributes that a honeymoon cruise entails to help you decide.
Stress-Free Planning
Odds are, you're probably tired of planning after all the careful coordination required to pull off a perfect wedding. Fair to say, then, that your fairy-tale honeymoon should be a break from it all - planning included!
Simply book your cruise, buy airplane tickets to the departure destination, and begin your one-of-a-kind getaway - cruises are a breeze to budget for. No tricky train transfers, hungry hunts for Michelin-starred restaurants, or language barriers to navigate here; just a premium cabin, fabulous meals, and the best of activities and entertainment all waiting to be enjoyed. Sprinkle a few additional perks (like a luxurious spa package, premium beverages, or a private dinner) into your registry, and you'll be drifting off into a sea of bliss before you've even packed your bags. Talk about sweet relief.
If you want to simplify things even further, consider a honeymoon cruise with Regent Seven Seas. The luxury liner is the best across the seven seas at including amenities, with everything from Wi-Fi and meal gratuities to round-trip airfare and off-shore excursions included in their flat rates.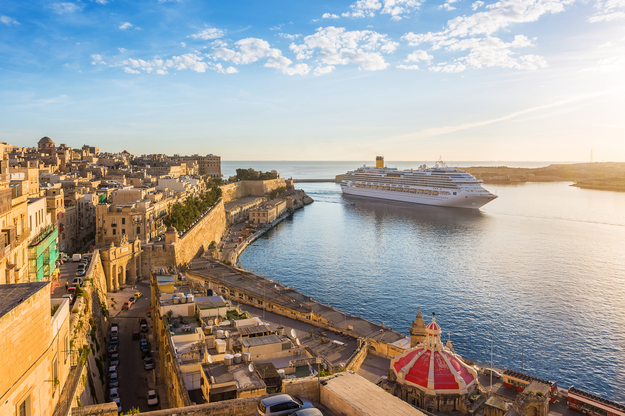 Destination-Hopping
Sometimes the trickiest part of planning a honeymoon comes is deciding where to go. While the destination debate may still live on, cruising may help settle the indecision by crossing off multiple destinations within a single trip.
Having trouble deciding between Greece and Italy, Peru and Chile, or all of the Caribbean Islands? Book a cruise to any of those respective regions, and you may not have to choose. Most journeys don't spend very many days out at sea, so even on a one-week cruise you'll be able to experience the flavors of four or five different destinations (and you'll only have to unpack your bags once). While the time at each port may be brief, cruising will always be an incredible value of both time and money as a means to sample unique locations. Plus, if you fall in love with a particular place and wish you could stay longer, you can always return for an anniversary trip knowing what to expect.
Looking for exotic destinations in far-flung locations? Smaller cruise ships typically provide access to lower-traffic ports in impressively hidden places, like picturesque Scandinavian towns, the pearls of Arabia and India, and even the frigid Antarctic coast. Seabourn practically pioneered the small-cruise movement and continues to enrich and expand on their offerings with increasingly indulgent ships sailing to all corners of the globe.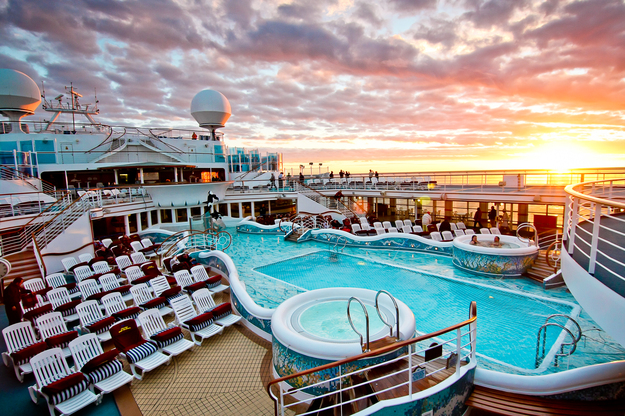 Endless Activities
For many, marriage is a major moment of realization that adulthood is here to stay. For most, a cruise is the perfect place to let the kid inside of you come out and play. Multiple swimming pools, engaging dance classes, lively casinos, outdoor cinemas, and full-scale theaters are practically standard fare among many modern cruise ships, while skydiving simulations, surf lessons, and virtual-reality experiences are popping up across newer fleets. There's never a dull moment aboard ship, and even if you prefer your onboard activities to be more pamper and less play, a soothing steam, peaceful stargaze, or indulgent couples massage is never too far away.
With over 25 ships in its fleet (including the four largest in the world), Royal Caribbean is a sure bet for the very best of onboard entertainment and thrills. Everything from ship-wide slides to zipline courses, climbing rock walls, robotic bartenders and more ensure that there's something engaging to see and do at every turn.
Other Passengers
Honeymoon or not, anybody who has ever cruised can tell you that your shipmates can make or break the entire experience. On the plus side, sharing the ship's grounds and unique experience creates a level of intimacy among passengers which can lead to long-lasting relationships. While the thought of strangers crashing your honeymoon might sound horrendous at first, you'll dine, laugh, story-tell and maybe even go on date nights with other couples throughout out the entire trip - and you might even like it. Many couples return from their cruises having forged new friendships that can stand for years.
On the other hand, the inescapable truth is that you'll be aboard this ship with hundreds or thousands of other passengers, many of whom are looking to do the same things at the same times that you are. You can typically count on kids, queues, and a bit of chaos when docking at the port - this is no afternoon picnic or casual stroll down a quiet cobblestoned street, and the sooner you grasp that, the better your honeymoon planning will be. If ever you do find yourself in need of some downtime or are craving a romantic moment, the privacy of your sea-view balcony and the serenity of a world-class spa treatment is always available.
All three of the ships which make up Azamara Club Cruises' entire fleet could pass for opulent boutique hotels if they were docked on land. Sailing with them is truly a best-of-both-worlds approach where the comforts of state-of-the-art ships are combined with extended stays at exotic destinations, enriched with immersive cultural tours. If the proximity to fellow shipmates has you seriously debating a honeymoon cruise, consider the Nights in Private Places package for a secluded evening of dining by candlelight followed by swimming and sleeping in a luxurious canopy under the stars, just the two of you.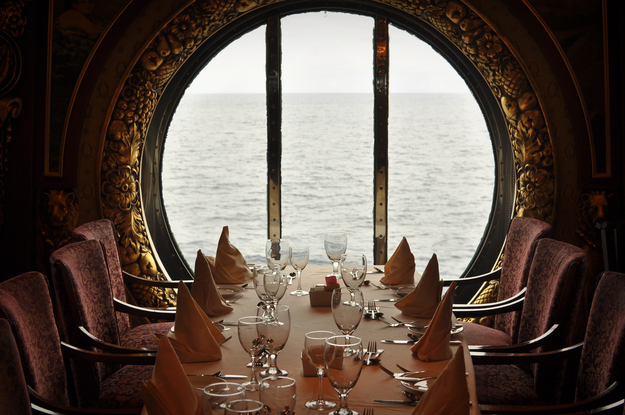 Foodie Paradise
Cruise cuisine might be reason enough alone to warrant considering a luxury liner for your honeymoon. The winning combination of creativity, availability, and sheer eatability of the food on board will typically outweigh even the best of any dry-land resort. For familiar flavors and adventurous palates, everything from burrito bars and steakhouses to pizzerias, celebrity-chef-run restaurants, and 24-hour room service ensure that you'll eat well (and often) on a cruise. Expect beautiful dining rooms for formal sittings along with all-day buffets of international foods, perfect for remedying midday hunger pangs.
If food is of the utmost importance, consider sailing with Celebrity Cruises. The liner is reputed for putting an industry-leading amount of effort into their food offerings. This promises that you're in for a true dining treat, whether eating in any one of the ships' specialty restaurants, sampling wines to whiskeys, or even partaking in culinary workshops. Head to the rooftop terrace for "A Taste of Film," a wholly unique experience which serves passengers multiple courses based off of food-relevant Hollywood cinema. Throughout the meal, the films which inspired the deliciously themed cuisine are screened on a jumbo screen under the stars.

In case you missed it:
The Best Honeymoon Destinations for Each Month of the Year