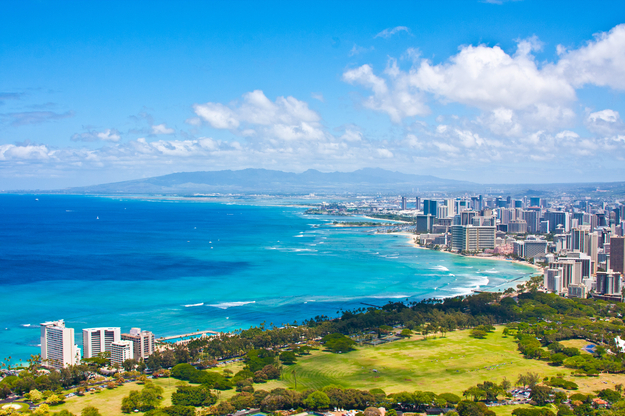 The Hawaiian island of Oahu is one of the world's top honeymoon destinations.
With incredible beaches, unique cultural attractions, world-renowned historical sites, top-notch resorts, and amazing scenery, it's easy for newlyweds to embark on a once-in-a-lifetime honeymoon. From big-city attractions to remote adventure pursuits, the possibilities are endless on Oahu.
To help you sort through the options, we've narrowed down the top 30 things to on your Hawaii honeymoon. After you've chosen your favorites, start building your dream honeymoon registry today.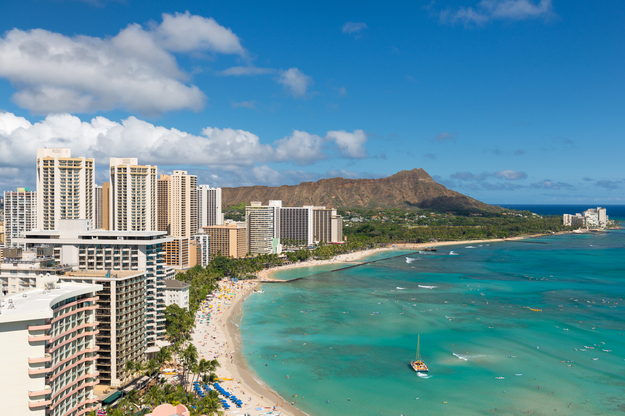 1. Drink signature Mai Tais at sunset at Halekulani's House Without a Key.
2. Enjoy a romantic honeymoon dining experience at Roy's Waikiki.
3. Head to iconic buildings and museums like Iolani Palace and Byodo-In Temple.
4. Eat shave ice on the North Shore at Matsumoto's.
5. Snorkel Hanauma Bay, home to an underwater park teeming with fish and colorful coral reef.
6. Take a stroll along one of Waikiki's famous beaches.
7. Explore the North Shore, famous for its waves, laid-back vibe, and gorgeous scenery.
8. Hike the lush Manoa Falls Trail, just 6 miles from Waikiki Beach.
9. Visit boutiques in downtown Honolulu like Kealopiko and Hound & Quail.
10. Go to Kaka'ako Farmers Market to see up close the island's wonderful agricultural offerings.
11. Listen to music at a jazz club in downtown Honolulu.
12. Indulge at local dining institutions such as Giovanni's Shrimp Truck and Leonard's Bakery (the malasadas are truly divine).
13. Dine at Alan Wong's Honolulu, offering the finest Hawaiian regional cuisine.
14. Order the omakase at Sushi Sasabune.
15. Go hiking at famous Diamond Head Crater.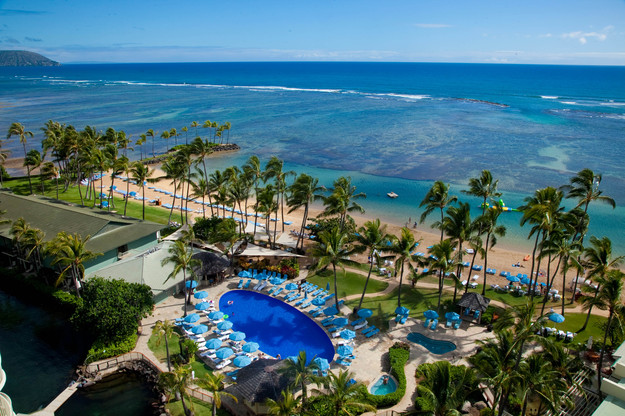 Courtesy of The Kahala Hotel & Resort
16. Swim with dolphins at The Kahala Hotel & Resort.
17. Learn about a key moment in US history by visiting the Pearl Harbor National Memorial.
18. Grab a paddle and go kayaking at Kailua Beach.
19. Ride the waves of Oahu with a surfing lesson.
20. Head to Kapiolani Park, home to Waikiki Aquarium, the Honolulu Zoo, and Waikiki Shell with its epic concerts.
21. Go to an authentic, seaside luau at Paradise Cove.
22. Visit the Bishop Museum for an extraordinary look at Hawaii's unique culture and heritage.
23. Drink up at a local brewery like Lanikai Brewing Company and Aloha Beer Company.
24. Watch the sun dip below the horizon on a scenic catamaran cruise.
25. View sea caves, dolphins, and volcanic coast at Kaena Point.
26. Dip your toes in golden sand by visiting one of Oahu's top beaches (we can't get enough of Kailua Beach).
27. Get your adventure on through a UTV tour of gorgeous Kualoa Ranch.
28. Soak in the views at Makapu'u Lighthouse.
29. Watch pro surfers ride enormous waves at Banzai Pipeline.
30. Experience Oahu's top zipline adventure.
Don't miss our Oahu honeymoon destination guide for more inspiration, including our top hotel and restaurant recommendations.
In case you missed it:
The Ultimate Guide to Planning a Hawaiian Honeymoon
These are the Best Oahu Restaurants for a Memorable Honeymoon Meal
Top 10 Things We Love About a Honeymoon in Hawaii (Oahu Edition)