For decades, Oahu has been at the top of honeymoon travel wish lists. Indeed this idyllic locale has a little bit of everything -- iconic sites, big city attractions, sandy beaches, top-notch resorts, excellent dining, and one-of-a-kind outdoor pursuits. But when it comes to the best of the best, these 10 things rank at the top of the list for a honeymoon getaway to the island.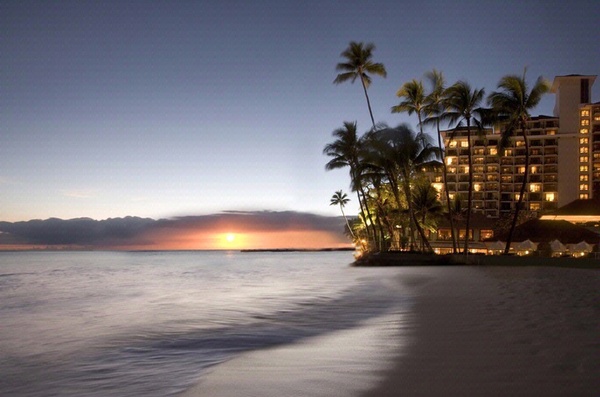 Sunset Cocktails. Especially with unforgettable venues like Halekulani's House Without a Key. Grab a table under the giant Kiawe tree, order two signature Mai Tais, and enjoy traditional Hawaiian music and dancing as the sun dips below the horizon. Truly an ultimate Oahu experience.
Being Out On the Water. Whether swimming, sailing, snorkeling, or via kayak, catamaran, or outrigger canoe, there's a lot to explore once you leave dry land. Meanwhile, the view of Honolulu and the Waikiki skyline from the water will remain etched in your mind.
The North Shore. With the laid-back vibe, gorgeous terrain, legendary beaches, and monster waves during the winter months, it's hard to ever leave this part of paradise.
Local Dining Institutions. It's always a thrill to head off the beaten tourist path and pursue out-of-this-world foodie spots like Giovanni's Shrimp Truck, Heeia Pier General Store & Deli, and Leonard's Bakery (the malasadas are heavenly).
Strolling Along Waikiki Beaches. There's no other stretch of beachfront in America quite like it. Soak in views of the glimmering Pacific Ocean, famous Diamond Head crater, breezy palm trees, and inviting grounds of towering luxury hotels.
Shave Ice. This tasty treat is a must for any visitor to Hawaii. Up on the North Shore, Matsumoto's Grocery Store is arguably the most famous, while Waiola Store is a best bet when in Honolulu.
Going from City to Jungle Within Minutes. Less than five miles from the heart of Waikiki, the Manoa Falls Trail leads hikers through a lush valley to a beautiful cascade surrounded by rainforest terrain. Definitely a surreal experience.
Countless Historic Places. For the Pearl Harbor sites honoring the 1941 attack, plus many more incredible museums and buildings across the island like Iolani Palace and Byodo-In Temple.
Hanauma Bay. Home to an underwater park teeming with fish and colorful coral reef. This former volcanic crater also features an expansive golden beach, perfect for soaking up the sun.
Honolulu's Attractions. There's plenty to see and do in and around downtown Honolulu. Chinatown stands out with its bustling markets and jazz clubs. New boutiques like Quince are popping up left and right. All the while, frequent farmers markets showcase the island's diverse and delicious agricultural offerings.

In case you missed it:
Real Honeymoon Stories: Best of Hawaii
How to Choose Which Hawaiian Islands to Visit

Photo courtesy of Halekulani