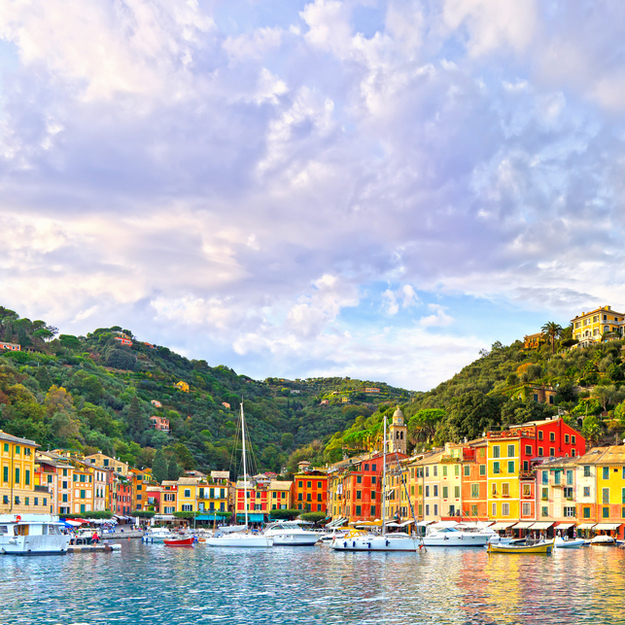 Italy always deserves a spot in the honeymoon conversation. Packed with incredible history, picturesque coastal towns, unmistakably rich culture and the world's most agreeable cuisine, it's undoubtedly a surefire destination for any honeymooning couple.
Whether strolling the cobblestoned streets on a historical sightseeing tour, hiking across colorful cliffside towns or lounging on a remote beach somewhere off the coast, there's so much to see and do in every corner of the country known as the boot.
Follow along for a healthy breakdown of our favorite hotspots to help you decide where to best fulfill your Italian honeymoon fantasy (hint: la dolce vita is everywhere here).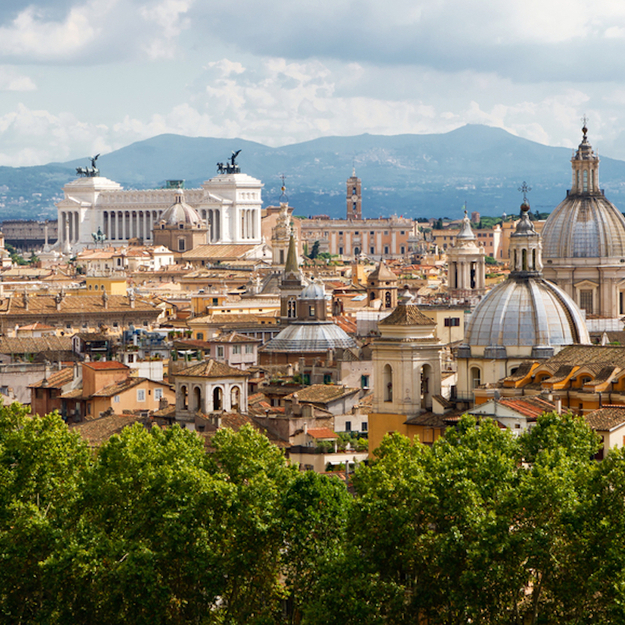 Rome
Ancient Ruins and Urban Romance
Whether your trip starts or ends in Rome, visiting the nation's capital on a honeymoon getaway is always a good idea. A seductive city culture with beautiful buildings around every corner and world-class food galore - what's not to love? Sites like the Colosseum, Vatican, Spanish Steps and Trevi Fountain are architectural marvels and make for easy-enough destinations to motivate you to get out and explore this old city by foot.
Plentiful gelateries, bakeries, cafes, and restaurants will keep you more than satisfied along the way. Watching people pass by while sipping an early evening aperitivo in a public piazza is an unparalleled Italian pastime, and the city's streets stay abuzz with life long after the sun has gone down.
(Read our Destination Guide for a complete breakdown of Rome)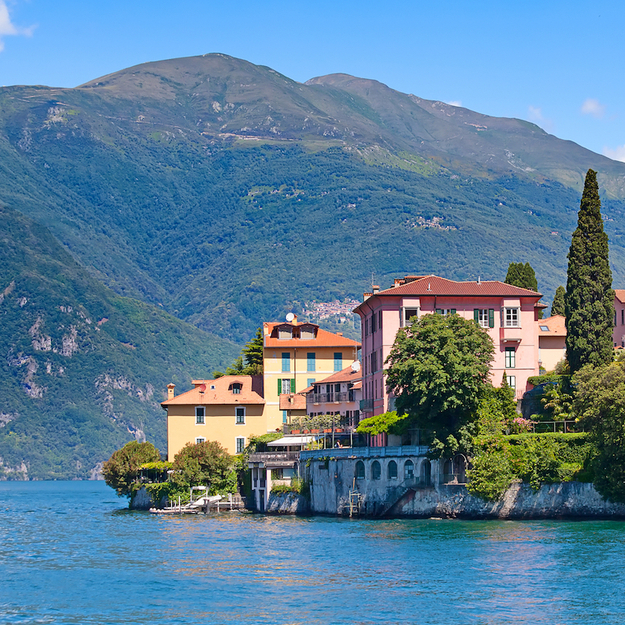 The Lakes of Italy
Lakeside Tranquility and Regional Activity
The twinkling blue waters of Northern Italy's major lakes have long attracted honeymooners and celebrities alike. Take a trip to the lakes to explore fairytale towns along the shores, and the serene Michelin-starred restaurants and luxury hotel resorts that occupy them. Quiet walking paths along the lakes make casual afternoons as romantic as can be, and many ferry docks can zip you from point to point for a quick change of scene. Panoramic views are predictably aplenty and often sprinkled with water sports and motor yachts for lively measure.
In the distance, sleepy villages present opportunities for romantic hikes, wine explorations (of the sparkling kind), and day trips through the charming countryside. Lake Como is easily the most recognized and arguably the most beautiful of the Italian lakes, though Maggiore, Garda, Orta and the lesser-known Iseo all present a comparably paradisiacal setting for a relaxed honeymoon.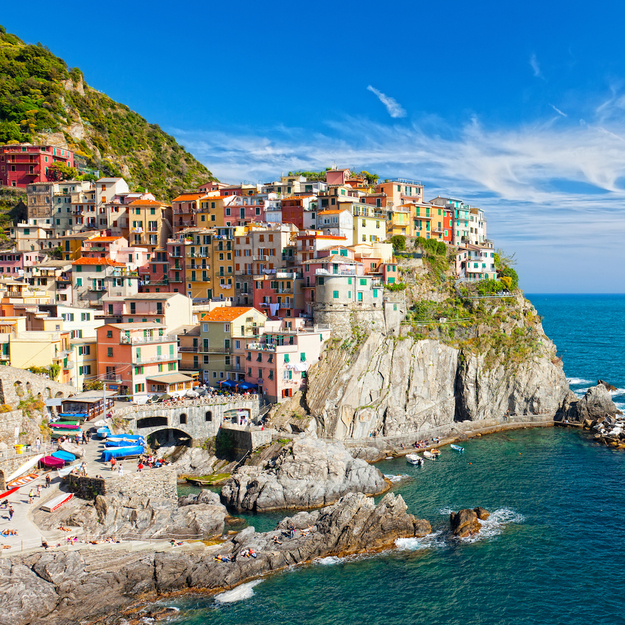 Cinque Terre
Hiking a Compact Beauty
Visit this remote section of the Italian Riviera for a few days of unforgettable hiking, swimming, and natural sightseeing. Cinque Terre is a national park, built primarily of five towns, each hillside along the Mediterranean Sea, and bound together by lush forests and vineyards.
Free from passenger cars, the towns are accessible via a network of trains, and ferries, but hiking the route is the best way to soak in this colorful, coastal gem. Though the full hike can be done in a day, we vote to take it slow, savoring the restaurants and ocean activities in the towns before continuing onward. Buy a combination Cinque Terre card to gain access into Cinque Terre as well as unlimited train rides between the towns, as well as La Spezia and Levanto on opposite ends, each well-worth visiting.
(Read our Destination Guide for a complete breakdown of Cinque Terre)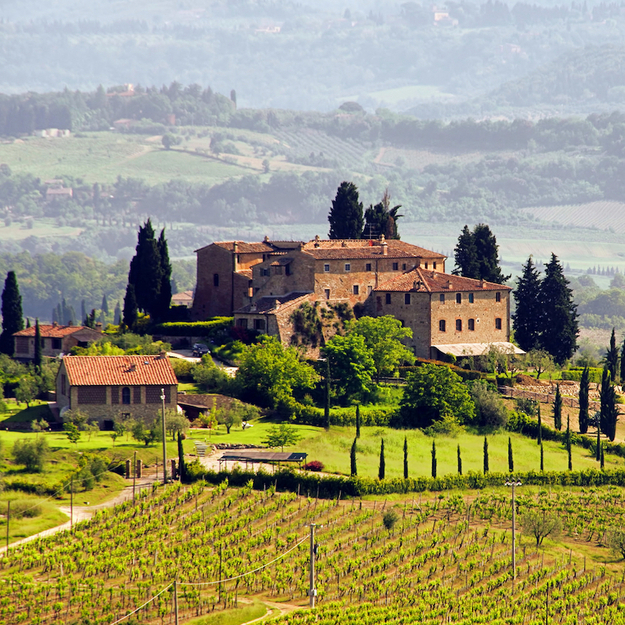 Tuscany
Living in a Picture-Perfect Landscape
Rolling hills of lengthy vineyards and sunflower fields fill the gaps between the medieval towns and artistic cities of this region in central Italy. Tuscany is famed for its peaceful countryside and its capital city Florence, the birthplace of the Renaissance. Looming with classic artworks from Botticelli and Michelangelo among many other greats, Florence is entirely a UNESCO World Heritage Site and has hardly changed in centuries.
Nearby cities like Siena and Pisa can be tacked on by train, but renting a car will give you the most out of your time in Tuscany. Visit Chianti to sip famous wines, or Cortona to conquer any lingering "Under the Tuscan Sun" fantasies. To venture even further off the beaten path, continue driving south into the Umbria region, where you'll find similarly spectacular scenery and amazing foods with less designated tourism.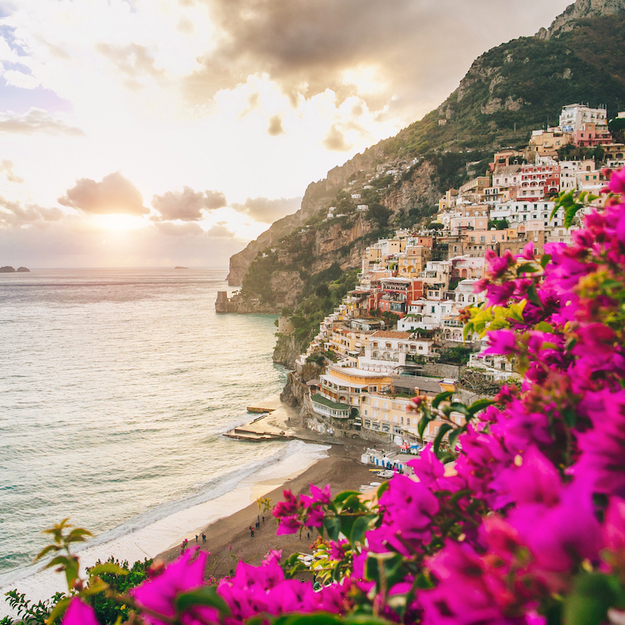 Amalfi Coast
All-encompassing Mediterranean Classic
Gorgeous, seductive, sun-soaked and lemon-scented, the Amalfi Coast captures the best visions of a Mediterranean holiday and packages them into a world-renowned getaway destination. The mountains and the sea most notably define the region's landscape, with abundant hiking trails and an incredible (albeit white-knuckle-inducing) drive connecting the 13 colorful towns all along the coast. The towns are united in beauty and heritage, but manage to stay distinct from each other.
Pastel-colored, picture-perfect homes and an A-list vibe can be found in Positano; beach-centric, small-town feels are abundant in both Praiano and Conca dei Marini; Ravello is revered for its peaceful atmosphere, while Nerano and Sant'Agata manage to stand above the rest as sublime foodie-destinations (do not miss the spaghetti alla Nerano, with fried zucchini, basil, and provolone). Consider parlaying the Amalfi Coast with a day in Naples (the birthplace of pizza) to continue on a self-guided culinary tour, or venture off to Capri, a glamorous island destination packed with beaches and boutiques, and home to the famed Blue Grotto.
(Read our Destination Guide for a full breakdown of the Amalfi Coast)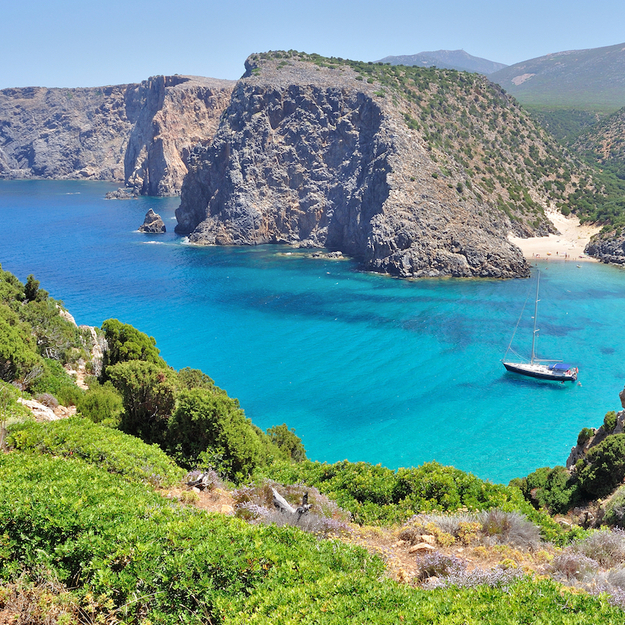 Sicily and Sardinia
Off the Beaten Path (and the Mainland)
If you're the type of traveler that asks where the locals go on holiday, consider honeymooning on one of Italy's largest two islands, Sicily or Sardinia. Bountiful in beaches, sunshine and exquisite cuisine, both are accessible via frequent ferries from the mainland and will present a change in pace compared to more popular mainland destinations. Just west of Central Italy, Sardinia has a dry, mountainous interior, corner pockets with stunning stretches of turquoise sea (often referred to as the Mediterranean's best beaches), and a lively capital town in Cagliari.
In Southern Italy, Sicily (the metaphorical stone that the mainland boot would be kicking) is the largest island in all of the Mediterranean, with developed towns ripe with deep history and a longer operating tourism season thanks to a denser year-round community. Choosing between the two is an endless dilemma; an unfair but easy way to decide would be to boil Sardinia down to beaches and nature hikes, and Sicily to cultural attractions and cuisine. Either way, do as the Italians do, and visit either of these large Mediterranean islands for a more intimate and local holiday experience.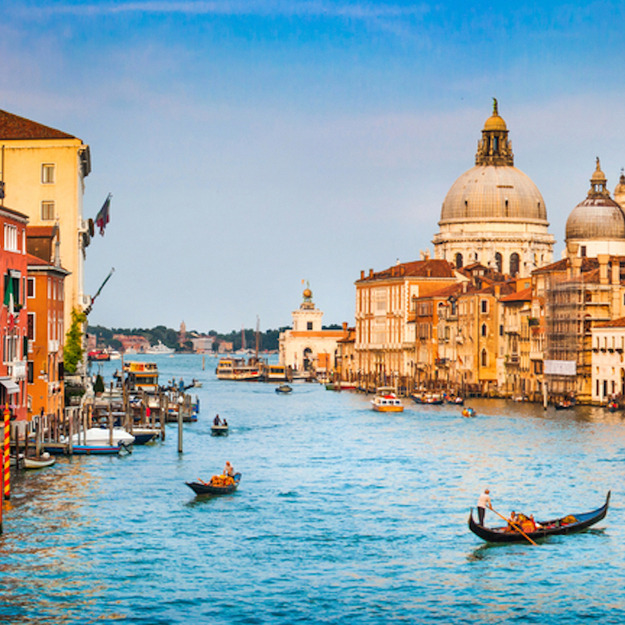 Venice
Canalside Decadence
For a few days of extravagance, add Venice into the mix. Arrive (naturally) by boat, and you'll immediately be swept into the way of life in this ethereal city above the Adriatic Sea. Built of over 100 islands connected by footbridges, with no roads or cars, Venice is a wanderer's dream. Get lost in the narrow streets and piazzas lined with shops and restaurants, and take to the gondolas and water taxis for romantic rides to move about the city in style.
If you want to escape the labyrinth landscape, head to Lido, a nearby island packed with beaches, and easily accessed via 30-minute ferry from Venice. As with any trendy tourist destination, you may feel some resistance to add Venice into your itinerary, with stories of high prices, busy crowds, and unmet expectations. Do it right, and you'll be rewarded: the ideal visit to Venice is short, sweet, and during shoulder season.
KNOW BEFORE YOU GO
Inspired yet? Italy will tempt you no matter where you look, and fortunately, many of the country's most fabulous destinations can be combined to make the most of your time here. Landing in Rome? Take a train up north to Florence and rent a car to explore the Tuscan countryside, or head south to visit Naples before luxuriating along the Amalfi Coast.
Maybe your arrival flight brings you into Milan, in which case you'd be a short trip from canal side strolls in Venice, lounging on Como, or hiking the cliffs of Cinque Terre. A single week can stretch quite far, so have a glance at how to choose a destination and connect the dots to formulate your ultimate Italian holiday.

In case you missed it:
European Destinations for an Affordable Summer Honeymoon
Yes, Your Shoestring Budget Can Still Lead to the Honeymoon of Your Dreams