The Cinque Terre region of Italy is often considered a hidden gem of the country. With its unique blend of historical and colorful hillside towns, gorgeous beaches, sun-drenched vineyards, hiking trails, fantastic restaurants, and fabulous water sports activities, The Cinque Terre is an ideal getaway for couples seeking a complete escape and a honeymoon that will be remembered forever.
The Cinque Terre is a tiny, remote section of the Italian Riviera and situated just west of the city of La Spezia. The region is comprised of five remote villages clinging to the rugged hillsides along the Mediterranean Coast, each thriving since the 16th century through its fishing industry and grape growing. Even today, the villages have retained a sense of authenticity and still feel far removed from the modern world and part of a different era. In fact, you can only get to each town via trail, train, or boat. Passenger cars are not permitted within the towns.
Meanwhile, the five villages – with their pastel-colored homes seemingly stacked on top of each other – and surrounding hillsides are all part of the Cinque Terre National Park. The Cinque Terre is also a UNESCO World Heritage Site. The region is easy going, traffic-free, and doesn't feature any touristy museums or destinations. Quite simply, it's a perfect destination to take it all in and unwind.
The towns that make up the Cinque Terre include Monterosso, Vernazza, Corniglia, Manarola, and Riomaggiore. Riomaggiore is the southern-most village and known to be the top non-resort town of the region. It features a rocky beach, colorful central square, and is nearby to Via dell'Amore ("Love Walk"), a popular hiking trail that clings to the cliff's edge. Manarola has a tiny but postcard-perfect harbor, lovely town square, and a can't-miss vineyard walk.
Corniglia is considered the sleepiest of all Cinque Terre villages and the only one not set on the water. The town has some notable shops, wine bars, and gelato spots (made with local honey). Vernazza is arguably the region's most beautiful town, complete with a harbor/promenade, a beach, excellent restaurants, a castle, and an intriguing main drag. Finally, Monterosso al Mare is the most resort-like town of the group. Enjoy a spacious, sandy beach, numerous late-night offerings, hotels, and historic old town.
In terms of weather and anticipated temperatures, the Liguria Coast can be quite warm during the summer season. July and August provide the highest temperatures of the year in the Cinque Terre, with average highs frequently hitting the low-to-mid 80s. Low temperatures average in the mid-to-upper 60s at this time of the year. Precipitation wise, the region experiences frequent rain showers during the spring and fall but is typically dry during the summer season, perfect for grape growing on the terraced hillsides.
As far as the best times to visit, peak season is from May to September and offers the longest hours and most extensive slate of activities. However, this period is the busiest of the year for visitors to the region – especially weekends as day-trippers clog the streets and beaches. Weekdays during May, June and July are quite ideal with fewer crowds, plenty of activity, and perfect weather.
What to Do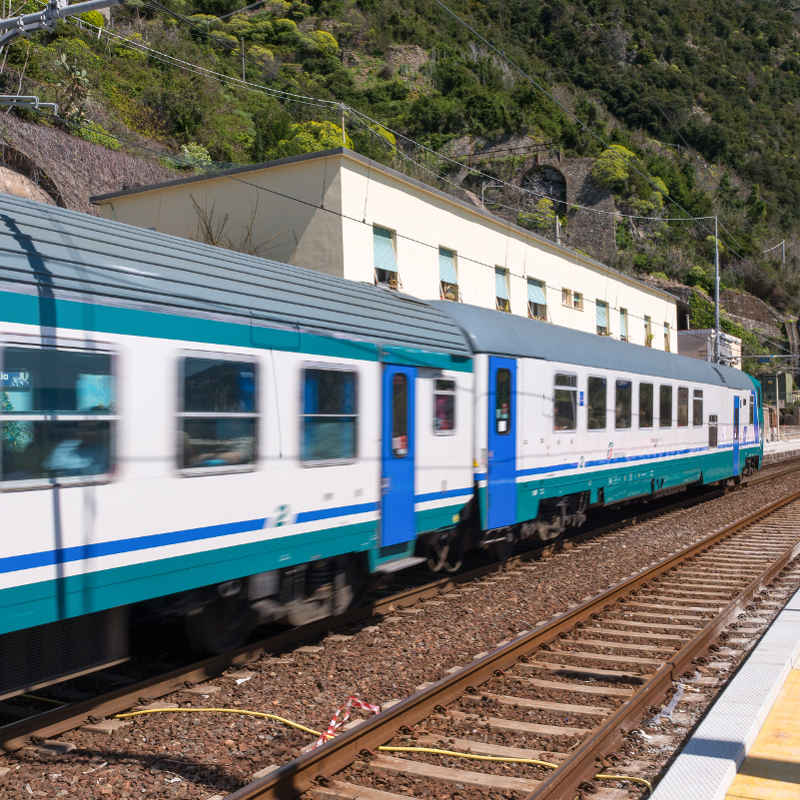 Hiking the Cinque Terre — All five towns in Cinque Terre are connected by well-maintained trails. See the entire region by foot as you make your way from one village to the next and stopping at a number of wonderful detours. The hike is about seven miles from Monterosso to Riomaggiore and usually takes about four hours, but definitely tack on a few more hours for unexpected stops.

Simply follow the red-and-white-marked lower trail between the towns. Remember to take your time and savor the sights, smells, and sounds – from the olive groves to the exotic flowers and to the amazing Mediterranean vistas. Begin in Monterosso and work your way south all the way to Riomaggiore. The trails are overall moderate in terms of difficulty, with Monterosso to Vernazza being hands down the most challenging.

Tip: Buy a three-day Cinque Terre Card as soon as you arrive. The card will take care of all local train rides between the five villages and also gives you free access to hiking trails.

Swimming and Water Sports — Just about every village in the Cinque Terre has a unique place to swim or take part in water sports activities. Monterosso offers the largest and softest beach complete with snack bars, umbrellas, and a resort-like atmosphere. Meanwhile, Manarola has some of the best deep-water swimming. Vernazza has a tiny beach, while Riomaggiore and Manarola offer rocky beaches. Most towns provide kayak and snorkel rentals if you'd rather explore the coastline or discover the many underwater sights. Small motorboats, jet skis and canoes can also be rented in several of the towns.

Foodie Experiences — As the birthplace of pesto, the Cinque Terre region is well known for its dynamic cuisine. Be sure to indulge in regional specialties like acciughe (anchovies), focaccia, farinata (fried bread served as a snack), pesto (of course), and wine, which is typically white in color and the perfect pairing with seafood dishes.

Exploring Nearby Riviera Towns — While Cinque Terre is by far the jewel of the region, there are several other highly recommended destinations nearby. Just north of Monterosso, Levanto features a spacious, sandy beach, quaint old town, and several pedestrian-only streets.

Meanwhile, with its ritzy shops, art galleries, colorful buildings, and busy harbor parked with luxury yachts, Portofino has been beckoning visitors for centuries. Tour San Fruttuoso Abbey (only accessible by foot or boat), stroll through Museo del Parco (a park featuring contemporary sculptures), and visit Castello Brown (a medieval castle) before walking along the harborfront and splurging on a fancy dinner and drinks along the water.
Where to Stay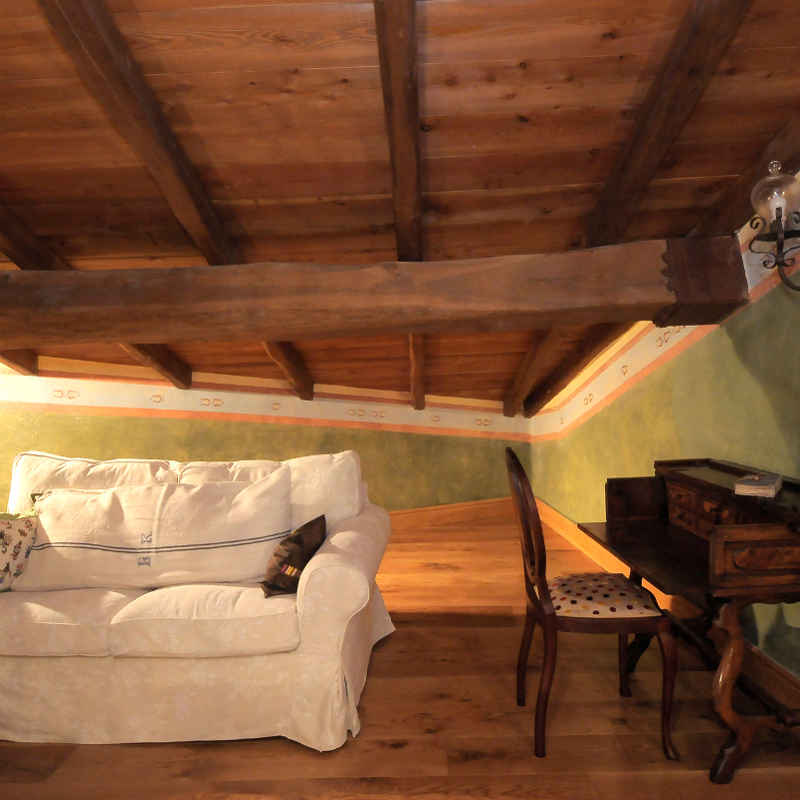 La Torretta — Located in Manarola, La Torretta is one of the region's trendier, upscale properties and one of our top recommended places to stay for your trip. The property has commanding views of the water and village, a communal hot tub, plus solarium. Rooms are in traditional Ligurian style, but also feature a mixture of modern and antique furnishings, such as flat-screen TVs and canopied beds. Although pricey by Cinque Terre standards, you'll likely find La Torretta's fine amenities and service to be worth it.

La Mala — This antique Ligurian house in Vernazza has been converted into an elegant and comfortable property highlighted by fantastic views of the Mediterranean. La Mala has a modern feel to it and also features four spacious white rooms, air-conditioning, a shared terrace, plus daily breakfast included.

Tonino Basso — Tonino Basso rents four modern, clean, and air-conditioned rooms on the eastern edge of Vernazza. Don't expect many amenities here, but do expect a perfect home base for exploring the entire region. While the property doesn't offer much in the way of views, each room features a computer for free Internet access. Meanwhile, the building has its own elevator, plus Tonino is one of the few renters in town who accepts credit cards.
Where to Eat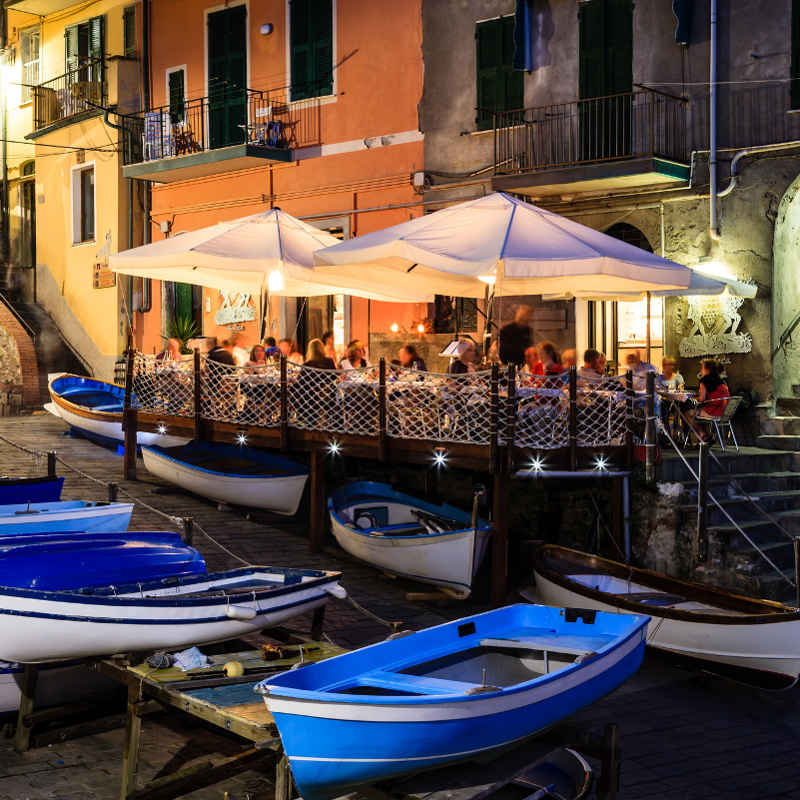 Enoteca da Eliseo - Make plans to stop at this lovely wine shop and tasting room set in the heart of Monterosso. Family owned and operated, the wine bar offers local tastings and mouth-watering nibbles at indoor and outdoor tables set along a picturesque stretch the historic village.

Gambero Rosso - Snag a table at this tiny harborside trattoria serving delicious Ligurian cuisine. Specialties include fresh fish and homemade pasta such as trofie with pesto sauce. Like Gambero Rosso, most of Vernazza's restaurants are locally owned and proudly serve regional selections.

La Lanterna - This memorable dining spot in Riomaggiore is absolutely charming with its rustic (albeit cramped) interior and lovely terrace. Local seafood is the specialty, whether served with pasta or as part of hors d'oeuvres.

Tuesday Market - Spend time at the Tuesday morning market in Vernazza, which is buzzing with activity as vendors set up a wide variety of goods. Sellers typically display fresh produce, seafood, and other delicacies from 8 a.m. until 1. Meanwhile, in addition to white wine, food items like anchovies, focaccia, and pesto are also staples of the region.
Getting There
Your best bets for arrival include Rome's Leonardo da Vinci-Fiumicino Airport (FCO) and Milan's Milano Malpensa Airport (MXP). Fiumicino – Italy's largest airport – is situated about 4.5 hours away from the Cinque Terre Region and about 3 hours from Tuscany via car. Meanwhile, Malpensa Airport is about 3.5 hours from Tuscany and 2.5 hours from Cinque Terre.
Both airports feature all of the major rental car companies, plus taxi services, shuttle buses, trains, and other public transportation options. Keep in mind that there are no roads within the Cinque Terre villages for passenger vehicles, so consider using the train for your arrival/departure.