Every newlywed deserves to rest, relax, and rejuvenate after the big day.
With holistic activities to engage your mind and body, organic farm-to-table dining, and top-notch services set throughout stunning accommodations, today's best spa resorts are destinations unto themselves.
Take a load off and revitalize together at any of these six world-class destination spas, near and far.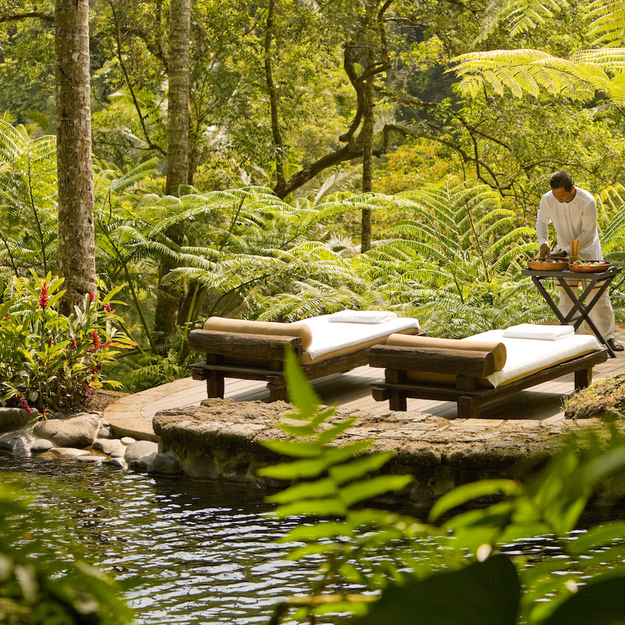 Courtesy of COMO Hotels and Resorts
COMO Shambhala Estate
Ubud, Bali
Ubud has historically been a spiritual capital of Bali, and after Eat, Pray, Love was published (and subsequently turned into a film), the city firmly rooted itself as a top destination for wellness-minded travelers. Away from any hustle or bustle, high in the hills and surrounded by jungle, rivers, and just the right amount of sun-drenched areas is this glorious holistic health retreat.
Guestrooms and residences scattered amidst the trees reflect traditional Indonesian design with an emphasis on simple, modern luxury. Take part in yoga, pilates, and qigong across the grounds in between balanced, nutritious meals and dips in the infinity pool. Get outdoors and enjoy the dense nature surrounding the estate with guided mountain biking, hiking, climbing, or even whitewater rafting. Streamline your stay by booking one of the resort's four wellness programs: Ayurveda, for a full body reset; Be Active, for an active, physical approach; Cleanse, to target your mind and body from the inside out; or Bespoke, for a completely customizable approach to your better self.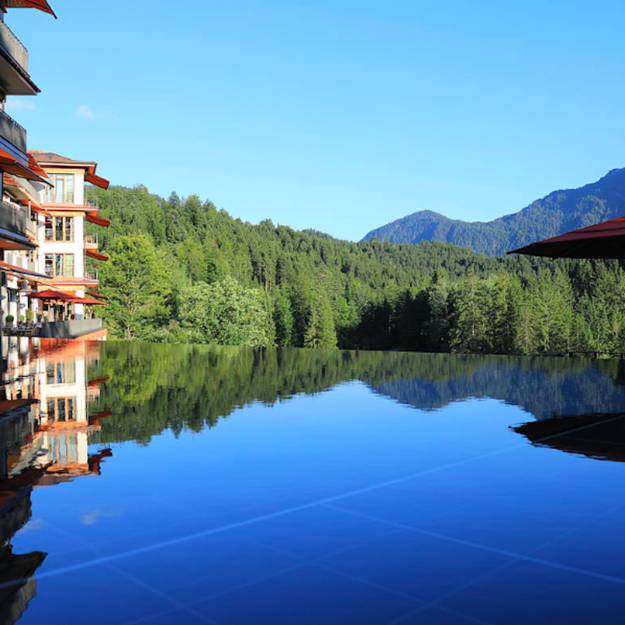 Courtesy of Schloss Elmau Luxury Spa
Schloss Elmau Luxury Spa & Cultural Hideaway
Elmau, Germany
Soundtracked by breezy pine trees and rushing streams, and surrounded by crystal lakes and snow-capped mountains, this tranquil hideaway in the Bavarian Alps is a complete treat for all the senses. Six spas span the grounds, offering a long list of soothing experiences to choose from, including authentic Hamam steam baths, Swedish massages, traditional Chinese medicine-based aromatherapy treatments, and a range of infinity pools for relaxed lounging.
Yoga, Pilates, and Taiji will help balance mind and body, while hiking, jogging, climbing, swimming, and skiing take advantage of the surrounding Alps setting for an infusion of outdoor sports. Daily concerts in the cultural hall provide food for thought to go along with the resort's dozen restaurant and lounges (one of them Michelin-starred) which offer gourmet meals, soothing tea time sessions, lively jazz jams and more.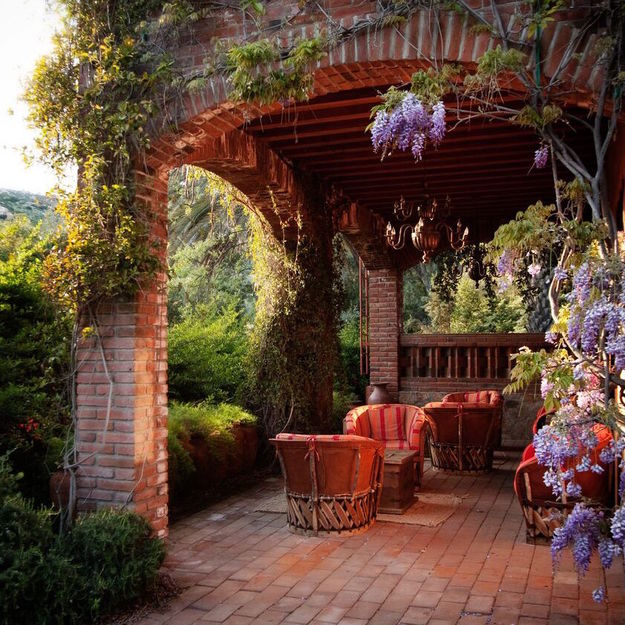 Courtesy of Rancho La Puerta
Rancho La Puerta
Tecate, Mexico
Better classified as an experience than as a resort or spa, The Ranch has amassed a loyal, almost cult-like following since it opened in 1941. Everything from breakfast (buffet-style Mexican) to bathroom vanities (locally painted ceramic tiles) and bountiful gardens (which naturally landscape the 3,000+ acres) are decidedly fresh and not overly fancy, separating The Ranch from other top-notch destination spas.
An oasis of positive energy, this is the place to tackle a new challenge or focus on activities that you most enjoy. Morning hikes through the sun-roasted wilderness are peaceful and inspiring. Afternoons on a hammock with a book in a shady nook are sublime. A variety of exercise classes - like cardio drumming, tennis, cycling, and Zumba - will rev your engine, while more calming activities - like yoga, yarn painting, and meditation hikes - will soothe your soul. Book a cooking course if you love the food (you will), and sprinkle in a visit or two to the spa to sink into ever deeper bliss.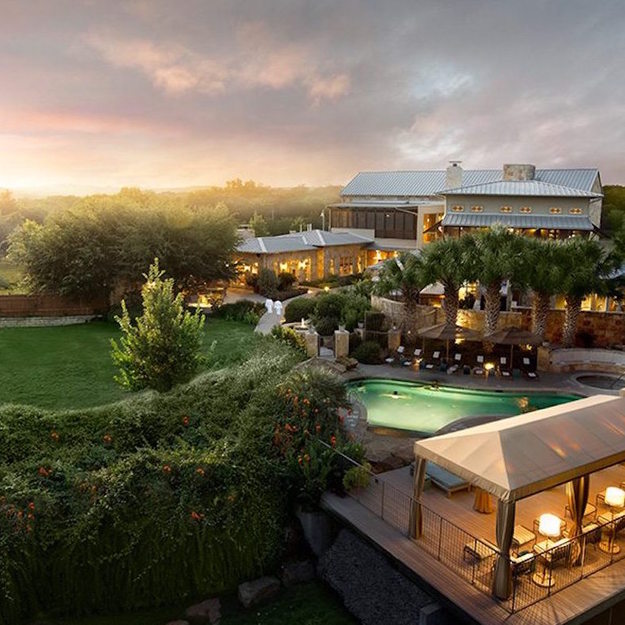 Courtesy of Lake Austin Spa Resort
Lake Austin Spa Resort
Austin, Texas
Some spa resorts impose strict rules and restrictions (think no served alcohol, no wi-fi, and lengthy minimum-stay requirements) as part of their tailored wellness programs. While we acknowledge the good intentions of these streamlined service offerings (or non-offerings), we also think there is a deserving spot for open-policy, playful, buffet-style destination spas. Case in point in the Lake Austin Spa Resort, just 30 minutes from downtown Houston. With no shortage of tranquility and spa services, you can still pop champagne on the lake, post a couple of pics on Instagram, and stay as short or long as you'd like.
Activities like spin, yoga, and guided meditation are offered from sunup to sundown, but the star of this resort is its namesake lake, where a sunny afternoon spent swimming, hydro-biking, or stand-up paddleboarding is time well spent. The dream-like blue room (where you'll unwind after any spa session) is the embodiment of all things zen, and the pool barn is particularly inviting to try out different strokes. Food is fresh from their organic gardens and infused with French flair, and - in a stroke of playful genius - overnight guests are granted access to a 24 hour push-button for instant delivery of homemade frozen yogurt. Yes, please.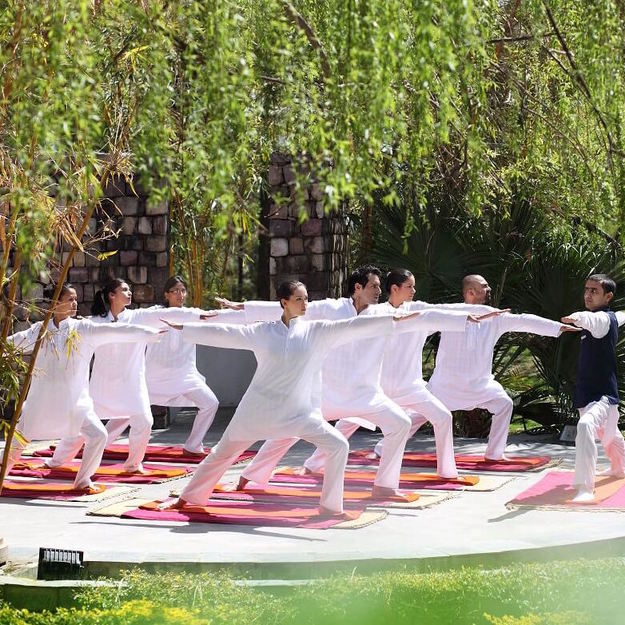 Courtesy of Ananda in the Himalayas
Ananda in the Himalayas
Rishikesh, India
Placed high in the spiritual town of Rishikesh, this peaceful spa resort offers a wellness consultation on check-in and will individually tailor each dining experience to your determined Ayurvedic dietary needs. Slip into the provided white cotton pajamas and wallow about the grounds which offer a variety of yoga, meditation, and pilates classes. A few lazy laps in the heated pool should prep your afternoon for a full spa session. While the grounds and palaces are decadent in design, the spa itself is minimalist - free from distraction - and focuses on its thorough treatments.
Opt for a couples' massage in the Kama Suite for an intimate moment of sensual bliss, based around select essential oils. Steam, sauna, and hydrotherapy are all offered afterward, with a cup of hibiscus tea capping the experience. Each of the 78 guest rooms features private patios, many with panoramic views of mountain vistas. A revolving array of world-class expert teachers, therapists, healers and Ayurvedic doctors offer tips and courses on wellness living so you can incorporate these lifestyle standards into your marriage long after you've left.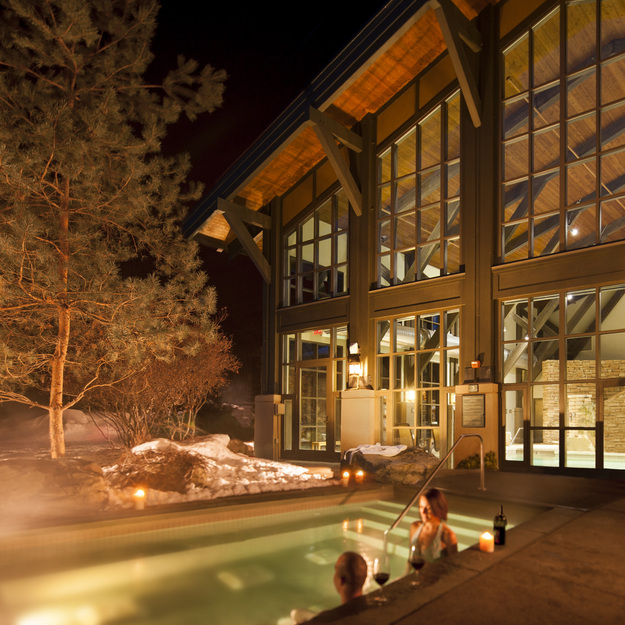 Courtesy of The Lodge at Woodloch
The Lodge at Woodloch
Hawley, Pennsylvania
Tucked beautifully into the landscape of Pennsylvania's Poconos, The Lodge is a haven for honeymooners from the Northeast who want all the rest and relaxation of a destination spa without having to board a plane to find it. This lakeside escape spans 150 acres and invites the scenery of the changing seasons inside through abundant floor-to-ceiling windows. Each of the 57 guestrooms features private verandas which face the lake or a beautiful rock waterfall.
Meanwhile, the state-of-the-art spa is enormous and boasts infinity whirlpools, fireside lounges, zero-gravity massages, and dozens of rejuvenating treatments (most notably infusing fresh rosemary from the lodge's Healing Garden). Drawing, painting, and sculpting classes (often paired with wine) will indulge your creative side, while a plethora of fitness activities aim to engage your body. Forest bathing (as seductive as it sounds) is also on the forefront, with nature walks, herbal explorations, and outdoor meditations frequently offered to help guests reconnect with themselves, each other, and their environmental surroundings.

In case you missed it:
How to Decide on Your Italy Honeymoon Destinations