Greece is a timeless honeymoon destination that lives up to its ranking as one of the world's most coveted spots for after-wedding bliss. Beautiful beaches, breathtaking scenery, delicious food, hospitable locals, and historical sights are scattered across this honeymoon paradise of a country.
With so much to see and do throughout mainland Greece and its hundreds of inhabited islands, carving out your perfect Greece honeymoon itinerary can be challenging. Building off of our favorite Greek islands, we're highlighting a few lesser-known honeymoon islands while also simplifying your travel choices. These are the best Greek islands for your honeymoon broken down by regional chain.
KNOW BEFORE YOU GO
Greece has over 6,000 islands that are conveniently separated into regional chains. The most popular islands have their own airports, but most international flights will still enter through Athens. After getting your culture on across this vibrant, historical, and under-appreciated city, you'll want to shift into island mode. Greece's islands are storied, easily accessible, and incredibly unique. They provide the perfect blend of relaxing and enthralling for an exotic and unforgettable honeymoon.
Flights to any of the island chains from Athens are affordable and fast (think 30 minutes). Ferries (from the port of Piraeus) are available, but we find the time tradeoff isn't quite worth it. Instead, fly from Athens to your first island and save the authentic Greek ferry experience for inter-island travel. (We love ferryhopper for checking schedules and even pre-purchasing ferry tickets). Most ferries travel daily through their respective island chain. Maximize your honeymoon in Greece by picking a single string of islands and hopping throughout there. These are the seven unofficial island chains, along with our favorite honeymoon islands within each of them.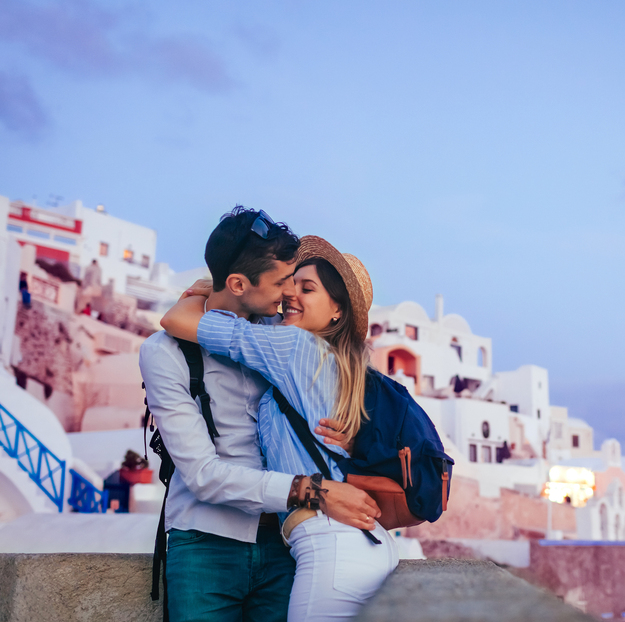 The white-washed, clifftop residences on Santorini's mystical caldera set the perfect Greece honeymoon scene.
Honeymoon in the Cyclades Islands



Home to Greece honeymoon hotspots Santorini and Mykonos, the Cyclades is Greece's most popular island chain.
The Cyclades is Greece's quintessential honeymoon island chain. With dramatic cliffs, strong sea breezes, vibrant towns, and white-washed villages, they embody Greek ideals of romance. The Cyclades represent the Greece of countless postcards, films, and fantasies. They make an excellent spot for first-time visitors to Greece.
The views from iconic Santorini and its cliffside villages are genuinely one of a kind and definitely worth witnessing. Mykonos knows how to throw a beach party that blends day into night and is a favorite among see-and-be-seen crowds. Up-and-coming Paros straddles the line between lively island paradise and quiet beach haven, depending on which side of the island you visit. Neighboring Antiparos is a small Cycladic island boiled down to its bare essentials: beautiful beaches, barren desert landscapes, and a sleepy seaside main village.
Similarly gorgeous and untouched islands can be found on both Folegandros and Koufonisia - perfect for rural explorations, but tough to come across a great hotel worthy of your honeymoon. We consider Naxos a goldilocks-esque Cycladic island to consider, with just the right amount of developed hotels, shops, and restaurants, mixed with a laid-back atmosphere, fewer crowds, and - of course - stunning vistas.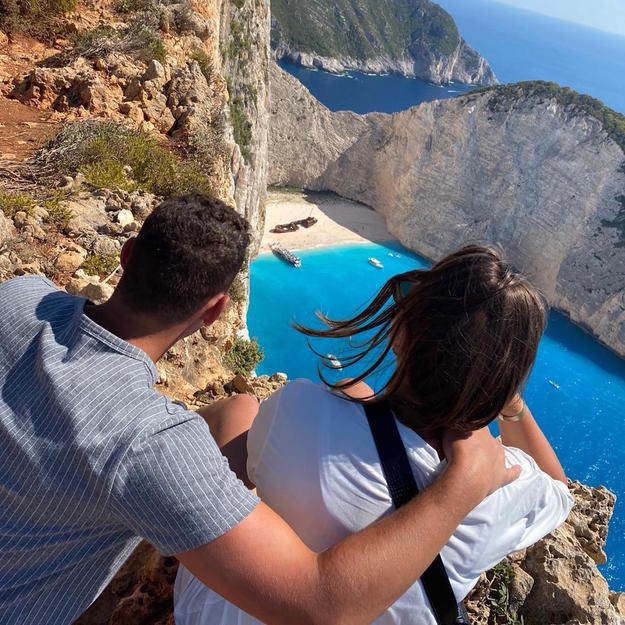 Courtesy of @alyssavtiel
Shipwreck Beach on the island of Zakynthos is one of Greece's most coveted honeymoon locations.
Honeymoon in the Ionian Islands



This laid-back island chain floats throughout the country's fertile west coast facing Italy. It offers a Venetian flair to any Greece honeymoon.
For a Greece honeymoon with a dose of Italian appeal, consider visiting the Ionian islands. Among the smaller chains throughout Greece, the Ionian is adorned with Venetian influence from its Medieval occupation. The natural geography is fertile, mountainous, and covered with pine forests and olive groves. Villages are filled with pastel-colored homes. The Ionian islands embody the beauty of two Mediterranean honeymoon contenders into one network of unforgettable islands.
Corfu is the most cosmopolitan island in the Ionian Sea. With a renowned Old Town, developed beaches, and plentiful shops and restaurants, this is the most accessible Ionian island for a honeymoon visit. The turquoise waters, lush vegetation, and gorgeous port towns on Kefalonia have put it on the mainstream radar. The smaller, sleepier, but equally scenic islands of Paxos and Lefkada are famed for their breathtaking expanses of beaches. "Shipwreck Beach" on Zakynthos has single-handedly fueled a tourism movement. The blue grottos and hidden shores on the north side of the island make it worthy of a honeymoon stopover.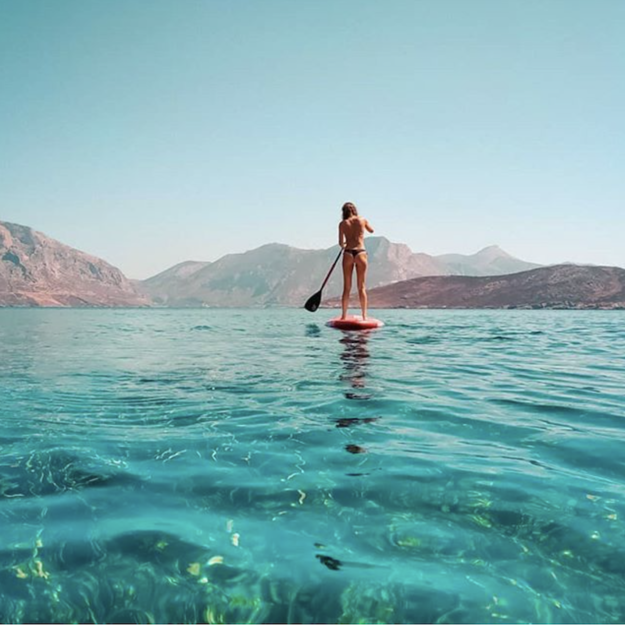 Courtesy of @_sanguini
Distant mountains and turquoise waters on the Greek island of Kalymnos
Honeymoon in the Dodecanese Islands



Honeymoon in Greece's sunniest corner for unspoiled beaches, authentic culture, and medieval history.
The Dodecanese islands sit in the southeast corner of the Aegean Sea just across Turkey's Turquoise Coast. Each island boasts distinct character, but all of the Dodecanese offer opportunities to adventure, relax, sightsee, and explore countless secluded beach coves. This is old-world Greece at its finest.
Rhodes and Kos are the most popular of the Dodecanese islands, where lively nightlife, luxury hotels, groomed sandy beaches, and picture-perfect port towns thrive. As with most Greek islands, there are still remote corners of natural beauty found on either of these touristic destinations, but if you're looking for pure, unspoiled paradise, consider Tilos or Kalymnos.
Tilos is a little island that enjoys its quiet slice of the Dodecanese and is perfect for hikers and naturalists. Kalymnos has become a global destination for rock climbers and scuba divers, and is home to the Aegean's most beautiful fjord. Embrace spirituality on nearby Patmos, a sacred island where the first vision of an Apocalypse was conjured. We can promise that walking the island's welcoming coastline on your honeymoon will have you feeling very far from doomsday.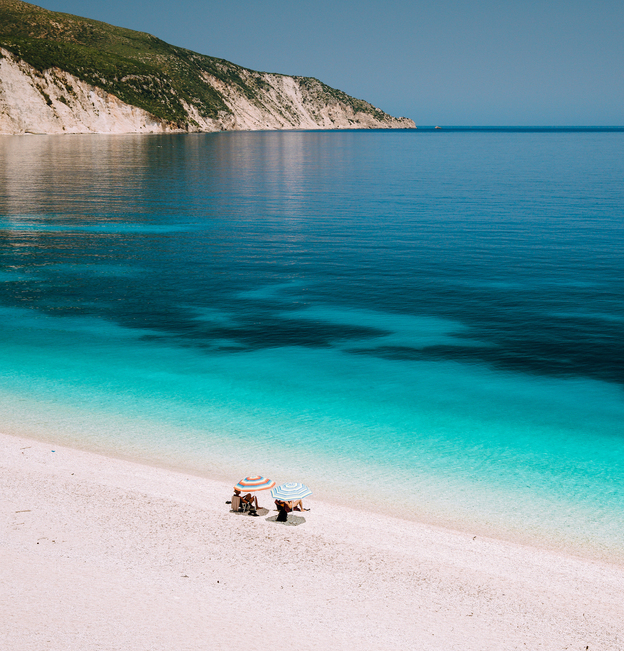 Fill your Greece honeymoon with hidden beaches and floral coasts across the lush Sporades islands.
Honeymoon in the Sporades Islands



Pine forests, floral coastlines, and sleepy villages make the Sporades a favorite Greece honeymoon destination for romantics.
Sophisticated, green, relaxing, and secluded: the four inhabited Sporades islands provide a Greece honeymoon doused in serenity and sun-based pleasures. Nestled near the center of the Aegean Sea, these islands offer sandy beaches, relaxed atmospheres, and a welcoming amount of greenery compared to other Greek islands. The film "Mamma Mia" was notably shot on the Sporades, which can clue you into the romantic ambiance found throughout these islands.
The two Sporadic islands to consider for your Greece honeymoon are Skiathos and Skopelos. Skiathos is home to this island chain's only airport, so you'll likely pass through if you visit the Sporades. Skiathos offers a substantial amount of tourist development in restaurants, large hotels, and nightlife. However, the island can still be enjoyed more peacefully if preferred. With a network of 26 trails totaling 130 miles that will bring you across rolling hills, river valleys, dense forests, and delightful beaches, Skiathos is a hiker's dream.
Skopelos somehow manages to be even more fertile and charming while filtering out the party crowd from Skiathos. Like a slice of Tuscany in Greece, Skopelos is a Mediterranean fantasy fulfilled where fine wines and local olive oil flow as freely as the gentle sea breeze.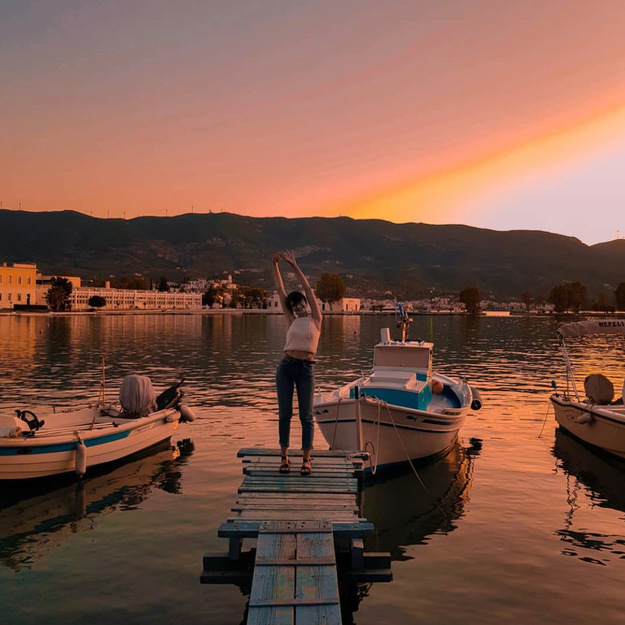 Courtesy of @catalinagemanari
A sleepy fishing port on the island of Poros during sunset is surreal.
Honeymoon in the Saronic Islands



A short ferry hop from Athens, this island chain is a favorite for a backpacking honeymoon in Greece.
The Saronic islands are appreciated for their close proximity to Athens, making them easy to bundle into any Greece honeymoon. Like the Hamptons of Greece, some of these islands are particularly popular among wealthy Athenians. Thankfully, they have retained a laid-back way of life, with many car-free villages, vibrant artist colonies, and quaint water taxis which can take you from one island to the next.
The car-free island of Hydra has attracted a jet-set crowd but its artistic heritage and slow pace of living remains preserved thanks to a strong resident community. Hydra's picture-perfect harbor is a people-watchers' paradise. Although there are no beaches on the island, portside swim spots and secret coves are plentiful. Hydra is part of an island trio along with Aegina and Poros, which are easy to visit together on single-day cruises - the perfect way for honeymooners on a tight schedule to experience various Saronic islands.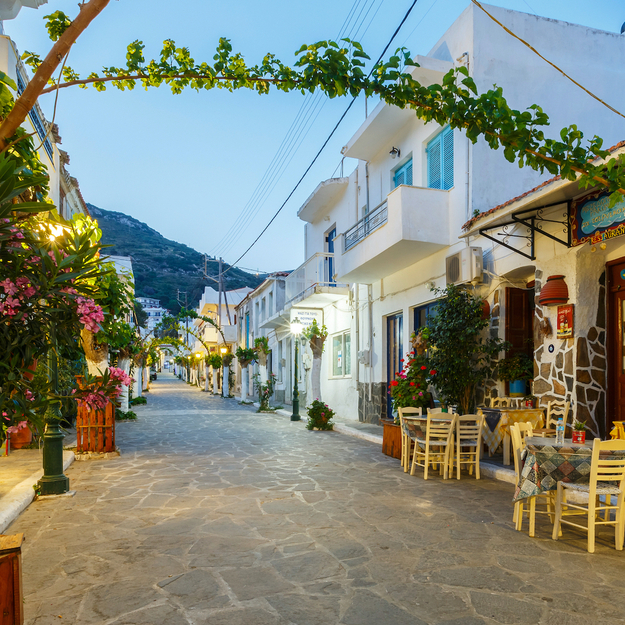 A honeymoon in Greece all but guarantees romantic strolls through charming villages.
Honeymoon in the Northeastern Aegean Islands



For an off-the-beaten-path honeymoon in Greece filled with mythology, mountain hikes, stunning beaches, and authentic traditions, visit the Northeastern Aegean.
The Northeastern Aegean islands are the least developed touristic islands of Greece. North of the Dodecanese and east of the Sporades and Cycladic islands, this regional chain makes up most of Greece's border with neighboring Turkey. Blue-green waters, medieval villages, vast hiking trails, and untouched traditions make this island chain perfect for honeymooners who want to witness a more pure form of old-world Greece.
Lesvos is Greece's third-largest island and is blessed with romantic villages, forested mountains, historical significance, and a wealth of good ouzo and great food. Its imposing size can make moving across the island difficult, but those that visit will be rewarded with an abundance of natural attractions.
For a more compact honeymoon island experience, consider Thassos or Lemnos. Both of these islands are gorgeous, easygoing, and perfect for beach bums. Do as the locals do on Ikaria; on this island, a lifestyle rich in organic foods, social interactions, and afternoon naps help residents live profoundly long lives.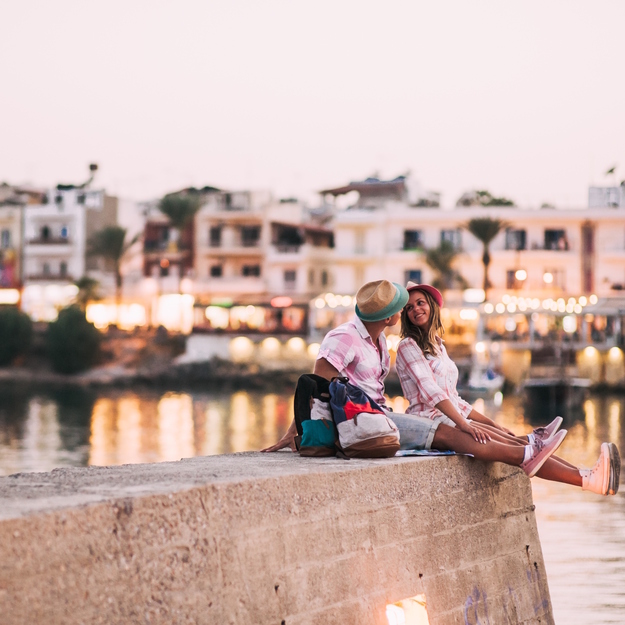 A honeymoon in Greece's largest island is filled with romantic possibilities.
Honeymoon in Crete



Highlight your honeymoon in Greece with a visit to its largest island.
Crete is so large that it's practically a country unto itself. A honeymoon on Crete combines the variety and complexities of multiple Greek islands into one experience. Splendid beaches and breathtaking scenery separate exciting cities from sleepy villages. A rich history and ancient archaeological sites emanate all across the land. Bountiful cuisine will keep you satisfied after long days of adventure. Try to devote at least one week of your honeymoon in Greece when visiting Crete, and plan for lots of driving if you want to see most of the island.
With energetic beach villages consisting of luxury resorts and a romantic Medieval Old Town, Chania's waterfront city is a perfect base for your honeymoon in Crete. The pace is a bit slower, but the scene is equally vibrant in Rethymno, Greece's own version of Venice. You're likely to pass through Crete's largest and busiest travel hub, Heraklion, at some point. The island's capital city makes diving into crystalline waters and ancient history easy, but is also a favorite destination for families (try to book an adults-only resort for more honeymoon ambiance). For the bold and adventurous, cap your visit to Crete with a day trip down to the tiny island of Gavdos, which is so close to Africa that it's Europe's southernmost point.

In case you missed it:
Where Can I Honeymoon Outside the United States?