Greece is one of those rare honeymoon destinations that gets plenty of hype - and lives up to every bit of it.
Not only are there 6,000 total islands in the country (277 of which are inhabited), but each one has its own distinct identity--meaning an island-hopping itinerary is never redundant, but rather, the perfect way to pack multiple experiences into one unforgettable trip. How do you choose where to go?
First thing to know about Greece is that, in many ways, it's like two countries in one: There's the mainland, home to famous sites like the Parthenon, the Acropolis, and world-class museums filled with antiquities.
Then there are the islands, scattered across the Mediterranean and surrounded by crystalline blue waters. Most honeymooners choose to spend at least a day or two on the mainland exploring Athens, which is a great way to reduce the stresses of a multi-stop itinerary and acclimatize yourselves to any time change. After your fill of history and culture, it's off to an isle or two (or three) for a relaxing, romantic getaway.
Here are some of our favorite islands for an unforgettable honeymoon in Greece: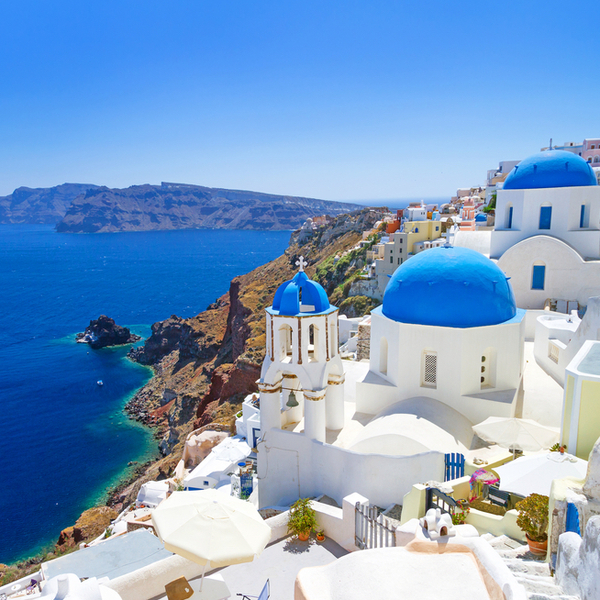 Santorini
This hot spot within the Cyclades Island group is just a short flight or boat ride from Athens, making it an ideal place to kick off your sun and sand exploration. The island was actually formed thousands of years ago as a result of volcano eruption--and that sense of history permeates everywhere you go. The whitewashed villages, for example, are so perfectly situated atop the cliff sides, it seems as if they've been there for centuries (in some cases, they have). First-time visitors will want to check out the main villages of Thira, Imerovigli, and Oia, the most well-known town, in northern Santorini.
There's also the club-centric capital of Fira, where you can rent a beach daybed with bottle service and rosé all day. The island also has no shortage of stunning accommodations: Grace Santorini is all about private pools, fluffy duvets, and out-of-this-world views of the caldera (the volcanic crater), while each room at Andronis Luxury Suites has its own private hot tub. Spend your days lounging by the pool, exploring ancient archaeological sites, tasting locally made wines at boutique wineries, sampling innovative Greek cuisine, and taking in nightly sunsets over the caldera - no doubt, you'll snap some of the most epic photos of your life.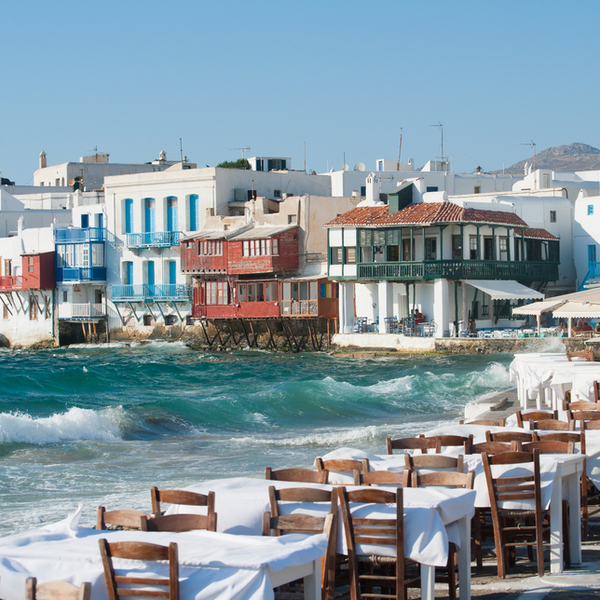 Mykonos
This island has a reputation for being a party-hardy spot, but there's more than meets the eye on Mykonos. Unlike its popular counterpart, Santorini, Mykonos has white-sand beaches and is also geographically larger, so there are plenty of pockets in which to post up and escape the day- and nightclub scene (if that's not your thing). Should you crave a bit of action, Mykonos is the place: both Europeans and Americans seek out the trendy isle to see-and-be-seen during summer months--expect models and bottles at party pads like
Scorpios Mykonos
and
Nammos Mykonos
.
For a more low-key time, dine at a waterfront restaurant in the waterfront of "Little Venice" or hang by the bi-level infinity pool at Mykonos Blu, one of the island's most stunning stays. Another trendy accommodation: Cavo Tagoo, which was built atop an abandoned quarry and has a decidedly barefoot-chic vibe.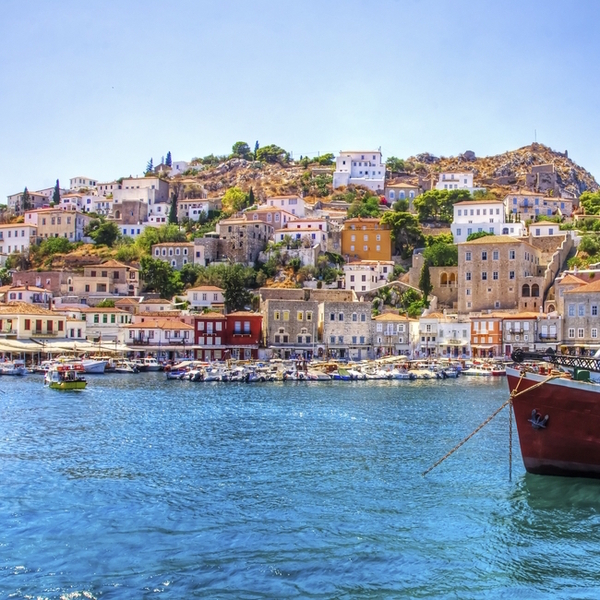 Antiparos
This small island off the coast of Paros is considered one of the lesser-known central Cyclades (which also includes Paros, Naxos, and Pano Koufonisi). The hidden gem also happens to be a celeb magnet - Tom Hanks and Madonna are rumored to own homes on the island. The rustic, chilled vibes are perfect for honeymooners who crave a bit of adventure and want to avoid the party scene (there are no clubs on the island).
The best stay is perhaps Beach House, a boutique hotel on a quaint, secluded stretch of beach that's perfect for swimming, snorkeling, or paddle boarding. You can also explore the island by land: rent a car to bop around small towns and take in bougainvillea-lined streets, filled with chic cafés, boutiques, and bars.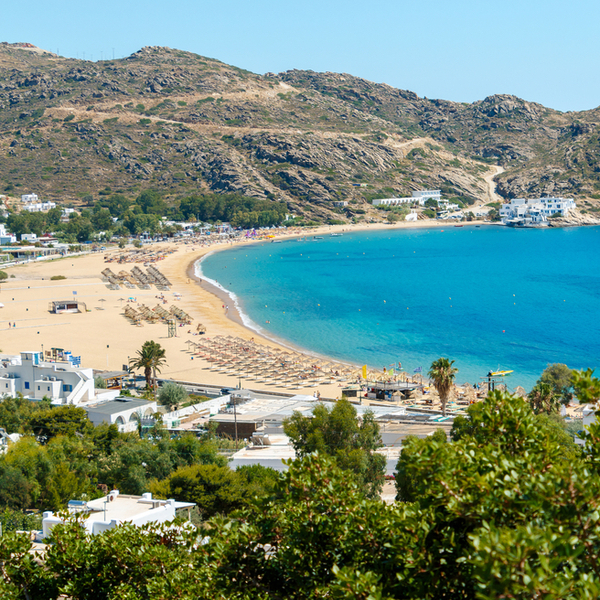 Ios
Ios may not be a household name to travelers at large, but that doesn't mean it's not worthwhile. In fact, it's an easy ferry transfer from other Cycladic islands, making it a convenient pairing to bucket-list Santorini or Mykonos. Couples can expect whitewashed towns, gorgeous blue waters, and stunning stretches of golden-sand beaches. But if you're traveling during summer and prefer a low-key stay, avoid the party areas: the island regularly fills up with rowdy college-age kids on vacation.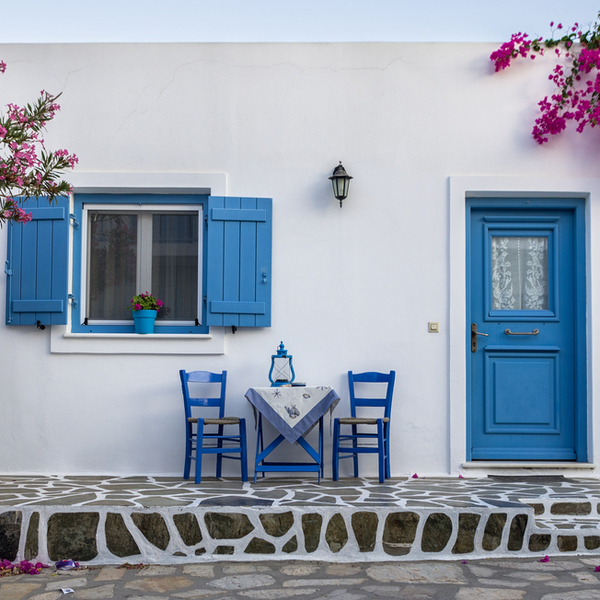 Hydra
This off-the-beaten-path isle is just over an hour from Athens by boat. It's popular among jet setters for it's low-key vibes. The island is a known artists' enclave, with bougainvillea-covered buildings, winding hillsides, picturesque harbors, and only donkeys for transportation (blissfully, there are no cars or motorcycles allowed on Hydra). Post up in one of the individually designed rooms at
Bratsera Hotel
, set a refurbished soap factory.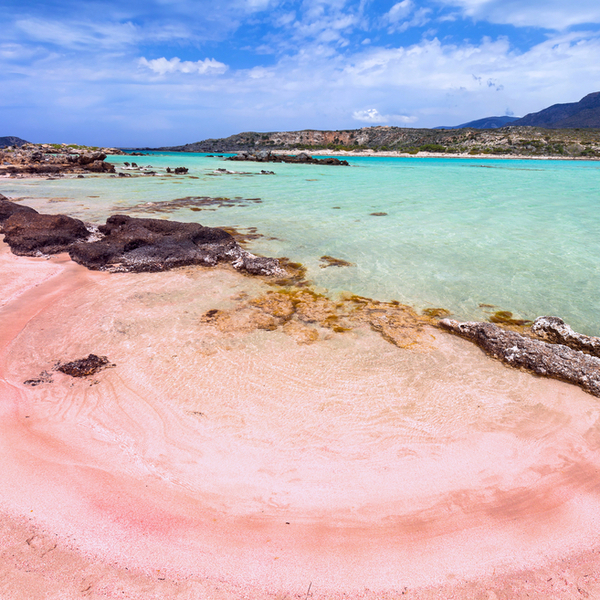 Crete
As one of the most southern Mediterranean islands, Crete is a nearly year-round honeymoon destination. (So whether you're holding off until shoulder season to save money or looking to avoid the summertime crowds, Crete is an affordable, accessible option.) It's also a culinary epicenter: Feta will never taste so good as the locally made version here; same with raki, a clear distilled spirit made from grape pressings that's unique to the island.
But the most memorable moment will be hanging on Elafonisi Beach, a famous stretch of pink-sand beach you'd never guess was in Greece.

In case you missed it:
7 Foolproof Ways to Save on a Honeymoon
How to Pick the Ideal Honeymoon Destination (When You Both Have Different Ideas)