Debating an all-inclusive resort for your honeymoon? You may have heard the happy stories and seen the glamorous photos of endless buffets, enormous swimming pools, over-the-top accommodations, and ocean excursions. But is this really the dream vacation that you deserve?
Stick with us as we go over some of the most appealing characteristics of a quality all-inclusive vacation to see if your interests align with their offerings.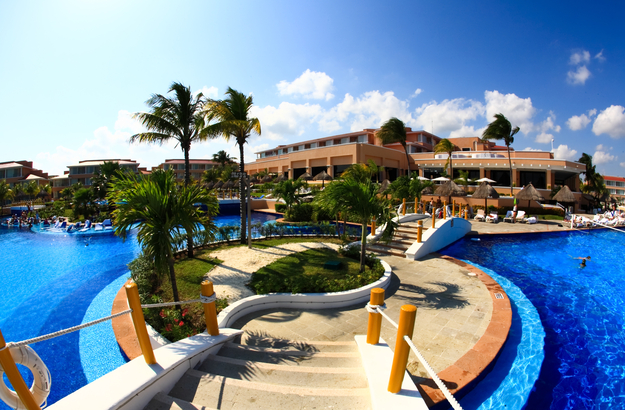 A Bundled Approach to Budgeting
It's no surprise that the primary attraction of an all-inclusive is that by the time you arrive for your vacation, the most hefty expenses have already been paid. Most resorts will group all the necessities for a great vacation into one upfront price, including everything from airfare and accommodation to meals and drinks, water sport activities, Wi-Fi, gratuities, and more. Eliminating the worry of day-to-day expenses will ease your mind and let you spend more time relaxing. Trust us, leaving your wallet behind when you head for the beach is pure bliss.
Insider Tidbit: All-inclusive, ironically, usually does not mean that everything that a given resort has to offer is included in your rate. Options and up-charges do exist, and sometimes in a manner that you might not expect. Field through your chosen resort's inclusions with a fine-tooth comb, and ask questions before booking. Does the resort have any hidden fees such as Wi-Fi, additional mandatory gratuities, or upgrade charges for top-shelf drinks?
Additionally, pay attention to policies regarding trip protection. Given that the more substantial up-front costs for an all-inclusive trip can be quite substantial, a savvy couple might want to ensure that their honeymoon trip is protected beyond basic insurance in the event of any delays or cancellation.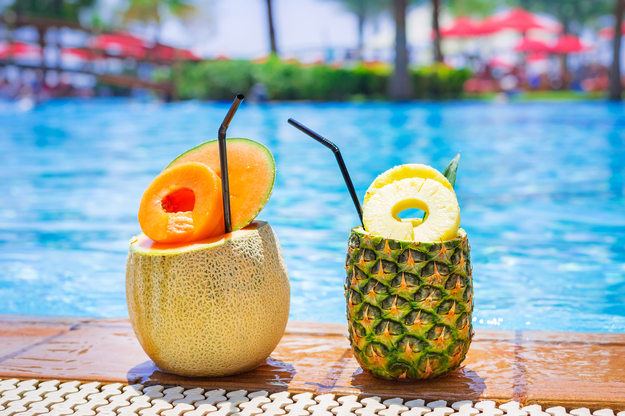 Unlimited Varieties of Food and Drink
Limitless food and drink choices may sound like a paved path to gluttony, but the bottom line is that bottomless beverages and gourmet cuisine are major perks. Even if you don't plan on drinking many (or even any) alcoholic beverages on your honeymoon, the luxury of having multiple restaurants, poolside snack bars, and 24/7 room service at the ready is endlessly appealing. If you like sampling different cuisines, dining frequently, and indulging through extensive cocktail lists from the comfort of a beach lounger, you'll instantaneously reap the benefits of an all-inclusive vacation.

Insider Tidbit: Be wary of inexpensive food and drink packages. Travelers are often reeled in by attractively priced dining packages, only to discover on arrival that their level of accommodation leaves something to be desired. Upgraded options may be well worth the extra splurge.
Worry-Free Relaxation
With precision planning and perhaps a bit of anxiety, you've likely just performed the delicate dance that orchestrating a wedding can often be. Your wedding is now in the rearview mirror, and you deserve a honeymoon that can help you cruise into married life at a comfortable pace. Choosing an all-inclusive honeymoon prioritizes relaxation over itinerary planning.
From the moment you arrive at your destination, you'll soon realize that everything will be taken care of: transportation, meals, activities, and more. You can still craft daily schedules and stay busy in hopes of maximizing your time and money, but the freedom of doing whatever you want whenever you want is likely valuable enough. A more lighthearted approach to your vacation days will help you break away from the heightened state of mind that might still be lingering from the whirlwind which surrounded your big day.
Insider Tidbit: The sweet relief of loosening your travel reins actually begins before you arrive when packing your suitcase. Knowing your resort's activities and amenities beforehand means that you are less likely to find yourself unprepared. This will prompt you to pack simply and smartly in accordance with what you think you might do at the resort. Sunglasses and swimsuit for the beach, a few light outfits and sandals for dinner, and a good book for lounging on the balcony. See how easy that was? No unnecessary baggage to bring along for the trip makes for a lighter carry and overall smoother travel experience.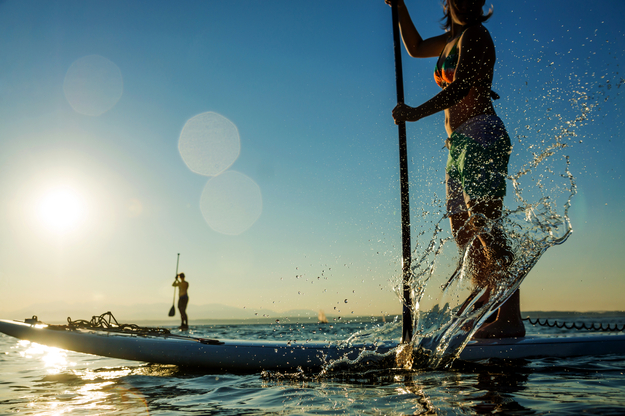 Activities Aplenty
Leisurely activities will fill your days to your heart's content. A myriad of live entertainment, land adventures, water sports, and more are at the ready to liven your all-inclusive honeymoon. You can hit the tennis courts after breakfast, hop on a paddleboard during the afternoon daze, and catch an outdoor movie or live comedy show after a fantastic dinner. While we love down-time, this rotating selection of included activities ensures that you'll remain pleasantly far from any dull moments on your honeymoon.
Plus, fitness-based activities like yoga on the beach, aqua-aerobics, or even a lengthy snorkel excursion will build an appetite for your next amazing meal (while burning off the calories from the last).
Insider Tidbit: Certain activities will incur additional fees, such as visits to the spa and motorized rentals (like jet skis), or trips away from the resort grounds. From a financial perspective it pays to stay on-site, but up-charge excursions such as catamaran cruises and guided hikes are still welcomed options.
What to Expect of Other Guests
Most all-inclusive resorts are booked by like-minded people, albeit from every corner of the globe. As such, resorts increasingly know how to tailor their included activities to a given audience. Booking an adults-only or even honeymoon-targeted resort will ensure that you're surrounded by similar lovebirds that are just looking to enjoy their time together. Romance, excitement, and flirtatious fun are all but guaranteed at the right resort.
Looking for nightlife? Bars, clubs, dance-offs, and karaoke contests can thump well into the night. Prefer to keep it low-key? Certain resorts have early cut-offs (think 8PM) which elicit a soothing ambiance across the entire grounds. Whatever your aim, it's easy to find a comfortable groove and even make friends as long as you carefully consider your choice in resort beforehand.
Insider Tidbit: The all-inclusive structure of vacations has become increasingly popular with families. Unfortunately, crowds of kids or crying babies can quickly spoil your romantic mood. Nobody knows your limitations and tolerance levels better than you, so we won't blacklist family-friendly all-inclusive resorts. But our friendly final piece of advice is to aim for an adults-only resort when you begin the search for your honeymoon.

In case you missed it:
7 Tips, Tricks, and Time-Tested Traditions for an Amazing (and Realistic) Honeymoon
Honeymoon Inspiration: 8 New Destination Guides Added to Traveler's Joy Collection