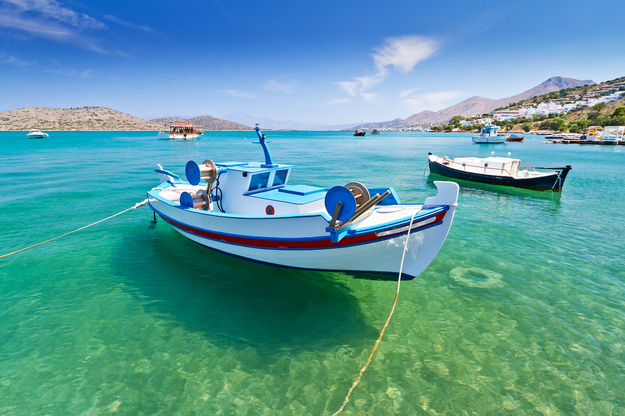 The Greek Islands have long been associated with romance and beauty, making them the perfect destination for couples seeking an unforgettable honeymoon trip.
With their breathtaking landscapes, crystal-clear waters, ancient ruins, and charming villages, the Greek Islands offer a magical setting for newlyweds to create memories that will last a lifetime.
In our previous article, we highlighted Oia, a charming town on top of Santorini island, as one of the best destination picks in Europe for a honeymoon. Now, let's explore other exotic and romantic islands in Greece designed to create a perfect honeymoon experience you will cherish forever.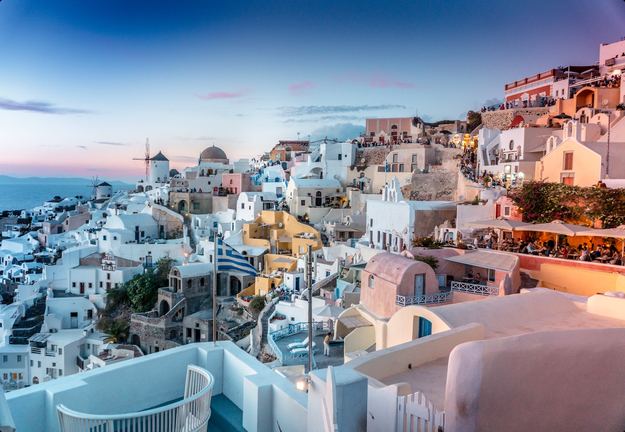 Photo by Heidi Kaden
Santorini - The Jewel of the Aegean
Nothing says romance the way a sunset viewed from a beach in Santorini does. Stunning views, whitewashed buildings, and iconic blue-domed churches are only some of the reasons why Santorini is the best honeymoon destination of all time.
The narrow cobblestone streets of Oia are perfect for a charming, hand-in-hand walk, taking the time to absorb the rich history this town has to share. Cliffside restaurants are designed with mesmerizing views of the Aegean Sea, offering private candlelit dinners to young couples, with delicious local cuisine and famous wines.
For an extra touch of romance, consider staying in a luxury cave hotel, where you can relax in a private hot tub while enjoying the panoramic views.
Top Recommendations in Santorini
Situated in the charming fishing village of Ammoudi, Ammoudi Fish Tavern is renowned for its fresh seafood and picturesque setting. Enjoy delicious grilled fish and seafood while overlooking the stunning Aegean Sea.
If you are looking for a place to stay, Canaves Oia Suites offers stunning cave-style suites with private plunge pools and breathtaking views of the caldera. It provides exceptional service, a beautiful infinity pool, and a gourmet restaurant. It offers an ultimate experience like no other.
Santorini is famous for its unique volcanic wines. Take a tour of the island's vineyards and wineries, sample local varietals like Assyrtiko, and learn about the winemaking process. You can find the wine tour that suits you best on TripAdvisor and book it in advance.
For those who enjoy traditional Greek food, you should definitely try Assyrtico Restaurant. Situated in the town of Oia, Assyrtico showcases a contemporary approach to Greek cuisine. The restaurant offers an elegant setting, exceptional service, and a menu that combines local flavors with modern culinary techniques.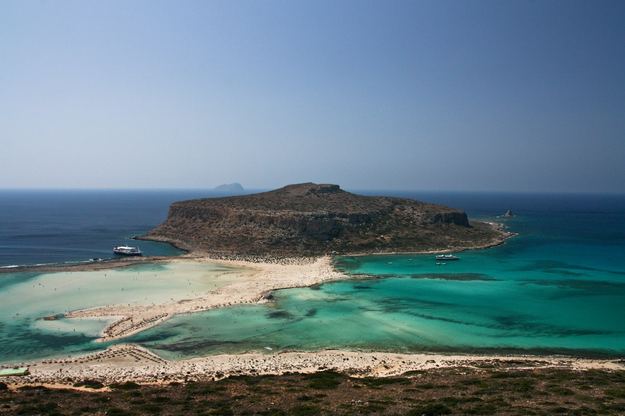 Image by Dawid Zawila
Crete - A Blend of History and Natural Beauty
Crete is the largest of the Greek Islands, very popular among tourists, and for a good reason. This island offers a unique blend of history, culture, and natural beauty.
Explore the ancient ruins of Knossos, home to the legendary Minotaur, and immerse yourself in the island's rich mythology. For adventurous couples, we recommend a light hike through the Samaria Gorge, where you can discover breathtaking landscapes and hidden waterfalls.
Indulge in a traditional Cretan feast at a local taverna, sampling delicious dishes made from fresh, local ingredients. End your days on the beautiful beaches of Elafonisi or Balos, where you can relax and bask in the sun's warm embrace.
Top Recommendations in Crete
Take a boat trip or hike to Balos Beach and Lagoon, located on the Gramvousa Peninsula. Enjoy the crystal-clear turquoise waters, fine white sand, and the breathtaking natural beauty of the area.
Located in the coastal village of Kokkini Hani, Thalassino Ageri specializes in seafood dishes. Enjoy a romantic setting, freshly caught fish, and seafood delicacies while overlooking the sparkling sea.
Book your stay at Creta Maris Beach Resort, a family-friendly resort with a wide range of amenities. It offers spacious rooms, multiple pools, a private beach, various dining options, and a water park. If you wish a romantic vacation with everything you need in one place, Creta Maris is an excellent choice.
A restaurant situated in charming Chania's old town, Ta Kioupia serves Cretan and Greek cuisine in a cozy and charming atmosphere. The menu features a variety of meze dishes, grilled meats, and fresh seafood.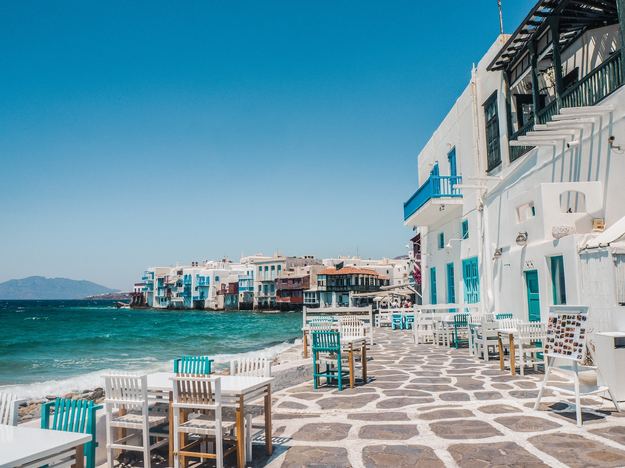 Photo by Johnny Africa
Mykonos - A Glamorous Playground
Mykonos is the epitome of cosmopolitan luxury and vibrant nightlife, which makes it a perfect destination for celebrating the journey you are starting together.
Mykonos Town is the face of Greek charm - narrow streets, adorable island architecture, a laid-back lifestyle, and many small cafes. Next to the old town, the island offers a range of beautiful beaches and hot beach bars with exotic cocktails and non-stop parties.
You can explore the island by buying a private yacht tour for an extra spice of romance, approaching secluded beaches and crystal-clear coves. You can also travel through Greece by car and design the best journey for the two of you, visiting one or multiple islands on your trip.
Mykonos offers a unique blend of relaxation, excitement, and romance, making it an ideal honeymoon destination.
Top Recommendations in Mykonos
Nestled in Agios Sostis, Kiki's Tavern is a hidden gem known for its rustic charm and delicious grilled meats. This unassuming tavern serves traditional Greek dishes in a laid-back and picturesque setting. While enjoying your vacation in Mykonos, reserve one night for this authentic experience.
While exploring Mykonos Town, you should find the chance to check out Mamalouka. Mamalouka is housed in a traditional Mykonian building and offers a fusion of Greek and Mediterranean flavors. It provides a cozy ambiance and a diverse menu.
If you are looking for a place to stay, check Cavo Tagoo. Cavo Tagoo offers luxurious rooms and romantic suites with minimalist design and private pools or hot tubs. The hotel features a stunning infinity pool, a spa, a restaurant, and a popular bar.
There is no fairy tale trip to Mykonos without visiting Little Venice. Experience the romantic charm of Little Venice, a neighborhood in Mykonos Town characterized by colorful houses built right by the water's edge. Enjoy the stunning sunset views, waterfront restaurants, and cozy bars.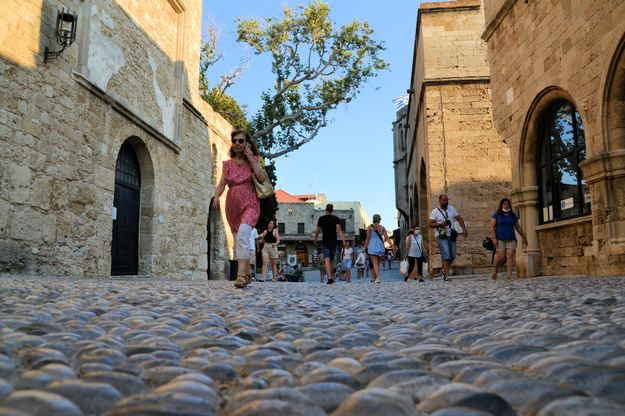 Photo by Shinjan Bhattacharya
Rhodes - A Medieval Love Story
Rhodes is a captivating island with a rich medieval history, which is why it is the best choice for those seeking to explore cultural heritage aside from diving into the beautiful Mediterranean Sea.
The ancient walls of Rhodes Old Town are a UNESCO World Heritage Site, preserved so well that it creates the experience of time traveling into ancient history. The maze of medieval streets is romantic to get lost in with your loved one, exploring the mystical vibe of the old town.
Visit the Palace of the Grand Master, walk along the famous Street of Knights, and enjoy a candlelit dinner in one of the charming rooftop restaurants.
Top Recommendations in Rhodes
When in Rhodes, you must visit Rhodes Old Town, and taste the unique Marco Polo Mansion. The restaurant offers a unique dining experience in a historic setting. It serves a fusion of Mediterranean and international cuisine, with a focus on fresh local ingredients.
Located in Kalathos, Atrium Palace offers luxurious accommodations with a touch of traditional Greek design. The resort features stunning gardens, pools, a spa, and multiple dining options, perfect for a smooth vacation with your loved one.
For history and culture enthusiasts, we recommend Lindos Acropolis. Take a romantic walk down the ancient Acropolis of Lindos, perched on a hill overlooking the village. Explore the ruins, including the Temple of Athena Lindia, and enjoy breathtaking views of the coastline.
Take a boat trip to the picturesque island of Symi, known for its colorful neoclassical houses and scenic harbor. Explore the charming town, swim in crystal-clear waters, and savor delicious seafood in local tavernas.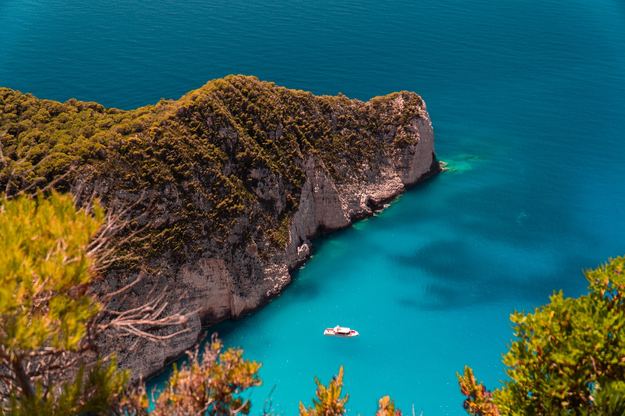 Photo by YearOne
Zakynthos - Beaches and Natural Wonders
Zakynthos, also known as Zante, is famous for its stunning beaches and natural wonders. It is visited by thousands of tourists from across the globe every summer since the island never seizes to seduce with hot sandy beaches and vibrant nightlife.
Aside from enjoying its breathtaking beaches and the pure smell of wild vegetation across the island, you can take a romantic boat trip to the Blue Cave and witness the magical play of the light while swimming in the surreal surroundings.
Explore the picturesque village of Keri and indulge in a romantic dinner overlooking the Ionian Sea. With its idyllic landscapes and serene atmosphere, Zakynthos is a perfect choice for couples seeking a peaceful and romantic honeymoon.
Top Recommendations in Zakynthos
Located in Volimes, Dionysos Taverna offers a rustic setting and delicious traditional Greek cuisine. The restaurant specializes in grilled meats, local specialties, and homemade dishes using locally sourced ingredients. If you are both foodies, this is the No. 1 restaurant for you.
After a delicious meal at Dionysos Taverna, book a private boat trip to Marathonisi, also known as Turtle Island. This small uninhabited island is a protected nesting area for sea turtles that you can see up close during your sailing. Enjoy the beautiful sandy beach and crystal-clear waters.
Lesante Blu Exclusive Beach Resort is an adults-only resort in Tragaki, offering elegant rooms and suites with private pools and panoramic sea views. It features multiple pools, a spa, gourmet restaurants, and direct beach access, which makes it the perfect destination for young couples.
For a romantic evening with a stunning sunset view, Porto Schiza restaurant comes along with delicious Greek and Mediterranean cuisine. It's an ideal spot for a romantic candlelight dinner, where you can enjoy fresh seafood, grilled meats, and local specialties.
What Will Be Your Honeymoon Destination?
Among many charming destinations you can discover in Europe, choosing the perfect one to spend your honeymoon at can be quite a challenge. The Greek Islands offer an abundance of romantic experiences for honeymooning couples, and it would be, without a doubt, a decision you will not regret.
Greece is known for its hospitality, and its devotion to providing a first-class experience to visitors is infamous. Whether you choose the stunning sunsets of Santorini, the historical charm of Rhodes, or the vibrant atmosphere of Mykonos, you are bound to create unforgettable memories.
From exploring ancient ruins to relaxing on pristine beaches and indulging in delicious cuisine, the Greek Islands provide the perfect backdrop for a honeymoon filled with love, beauty, and enchantment.
Discover your favorite island and the world's best wine on a romantic sunset with your loved one. Embark on your Mediterranean love story and let the Greek Islands be the beginning of your lifelong adventure together.

In case you missed it:
10 Reasons Why Santorini is the Best Honeymoon Destination