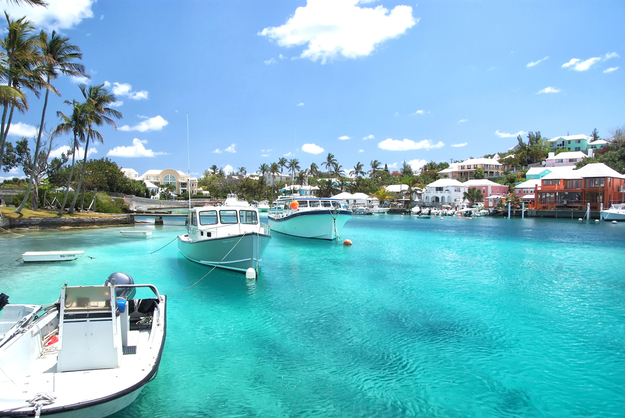 Home to bright blue waters, gorgeous pink-sand beaches, and some of the world's top resorts, the beautiful island of Bermuda ranks as one of our favorite destinations for a honeymoon.
From once-in-a-lifetime adventure activities to unique romantic experiences (think candlelight dinners and a spa located inside of a cave), read on to discover our top 10 reasons why Bermuda should be your ultimate honeymoon destination.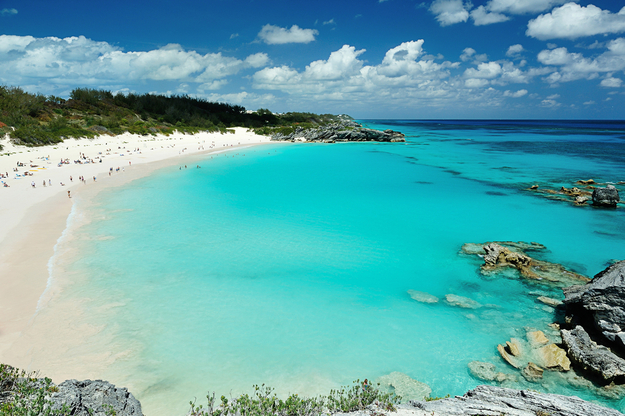 Spectacular Beaches
Bermuda boasts nearly 75 miles of dazzling coastline, filled with soft, sandy beaches, picturesque coves, and rocky shores.
The island's best swaths are found on the south shore, where the water tends to be rougher and conditions are ideal for body surfing. Though the water is calmer on the north shore, the beaches are often more rocky.
The island is especially famous for its pale-pink stretches, such as Horseshoe Bay Beach, which gain their hue from crushed-up bits of coral and seashells. Elsewhere, Church Bay is perfect for snorkeling, while John Smith's Bay is long, flat, and usually untouched by tourists.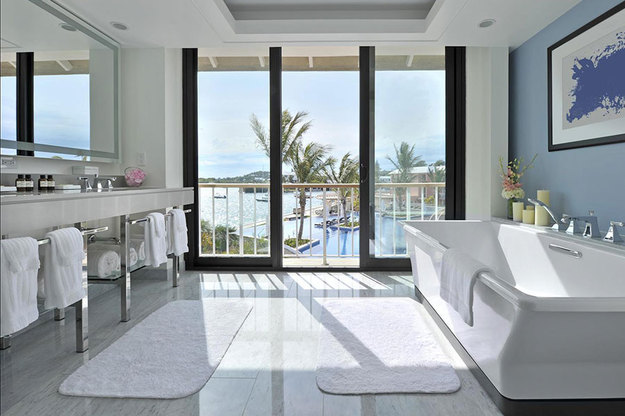 Courtesy of the Hamilton Princess & Beach Club
World-Renowned Hotels and Resorts
From ultra-luxurious resorts with ample amenities to sophisticated boutiques with a view, Bermuda is home to a wide variety of top-notch hotels for honeymooners. For a centrally-located honeymoon-worthy spot just steps from downtown, the Hamilton Princess & Beach Club is a terrific choice for newlyweds.
Also, located directly on the Atlantic Ocean, The Loren at Pink Beach is perfect for romantic walks along its tranquil shores, while The St. Regis Bermuda Resort is our top pick for the St. George's area.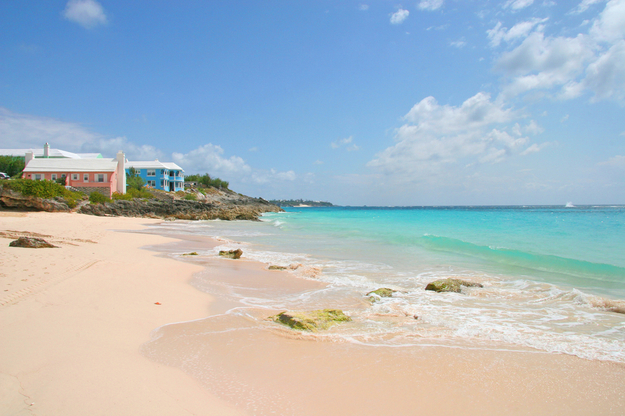 Easy to Reach
L.F. Wade International Airport (formerly Bermuda International Airport) offers direct flights to and from major cities all along the East Coast of the United States, including Boston, New York City, Philadelphia, Washington D.C., Charlotte, Atlanta, and Miami.
Flight times from many of these spots range between 2 and 3 hours. Be sure to snag a morning flight so you're in Bermuda for a relaxing alfresco lunch along the water.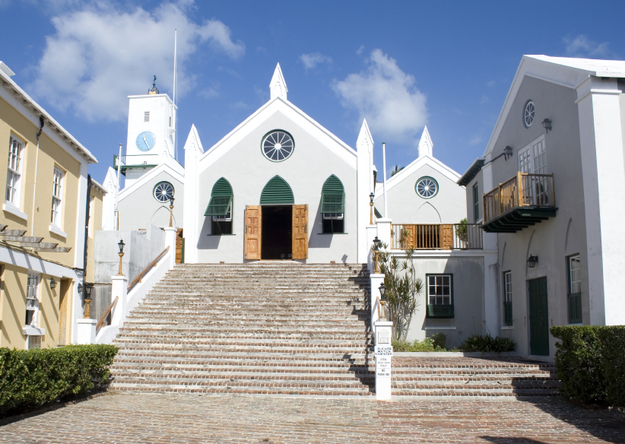 Cool Towns to Explore
The island is more than just luxe resorts and pink sand beaches. Bermuda is home to some must-visit cities and towns. For instance, the capital city of Hamilton offers plenty of excellent shopping pursuits, restaurants, and unique attractions (like the Bermuda National Gallery).
On the northern end of the island, St. George's (also a UNESCO World Heritage Site), features narrow, cobbled streets like Barber's Alley, plus other must-see spots such as King's Square and Saint Peter's Church. Newlyweds will love checking out the town's many shops, restaurants, museums, and pastel-colored homes.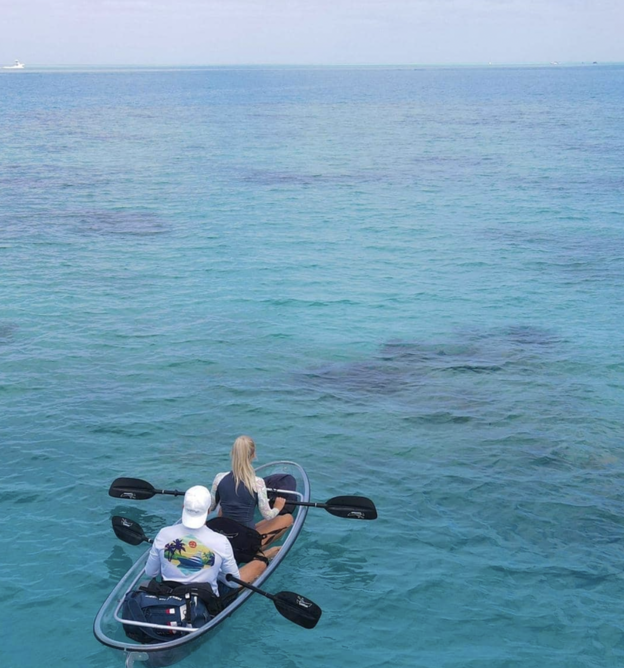 Courtesy of @bda_watersports_
Incredible Water Sports Experiences
One cannot visit Bermuda without getting out on the water. Through BDA Watersports, couples can set out on their own Boston Whaler and explore Bermuda's gorgeous bays, inlets, and hidden coves. Be sure to bring your snorkel gear to take advantage of the incredible turquoise waters.
Or let their experienced guides take you on a kayak tour. The outfitter's crystal kayaks are perfect for viewing the clear water and seeing the sea life swim directly under you.
Courtesy of the Hamilton Princess & Beach Club
Romantic Dining Options
Bermuda is packed with intimate, one-of-a-kind dining experiences ideal for a honeymoon. For instance, with its mix of classic French cuisine and traditional steakhouse selections (plus 18th century cottage setting), Fourways Restaurant is a must for fine dining.
Couples should also make a reservation at Blu Bar & Grill, a scenic bayside restaurant serving freshly caught seafood. And when it comes to downtown selections, look no further than Barracuda Grill, a favorite hot spot for high quality food, drinks, service, and atmosphere.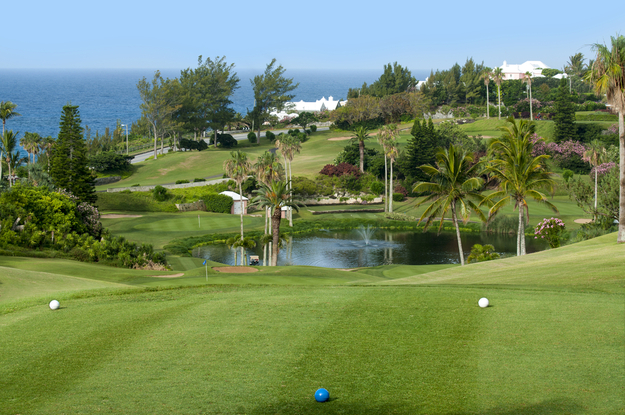 World-Class Golf Courses
The island is a golfer's paradise. Bermuda features seven world-class courses spread out across 21 square miles, all of which feature ocean views, stunning fairways, and pink sand traps.
Need some work on your short game? Turtle Hill Golf Club is regarded as one of the best par 3 courses in the world. On the flip side, at 6,842 yards, the Port Royal Golf Course is the longest course on the island, and captures golfers with its beautiful layout and challenging 16th hole.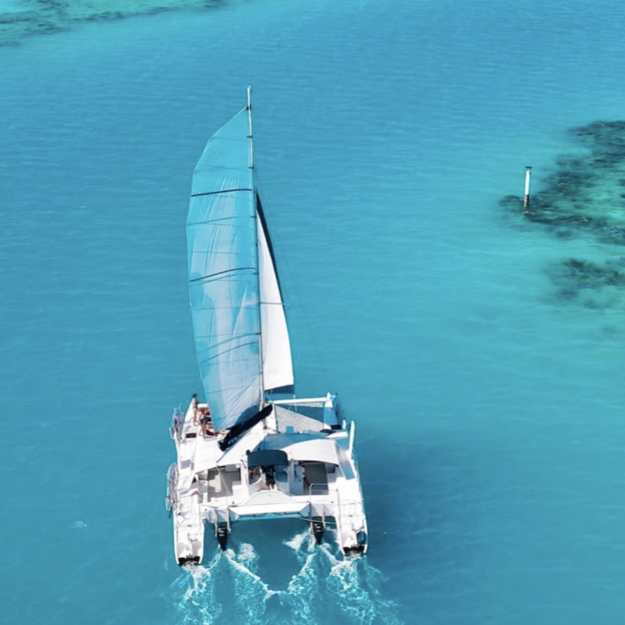 Courtesy of @restlessnativebda
Relaxing Boating Experiences
Whether it be a sunset cruise or half-day journey on the water, there are lots of relaxing boating options for couples. For instance, through Restless Native Catamaran, couples will embark on a lovely guided tour of the island, served with complimentary Rum Swizzle drinks and fresh baked cookies. Or head out with Rising Sun Cruises for a half-day snorkel sail or two-hour champagne sunset sail.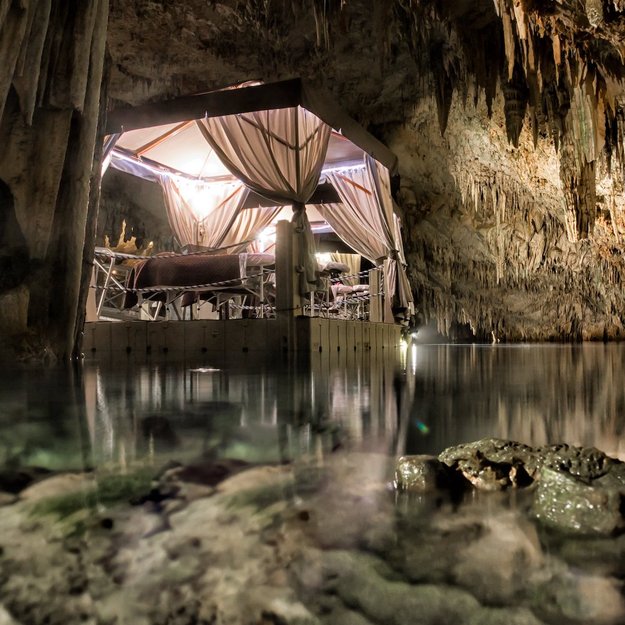 Courtesy of Grotto Bay Beach Resort
Top Options for Spas and Wellness
With its laid-back atmosphere, Bermuda is the perfect place to wind down with a spa experience after the wedding. Whether you go for an invigorating hour or a full, indulgent day, it is a fabulous way to relax, rejuvenate, and revitalize yourself. La Serena Spa (at The Reefs Resort & Club) and Natura Cave Spa (at Grotto Bay Beach Resort) are two of our favorites. At Natura Spa, couples can receive treatments inside an ancient, unaltered cave located directly on the property.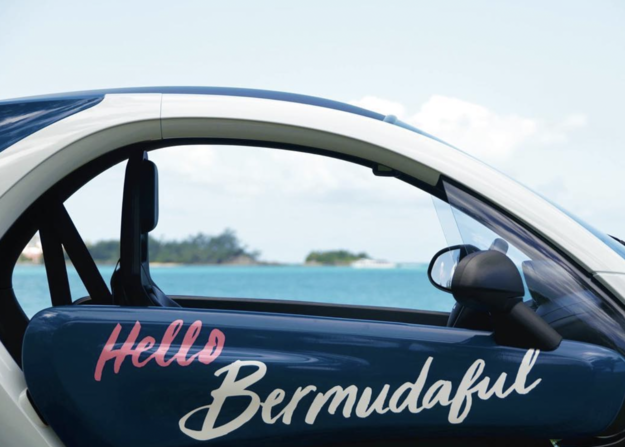 Courtesy of @currentvehicles
Easy to Get Around
There are no traditional car rental agencies on the island, however, honeymooners have plenty of other options, including electric vehicles (known as microcars), mopeds, taxis, and ferries. The electric vehicles are a fun, four-wheeled option for couples looking to explore the island (and overall a great alternative to scooters).

In case you missed it:
The Best Luggage for Your Honeymoon in 2023