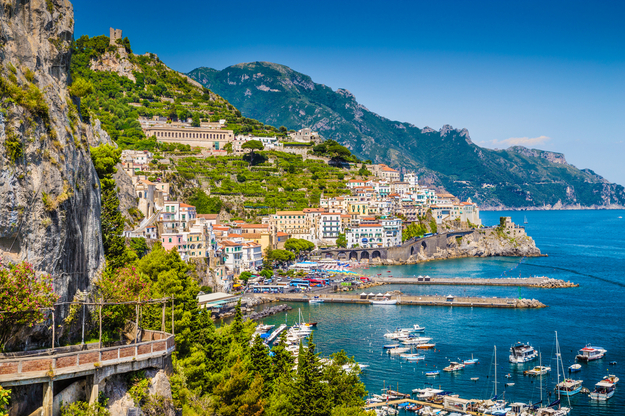 Situated on a dramatic coastline just south of Naples in Italy, the Amalfi Coast is easily one of the most enchanting honeymoon destinations in the world. From the colorful seaside towns to the rugged mountains to the dazzling views of the Mediterranean Sea, it's simply a fabulous choice for a once-in-a-lifetime trip.
Still deciding on what to see and do? Read on to learn about five essential Amalfi Coast experiences and activities for honeymoon couples that will ensure your getaway is unique from start to finish.
After registering for your honeymoon, be sure to add these awesome gifts and experiences to your registry so that friends and family can make your dream trip a reality.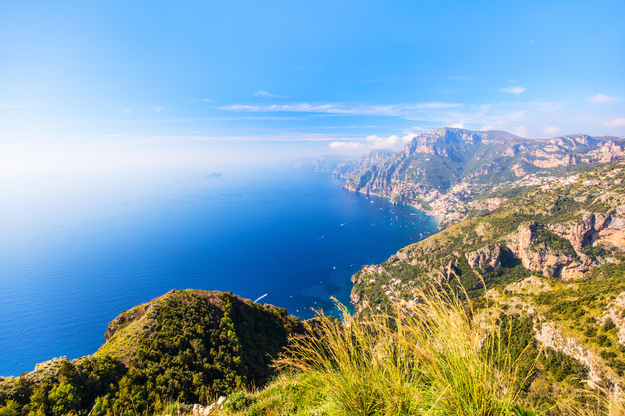 1. Go on a Hiking Adventure
Many of the towns along the Amalfi Coast are connected by a network of well-maintained trails. Hiking here is simply extraordinary, giving you the chance to walk past limestone cliffs, lemon groves, and olive trees -- all while getting a front row view of the shimmering sea in the near distance.
If there's one hike to put at the top of the list, make it the Path of the Gods, which winds its way through mountainous terrain and boasts amazing panoramic vistas (see above!).
Inexperienced hikers shouldn't worry too much, either. The hike is doable for couples with all levels of experience. Allow yourself about six hours of hiking time and be sure to pack plenty of water and food supplies. The trail starts in Bomerano near Bomerano church and finishes in scenic Positano.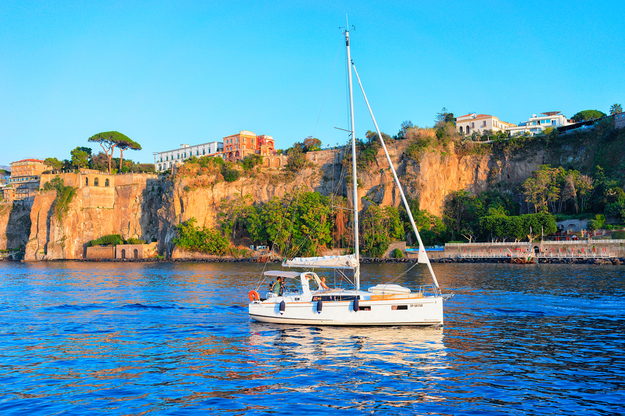 2. Get Out on the Water
One of the best ways to explore the Amalfi Coast is by boat. Whether it be a romantic sunset cruise or half-day tour, we highly recommend hiring or renting a boat during your trip.
Head over to the boutique hotel Le Sirenuse and take a memorable ride out on their old fishing vessel. You can also take to the sea via schooner or luxurious yacht through La Dolce Vita, an experienced outfitter based in Positano. Looking to go kayaking instead? Amalfi Coast Sea Kayak offers half and full day tours, many of which include visits to gorgeous beaches, natural rock arches, sea caves, and historic towns.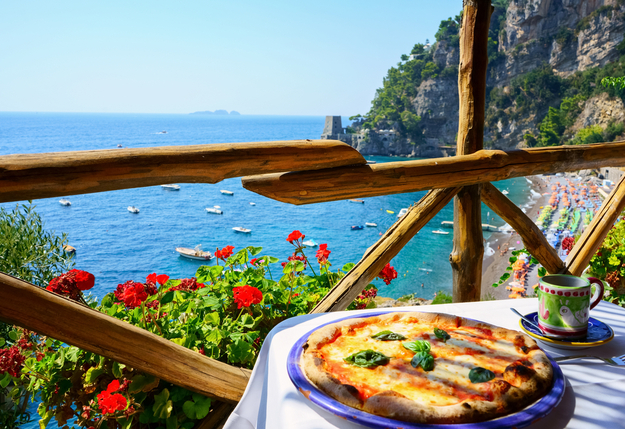 3. Enjoy Al Fresco Dining Experiences
Thanks to an abundance of fresh, local ingredients, amazing scenery, and an endless list of top-notch restaurants serving up award-winning cuisine, the Amalfi Coast features some of the most memorable dining experiences in the world.
For an unforgettable experience, book a table at Armandino, which is set under massive cliffs in the lovely seaside village of La Praia. The restaurant serves up delicious seafood like local squid with white wine sauce and grilled swordfish with vinegar sauce and mint.
When it comes to an ultra-romantic outing, newlyweds won't want to miss a dining experience at La Sponda, located at Le Sirenuse hotel. On top of mouth-watering menu selections, the breathtaking views of the sea and stacked colorful houses in Positano are exceptional.
Also, the Ravello standout Rossellinis has been awarded two Michelin stars and is known for quintessential southern Italian food. Try to book a table outside for that ultimate Amalfi restaurant experience.
4. Explore Amalfi's Scenic Coastal Towns
The Amalfi Coast is home to more than a dozen beautiful towns and villages, many of which feature gorgeous hillside settings or are situated right along the water.
Start with Amalfi, a bustling, café-lined port town and a hydrofoil launch pad to nearby islands and towns. It's perhaps most famous for the Grotta dello Smeraldo, a famous cave with deep crystal clear waters. Don't forget to meander Amalfi's narrow pedestrian streets high above town for a great view and a unique glimpse at its amazing architecture.
Meanwhile, the much-photographed town of Positano somehow manages to hug the near-vertical cliffs of the coast. It's arguably the region's best-known resort town thanks in part to its colorful homes that are seemingly stacked on top of each other. It also packs in just about everything a visitor could covet -- great food, shops, sites, hotels, and unforgettable views.
There's also Ravello, a lovely town located high above the undulating coastline. This unique spot features a lovely Duomo, ample gardens built for romantic walks, an old town packed with historic sites, and amazing views of the Gulf of Salerno.
The colorful town of Atrani has great beach access plus a lovely town square area with shops, restaurants, wine bars, and historic sites. Cetara is a charming fishing village and home to some of the freshest seafood in the region. And finally there's Sorrento. Situated high atop cliffs, this coastal town features lots of cafe-lined piazzas and amazing views around every turn.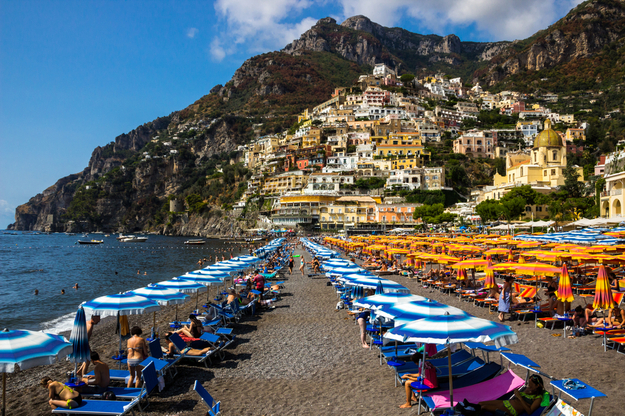 5. Spend Time at the Beach
Just about every town along the Amalfi Coast has a beautiful place to swim or enjoy the beach.
One of our favorites is Baia di leranto, a gorgeous deserted beach along the coast just before its westernmost point at Punta Campanella. Note that the beach here can only be reached by foot from the village of Nerano, so grab picnic supplies for your memorable trek.
Next, head to the tiny beach at Marina di Furore, backed by colorful houses and a restored village. It's also within close distance to Italy's only fjord.
Also, the beach at Mairoi village is one of the longest on the coastline and an ideal stretch of sand for romantic walks. Finally, the town of Positano features Spiaggia Grande, a dark strip of beach that's within a few steps of the town's great restaurants and shopping.

Be sure to read our destination guide for a complete breakdown of the Amalfi Coast.

In case you missed it:
How to Decide on Your Italy Honeymoon Destinations