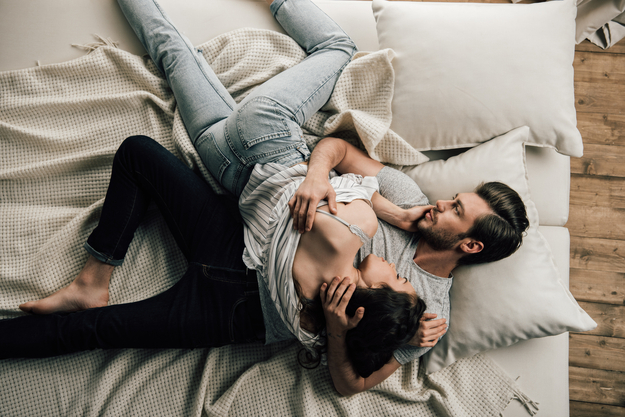 Did Coronavirus postpone your honeymoon plans? It's OK to be bummed about the current state of things, but it's important to trust that your dream honeymoon trip is just on hold.
In the meantime, we've compiled the top ideas for a romantic honeymoon staycation to hold you over. Couples' quarantine has never been this fun.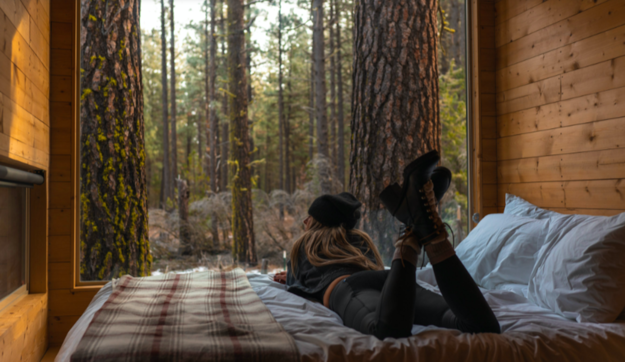 Courtesy of Getaway
A honeymoon staycation in nature will recharge your senses.
Take a Rural Country Getaway




Retreat to nearby nature for a rejuvenating honeymoon staycation.
Get back to the land and discover nature during your honeymoon. Spending time outdoors is always invigorating, but during a pandemic there's an extra sense of indulgence that comes with forest bathing. Nature is calm as ever and begging to be explored, while local restaurants with take-out offerings make long nights in that much better.
Plan your escape in a Getaway eco-cabin for minimalist accommodations with a maximum focus on the outdoors, or book an AirBnB for even more flexibility. Packing your bags for an out-of-town journey will ignite your sense of adventure, and a change of scenery might be just what you both need to beat the quarantine blues.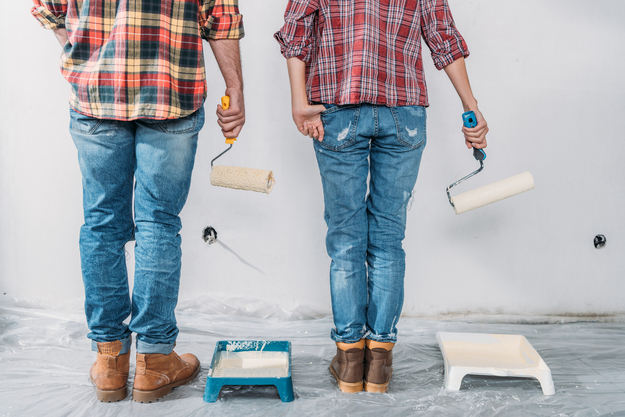 A fresh coat of paint can bring a new perspective into your home-based honeymoon.




Home Improvement Projects




Use your staycation honeymoon as an opportunity to tackle projects around the house.
Spring cleaning might not be what you envisioned for your honeymoon, but tackling work around the house together can be incredibly bonding. COVID-19 is sparking DIY home renovations across the country, and we're all in on this trend. Major retailers like Home Depot and Lowe's remain at the ready, while local hardware stores like Ace are even offering curbside pickup.
Ease into your projects with smaller tasks like painting a room, and marvel at how quickly progress can be achieved. Picking colors, comparing techniques, and accomplishing something as a married couple is simple, affordable, and fun. Consider renovating unused parts of your home (like a garage or attic), or a media room makeover to upgrade your Netflix and chill sessions. Bring fresh air and new flavors into your home by potting plants, herbs, and spices.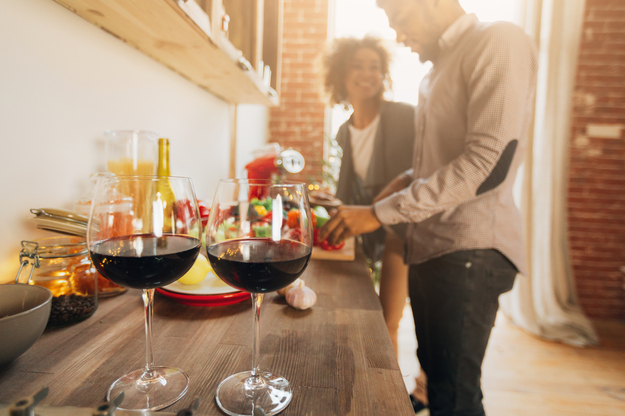 Home-cooked meals will ramp up the energy of your staycation honeymoon.
Cook (and Drink) Together




Preparing meals together is one of the easiest ways to spice up your honeymoon staycation.
Who doesn't love a home-cooked meal? For your staycation honeymoon, challenge your partner to nightly Chop't-style competitions while cleaning out your pantries of overlooked items. Turn on some tunes, clear the kitchens, and team up together to keep a house stocked with savory meals and delicious baked goods.
Gourmet meal kit delivery services like Blue Apron and HungryRoot are still bringing the freshest ingredients right to your door, eliminating the need to brave supermarkets. Consider traveling through cooking, with cultural explorations of flavor. Splurge on a new appliance (like a jack-of-all-trades Vitamix or retro-chic stand mixer) to level up your kitchen skills while basking in some much-needed retail therapy. Grab a cocktail recipe book to get creative with your meal pairings, or opt-in for a monthly wine subscription.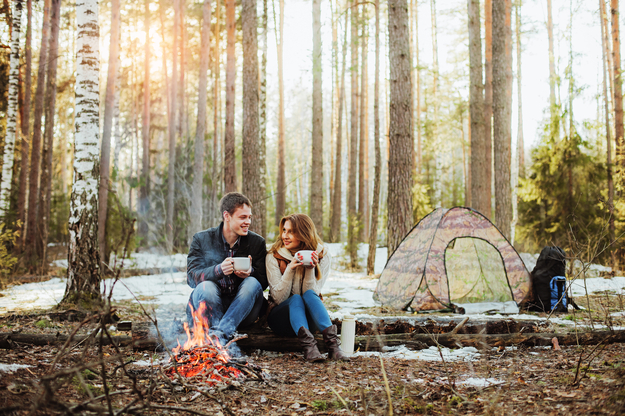 Head for a hike or set up camp in your own backyard.
Explore Your Own Backyard




Inject the great outdoors into your staycation honeymoon.
While your new honeymoon staycation will mostly take place at home, it's still perfectly acceptable to get outdoors and breathe in some fresh air. A walk in the woods will ignite your senses and rejuvenate your new perspective as a married couple.
National Parks and local hiking trails largely remain open and ready to satisfy your nature fix. Consider renting a camper van if you want to explore even further and extend your stay overnight (check your local guidelines before taking the plunge). Don't feel like going the distance? Walk a different route through your neighborhood, or prime your own backyard or patio area for plenty of lazy days cloud gazing. Pitch a tent outside and gaze at the night sky together.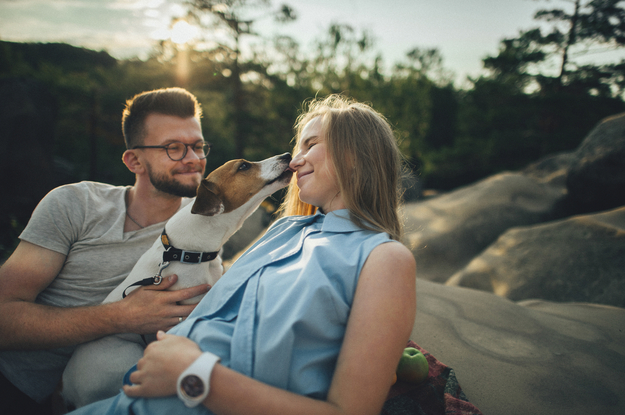 The perks of pet fostering are endless.
Foster A Pet




Transform your honeymoon staycation into a rewarding life chapter by fostering a pet.
So, you've met the love of your life and finally tied the knot together - how about introducing a furry friend into the staycation honeymoon equation? Navigating a new marriage can be exciting enough, but working together towards a common goal while doing some societal good can be incredibly fulfilling.
The process is simple: contact your local shelter to find a dog or cat in need of a temporary home, prep your space to make the transition as smooth as possible, and get ready for endless cuddles, laughs, and family bonding. Fostering a pet is a noble good that will not only liven your every day, it will also clue you into parenting techniques that could be vital down the road. Just be warned: your stay-at-home honeymoon foster adventure might enlarge your family sooner than you thought!
Learn a New Language




Take your staycation honeymoon international by brushing up on your foreign language skills.
Your dreamy honeymoon trip to Italy might be put on hold, but that doesn't mean you'll never get there. Use your staycation honeymoon as a chance to discover the Italian language so that when you do take your international trip, you'll feel confident with your coffee ordering (and beyond!).
Learning a new language will have you and your partner delightfully challenged while keeping your eyes on the eventual prize. Online services like Duolingo and Rosetta Stone make the process easier than ever. Your future globetrotting self will thank you.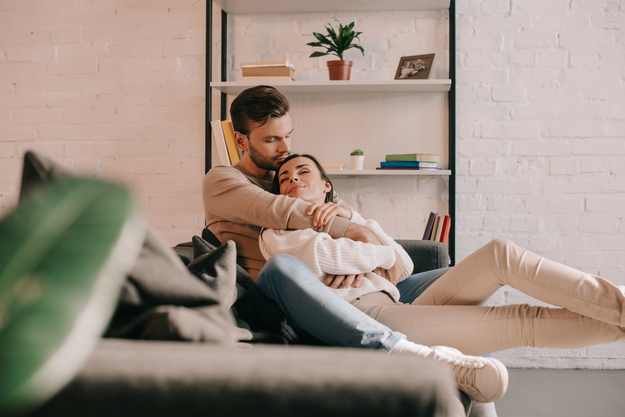 Lazy days on the sofa might be just what your staycation needs.
Keep Your Vacation Days




Preserve the sanctity of your honeymoon staycation.
With travel plans on ice, it might be tempting to cancel your pre-planned honeymoon vacation days during your staycation. Resist the urge to work and instead prioritize this time for you and your partner.
Skip the remote work calls in favor of candlelit dinners, bomb baths, and practicing Swedish massage therapy on each other. Trust us: even cozying up on the couch for a TV marathon is all the more better when there's nothing lingering in the back of your mind. Unplugging from your typical routine and indulging in some R&R will go a long way in making your staycation honeymoon that much more special, so think twice before forfeiting those vacation days.

Looking to easily add an array of staycation gifts and experiences to your registry? Our honeymoon experts have crafted a "Staying Home" Instant Registry you can add in just seconds! Find it within the "Add Suggested Item" section of your Traveler's Joy honeymoon account.

In case you missed it:
Top Overwater Bungalow Honeymoon Destinations