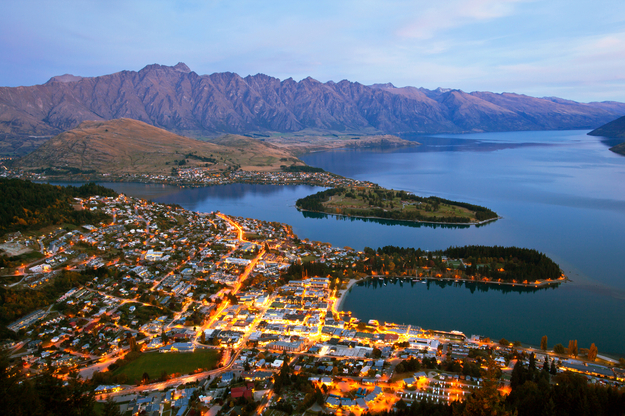 A New Zealand honeymoon is filled with thrills. From self-guided excursions through dramatic landscapes to mountainous canyoning adventures and incredible off-the-grid accommodations, it's easy to understand why New Zealand is renowned as the adventure capital of the world.
A New Zealand honeymoon offers more than action and adrenaline though. Stunning landscapes, magnificent wildlife, and untouched beaches are just some of the natural wonders which make New Zealand a once-in-a-lifetime honeymoon destination. To make the most of your experience, we've narrowed down the best destinations to visit on your New Zealand honeymoon.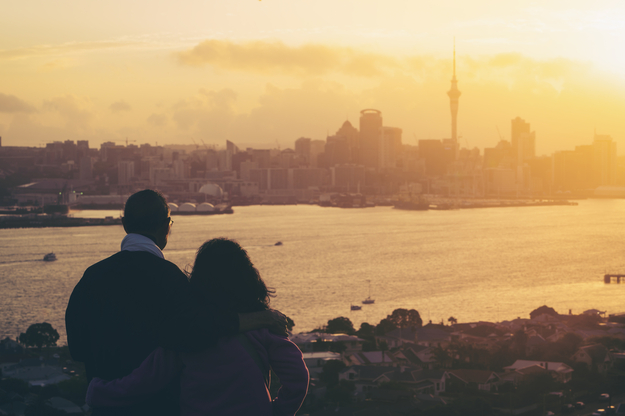 Auckland is the perfect urban base for an epic New Zealand honeymoon.
Honeymoon in Auckland




New Zealand's largest city offers a honeymoon of urban liveliness and natural adventures.
Auckland is New Zealand's premier metropolis and is also the likely entry point for most honeymooners. Begin your trip with urban delights like boutique shopping, an authentic food tour, or an art gallery visit before diving into Auckland's outdoorsy side.
Built on dormant volcanoes and surrounded with beaches, wine regions, and epic coastal hikes, Auckland blends the best of city living with rugged adventures. Check out its beautiful West Coast beaches, take a walk on the wild side above the city's tallest building, or breathe in Auckland's full scope with a picturesque coast-to-coast hike.
Stay: The 25-room, boutique Hotel DeBrett offers just the right amount of sleek sophistication for a sexy stay in the city's center. Just steps from high fashion, art-filled alleys, buzzy bars, and restaurants, it's the perfect foray into your New Zealand honeymoon. Fuel up with a 1920s-themed high tea before taking a 30-minute catamaran ride to experience the wonders of neighboring Waiheke Island.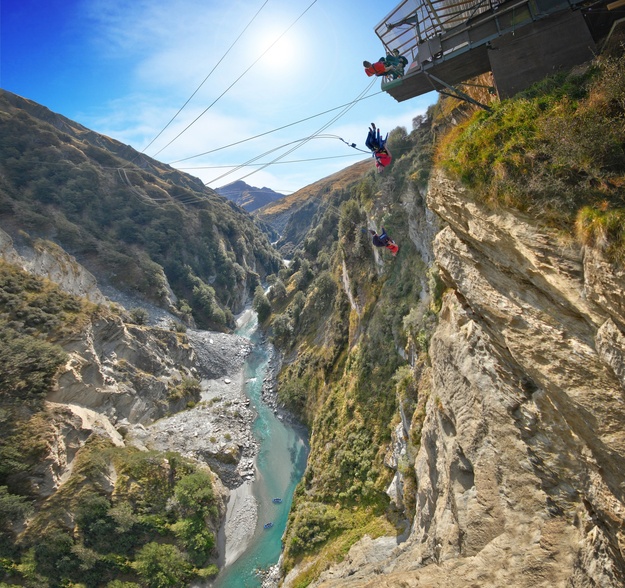 Courtesy of Shotover Canyon Swing




One giant leap of faith - Queenstown is home to countless thrills, such as the world's highest cliff jump.
Honeymoon in Queenstown




Embrace your wild side with a honeymoon trip to New Zealand's most exhilarating destination.
Queenstown is an unbeatable destination for adding a dose of adrenaline into your New Zealand honeymoon. From mountain biking and skydiving to bungy jumping, whitewater rafting, and more, Queenstown will surely crank up the action during your honeymoon.
Survey the land in unique fashion with a helicopter ride, or ride the Skyline Gondola to the tip of Bob's Peak for unbeatable views of the city and Southern Alps in the distance. Unwind with a visit to Onsen, one of the country's most-awarded spas, set amidst Queenstown's scenic countryside.
Stay: Tucked down a charming lane in the heart of Queenstown, The Spire is a perfectly unassumingly and intimately romantic hideaway. With just 10 suites and a cocktail bar filled with character, the boutique hotel offers incredibly warm service which facilitates an overall comfortable stay. Trust the helpful staff to steer you right in the adventure capital of the world.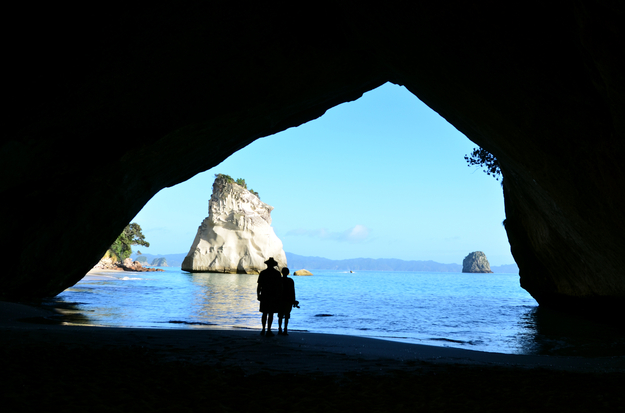 Don't miss Cathedral's Cove during your New Zealand honeymoon.
Honeymoon in The Coromandel




Pristine beaches, lush rainforests, and a relaxed local vibe make this a honeymooner's paradise.
Just a two-hour ferry from Auckland, the Coromandel region is an easily accessible hideaway and a favorite spot among New Zealand honeymooners. Abundant in lush greenery and beaches, rustic and unspoiled, the Coromandel is a natural paradise tailored for rest, relaxation, and leisurely pursuits.
Hike the Pinnacles and span the spectacularly remote Coastal Walkway, or move by bicycle along one of New Zealand's easiest Great Rides: the Hauraki Rail Trail. Beach lovers won't want to miss digging their own pools of naturally heated mineral water at Hot Water Beach. Wrap up your stay in the region with an afternoon kayaking out towards the world-famous Cathedral Cove.
Stay: The Grand Mercure Puka Park Resort will instantly transport honeymooners into the relaxed mentality of the bountifully beautiful Coromandel region. Remotely situated in a native forest, the resort offers 48 guest chalets, each with superb rainforest views. Electric buggies will zip you across the grounds if you prefer not to walk the paved forest paths.
An outdoor spa, heated swimming pool, and tennis courts are sure to satisfy guests that prefer to stay on-site, though the area's surrounding beaches and hiking trails will deservedly vie for attention.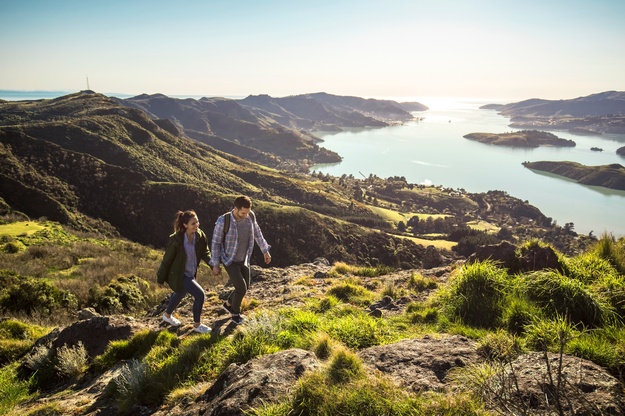 Courtesy of Graeme Murray




Romantic hikes on rolling hills are aplenty in the countryside Canterbury region.
Honeymoon in Christchurch-Canterbury




Honeymoon in the Canterbury region to experience epic hikes, starry nights, vineyard routes, dusty trails, and an all-encompassing journey on the rails.
From sparkling seas to mountain summits, the Canterbury Region offers New Zealand honeymooners a chance to revel in the remarkable contrasts of the country's South Island. The region's largest and most traditionally English city, Christchurch touts itself as the newest city in the world, with a proud heritage and thriving culture.
Use the lively city as a basecamp to explore surrounding picturesque towns and engage in thrilling opportunities like a hot-air balloon ride or stargazing from the world's largest platform. Experience the striking natural landscape across all of New Zealand's South Island with a day aboard the rails of the TranzAlpine train journey.
Stay: Annandale is a sanctuary accommodation well worth the splurge for any New Zealand honeymoon. With 4,000 acres of rolling farmland set on the banks of the sparkling Pacific Ocean, this coastal working farm offers four ultra-modern, themed suites. Honeymooners will love the surreal setting, farm-fresh meals, and impeccably personal service. Annandale is New Zealand's ultimate accommodation for a stay rich in experiential luxury.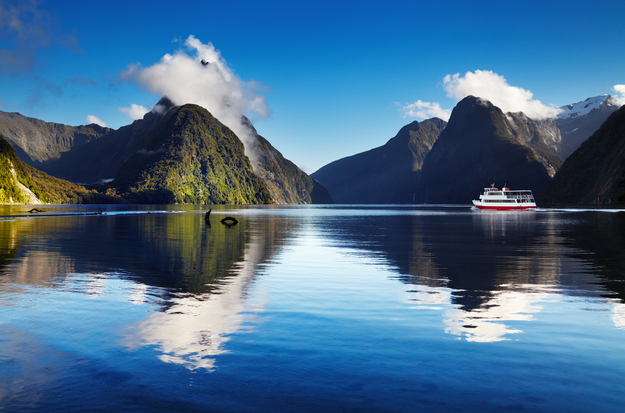 Visit Milford Sound on your New Zealand honeymoon to behold what has been heralded as the eighth wonder of the world.
Honeymoon in Fiordland




Witness the scope and strength of New Zealand's untamed wilderness in its natural glory.
Fiordland offers honeymooners the chance to witness some of New Zealand's most stunning natural scenery. From ancient rainforests to shimmering lakes and steep granite peaks, the region was carved by glaciers thousands of years ago and largely remains unchanged. Fiordland is truly a cherished corner of the world, and one of the nation's most prized destinations.
Honeymooners should revel in the opportunity to hike three of New Zealand's Great Walks all within Fiordland National Park. Take a thrilling flight over the fiords or go kayaking if you prefer to get up close and personal with the landscape. Splurge on a bespoke cruise to take in the region's beauty with a welcome bit of added comfort.
Stay: The accommodations at Fiordland Lodge are exclusive, authentic, and entirely unique. True to the region's eco-heritage, the lodge reflects the vast beauty of the surrounding Fiordland National Park. It's perfectly positioned for explorations of Milford Sound, Doubtful Sound, and all that is encompassed by the immense national park. Stunning views out to Lake Te Anau command your attention, and no request - from helicopter arrivals to custom-cooked meals - can't be met by this stellar staff.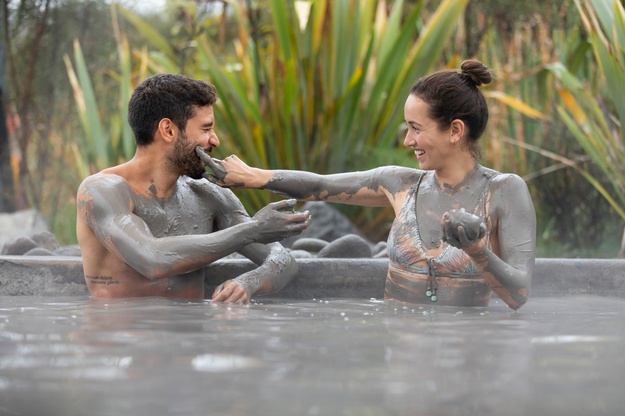 Courtesy of Graeme Murray




A mud bath is a perfectly Kiwi way to relax from an epic New Zealand honeymoon.
Honeymoon in Rotorua




Thermal mud pools, therapeutic hot springs, shooting geysers, and the indigenous Maori culture make Rotorua a dynamic honeymoon destination.
An all-natural spa experience should be enjoyed by any honeymooning couple in New Zealand. Thankfully, the town of Rotorua happens to be a geothermal wonderland situated in the very active Pacific Rim of Fire. Erupting geysers, bubbling mud pools, steam clouds, and volcanic activity are all part of daily living in Rotorua.
The Polynesian Spa offers the best experience in the area, from private natural thermal pools to couples mud massages. Opt for more of a DIY spa day with a geothermal walk across Hell's Gate. Discover New Zealand's native Maori culture with a ceremonial demonstration of storytelling, song, dance, and an authentic feast cooked from the earth.
Stay: Rotorua's premier accommodation, Solitaire Lodge offers unprecedented peace and tranquility to New Zealand honeymooners. Nestled between a tranquil lake and a behemoth volcano, the lodge's 9 suites are each doused with breathtaking panoramic views. Thermal springs, bush walks, mountain biking, and plenty more are all within easy reach.

In case you missed it:
Honeymoon Ideas for Every Couple