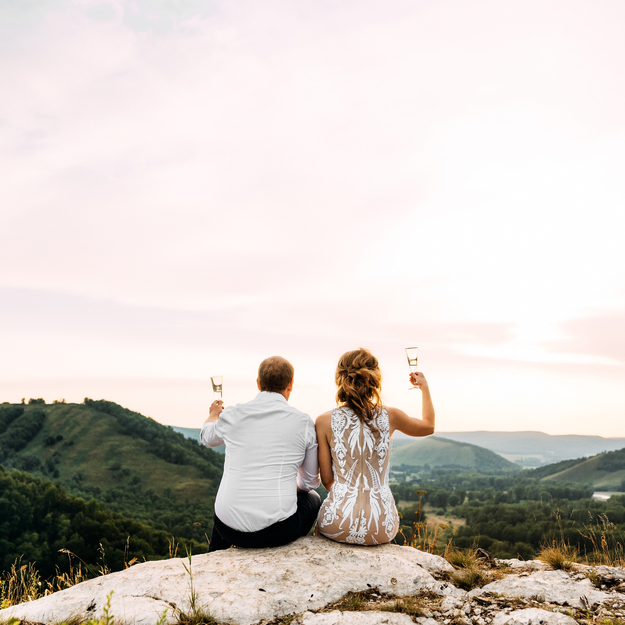 New year, new honeymoon ideas. With 2019 in full swing, we've decided to curate the honeymoon trends that will shape your ideal trip well into the future.
From multi-mooning to milestone trips and stays in unimaginably alien accommodations, the honeymoon visions for this year will elevate your travel fantasies to a whole new level.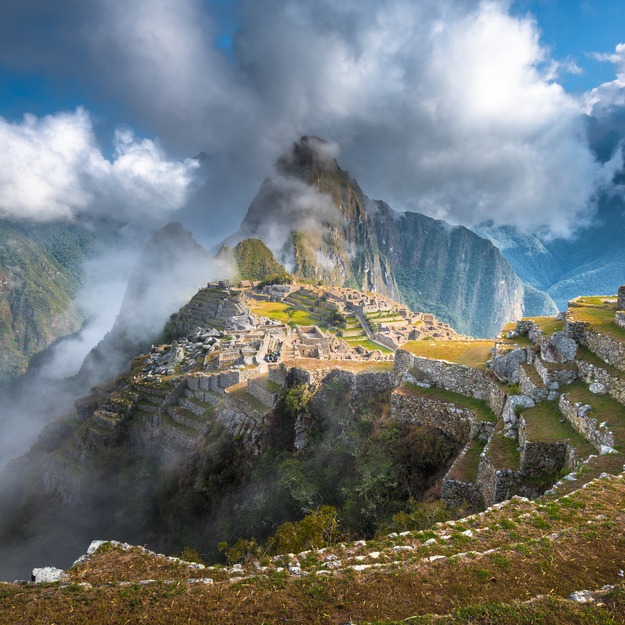 Milestone Honeymooning
Passion has been guiding us throughout the 2010s, and probably played a part in bringing you to your new life partner. As we round out the decade, the focus is being placed on purpose. Where are we at our best? What are we supposed to be doing? Fusing passion and purpose together is turning 2019 into a year of honeymooners filling great accomplishments and crossing off bucket-list life experiences much earlier than anticipated.
So go ahead and take that wild African safari trip you'd always only dreamed of. Travel through the spiritual Tibetan mountains en route to Everest Base Camp. Live in a Tuscan home and learn to make pasta from an authentic Italian master. You'll never know what you're capable of until you push those boundaries - what better chance to make it happen than your honeymoon?
Where: Besides being an archaeological paradise and newly inducted wonder of the world, Machu Picchu in Peru is consistently a top-tier bucket list contender. If you've yet to experience the ancient Incan citadel firsthand, consider tackling a trip to South America for your honeymoon. Challenging hikes with world-class rewarding scenery await, as does a crash-course on the bold flavors of Peruvian culture.
The result is a wild adventure brimming with historical significance. As with any milestone trip, ensure that you prep properly. Check out how we spent our favorite 7 days in Peru to see the best of the surrounding area while checking off Machu Picchu like a pro.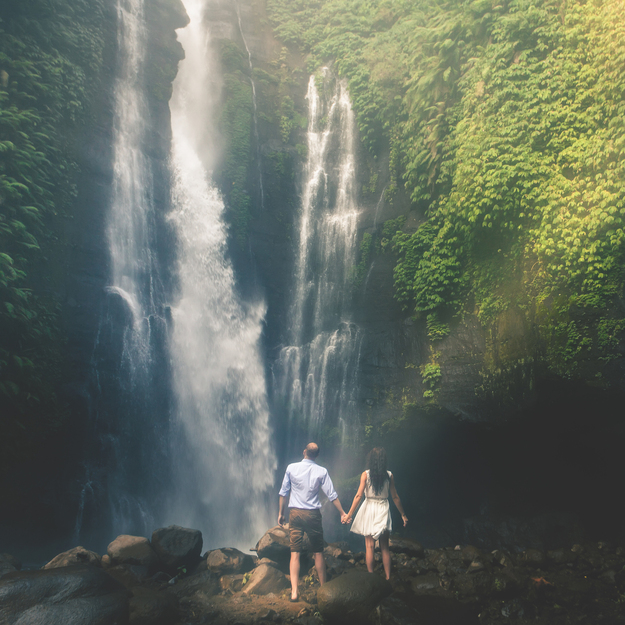 Combo-Moons
Sure, once-in-a-lifetime adventures and discovering your deepest passions and purposes as a couple on your honeymoon sounds great. But let's not rush to dismiss the simple pleasure of a good old-fashioned relaxing honeymoon getaway.
Following the ethos of enjoying everything in moderation, combo-moons offer the best of both worlds: relaxation and adventure. Not for couples pressured on time, this trend typically involves multiple legs of travel. Think about immersing yourselves in a fast-paced unfamiliar culture for a week, reveling in that fish-out-of-water experience together as you navigate a new land. Then, having truly earned your relaxation, complete your trip on a secluded beach or at a rejuvenating spa resort. Whoever said you can't have it all?
Where: The Southeast Asian destinations of Singapore and Bali offer a perfect one-two punch of excitement and serenity for a combo-moon. Start off by experiencing the exhilaration of Singapore, a cutting-edge cosmopolitan city that pairs futuristic living with colonial history thanks to its mix of Malaysian, Chinese, and Indonesian roots. After a whirlwind journey of city living, venture off to Bali, Indonesia's spiritual capital, for a week of wellness and rejuvenation amidst thriving nature.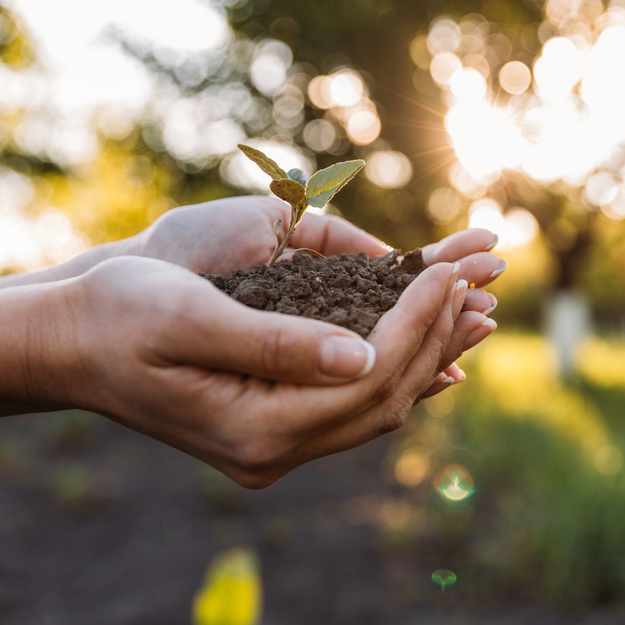 Eco-Conscious Travel
With environmental issues aplenty and single-use plastic washing up on some of the world's most beautiful shores, couples are understandably looking to enjoy an eco-conscious trip after their "I do's." Green resorts made from sustainable materials like bamboo or accommodations that operate solely on solar power are resultantly becoming increasingly attractive.
Honeymooners that want to take matters more into their own hands might even choose to take part in a beach clean-up or local conservation matter while on their trip. However far you might take this concept, consider the leave no trace principle which has guided conscious travelers to be mindful of their footprint as they traverse the wondrous corners of the globe. This is one trend that we hope is here to stay.
Where: While the ultimate in eco-conscious travel might bar you from flying in the first place, we think it's perfectly OK to meet somewhere in the middle. For a top-notch, environmentally friendly resort stay without sacrifice, head to Oil Nut Bay on the British Virgin Island of Virgin Gorda.
Newly opened with the vision of living in harmony with nature, the private villas in this beachfront resort community operate entirely on solar power. Desalination plants transform ocean water for showers and swimming pools, and even render the ocean water drinkable. The car-free resort offers guests bicycles and electric golf carts to move about its spa, restaurant, and simple beach pleasures like kayaking and windsurfing.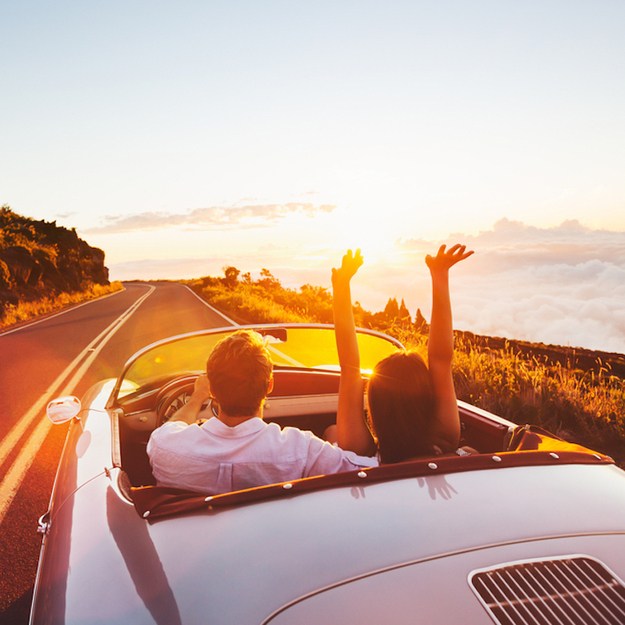 Multi-Moons
In stark contrast with the mega-moon (which blocks off weeks or months for a single, epic adventure), multi-moons are quite simply multiple smaller honeymoons spread throughout the first year of marriage. The idea was undoubtedly birthed from the undeniable pleasure of a mini-moon (a typically less costly, shorter in duration, close to home honeymoon).
Think of multi-moons as the honeymoon that keeps on giving. No epic Sunday scaries when the trip of your dreams comes to a close - another one is surely following shortly behind it. The most crucial part to successfully multi-mooning is to plan wisely with a financial limit in mind. At their best, multi-moons can work with your work schedule and provide a year's worth of excitement to keep the magical spark of your wedding alive long after the big day has passed.
Where: So much of successfully multi-mooning relies on financial discipline and downright geographic location. You might find yourself a two-hour drive from multiple cities that you've always wanted to wake up in, or maybe you're a regular cheap flight from the Caribbean islands. Multi-moons are inherently about flexibility in time, place, and preference.
Consider giving your year of multi-moons a theme, like the aforementioned close cities or Caribbean island getaways, or go with something like national park excursions. Mix and match to your liking if you'd rather - just try and not rub it in when your friends are wondering how you're honeymooning every month.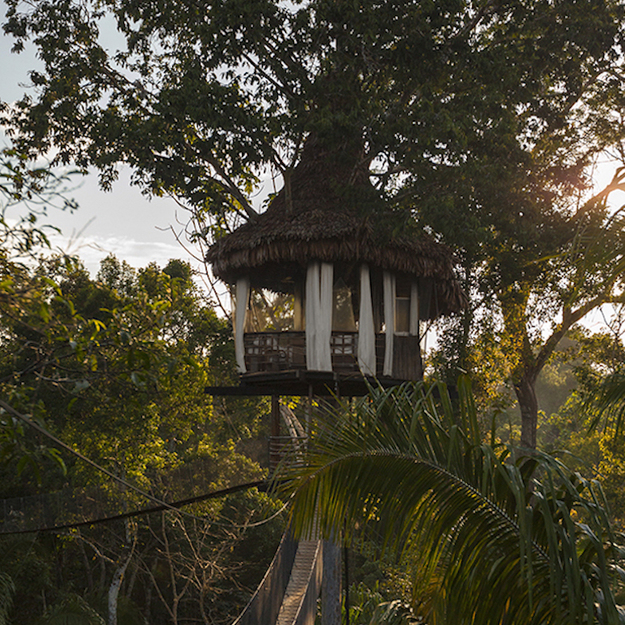 Courtesy of Treehouse Lodge
Alien Accommodations
Possibly the most exciting of modern honeymoon trends is the shift toward wild, almost unimaginable accommodations of all sorts. Want to stay in a luxury tent in the middle of a Moroccan desert? How about hanging out in a repurposed crane turned boutique hotel that towers over Amsterdam? Maybe you'd rather sleep in a snow igloo under the Northern Lights of Finland for a change. Thanks to the creative community of home-sharers and the rise of alternative, experiential stays, we've now entered the golden age of accommodations. As honeymooning travelers, reap the benefits by taking the concept of foreign travel to a new level (even if you're staying domestic) and checking into an utterly alien accommodation.
Where: The all-inclusive Treehouse Lodge in the Peruvian Amazon offers guests an elevated way to experience the wonders of the rainforest. 11 treehouses spread up to 67 feet high in the trees provide an intimate way to intertwine nature with your trip. Aside from sleeping to the sounds of the living forest, guests can expect guided excursions like stargazing, kayaking, swimming with dolphins, and even blowdart gun workshops. Should you manage to escape the comforts of your treehouse, the company of sloths, monkeys, giant toads, possums, caimans, and seemingly endless bird life await right at the foot of your stump.

In case you missed it:
Top 10 Things to Know About a Honeymoon in Aruba
5 Reasons Why You Should Warm Up to the Idea of a Cold-Weather Winter Honeymoon