The world's tallest mountains stretch almost unimaginably high. The vast and remote highways that zigzag beneath them are bordered by crystal clear lakes that shimmer in the shadows of centuries-old glaciers. Occasional and colorful prayer flags serve as reminders of a proudly religious civilization. In far-flung villages, intricate temples dating back millenia are as culturally relevant now as when they were originally erected.
This is Tibet, rightfully referred to as the "roof of the world," and while it is far from a conventional honeymoon destination, we've composed a 7-day itinerary for the adventurous couple looking to stretch the ceiling of their expeditionary limits while exploring one of the most spiritual and still mysterious places on the planet.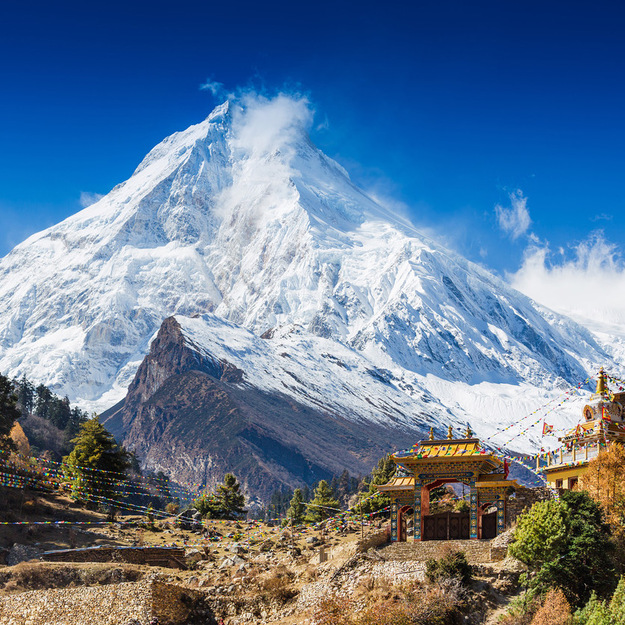 The State of Travel in Tibet
For over 60 years, Tibet has been considered part of China and is officially recognized as the Tibet Autonomous Region (TAR). Whether you view Tibet as an oppressed and occupied nation or rightful part of China, the impact on travel is evident and very different from travel to China or other Asian destinations. Travel in Tibet requires a Chinese visa as well as a Tibet Tourism Bureau (TTB) permit, assigned from a Tibetan travel agency. Part of attaining this permit requires confirming an itinerary and arranging a guide for the duration of your trip as well as private transportation for any travel outside of the capital city, Lhasa.
Thankfully, there are many great Tibetan travel agencies (like Tibetan Guide, Tibet Vista, and Explore Tibet) that make this experience more of a seamless luxury than hassle. They offer various sightseeing tours, complete with accommodation, dining recommendations and transportation, and are all completely customizable to tailor to your wants and needs. Don't be put off by the seemingly strict entry process; Tibetan people are extremely welcoming and hospitable (as is the way of Tibetan Buddhism) and take great pride in showing foreign travelers their way of life.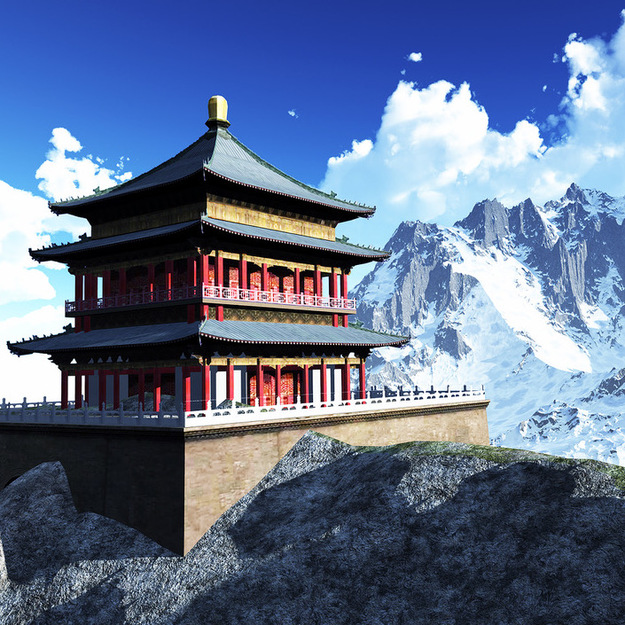 DAY 1: Arrive and Acclimate into Lhasa
Focused, deep breathing is always a good idea, but when arriving into Tibet it's more of a necessity. With an average elevation of nearly 15,000 feet, Tibet is akin to summiting the tallest of the Rocky Mountains and then deciding to live there. With only 2/3rd of the oxygen at sea level available, your arrival into Tibet needs to be focused on acclimating to the environment. If flying into Tibet (via Lhasa's LXA airport), it's especially important to stay well-rested, well-fed, and hydrated, while avoiding alcohol and strenuous activities. Taking a Chinese train into Tibet offers a more scenic arrival route while slightly easing you into life at this high of an altitude.
The absolute best arrival process entails flying into the city of Xining in Western China (at a much more moderate 8,000 ft. elevation) and spending a few days sightseeing and unknowingly acclimating there before flying or taking the train to Tibet.
Regardless of your entry, take this first day to meet and greet with your personal guide at the airport, check into your hotel and take it easy. If all goes well, you shouldn't have to use any of those altitude sickness pills (like Diamox) that you definitely packed, and can head out to the town for an evening stroll and rewarding dinner of hearty, roasted mutton chops or a yak burger along with the local specialty (and considered lucky national dish) of sweet and sticky ginseng fruit rice.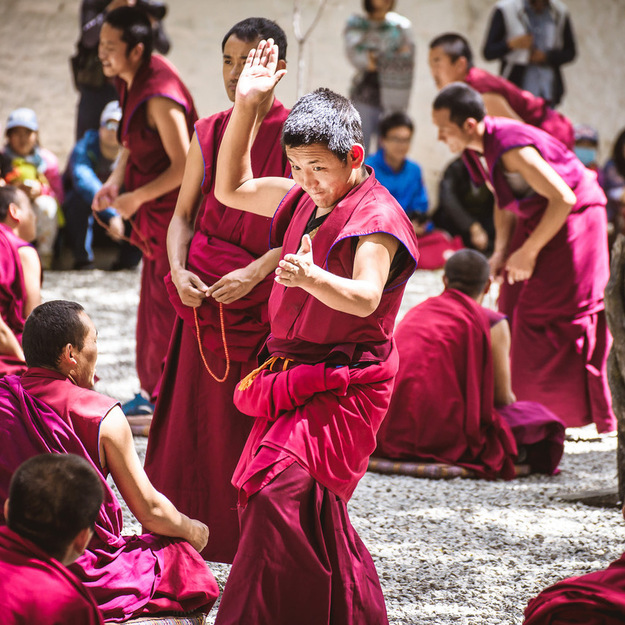 DAY 2: Public Parks and Religious Monasteries
Start the day with a trip to Norbulingka Institute, the beautiful heart of Tibetan arts and culture and former summer palace of Dalai Lamas. Not only does Norbulingka offer an immediate meditation on Tibetan heritage - through its focus on design, quality, architecture, and storytelling - but its abundance of plants and flowers throughout the gardens quite literally make this public park a great oxygen bar. For your first day of activity this added boost will help prime your body for more touring.
Move onto Drepung, the largest monastery in Tibet (and once in the entire world), which formerly housed and taught up to 10,000 monks at a time. Step into life as a local by drinking butter tea (made of tea leaves, yak butter, water and salt), splash holy water on your face, and observe the intricate carvings, murals, paintings, prayer wheels and calm atmosphere of Tibet's largest Buddhist college.
Later, travel to Sera monastery, famed for the daily Scripture debate at 3 pm, which introduces Buddhist philosophies in an entertaining and friendly fashion in the form of public debate. Exaggerated hand gestures are tossed about by a standing monk, while half-smirking seated monks offer answers, typically in the form of more questions. The result is a show with no firm conclusion, but rather a helpful beginning into the wise ways of Tibetan Buddhists.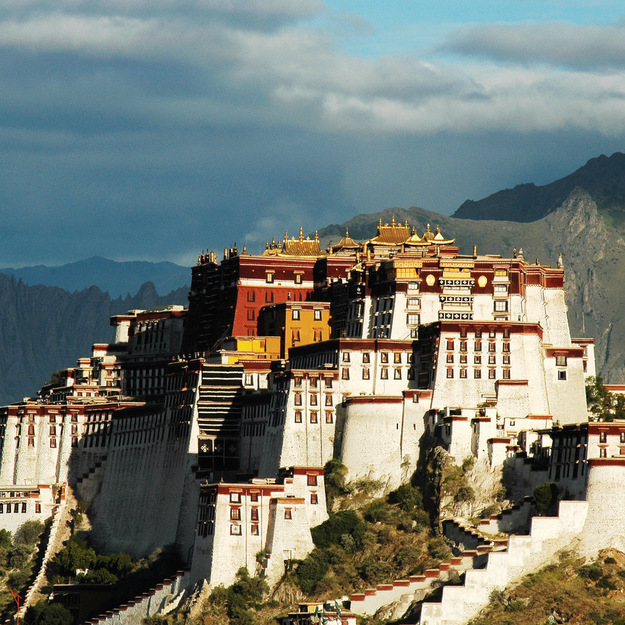 DAY 3: Historic Palaces and Colorful Tibetan Markets
The former seat of the Tibetan government and winter residence to many Dalai Lamas, Potala Palace is the most striking and recognizable landmark in all of Tibet. The architectural wonder exudes grandiosity, as its fortress-like structure sits over 13 stories high. Marvel through the magnificent chapels and prayer halls lit by butter candles, and relive over 1000 years of Tibetan history, culture and religion through the ornate artwork and artifacts inside and throughout the palace's 1000+ rooms.
Make your way to the very top for a birds-eye view of Lhasa city down below. Not far away, the most sacred, spiritual center of Tibet and UNESCO World Heritage site, Jokhang Temple, begs to be explored for an insightful experience into Tibetan religion. After a lengthy day of observation and contemplation on the road to spiritual understanding, take to nearby Barkhor Street, Lhasa's biggest and busiest shopping district, for some souvenir hunting before settling on a street-side spot for dinner to soak in the scene.
DAY 4: Holy Lakes and Glaciers (en route to Shigatse)
The drive to Shigatse (Tibet's second largest city) is 6 hours and filled with hairpin turns and high elevation, but thankfully also scattered with surreal vistas, vast amounts of wildlife, and several small villages worth exploring. Lhasa is certainly the center of Tibetan culture, but the sky-high views along this route are well worth the trip. Yamdrok Lake, over 40 miles in length and a tranquil bright turquoise in color, is considered a life-spirit of Tibet. Like mountains, lakes throughout Tibet are considered sacred, and it is believed among Tibetans that if the Yamdrok were to ever dry, their land would become completely inhabitable.
Take a short detour to walk its perimeter, chat with other travelers that camp here, or admire locals that walk the land. The magnificent Karola Glacier can be appreciated right from the road or up close for a short put stop. From here, you're only a short drive away from planting your own prayer flag and taking an unforgettable photo at the Simila Mountain Pass. Once in Gyantse, stop for food and explore the striking and multi-tiered Palcho Monastery before continuing on and eventually settling into Shigatse.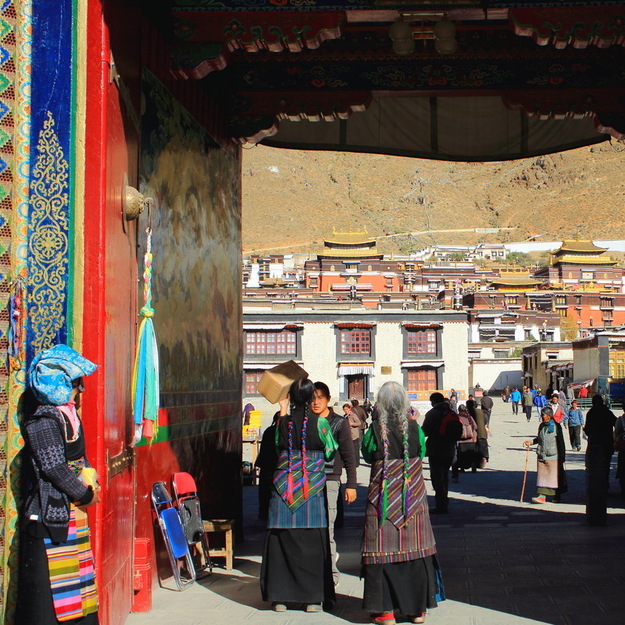 DAY 5: Mountain Passes and Himalayan Panoramas (en route to Rongbuk)
One of the highest cities in the world, Shigatse is the perfect place to decompress and marvel at the uniquely Tibetan display of nature now that you're comfortably acclimated. From vast plateau pasture and beautiful cultivated fields to subtropic forest and grand snow-covered mountains, you'll certainly never tire of the views from here and can enjoy a comfortable chunk of the day exploring the ins and out of this thriving city, including the golden-roofed Tashilhunpo monastery, founded by the first Dalai Lama.
Eventually, make your way onto the road with an end destination of Everest Base Camp. Along this route, you'll use the Gawu La Pass to cut through the mountains, and in doing so will come upon one of the greatest vantage points that this earth has to offer: the four tallest mountains, Everest chief among them, are in perfectly clear view from here. Eventually you'll reach Rongbuk Monastery, the highest in the world.
Enjoy the many murals inside, and don't miss out on the perfect opportunity to capture a photo of yourselves in front of the monastery with Mt. Everest perfectly positioned in the background. The massive behemoth of a mountain, tallest on Earth, is looming large across the landscape here. Have a dinner here and spend the night sleeping under the clear starry sky of the monastery's quarters.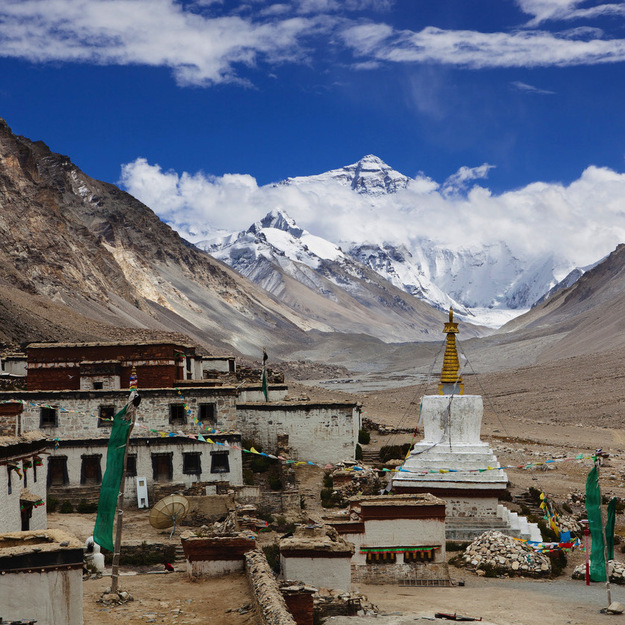 DAY 6: Everest Base Camp
Climbing Mt. Everest is a task for the most extreme of explorers that dare to dream big and don't shy away from serious risk. Even approaching the base of this mountain is an unforgettable accomplishment that is completely worthwhile and should be held to high esteem in terms of your trip's overall itinerary.
From Rongbuk, you're only about a two-mile hike or a short shuttle ride to Everest Base Camp. Talk with climbers as they prepare for the big ascent, appreciate their bold, calculated and relentless approach to living, gain an unmatchable perspective from the presented scale, be sure to take a photo in front of the Mt. Qomolangma Base Camp sign (the closest any visitor can get to Mt. Everest without a proper Summit permit), and then head back (unless you're braver than we are and are going for the climb!). The standards of your bucket list just seriously increased. Head back to Shigatse to spend the night and cut the return journey in half.
DAY 7: Return to Lhasa & Depart Tibet
The long way back is about 5 hours along the stunning Yarlung Tsangpo River, the highest in the world. Use this drive to reflect on the sights, sounds, and unspoken way of life that you've experienced in your one-week crash course on Tibetan culture. You've likely become best friends with your guide by now, and will immediately grow to miss the luxury of having a human search engine for all things Tibet at your expense, so this is your last chance to extend conversation on any lingering thoughts, questions, or ideas.
You've uncovered many of the mysteries of a land and people that are cut off from the rest of the world, and reached one of the most difficult, inhabitable, and purely epic places possible. Enjoy this feeling of accomplishment as you wind across the unmistakable Tibetan landscape, and relish in the fact that you have the rest of a happy marriage to celebrate and reflect on your crazy adventurous honeymoon.

In case you missed it:
Where to Honeymoon in France (Beyond Paris)