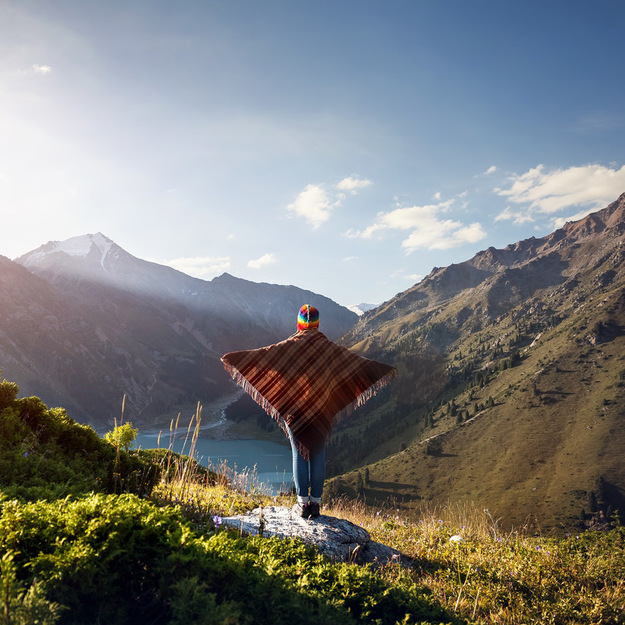 From defining peaks of the Andes mountains to dense Amazonian jungle and jarring coastal deserts, Peru presents a geography as diverse as the peoples of civilizations that thrived here centuries ago.
Planes, trains, and taxis will take you through the vistas across Peru's deceptively large landscapes before bringing you to the country's most prided ancient citadel: Machu Picchu. Visit Peru to experience this world famous historical site, but leave with much more than a bucket list accomplishment - Peru is an adventure traveler's paradise, brimming with historical context, challenging hikes, and rich flavors, both cultural and culinary.
For the honeymooning couple that wants to see and do some of the best that this storied South American nation has to offer, here is our ideal 7 day itinerary.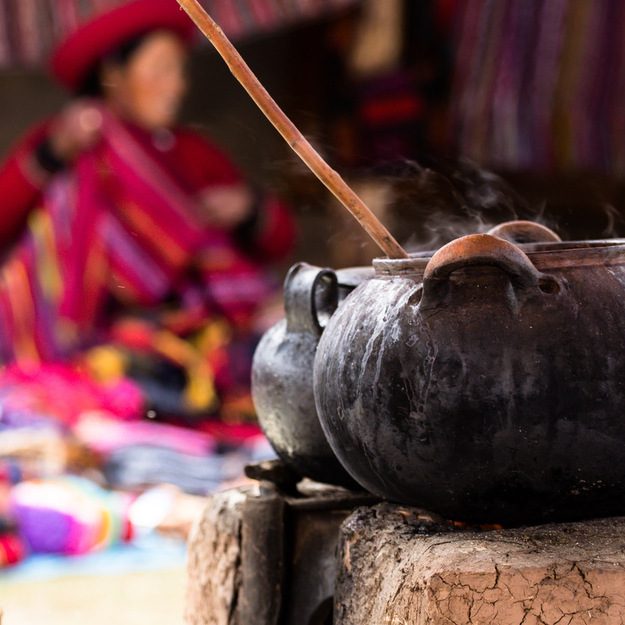 Day 1: To Urubamba, the Heart of the Sacred Valley
Most international flights entering into Peru will arrive in its capital city, Lima. While it may be tempting to start exploring this sprawling urban complex as soon as you touch ground, we think it's best to push through and toward Peru's more rural regions. Continue onward to the city of Cusco via a short, 75-minute flight. This cosmopolitan historical capital was the center of Incan civilization, and today acts as an entrance for hikers of the Inca Trail and travelers en route to Machu Picchu. 11,000 feet above sea level, Cusco can onset altitude sickness, so it's best to circle back here toward the end of the trip. A 90-minute taxi ride (~$40) across the rolling hills of Peru's Sacred Valley will eventually bring you to your accommodation in the town of Urubamba (at a more modest 9,000 feet elevation).
Stay: Sol y Luna is exactly the hotel sanctuary you deserve after a day of lengthy travels. Their private circular casitas are the stuff of pure Inca authenticity, and the surrounding Sacred Valley landscape will evoke the feeling that you have finally arrived in this divine spiritual region. Sweat out your travels inside the sauna of the stained-glass holistic healing center, or head straight to their renowned on-site restaurant for a taste of contemporary Peruvian cuisine.

Day 2: In the Sacred Valley
Urubamba makes a great base for visiting nearby sights and villages, and no shortage of local tour companies will vie to show you around. Opt in for some guidance, hire your own driver (~$100 for the day), or embrace the local bus - where chickens and dogs ride with indigenous locals - for a blast in local culture. Head to Pisac and peruse through the colorful ponchos, pottery, jewelry, and Peruvian fabrics of its bustling market where the art of bartering still persists. Stop for lunch in the market square and munch on local specialties like quinoa pancakes and alpaca sandwiches at Ulrike's Cafe before hiking up to the Inca ruins which loom over this village - a taste of what's to come later in the trip.
Afterwards, head back and enjoy the grounds at your hotel, or continue about 20 minutes further to explore the small Andean village of Chinchero. For hands-on foodies, consider booking a cooking class to better appreciate the unofficial Peruvian national dish, citrusy seafood ceviche.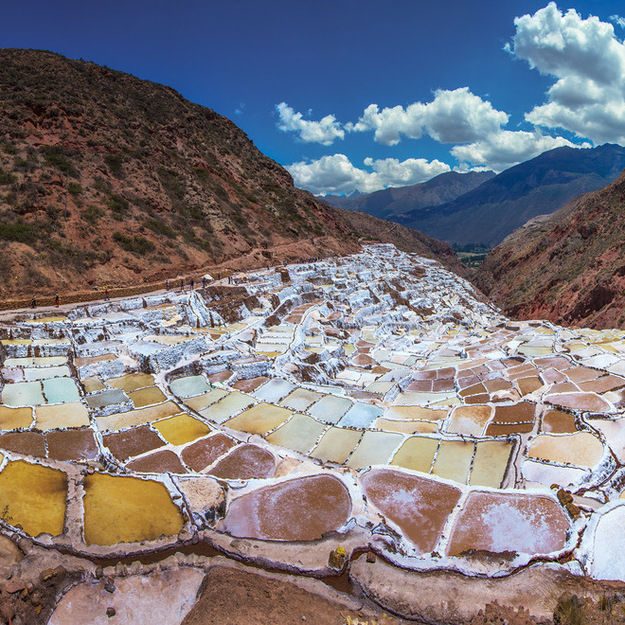 Day 3: Maras Salt Ponds and the Train to Machu Picchu
While Machu Picchu is undoubtedly Peru's most iconic site, the still-functioning salt ponds of Maras actually pre-date the Inca civilization by hundreds of years, and are completely stunning in their own regard. Nearly 5,000 small ponds have been carved into the mountain, and are fed from an ancient spring water canal. A photographer's dream, you can lovingly lose yourself for hours in this otherworldly landscape, which continues to provide the whole country with its pink salt, equally famous for its flavor and curative properties. Continue on to Ollantaytambo (forgivingly referred to as Ollanta) to experience Inca city planning at its finest. Wander the cobblestoned streets which weave between stone buildings before settling on a spot for late lunch. This quaint village serves as an entry point to Machu Picchu travelers, with as many as 20 train departures daily to the village of Aguas Calientes at the foot of the citadel (which is understandably, if unofficially, changing its name to Machu Picchu town).
Inca Rail and PeruRail both operate reliable trains towards Machu Picchu, each offering a stunning scenic rail route parallel the Urubamba River and up the mountains. If schedule allows it, opt for PeruRail's Vistadome cart, where panoramic windows allow nature to entertain you along the 90-minute journey.
Stay: Inkaterra Machu Picchu Pueblo Hotel has gained reputable recognition and won worldwide accommodation awards for good reason. Its 80 rooms, suites and casitas all feel private amidst its jungle-like setting which spans 12 acres, altogether providing the royal Inca retreat you never knew you needed.
Day 4: The Historic Sanctuary of Machu Picchu
Machu Picchu finally beckons. Consider a guided tour to gain valuable insight (easily arranged with your accommodation), although you'd do just fine marveling in silence at the site if you opt to visit yourselves. Either way, head out early morning to beat the crowds, brush up on a bit of history beforehand so you understand what you're staring at, and go for the climb atop Huayna Picchu. This mountain peak directly behind the site of Machu Picchu might seem impossibly daunting, but a footpath makes it fairly accessible, and the resulting views of the citadel from above are forever rewarding.
Exemplary preservation, awe-inspiring ancient architecture, and breathtaking panoramic mountain vistas make Machu Picchu one of the rare global sights that still somehow manage to exceed expectations. There truly is an air of mysticism here, which has rightfully placed Machu Picchu among the seven modern wonders of the world.

Day 5: Unwind Before the Return Train to Cusco
Between all the transportation, hiking, and already thin-air from the increased elevation, we think you've earned a breather. Stroll through the fascinating ecosystem of Machu Picchu's cloud forest, filled with orchids and exotic birds that frequent the area en route to gushing waterfalls. Soak in the serenity by sipping some traditional coca tea to restore your spirit before making your way back to the the train station. Both Inca Rail and PeruRail operate routes back to Cusco, but feel free to treat yourself on this extended trip (4+ hours) by riding the Belmond Hiram Bingham back into the city. Taking to the rails with the world's greatest train operator won't come cheap, but the service, included meals, and sheer decadence aboard this iron horse might make the overall experience as otherworldly as Machu Picchu itself.

Stay: The Palacio del Inka is conveniently located within walking distance from the train station in the heart of Cusco's historic district. This storied mansion makes a great home base for exploring Cusco's vibrant nightlife, while its in-house spa, restaurant and bar (with pisco sour cocktail classes) will keep you more than satisfied if you don't feel like venturing off premises.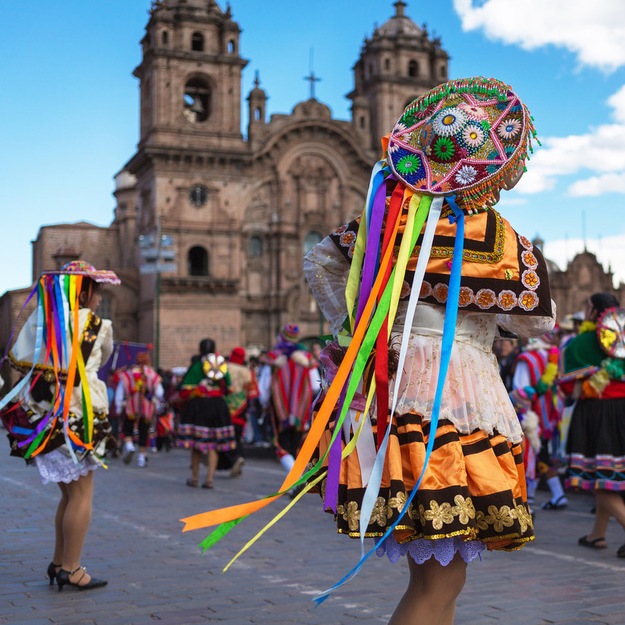 Day 6: Touring Colorful Cusco
Combining ancient heritage with colonial architecture, Cusco is most certainly Peru's cultural capital. Explore the city on foot, starting at the historic town's center, Plaza de Armas, home to classic cathedrals Santo Domingo and the Iglesia de la Compañía de Jesus. The walls inside the neighboring ruins of Qurikancha, known as The House of the Sun, were once covered in gold, and are well worth visiting.
Local street vendors sell everything from popcorn and plantains to ancient goddess Pachamama dolls along the ten minute walk to massive San Pedro market. An overdose of local living, along with fresh fruits (like pitahaya and the tuna cactus), vegetables (like purple corn), empanadas, salchipapas (fried sausage with potatoes), rocoto rellenos (stuffed and baked peppers), and other authentic foods await your indulgence. Frog smoothies are reserved for the daring or desperate - Peruvians believe consuming frogs can increase your sex drive.
Dessert can be had inside the market, or at the nearby Choco Museo before making a short hike up to Sacsayhuamán. This ancient Inca military fortress is perfectly positioned above the city, and a great spot to soak in some late afternoon views; high altitude aside, Cusco is still breathtaking. Wash the day off and partake in Cusco's wild nightlife scene, narrow pubs and massive salsa clubs aplenty, to properly begin your goodbye to Peru.

Day 7: To Lima and Departure
Visit Cicciolina for the best bread and breakfast in all of Cusco before departing back to the airport en route to Lima. If your layover allows (or if you've booked a last night to stay in the city), take a 30-minute taxi to get a taste of the city. Consider the Plaza de Armas, the center of Lima's historic district, but prioritize a visit to Miraflores, on the city's outskirts. Here you can walk a six mile boardwalk along the Pacific Ocean, people watch in a number of relaxed parks, and peruse the mega Indian Market for traditional knickknacks and Alpaca clothing perfect for souvenirs. Outdoor seating at the beachy El Mercado for pisco sour cocktails and a fusion spin on ceviche will set a good pace for your evening.
Take this day in Lima to gauge how much time you'll allocate the capital city during your inevitable return trip to Peru. You've conquered one of the world's most famed sites while learning the ways of life of the Peruvian people, but sand boarding in the desert, jungle trekking through the Amazon, and the incredible man-made islands on Lake Titicaca still await your exploration.

In case you missed it:
Traveler's Joy Adds 5 New Honeymoon Destination Guides in 2018