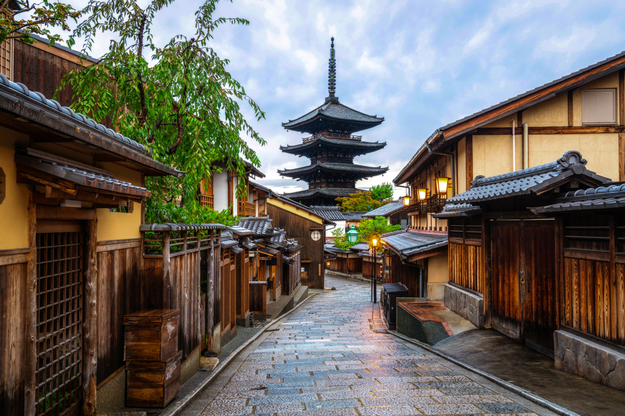 Thanks to its unique offering of tremendous culture, adventure, and authentic experiences, Kyoto, Japan has emerged as one of the hottest honeymoon destinations in recent years.
In short, it's truly a one-of-a-kind destination, which is incredibly appealing to honeymooners in 2023 (especially compared to typical beach locales that put an emphasis on lounging in the sun).
From historic temples and shrines to amazing food culture to splendid nature-oriented experiences, there's so much for honeymooners to see and do.
To help you narrow down the options, we've highlighted the top 30 things to do on your Kyoto honeymoon. After you've found your "can't-miss" experiences, register for your honeymoon, add them to your registry, and start turning that dream honeymoon getaway into a reality.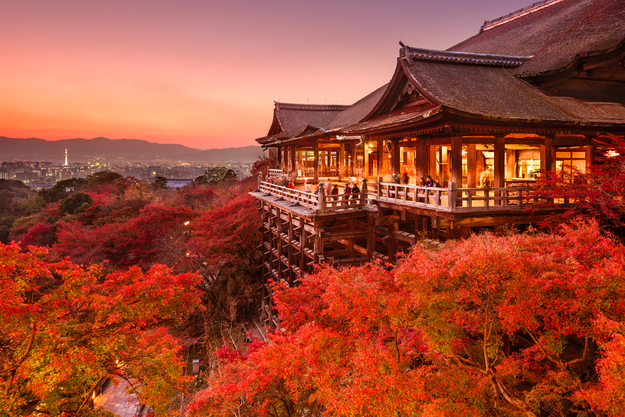 1. Walk the Philosopher's Path. The gorgeous route follows a cherry-tree-lined canal scattered with coffee shops and craft stores, restaurants, and boutiques. It's perfect for a romantic honeymoon stroll, especially during the spring.
2. Visit ancient temples and shrines. Must-see spots include the Golden Pavilion (Kinkaku-ji), which is set against a lush green backdrop in the summer months and casts its reflection out over the surface of a nearby pond. The Silver Pavilion (Ginkaku-ji) was built in the 1480s and stands as one of the city's greatest pavilions.
3. Take a stroll through Arashiyama Bamboo Forest in northwest Kyoto. Filled with massive bamboo, the dense forest is picturesque, tranquil, and truly unique.
4. Stroll the gorgeous streets of Higashiyama. This charming area is filled with famous parks (Maruyama Park), shrines (Yasaka), temples (Yasaka Pagoda and Kiyomizu Temple), and stone-paved roads. Ramble down Ishibe-Koji Lane and Ne-Ne's Road, both home to inns, teahouses, upscale shops, and private galleries.
5, Visit the Fushimi Sake District for some sake tasting. Gekkeikan and Kizakura are two noteworthy sake breweries.
6. Check out the Fushimi Inari Shrine. The shrine features thousands of torii gates that lead the way to the summit of Mount Inari.
7. Stay at a traditional Japanese guest house (better known as a ryokan). For some classic charm, start with acclaimed places like Ryokan Mugen or Nanzenji Sando Kikusui.
8. Plan a visit to Kiyomizudera Temple, founded in 780 in the eastern hills of Kyoto. This national treasure offers incredible views from the main hall, plus beautiful grounds with waterfalls and numerous landmarks and buildings.
9. Get tickets to the Kyoto National Museum, the city's premier art museum.
10. Spend an evening visiting Pontocho Alley. This is one of Kyoto's liveliest districts and home to a wide variety of restaurants, tea houses, and dining options.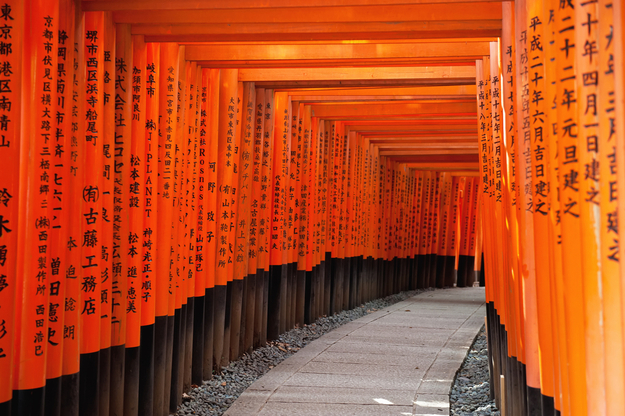 11. Take part in an authentic Kyoto tea ceremony. Couples can wear a traditional kimono, drink the highest-grade tea, and enjoy delicious Japanese sweets.
12. Head to Nijo Castle and amaze at its intricate interiors, peaceful gardens, and gold-plated gate.
13. Do a historic walking tour of Gion Geisha District before enjoying an authentic geisha performance.
14. Visit Nishiki Market. Filled with over 100 shops, food stalls, and restaurants, this market is a must-visit destination for foodies and a terrific spot to sample local food and specialities.
15. Go to the Samurai and Ninja Museum. This hands-on experience will have you dressing up as a samurai warrior, throwing ninja stars, and even using blowguns.
16. Sign up for a food tour of Kyoto. Couples can try many local and regional dishes, visit family-owned and operated eateries, and enjoy lunch at a traditional restaurant as well.
17. Go to Ippodo Chaho Tea Shop. Expect to sample high-quality teas at their signature store, shop for unique gifts and products, and even take part in tea classes.
18. Get up-close views of Yasaka Pagoda. This beautiful temple is situated in the historic Higashiyama District and dates back to 589.
19. Mingle with Japan's famous monkeys at Arashiyama Monkey Park. It's truly an entertaining experience, plus the scenery and views are excellent as well.
20. Spend the day at Kyoto Botanical Garden. Founded in 1924, it's one of Japan's oldest botanical gardens and a terrific attraction for both locals and visitors alike.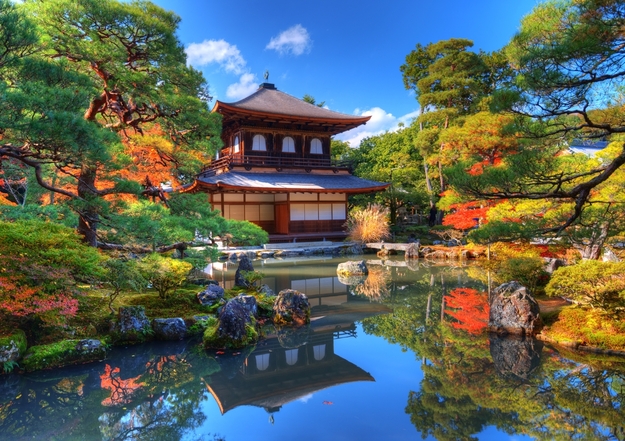 21. Treat yourself to a spa experience at one of Kyoto's very best spas like Aman Spa at Aman Kyoto or Spa Kacho at the Westin Miyako Kyoto, which features natural hot spring water and a lovely semi open-air design.
22. Learn to make sushi by booking a sushi making class.
23. Rainy day? Shop 'til you drop at Shinkyogoku and Teramachi arcades. Newlyweds can find everything from souvenir shops to bookstores, art galleries, clothing stores, and much more.
24. Indulge in Kyo-Ryori or "Kyoto Cuisine." Kyoto remains the home of traditional Japanese cuisine and there are countless specialty eateries for sushi, tempura, soba, and sweets. Try Ramen Towzen, an acclaimed ramen shop, and Touzan, with its delicious Bento offerings.
25. Break away from the big city for a relaxing onsen experience. Start with Ohara Sanso or Arima. If you're looking to stay in Kyoto, Sagano Onsen Tenzan-no-yu is a great option, located on the western side of the city.
26. Take a ride on the Sagano Scenic Railway. It's also known as Kyoto's "Romantic Train" and is a fabulous way to soak in the natural beauty of the region.
27. Book a honeymoon photo shoot and dress up in traditional Japanese wedding attire.
28. See Kyoto's top attractions on two wheels with a full day bike tour.
29. Navigate rapids and scenic river terrain through a boat ride on the Hozugawa River.
30. Learn the art of calligraphy by booking a calligraphy class in Kyoto.

In case you missed it:
Traveler's Joy Honeymoon Destination Guide: Japan
The Best Luggage for Your Honeymoon in 2023