From the pastel-colored cliffside of Positano to the glitzy lakefront of Como, not to mention the bucket-list capitals of Rome, Florence, and Venice, romantic cities in Italy are everywhere you turn.
Couples have no shortage of options; the hardest part will be picking just one (ok, two). Where you go will depend on your interests: Culture and art lovers should seek out museum-filled Rome and Florence, while beach bums will gravitate toward towns along the Amalfi and Ligurian coasts. Couples who want limited crowds, but still quintessential Italian experiences--lush gardens, historic villas, quaint trattorias--should head to less-traveled destinations like Ostuni or Ravello.
No matter which you choose, every Italian city guarantees honeymoon-worthy romance.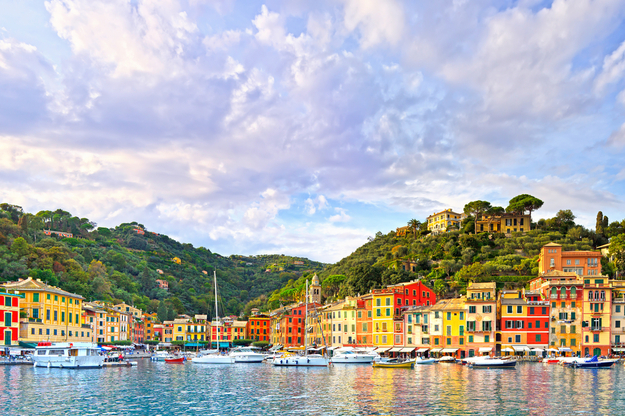 Portofino
The term "fishing village" is a bit of a misnomer in the case of Portofino, a tiny town on northern Italy's Ligurian coastline. True, you could walk the entirety of the place in less than 15 minutes, but the enormous hillside mansions, streets lined with high-end fashion boutiques, and super-yacht-filled harbor are pretty much the antithesis of small-town vibes. But that juxtaposition is what draws glamorous Milanese crowds during hot summer months. The overall glamour of the place, plus the chance to rub shoulders with fashion designers, models, and more, will make any regular honeymoon feel instantly over-the-top.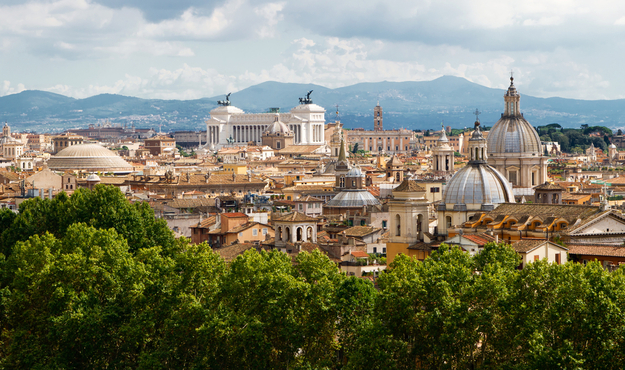 Rome
The Eternal City holds eternal appeal for many reasons. First, the staggering number of sites to see, from The Vatican to St. Peter's Basilica, the Colosseum to the Pantheon and the Trevi Fountain. The city is ideal for honeymooning couples who crave lots of action and want to check a major historic capital off their bucket list.
But don't think that you'll only get a touristy, cookie-cutter experience. In fact, Rome is still a city of inimitable treasures, especially when it comes to activities: hike up Janiculum Hill, go vintage shopping on Via del Governo Vecchio, check out antiquities at Palazzo Massimo, eat your way through Testaccio Market, and more.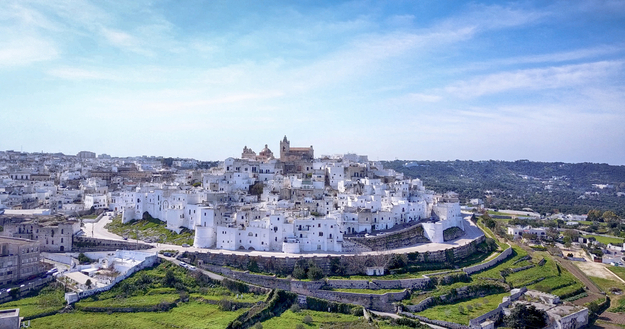 Ostuni
The "White City" is the gem of Puglia, the southeastern region of Italy (a.k.a. the heel of the boot). You may do a double-take when you catch sight of the white, flat-topped houses, perched on a perfect little hill, which look like they belong on a Greek island. (It's not a coincidence, since Puglia is approximately 45 miles from Greece across the Adriatic Sea).
This tiny town is the perfect less-touristed beachfront hideout during warm months, when couples can dip in the azure waters after wandering the village's labyrinthine streets.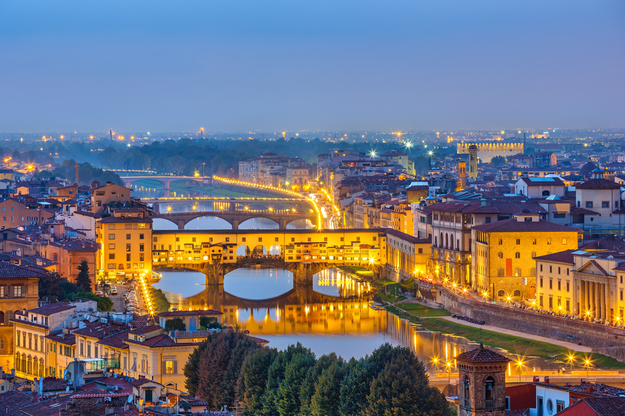 Florence
Walk the banks of the Arno River just before sunset and you'll see why the Tuscan capital is a perennial honeymoon fave: The terracotta-toned architecture comes alive in the soft light of the "golden hour." Spend your days taking in masterpieces like Michelangelo's "David," Botticelli's "The Birth of Venus," and da Vinci's "Annunciation."
But don't leave town before stopping in Santa Croce to pick up Italian-made leather products (or San Lorenzo Market if you're on a budget). Traditional methods of hide tanning have been in practice since the 13th century, so any belt, boot, or jacket that you buy will be made to last a lifetime.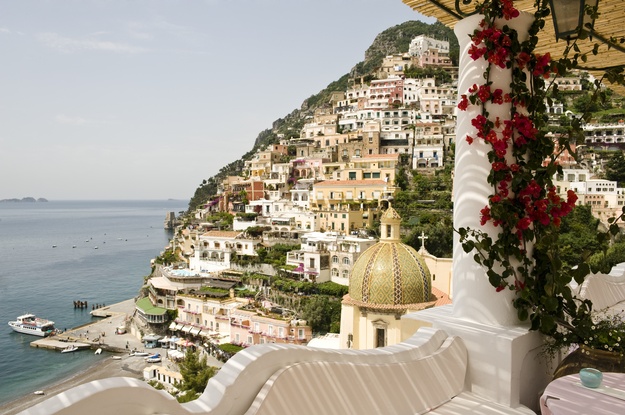 Image courtesy of Le Sirenuse
Positano
With its pastel-colored houses that climb from the sea to the top of a steep cliff, Positano is one of those places that takes your breath away--literally. Often referred to as the "vertical town," the only way to get up and down the hillside is by traversing narrow, steep steps. But all the physical exertion is worth it when you arrive at Le Sirenuse for sunset cocktails on the terrace of the bougainvillea-covered Champagne Bar.
Or walk the streets at night, filled with glamorous seaside bars, restaurants, and clubs. The daytime scene is just as fun, but be sure to book your reservation at La Fontelina beach club well in advance if you're honeymooning during peak summer season--the crowds (not to mention the prices) are no joke.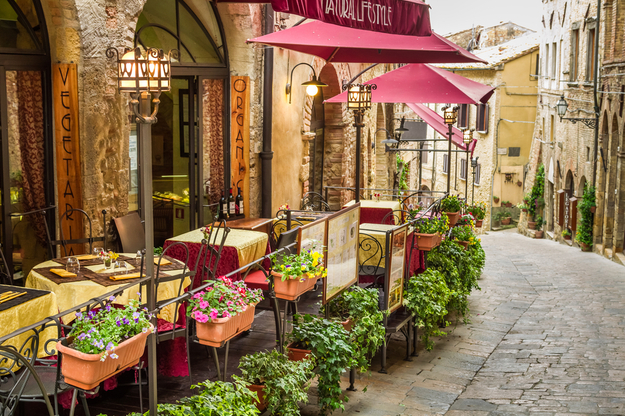 Como
You might assume that the namesake town on Lake Como is a total tourist trap filled with mediocre cafes and souvenir shops, but Como is quite the opposite. (Nearby Bellagio, on the other hand, wins for most overrated town.)
Start on small side streets like Via Bernardino Luini to browse Italian-made cashmere at Falconeri. On Via Carcano you'll find design-centric home, kitchen, and office wares at Dep Design Store. Pronobis, on Via Lambertenghi sells traditional Genoese pesto (buy one more bottle than you think you need; you'll thank yourself later). For dinner, take a quick water taxi ride to the famed Villa d'Este for a white-glove, high-dining experience.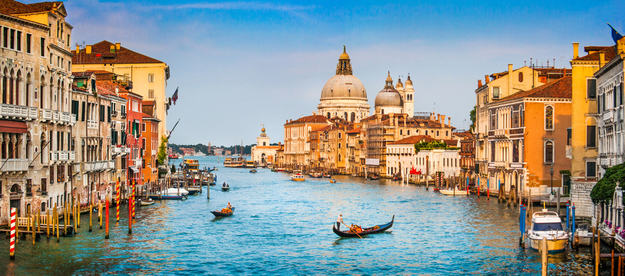 Venice
Couples who honeymoon in Venice are drawn to the "floating city" on the promise of scenic gondola rides, picture-perfect piazzas, and luxurious, palace-style hotels. And boy does this city deliver.
After spending a few days wandering the narrow, winding pathways, crossing petite bridges atop shimmering canals, and seeing historic architecture everywhere you turn, the romance of Venice is enough to may any couple fall in love all over again.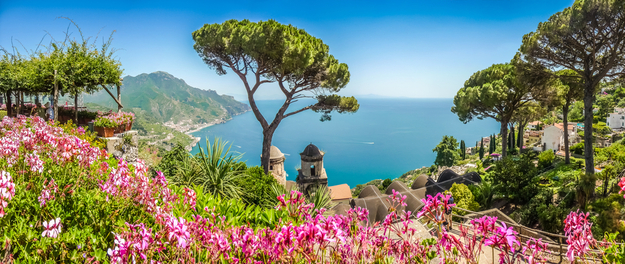 Ravello
This tiny village is set back from the Amalfi Coast on a cliff overlooking the sea. It isn't as frequently traveled as neighboring Positano, largely because there isn't direct beach access. But what it lacks in waterfront it makes up for in spectacular views and fewer crowds. Explore sites like the 13th-century Villa Rufolo, which has gorgeous terraced gardens and Moorish-style architecture (it's been called a "a miniature Alhambra"). Cap your day with a leisurely, scenic dinner at Palazzo Avino or Belmond Hotel Caruso.

In case you missed it:
Traveler's Joy Honeymoon Destination Guide: Rome
The Top 8 Honeymoon Hotel Openings of 2018